Market Outlook
The data center colocation market revenue stood at $42.1 billion in 2019, and the market is predicted to grow at a CAGR of 14.8% between 2020 and 2030. The major factors driving the expansion of the market are the generation of huge volumes of data, rapid adoption of cloud on-ramp, the disaster mitigation and financial benefits associated with data colocation, and high maintenance costs of private data centers. The data colocation model allows companies to rent the bandwidth and space of a data center for housing its information technology (IT) data, hardware, and servers.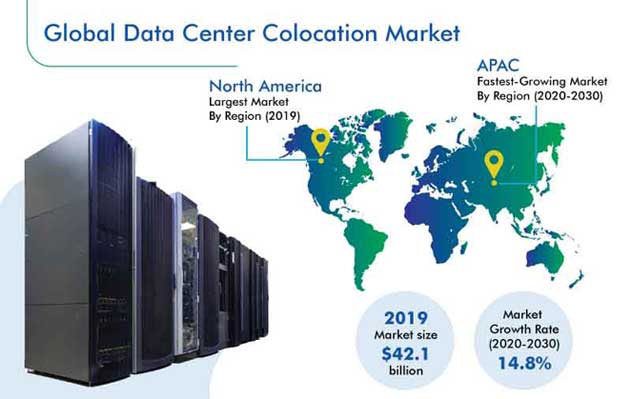 Segmentation Analysis of Data Center Colocation Market
Currently, the retail colocation category is generating the higher revenue in the market for data center colocation services, under the type segment. This is because these solutions allow service providers to cater to a large pool of customers with on-site carrier and cloud connectivity, managed services, and staff. These services are primarily availed of by businesses that do not deal with huge amounts of data, require limited storage for a limited period, and have no data expansion plans. Additionally, retail colocation services are available at low costs, which is beneficial for those who have a limited budget. Furthermore, this model allows organizations to store their data at more than one center in several regions, states/provinces, or countries.
The small and medium-sized enterprises (SME) category in the data center colocation market is predicted to exhibit the faster growth in the organization segment in the forthcoming years. This is attributed to the fact that these companies cannot maintain their own data centers, as they have a limited budget. Additionally, these organizations work with considerably lesser data in comparison to large enterprises and, thus, need a smaller storage space. Moreover, data colocation solutions offer various financial benefits and are, thus, widely adopted by SMEs around the world.
In the coming years, the IT and telecom category is predicted to dominate the market for data center colocation services, under the vertical segment. Because of the rapid adoption of advanced technologies, such as the internet of things (IoT), cloud computing, and artificial intelligence (AI), huge volumes of data are being generated. This is why many companies operating in the IT and telecom sector are renting data center space. These solutions allow IT and telecom companies to securely manage and store large volumes of data and scale up the storage capacity as per their requirements. Besides the advantages of low operational costs and capital, data colocation centers provide high-speed data transmission.
The data center colocation market is predicted to demonstrate the fastest growth in the Asia-Pacific (APAC) region in the upcoming years on account of the rapid technological advancements in the IT and telecom sector in the developing nations of the region. Additionally, the surging requirement for temporary data storage and server space, on account of the outsourcing of business operations by IT firms across the world to APAC-based companies, is fueling the expansion of the market. Furthermore, regional companies find it difficult to maintain private data centers on account of the high electricity, space, and internet protocol (IT) transit costs.
Green Data Centers Trending Globally
One of the major trends in the data center colocation industry is green data centers. Due to the soaring environmental concerns on account of the surging emission of toxic greenhouse gases (GHG), the demand for attaining maximum energy efficiency is growing rapidly around the world. This is subsequently pushing up the requirement for green data centers.
These centers consume lesser power than traditional facilities, but offer the same functionalities and benefits by using energy-efficient heating, ventilation, and air conditioning (HVAC) systems, centralized humidification systems, servers, routers; ENERGY-STAR-rated power supply systems, and LED lighting, these centers save a huge amount of power, thereby playing a major role in environmental conservation and becoming a major data center colocation market trend.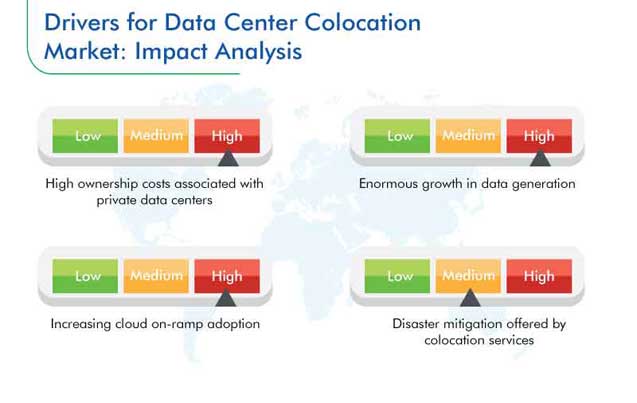 High Costs of Private Data Centers Fueling Market Advance
One of the major factors propelling the advance of the is the high costs of maintaining private data centers, especially for businesses that generate inconsistent amounts of data. With the growing adoption of AI and IoT and rapid digitization, huge volumes of data are being created, which need to be securely stored and efficiently and cost-effectively managed.
The development of a private storage facility can cost $200 per square foot, apart from the $10,000 per mile expenditure on fiber cabling. Unlike large enterprises, SMEs cannot afford this, while SMEs that use cloud computing don't need to make such huge investments. Hence, due to the several cost advantages provided by data colocation centers, they are increasingly being preferred over private data centers.
Edge Data Center Colocation Spaces Creating Lucrative Opportunities for Industry Players
Players operating can leverage the opportunities being created by the surging requirement for edge data centers. These are small data colocation facilities situated near the businesses they cater to with cached content and various cloud computing resources. These facilities are connected to multiple centers or bigger facilities that centrally process the data with the help of machine learning and analytics and provide cloud computing services.
The data center colocation market is expected to exhibit a three-times growth from 2017 to 2024 because of the increasing adoption of IoT, 5G network deployment, surging data gap, and incorporation of software-defined networks (SDN), network function virtualization (NFV), video streaming, and AR/VR.
Data Center Colocation Market Report Coverage

| | |
| --- | --- |
| Report Attribute | Details |
| Historical Years | 2014-2019 |
| Forecast Years | 2020-2030 |
| Market Size by Segments | Type, Organization, Vertical |
| Market Size of Geographies | U.S., Canada, Germany, U.K., France, Netherlands, Italy, Russia, Spain, Poland, China, Japan, India, Singapore, Australia, Brazil, Mexico, Argentina, Chile, Colombia, South Africa, Saudi Arabia, U.A.E. |
Explore more about this report - Request free sample pages
Facility Expansions Helping Companies Increase their Revenue
In recent years, several companies in the data center colocation market have expanded their facilities, in order to cater to a larger number of customers with more storage space than before.
For instance, in April 2020, Digital Realty Trust Inc. inaugurated its third data center in Singapore, named Digital Loyang II (SIN12). This 50 megawatt (MW) facility is a reflection of the efforts of the company to deploy critical infrastructure on PlatformDIGITAL around the world.
Similarly, CoreSite Realty Corporation added DC2, a new data center colocation facility, at its Washington, D.C. campus in February 2019. Complementing its existing interconnected campus environment, the new facility offers companies the network of over 90 domestic and international carriers, while to cloud providers, it offers native cloud on-ramps.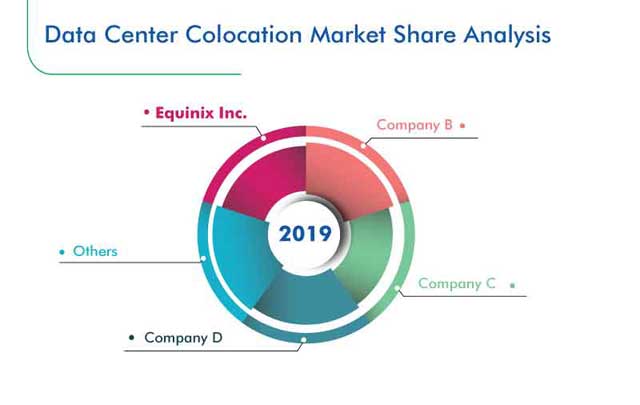 The major players in the global data center colocation market are Equinix Inc., Digital Realty Inc., China Telecom Corporation Limited, NTT Communications Corporation Ltd., KDDI Corporation, China Unicom (Hong Kong) Limited, CyrusOne Inc., Cyxtera Technologies Inc., CoreSite Realty Corporation, Global Switch Holdings Limited, InterXion Holding N.V., Internap Corporation, Cogent Communications Holdings Inc., Keppel Data Centres Pte Ltd., Rackspace US Inc., and Verizon Enterprise Solutions Inc.
Data Center Colocation Market Size Breakdown by Segment
The data center colocation market report offers comprehensive market segmentation analysis along with market estimation for the period 2014–2030.
Based on Type
Retail Colocation
Wholesale Colocation
Based on Organization
Large Enterprises
Small- and Medium-Sized Enterprises (SMEs)
Based on Vertical
Banking, Financial Services, and Insurance (BFSI)
Information Technology and Telecommunication (IT and Telecom)
Government and Defense
Retail
Healthcare
Energy
Research and Academics
Manufacturing
Geographical Analysis
North America
Europe

Germany
U.K.
France
Netherlands
Italy
Russia
Spain
Poland

Asia-Pacific (APAC)

China
Japan
India
Singapore
Australia

Latin America (LATAM)

Brazil
Mexico
Argentina
Chile
Colombia

Middle East and Africa (MEA)

South Africa
Saudi Arabia
U.A.E.