The global video streaming market was valued at $245.3 billion in 2018, and is expected to register a CAGR of 19.1% during the forecast period. The market for video streaming is majorly propelled by growing internet penetration as well as increasing popularity of social media platforms across the globe.
Among all regions, North America was the largest market for video streaming in 2018, wherein the region exhibited significant adoption of video streaming services in recent years, with the presence of key market players such as Netflix Inc., Amazon Web Services, and Hulu. Due to established technological infrastructure of the region, along with higher disposable income as compared to rest of the world, the market is witnessing healthy growth.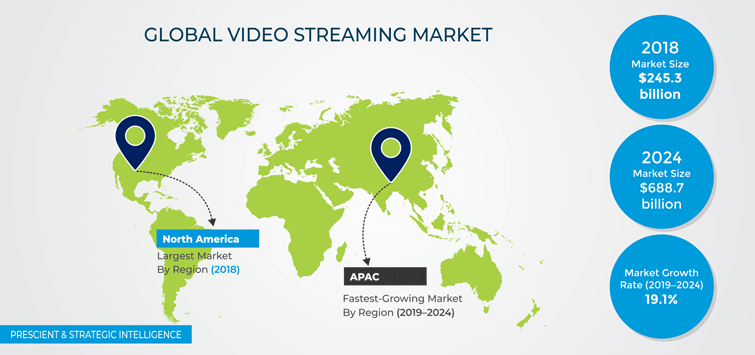 Factors Governing Video Streaming Market
Increasing popularity of social media platforms in the video streaming market is one of the major factors responsible for the growth of video streaming market. In recent years, the video content on social media platforms have witnessed healthy growth due to rising internet speeds and connectivity. For instance, in 2017, the video content on social media platform like YouTube exhibited an explosive growth of 99%. Rising internet speeds and connectivity along with increasing number of users on the social media platforms, the global video streaming market is growing at a higher pace. Presently, over 40% of the global population is engaged in social media platform, with more than 3 billion users worldwide. 2018 registered a year-over-year (Y-o-Y) growth of 14% from the previous year.
Additionally, growing internet connectivity is also driving the growth of video streaming market. In recent years, number of internet users have grown at a substantial rate where from December 2014 to March 2019, the number of internet users grew by around 1.3 billion in number to reach 4.4 billion. This has given rise to large number of video streamers which advanced the growth of video streaming market. According to the Global Internet Phenomena Report by Sandvine, a majority share of around 58% of the total downstream internet traffic is consumed by users streaming video content. Globally, Netflix Inc. accounts for the largest share of downstream volume traffic, whereas North America cited the largest number of Netflix users, followed by Europe and APAC.
Structural Analysis of Video Streaming Market
Based on type, linear category held largest share in the video streaming market in 2018. Linear video streaming is traditionally been the dominant constituent of the video streaming market globally. The vast majority of users prefer using linear route which provides access to a myriad of channels and content along with live screening of events. This offers a familiar, effortless and often more passive viewing experience with scheduled content.
On the basis of offerings, solution category accounted for the largest market share of 94.6% in 2018. Video streaming solutions have become a key component of corporate communications, marketing, sales, and business development along with being overwhelmingly popular in the entertainment sector. This has led to an ever-increasing use of these solutions in personal as well as professional applications. OTT was the fastest growing video streaming solution globally. OTT market is driven by the ever-expanding array of connected apps and devices, the rapid pace of technology development, and growing demand for new content.
On the basis of platform, majority of video streaming users still prefer TVs for viewing linear and non-linear content. Further, consumers across the globe use a range of approaches to watch non-linear content on their TV sets (via connected laptops, gaming consoles, and smart TV apps). However, young consumers (age group 15-35) are more inclined to use smartphones and tablets to watch video content, as it allows them to watch anytime and anywhere as per their preferences.
Cloud is expected to experience the highest growth rate in the coming years. Cloud storage usage is becoming a universal service for consumers; with Dropbox, iCloud, Google Drive, SharePoint, and many others becoming an integral part of the mobile experience. The tremendous demand growth being witnessed by video streaming market poses requirements for network efficiency, video processing, and high-service quality, thus putting significant loads on existing infrastructure. Cloud based deployment fill the gaps with faster performance, near instant scalability, and reduced deployment and maintenance costs.
Based on revenue model, subscription model category registered the highest market share in 2018. This fact is showcased by the rise in number of subscriptions registered by global large-scale video streaming content providers. For instance, Netflix had 139 million subscribers globally in 2018, along with Amazon having 101 million Amazon Prime Video subscribers in the U.S. alone. While, these OTT giants are increasing traction for their subscription services internationally, there are market opportunities opening-up for a number of regional OTT service providers.
On the basis of end use, consumer segment exhibited the larger market share in 2018 attributed to increasing penetration of smartphones. Smartphones are increasingly becoming widely accepted medium for video streaming, overtaking conventional cable TV as the fastest growing channel. With further mobile broadband services deployment by MNOs, access to high-quality mobile streaming is growing, particularly in APAC and MEA regions. This increased growth can be witnessed in MNO partnerships as well as bundling deals which is incentivizing consumers to use more video content.
Geographical Analysis of Video Streaming Market
Globally, North America held the largest share, accounting for about 40% revenue, in the market in 2018. A key factor perpetuating this growth in the video streaming market is the fact that a considerable part of the content is now being delivered over smartphones. Furthermore, broadband connectivity and internet speeds have increased considerably in the past five years. Due to this, along with availability of efficient and customized content, the market is further expected to register healthy growth in the coming years. U.S. held the larger market share in 2018 as opposed to Canada.
During the forecast period, APAC video streaming market is expected to record the highest CAGR. The growth is based on the increasing penetration of smart devices such as smart TVs, smartphones, tablet PCs, laptops and others, along with enhancement of telecom infrastructure and declining data costs throughout the region. Rising internet surfing on handheld devices for consumption of video content is further expected to boost the market growth.
In Asia-Pacific (APAC), India is expected to be the fastest growing market in the region during the forecast period. Data consumption in India is expected to grow from 7,100 billion MB in 2017 to 100,000 billion MB by 2022. With decreasing data tariffs and increasing smartphone penetration in the country, which is around 27% as of 2018, the video streaming market is expected to benefit significantly from these developments. Also, the country is registering rise in internet penetration year-over-year (y-o-y), with mobile internet penetration set to reach 55% by 2022 from about 30% in 2017.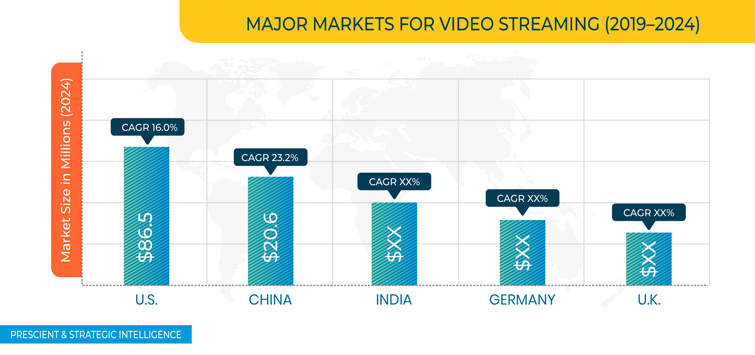 Competitive Landscape of Video Streaming Market
The video streaming market is highly competitive in nature and is characterized by the presence of companies such as Netflix Inc., Amazon.com, Inc., AT&T Inc., The Walt Disney Company, British Broadcasting Company, and Alphabet Inc., operating as key players. This growth in demand is further projected to intensify the market competition during the forecast period.
Recent Strategic Developments of Major Video Streaming Market Players
Major players in the video streaming market are focusing on partnerships where the key strategic activities undertaken by the major players in the video streaming market is to increase their consumer base. For instance, in March 2019, Amazon.com Inc. partnered with Tigo, a Luxemburg based telecommunications company, to provide Tigo's consumer base with the Amazon Prime Video streaming services. Tigo would provide free of cost services to its consumers for the first 3 months, after which the users would have to pay $2.99 per month for the next 6 months, and if the user extends the service after 10 months, the user would have to pay $5.99 per month.
Furthermore, in January 2019, Alphabets Inc.'s subsidiary Google Inc. came into partnership with LG Uplus Corp. which is aimed at investing in the development of VR content to make its VR content more accessible to consumers, globally. Under this partnership, LG Uplus is responsible for the production and planning of VR content and acquiring commercialization rights in South Korea, while Google Inc. is responsible for acquiring global distribution rights from YouTube.
Key Questions Answered in the Report
What is the current scenario of the video streaming market?
What are the key strategies companies are adopting to increase their subscriber base?
What are the key market segments and their future potential?
What are the major boosters for the market and their impact during the short, medium, and long terms?
What are the opportunities for the players in the market?
Which are the key regions from the investment perspective?
What are the impacts of internet penetration on the video streaming market?
Who are the top market players and their percentage share in the overall video streaming market?
What are the repercussions of social media on the video streaming market.