Market Overview
The global LED lighting market size was valued at $68,954.7 million in 2022, and it is expected to reach $152,842.0 million by 2030, advancing at a growth rate of 10.5% during 2022–2030. The rising demand for energy-efficient solutions along with the growth in infrastructure, the escalating sales of horticulture lighting, and the increasing government initiatives toward the adoption of LED lights are the key factors driving the market. Moreover, growing urbanization, falling prices, and elevating the replacement of incandescent lights with LED lights are other factors propelling the sales of these lights.
The augmenting popularity of smart solutions is one of the key trends observed in the market. They have gained popularity in recent years, primarily in the APAC region, in countries such as Japan and China, owing to their high energy efficiency and the ability to control lighting from anywhere, anytime with the use of smartphones.
In addition, advanced features associated with them, such as automatic off/on, adaptive, and motion activation technologies, help increase the cost savings for both residential and commercial end users by reducing power consumption, as compared to traditional solutions. Moreover, smart lighting allows users to change the color of lights to create an indoor ambiance experience as per their mood and preference.
As commercial technology is improving, more businesses are investing in updating their illumination fixtures to commercial-grade LEDs. For instance, Tim Hortons, a restaurant chain based in Toronto, Canada, installed these products across all its locations, due to technological advancements that provide a pleasant, cordial light in its restaurant settings. Because these bulbs endure for years, they require minimal maintenance as compared to old, incandescent systems.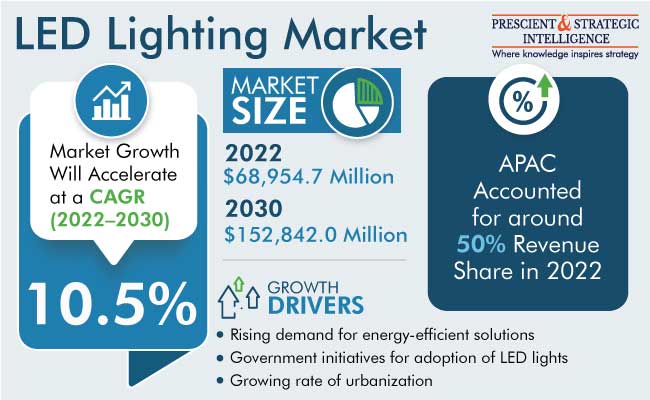 Moreover, governments are also embracing lighting for a variety of reasons, including less use of electricity, reduced greenhouse gas emissions, and improved safety. The Dr. Pepper StarCenter in Dallas, U.S., for example, is now entirely illuminated with LEDs. The lighting upgrade cost about $250,000, with a return on investment (ROI) projected in 2–3 years. Thus, it illustrates the advantages of enhanced commercial technologies, i.e., reduced costs and quicker returns.
Declining Price of LEDs Boosts the Sales
The decreasing price of lights is another major factor for the market progression. The price erosion has led to their higher penetration for several applications, including residential, commercial, and industrial lighting. Due to advancements in technologies, the production cost has reduced considerably while the operational lifespan and efficiency of smart lights have improved notably in recent years. Due to this, there has been a significant drop in the prices of lights. For instance, the average price of a 60W LED product dropped from around $50 in January 2011 to $10 in July 2018.
Moreover, according to the projections of the U.S. Department of Energy, with the adoption of energy-efficient solutions, the energy consumption for lighting applications in the country is expected to reduce by 40–60% by 2030 in a conservative forecast.
Luminaire Category Held the Largest Share
The luminaire category generated the highest revenue, over $40 billion, in the market in 2022. This is attributed to the high demand for luminaires, principally from newly constructed residential and commercial buildings. Furthermore, with snowballing government initiatives toward their adoption, the production of these luminaires is projected to grow in the near future. They consist of the lights that are deployed on high bays, tunnels, streets, tracks, troffers, and others.
Moreover, the surging adoption of solar LEDs in remote areas and rigorous government regulations with respect to green technology across different nations are resulting in the new installation of streetlights and track lights. Further, burgeoning smart city projects and elevating construction activities support the sales of luminaires.
LED Lighting Market Report Coverage

| | |
| --- | --- |
| Report Attribute | Details |
| Historical Years | 2017-2022 |
| Forecast Years | 2023-2030 |
| Market Size in 2022 | $68,954.7 Million |
| Revenue Forecast in 2030 | $152,842 Million |
| Growth Rate | 10.5% CAGR |
| Report Scope | Market Trends, Drivers, and Restraints; Revenue Estimation and Forecast; Segmentation Analysis; Impact of COVID-19; Companies' Strategic Developments; Market Share Analysis of Key Players; Company Profiling |
| Segments Covered | By Product Type; By Installation Type; By Application; By Region |
Explore more about this report - Request free sample pages
Retrofit Installation Category To Witness Faster Growth
The retrofit installation category is expected to register a higher CAGR, over 10%, during the forecast period. This can be attributed to the mushrooming replacement of incandescent and sodium-vapor lamps with LEDs in various countries such as Japan, India, China, South Korea, the U.A.E., and the U.S. Moreover, with the phasing out of incandescent bulbs in these nations, the demand for lamps for retrofit installation is rising, which fortifies the sales in this category.
Furthermore, LEDs use much less energy as compared to incandescent bulbs because diode light is highly power-efficient than filament light. With performance improvements and plummeting prices, they are affordably and effectively replacing 40, 60, 75, and 100 W incandescent bulbs on a large scale. For instance, A-lamps can easily fit into the old sockets of incandescent bulbs, due to which consumers are increasingly demanding these lamps in the residential and commercial sectors.
Outdoor Lighting Category Dominates the Market
The outdoor lighting category held a larger share, around 60%, in the LED lighting market, in 2022. This is attributed to the development of infrastructure-related projects, such as airports, motorways, and public spaces. In addition, it is projected that the surging government initiatives to attain net-zero emissions by dipping energy use will drive the production of lights for outdoor applications. For instance, in 2019, Integrated Device Technology Inc. (IDT), a subsidiary of Renesas Electronics Corporation, started conducting two intelligent street projects in Malaysia. The projects involve the replacement of sodium-vapor bulbs with LEDs for street applications.
Whereas, the demand for street lighting is expected to corner a robust growth rate in the long run. This can be mainly imputable to the increasing focus on the development of smart cities across the world, wherein the installation of streetlights would help save energy, reduce maintenance costs, control light intensity, and curb carbon emissions.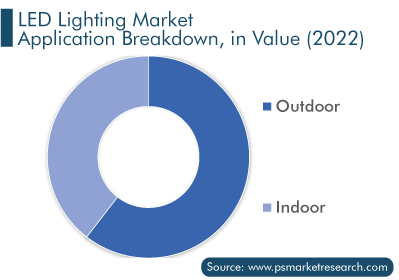 Growing Infrastructural Development Stimulates the Industry Growth
With the governments of various countries, such as India, China, and Indonesia, focusing on the modernization of infrastructure, the demand for LED solutions and drivers has considerably increased in these economies in recent years. Moreover, governments of countries such as Spain, the U.A.E., Singapore, India, China, and Austria are investing heavily in smart city projects. For instance, the Government of India announced the transformation of 100 cities across the country into smart cities by 2030 and approved around $15 billion for its smart city project.
Similarly, in September 2022, the Government of Dubai (U.A.E.) launched a smart city strategy to transform Dubai into a smart city, which includes over 100 initiatives for the development of infrastructure, transport, and communications. In addition, in November 2019, in Spain, Barcelona deployed more than 3,000 streetlights based on LED technology. Hence, the increasing development of infrastructure across several countries is bolstering the demand and production of smart lighting solutions, which, in turn, is helping the market advancement globally.
APAC Is Principal Revenue Contributor
Globally, APAC is the largest market for LEDs, accounting for around 50% revenue share in 2022. This is mainly attributed to the increasing demand for LEDs from the residential sector, primarily in countries such as China, India, and South Korea, on account of the increasing disposable income, growth in the construction of housing establishments., and the presence of a large number of companies operating in these countries.
Moreover, due to the increasing population, budding infrastructure development activities in developing countries, and rising government initiatives with a focus on energy efficiency, the demand for commercial and industrial applications is increasing, thus driving the production of LEDs in the region.
Furthermore, the North American LED lighting market is projected to register a moderate growth rate in the long run, due to government initiatives and support pertaining to energy efficiency. For instance, in February 2022, the Washington D.C. Council in the U.S. announced an investment of $309 million to be spent over the next two years on bulbs. It will help replace 75,000 streetlights throughout Washington in the coming years. Also, it is projected that new bulbs will tamp down energy used for streetlights by half, reducing around 38,000 tons of annual greenhouse gas emissions.
Top Companies Providing LED Lighting Are:
Signify N.V.
General Electric Company
OSRAM Licht AG
Acuity Brands Inc.
Zumtobel Group AG
Samsung Electronics Co. Ltd.
Hubbell Incorporated
Cree Inc.
Syska LED Lights Private Limited
Wipro Enterprises (P) Ltd.
LED Lighting Market Market Size Breakdown by Segment
The study uncovers the biggest trends and opportunities in the market, along with offering segmentation analysis at the granular level for the period 2017 to 2030.
Based on Product Type
Based on Installation Type
Based on Application
Indoor

Residential
Commercial
Industrial

Outdoor

Highways
Streets
Stadiums
Parking lots
Tunnels
Geographical Analysis
North America
Europe

Germany
France
U.K.
Italy
Spain

Asia-Pacific

Japan
China
India
South Korea

Latin America
Middle East and Africa

South Africa
U.A.E.
Saudi Arabia