AR and VR Market Overview
The global augmented reality (AR) and virtual reality (VR) market size, which was $37.0 billion in 2019, is expected to witness a CAGR of 42.9% during the forecast period (2020–2030), to reach $1,274.4 billion in 2030. The surging adoption of these technologies in the gaming, healthcare, tourism, entertainment, and education sectors is expected to drive the AR and VR industry growth during the forecast period.
The coronavirus on global economies is hitting the manufacturing and technology domains hard. Numerous global and regional players involved in electronic component manufacturing have witnessed subdued growth due to the cancellation of orders, shortage of inventories, unavailability of raw materials, and other similar factors during the pandemic crisis. Further, there has been a decline in the user/customer spending on non-essential goods, which has had a negative impact on the AR and VR market.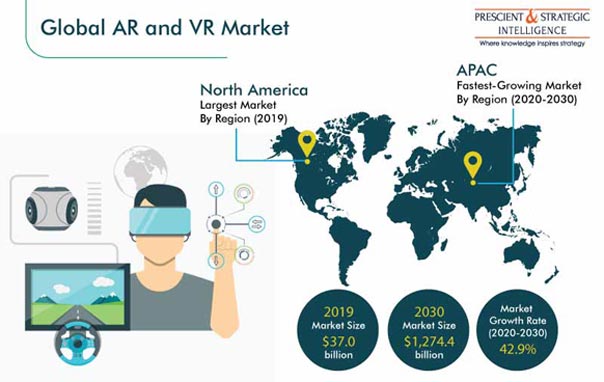 AR Category Is Predicted To Witness Faster Growth throughout Forecast Period
In the AR and VR market, based on type, the AR category is prognosticated to witness the faster growth during the forecast period. The benefits and possibilities offered by AR are endless, particularly when combined with the consistently evolving wireless technology, which enables the integration of AR with mobile devices and home appliances, to offer a connected experience to users. Further, the ability of the AR technology to integrate digital information with the physical environment in real-time, is contributing to the market growth.
Hardware To Remain Higher Revenue-Generating Category in AR and VR Market
The hardware category accounts for the larger revenue share in the AR and VR market, owing to a substantial fall in AR and VR device prices, coupled with the rising popularity of AR and VR in gaming and easy availability of headsets. Hardware will continue generating the higher revenue in the coming years, owing to the increasing demand for high-quality entertainment content and focus of companies on enhancing their display features, in terms of the image quality, and offering customized products to enterprises. For instance, in April 2018, HTC Corporation launched a new edition of Vive series, with special emphasis on enterprise applications.
HMDs Account for Largest Share among AR and VR Devices
Head-mounted displays (HMDs) held the leading share in the AR and VR market during the historical period (2014–2019). The HMDs category is expected to witness notable growth in the coming years as well, owing to the increasing demand for lightweight displays, advancements in technology, and increasing patented products of the players operating in the industry. AR- and VR based HMDs are gaining popularity in applications such as tourism, automotive, military, gaming, and education. The increasing digitization rate, coupled with the rising need for affordable HMDs, growing investments in the market, and tremendous scope of gaming applications are contributing to the AR and VR industry growth.
Consumer Application Category To Continue Industry Dominance till 2030
More than half the industry's revenue was generated by the consumer application category in 2019. The increasing awareness on the AR and VR technologies is a prime factor behind the major share and steep growth rate of this category. The number of gamers around the world would surge in the forecast period, as will the demand for more interactive and immersive gaming. Moreover, with the rising disposable income, a higher percentage of the population is expected to purchase gaming systems, which, in turn, would boost the consumer category's growth during the forecast period.
North America: Largest AR and VR Market
The North American region held the largest share in the AR and VR market during the historical period, and it is expected to witness significant growth during 2020–2030. The U.S. is the largest market globally, due to the presence of a large number of players offering AR and VR solutions. Additionally, the increasing application of AR and VR in the e-commerce and healthcare sectors is projected to play an important role in driving the regional industry in the future. For instance, AccuVein Inc., a U.S.-based medical imaging solutions provider, offers the AR technology to help doctors and nurses locate veins in patients.
APAC To Witness Fastest Growth during Forecast Period
Asia-Pacific (APAC) held a substantial share during the historical period, and it is expected to record the fastest growth during the forecast period. Although the APAC AR and VR market is far from being mature, the initial phase of technological revolution has created quite a buzz among tech-savvy consumers in the region. This can be primarily attributed to the large population (particularly that of younger age groups) and rise in the popularity of AR- and VR-enabled gaming. In view of this, various established players are launching AR and VR products in the region. For instance, Sony Corporation is reportedly developing a new PlayStation VR headset to accompany its upcoming PS5 console. Besides, in October 2019, South Korean 5G service provider LG Uplus Corporation and AR start-up eyecandylab Corporation launched U+AR Shopping, an AR service for home shopping channels worldwide.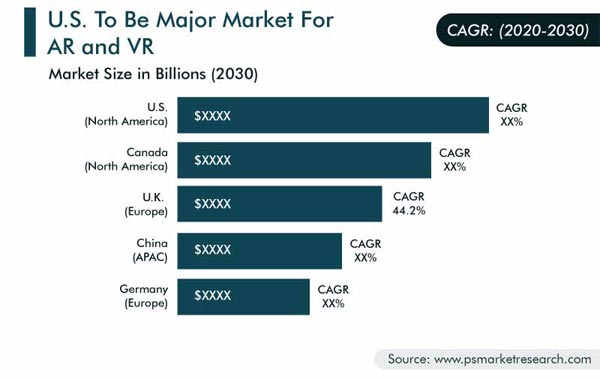 Increasing Investments by Tech Corporations and Venture Capitalists Is Key Market Trend
Some of the strategies that are being adopted by the major tech players in the AR and VR market are acquisitions, funding of start-ups, and introduction of their own AR and VR devices. The funding in AR and VR start-ups crossed the $3.6 billion mark in 2018. The particular interest of corporations and venture capitalists in technology investments is taking the AR and VR market to new heights. In 2019, major EdTech (educational technology) deals in the U.S. included Guild Education's receipt of an investment of $157 million from General Catalyst, BetterUp's $103 million investment from Lightspeed Venture Partners, and Coursera's funding of $103 million by SEEK Group. Such developments are set to boost the AR and VR industry in the forecast period.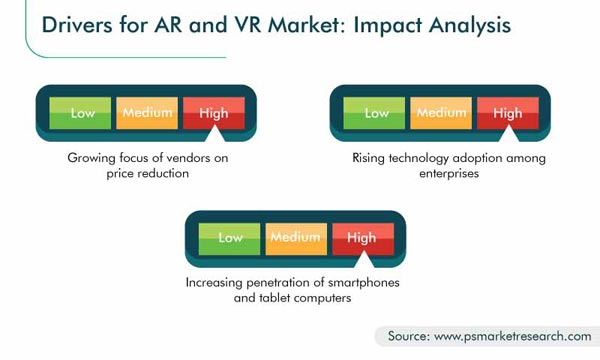 Growing Focus of Vendors on Price Reduction Is Important Market Driver
Technological advancements, in terms of hardware and software development, are expected to cut down the price of AR and VR devices in the coming years. Developments in the field of optics, such as light-field technology, are further expected to support the development of flexible, compact, and affordable displays for smart glasses and headsets. Companies operating in the AR and VR market are providing software development kit (SDKs) to application developers at affordable prices. This is expected to increase the application base of these technologies and further reduce the price of the products, thus fueling their adoption in the coming years.
Rising Technology Adoption among Enterprises Is Driving Market
The enterprise sector is considered one of the most important target markets for AR and VR. The application potential of these technologies in enterprises is huge, with all major device manufacturers, app developers, and solution providers targeting the sector. Moreover, most of the Fortune 500 companies have started experimenting with the AR and VR technologies, and some of them have already started pilot projects. For instance, The Boeing Company decreased its wiring production time by 25% and reduced the error rate significantly, by using smart glass displays.
Increasing Penetration of Smartphones and Tablet Computers
The AR and VR technologies are fast reaching the masses through different platforms. In this regard, the increasing penetration of smartphones and tablet computers is providing a substantial platform to these technologies. With the rapid increase in smartphone ownership across the world, these devices are being considered a potential hardware interface for AR and VR applications. For instance, by 2020, the number of smartphone users globally is projected to reach 3.5 billion, marking a 9.3% increase from 2019. Thus, companies operating in the AR and VR market are increasingly tapping the resourcefulness of these media to launch their products through various mobile application stores.
AR and VR Market Report Coverage

| Report Attribute | Details |
| --- | --- |
| Historical Years | 2014-2019 |
| Forecast Years | 2020-2030 |
| Base Year (2019) Market Size | $37.0 Billion |
| Forecast Period (2020-2030) CAGR | 42.9% |
| Report Coverage | COVID-19 Impact Analysis, Market Trends, Drivers, Restraints and Opportunities, Value Chain Analysis, Revenue Estimation and Forecast, Segmentation Analysis, Regional and Country Breakdown, Company Market Share Analysis, Major Countries Analysis, Companies' Strategic Developments, Product Benchmarking, Company Profiling |
| Market Size by Segments | Type, Offering, Device Type, Application, Region |
| Market Size of Geographies | U.S., Canada, France, Germany, Italy, Russia, Spain, U.K., China, India, Australia, Japan, South Korea, Brazil, Mexico, Saudi Arabia, Turkey, U.A.E., South Africa |
| Secondary Sources and References (Partial List) | AR for Enterprise Alliance (AREA), Idaho Virtual Reality Council, European Association for Virtual Reality and Augmented Reality (EuroVR), SSVAR - Swiss Society of Virtual and Augmented Reality, IVRPA International Virtual Reality Professionals Association, Virtual Reality Institute of Health and Exercise and VR/AR Association (VRARA) |
Partnerships and Agreements Are Important Strategic Developments in Market
The global AR and VR market is consolidated in nature, owing to the presence of major players such as Microsoft Corporation, Sony Corporation, Alphabet Inc., Facebook Technologies LLC, Vuzix Corporation, Himax Technologies Inc., Seiko Epson Corporation, HTC Corporation, PTC Inc., and Samsung Electronics Co. Ltd.
Partnering with major companies operating in the AR and VR market can open new avenues for small and mid-level companies and simultaneously improve the product offerings of the established company. In order to expand their reach, in terms of product portfolio and geography, major players have opted for partnerships and other agreements with players having a similar product portfolio.
For instance, in June 2020, PTC Inc. announced its partnership with Rockwell Automation Inc. to offer customers the PTC Vuforia Chalk AR software free of charge, to help them meet the challenges of working remotely and drive productivity and efficiency in industrial settings.
Similarly, in November 2019, Magic Leap Inc. announced its partnership with Spotify AB to make Spotify the first music service available on its One Creator Edition AR headset.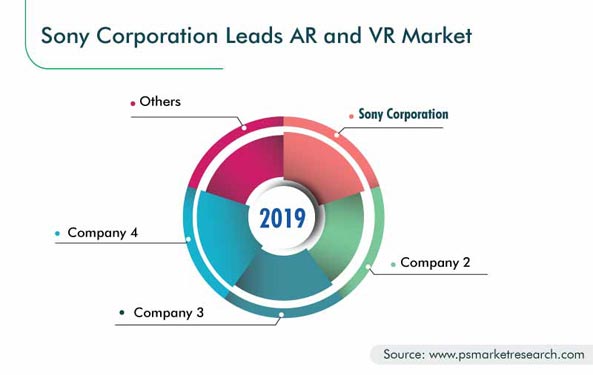 Key players in the AR and VR market report are:
AR and VR Market Size Breakdown by Segment
The AR and VR market report offers comprehensive market segmentation analysis along with market estimation for the period 2014–2030.
Based on Type
AR

Marker-based AR

Passive marker
Active marker

Marker-less AR

Model-based tracking
Image-based processing

VR

Non-immersive
Semi- and fully immersive
Based on Offering
Hardware

Sensors
Cameras
Position trackers
Displays and projectors
Semiconductor components

Software

Software development kits (SDKs)
Cloud-based services
AR software functions
VR content creation
Based on Device Type
AR Devices

Head-mounted displays (HMDs)
Head-up displays (HUDs)
Handheld devices

VR Devices

Head-mounted displays (HMDs)
Gesture-tracking devices
Projector and display walls
Based on Application
Consumer

Gaming
Sports and entertainment

Commercial

Offline education and e-learning
In-store retail and e-commerce
Tourism

Enterprise

Healthcare
Automotive
Aerospace and defense
Geographical Analysis
North America
Europe

Germany
France
U.K.
Italy
Spain

Asia-Pacific (APAC)

Japan
China
India
Australia
South Korea

Latin America (LATAM)
Middle East and Africa (MEA)

Saudi Arabia
U.A.E.
Turkey
South Africa