Slicing Software Market Overview
The global slicing software market size stood at $422.2 million in 2019, and it is expected to reach $2,202.5 million by 2030, exhibiting a CAGR of 16.7% during the forecast period (2020–2030). The major factors supporting the industry growth include the rising demand for integrated slicing software and need for improved manufacturing speed and widespread utilization of 3D printing in the healthcare, aerospace, automotive, jewelry, and other industries.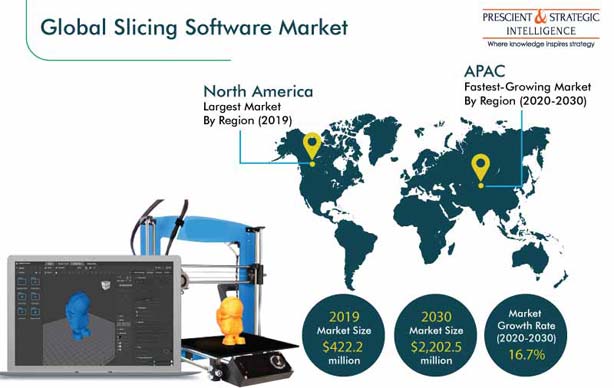 Integrated Category Accounted for Larger Market Size, Based on Product Type
The integrated category held the larger share in the global slicing software market in 2019. This is mainly attributed to the increasing demand for features such as design optimization, machine integration, and model simulation, analysis, and repairing capabilities, along with the high requirement for slicing operations. As a result, companies are focusing on expanding the functionality of their software, in order to capitalize on the latest advancements in the additive manufacturing (AM) technology and cater to the growing demand for slicing software among varied enterprises.
Cloud-Based Slicing Software To Witness Faster Growth in Demand
During the forecast period, the cloud category is expected to register the faster growth within the deployment segmentation of the slicing software market. This would mainly be due to the advantages of better management of the 3D printing operations from the browser, as cloud-enabled slicing software offers increased flexibility. In addition, the software can also be integrated with a business application, to gather data for users to make informed decisions. It also helps users remotely print files and store and access computer-aided design (CAD) files anytime, anywhere.
Prototyping Is Largest and Fastest-Growing Application Category in Industry
In 2019, the prototyping category generated the highest revenue in the slicing software market, and it is also projected to witness the fastest growth during the forecast period. This can be ascribed to the surging utilization of 3D printing for rapid prototyping, which allows designers to produce multiple design iterations quickly and change a product design as per the customer requirements.
Fastest Growth Is Expected in Healthcare Category
The healthcare category, based on industry, is projected to witness the fastest growth in the slicing software market during the forecast period. This is mainly attributed to the vast adoption of the 3D printing technology for the designing of medical products, as well as for surgical equipment. Moreover, the surging focus of market players on the acquisition of 3D printing material providers is another key factor resulting in positive market growth. For instance, in November 2019, Formlabs Inc. acquired Spectra Group Limited Inc., with the aim to focus on the manufacturing of biocompatible polymers, which are used in medical devices.
North America Is Dominating Slicing Software Industry
North America dominated the slicing software market during the historical period (2014–2019). This was mainly due to factors such as the vast adoption of technologies, easy availability of skilled labor, demand for reliable technology for the production of solid objects, and use of new materials and surging adoption of 3D printing by industries such as healthcare, education, oil & gas, and education.
Additionally, in order to cater to the surging product demand, market players are focusing on expanding their operations in the region, which would result in positive market growth in the coming years. For instance, in February 2020, BigRep GmbH announced its 3D printing service offerings for North American customers, which comprise hardware, software, and filaments. Customers can utilize 3D printing for prototyping, tooling, and functional part manufacturing. Hence, the growing need for AM services is likely to result in the rising demand for slicing software, thereby leading to significant market growth in the coming years.
Asia-Pacific (APAC) Region Is Projected To Witness Fastest Growth
APAC is projected to witness the fastest growth in the slicing software market during the forecast period. The Factors driving the regional market growth include the increasing demand for new products and materials, which is encouraging several industries to adopt 3D printing over traditional manufacturing technologies, rising government initiatives supporting the 3D printing industry, and strong focus of countries such as China, Japan, and India on the implementation of AM.
The launch of slicing software for the integration of advanced 3D printing applications in industries such as healthcare, education, and oil & gas is another major factor resulting in the positive market growth in the region. For instance, in September 2018, China-based 3D printer manufacturing company, Zhejiang Flashforge 3D Technology Co. Ltd., launched slicing software FlashDLPrint, which is specially designed for digital light processing (DLP) as well as liquid crystal display (LCD) printers. The software can be used for dental designing, providing professional dental printing filament options and support settings.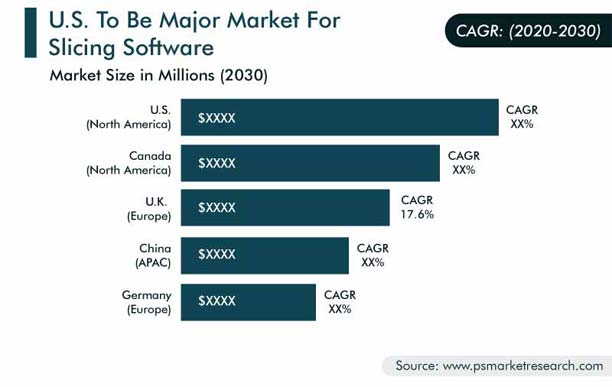 Increasing Preference for Cloud-Based Slicing Software
One of the major trends being witnessed in the slicing software market is the growing preference for cloud-based slicing software. It allows for easy connection with 3D printers, quick slicing of files, remote printing of files, and easy management of 3D printers from multiple locations. Users are more inclined toward cloud-based software, as it provides flexibility in controlling the 3D printing operations from the browser. As a result, most of the 3D printing service providers are focusing on introducing cloud-based software.
For instance, in January 2018, Dremel, a division of Germany-based engineering and technology company Robert Bosch GmbH, launched the cloud-based Dremel Digilab 3D slicing software. Based on Cura, an open-source slicing engine, it is compatible with many 3D printers. The software allows users to wirelessly print and secure CAD files, without the need for an internet connection.

Emerging Applications of 3D Printing across Industries
The swift growth of the 3D printing industry is driving the slicing software market, globally. This is attributed to many factors, including the rising need for enhanced product manufacturing processes, increasing investments by the private as well as public sector, growing demand for rapid prototyping, and surging requirement for mass customization. Major industries that are extensively utilizing 3D printing for various purposes include aerospace, automotive, manufacturing, and construction. Some of the application areas include 3D-printed aircraft components, 3D-printed vehicle seats, and 3D-printed implants and prosthetics. As a result, these industries are rapidly adopting advanced 3D printers for enhanced production capacity and accurate prototyping, which is expected to result in the slicing software market growth.
Slicing Software Market Report Coverage

| | |
| --- | --- |
| Report Attribute | Details |
| Historical Years | 2014-2019 |
| Forecast Years | 2020-2030 |
| Base Year (2019) Market Size | 422.2 Million |
| Forecast Period CAGR | 16.7% |
| Report Coverage | Market Trends, Revenue Estimation and Forecast, Segmentation Analysis, Regional and Country Breakdown, Company Share Analysis, Companies' Strategic Developments, Product Benchmarking, Company Profiling |
| Market Size by Segments | Product Type, Deployment, Application, Technology, Industry, Region |
| Market Size of Geographies | U.S., Canada, U.K., Germany, France, Italy, Spain, China, Japan, India, Australia, South Korea, U.A.E., Saudi Arabia, Turkey, South Africa, Brazil, Mexico |
| Secondary Sources and References (Partial List) | 3D Printing Association, 3D Printing Education & Research Association (3DPERA), Additive Manufacturing Society of India (AMSI), Aerospace Industries Association of Canada (AIAC), Association of 3D Printing, 3D Printing Industry, Additive & 3D Manufacturing Technologies Association of Spain (ADDIMAT), Hong Kong 3D Printing Association, Finnish Rapid Prototyping Association, World 3D Printing Technology Industry Association, Australian 3D Manufacturing Association, Association for Metal Additive Manufacturing (AMAM), European Association of the Machine Tool Industries (CECIMO) |
Explore more about this report - Request free sample pages
High Utilization of 3D Printing Technology by Healthcare Industry
The heavy utilization of the 3D printing technology by the healthcare industry is another key driver impacting the growth of the slicing software market positively. Applications of 3D printing in the healthcare industry include the manufacturing of surgical equipment and wearable devices, tissue engineering, 3D-printed prostheses, and image processing. 3D printing offers several advantages, such as lower operative risks during complex procedures, minimized risk of infections associated with prosthetic devices, and reduced anesthesia requirement. This would contribute to the increasing demand for 3D printing, which would further result in the rising usage of slicing software for healthcare applications.
Market Players Focusing on Launch of Slicing Software
The slicing software market is fragmented in nature, and the players in the industry, including Ultimaker B.V., Autodesk Inc., Materialise N.V., Zortrax S.A., Stratasys Ltd., 3D Control Systems Inc., Raise 3D Technologies Inc., Simplify3D Inc., and Craftunique KFT, are focusing on the launch of new slicing software versions.
In November 2019, Netherlands-based 3D printing company Ultimaker B.V. introduced a new version of its open-source 3D printing slicer software, Ultimaker Cura 4.4. The company introduced three intent profiles that apply to printing applications, including engineering, visual, and draft. Intent profiles allow for the automatic configuration of the print's intent and help in achieving better output, reduced costs, and improved production capacity. Each intent profile works with Ultimaker S5, Ultimaker S5 Pro Bundle, and Ultimaker S3, when used with a range of polylactic acid (PLA), Tough PLA, and acrylonitrile butadiene styrene (ABS) materials, as well as compatible support materials, including polyvinyl alcohol (PVA) and Breakaway.
In February 2019, U.K.-based provider of printing materials E3D Skunkworks Ltd. launched a slicer, Pathio, for fused deposition modeling (FDM) and fused filament fabrication (FFF) printers. The software has currently been launched in the beta version, which utilizes a slicing method, called 3D offsetting. This method helps in maintaining the required thickness on sloped surfaces, at the time of printing.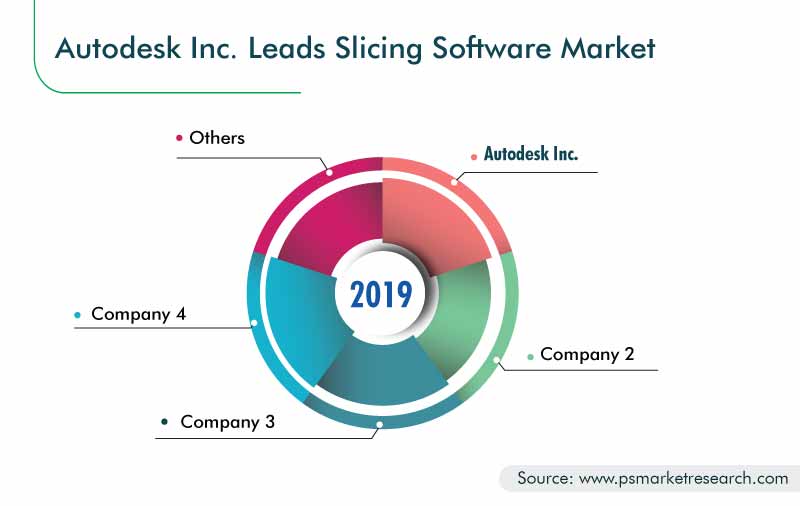 Some of the Key Players in the Slicing Software Market Report Include:
Simplify 3D Inc.

Craftunique Korlatolt Felelossegu Tarsasag (KFT)

E3D Skunkworks Ltd.

MatterHackers Inc.

BCN3D Technologies Inc.

Prusa Research a.s.

Zhejiang Flashforge 3D Technology Co. Ltd.
Slicing Software Market Size Breakdown by Segment
The slicing software market report offers comprehensive market segmentation analysis along with market estimation for the period 2014–2030.
Based on Product Type
Based on Deployment
Based on Application
Prototyping
Functional Part Manufacturing
Tooling
Based on Technology
Stereolithography
Fusion Disposition Modelling (FDM)
Digital Light Processing (DLP)
Based on Industry
Aerospace & Defense
Education
Architecture & Construction
Automotive
Consumer Products
Healthcare
Jewelry
Geographical Analysis
North America
Europe

U.K.
Germany
Italy
France
Spain

Asia-Pacific (APAC)

China
India
Japan
South Korea
Australia

Latin America (LATAM)
Middle East & Africa (MEA)