Market Outlook
The 3D printing materials market revenue stood at $558.4 million in 2017, and it is projected to cross $1,365.6 million by 2023, progressing at a CAGR of 16.7% during 2018–2023.
In the coming years, the Asia-Pacific (APAC) region is expected to display the fastest growth in the consumption of 3D printing materials. This can be credited to the favorable government policies, expansive industrial base, and hefty investments in research and development (R&D). Among APAC nations, China is the most-significant contributor to the sector, as it has the world's highest manufacturing output.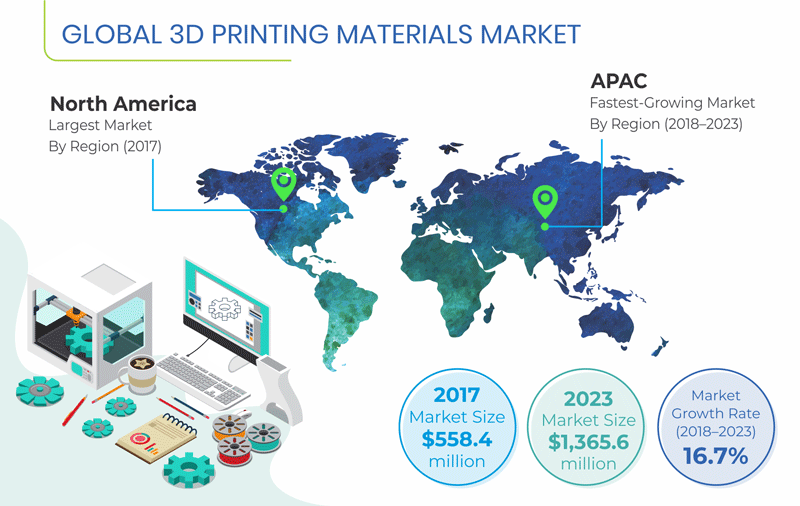 Market Dynamics
The increasing adoption of additive manufacturing in the education sector has become a prominent trend in the 3D printing materials industry. This technology helps students think conceptually and transform their ideas into the physical form, by enabling them to design 3D shapes on tablets. 3D printing also helps in improving the quality of education, primarily in science, technology, engineering, and mathematics (STEM). Moreover, this technology helps students in learning difficult concepts, by enabling the usage of a combination of 3D models to understand various theories, principles, and processes.
Manufacturing facilities are increasingly deploying the additive manufacturing technology to obtain better and faster results, which, in turn, is driving the 3D printing materials market growth. For a long period, manufacturing was dependent on the subtractive process, in which the wasted raw material was reused several times. For instance, in an automotive manufacturing unit, a metal sheet is cut and shaped into different parts, and the remaining metal is melted again to form plates, which are then reused. Being a long and expensive process, it is now being replaced by additive manufacturing.
Polymers are the most-common materials used for 3D printing. However, in recent years, paper and organic tissues have emerged, which are providing lucrative opportunities to the market players. The development of new materials will enable manufacturers to explore and develop new products in numerous industries, such as electronics.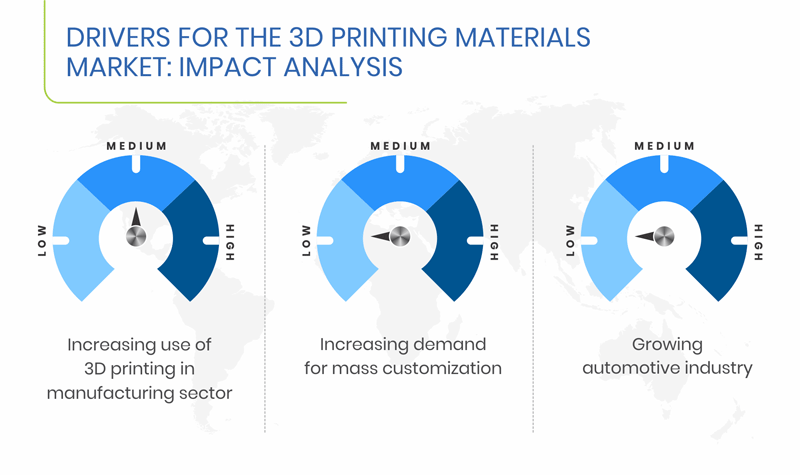 Segmentation Analysis
In 2017, metals held the largest revenue share, within the type segment, due to the higher price of metals than plastics and ceramics.
The powder category, within the form segment, is expected to register the fastest growth, in terms of revenue, in the coming years. This will be because powdered materials are far more expensive than those in other forms. Powders are used in the creation of large and dense components in the military, aerospace, and oil and gas industries.
The aerospace and defense category held the largest revenue share in the 3D printing materials market, of 37.1%, in 2017, under segmentation by application. This was due to the use of titanium in the 3D printing of prototypes or components. Titanium, one of the most-expensive 3D printing metals on earth, is quite significant for the aerospace and defense sector.
Geographical Analysis
The North American market for 3D printing materials generated the highest revenue during 2013–2017, and it is expected to retain its dominance in the coming years. This can be primarily ascribed to the presence of leading players and rising usage of the 3D printing technology in product manufacturing and mass customization. The U.S. is expected to dominate the region, by generating around $490.8 million in revenue, in 2023.
The fastest growth in the industry is set to be seen in APAC in the coming years, mainly driven by the rapid adoption of the additive manufacturing technology in China. This will itself be a result of the People's Government's Made in China 2025 plan, under which it is offering hefty grants for R&D on new manufacturing technologies.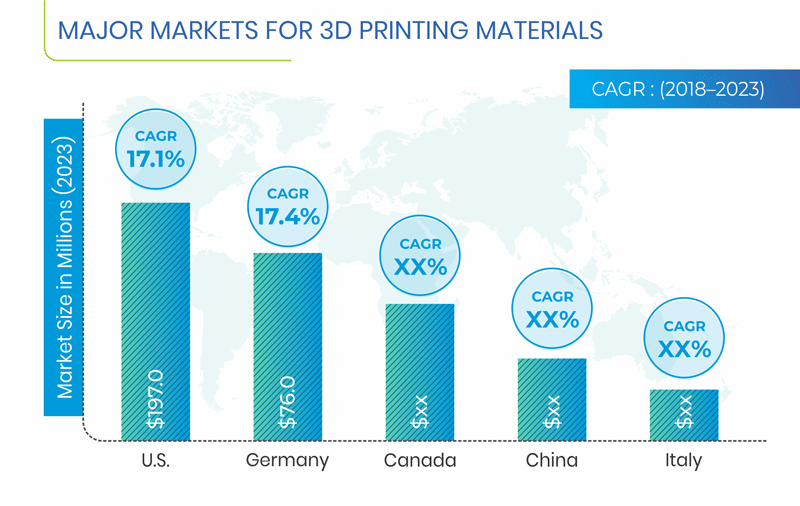 Competitive Landscape
The 3D printing materials market is dominated by Stratasys Ltd., 3D Systems Corporation, EOS GmbH Electro Optical Systems, and The ExOne Company. Other players operating in the market include Royal DSM, Arkema Group, CRP Technology Srl, EnvisionTEC GmbH, LPW Technology Ltd., Solidscape Inc., and Formlabs Inc.
3D Printing Materials Market Report Coverage

| | |
| --- | --- |
| Report Attribute | Details |
| Historical Years | 2013-2017 |
| Forecast Years | 2018-2023 |
| Market Size by Segments | Type, Form, Application |
| Market Size of Geographies | U.S., Canada, U.K., Germany, France, Italy, China, India, Japan, Brazil, South Africa |
Explore more about this report - Request free sample pages
Recent Strategic Developments of Major 3D Printing Materials Market Players
In recent years, the major players in the global 3D printing materials market have taken several strategic measures, such as product launches and partnerships, to gain a competitive edge in the industry. For instance, in February 2018, EnvisionTEC launched a large, high-speed 3D printer, by the name Vida cDLM, which allows dental professionals to 3D print night guards and orthodontic models in less than 30 minutes, depending on material.
Moreover, in November 2017, LPW Technology Ltd. and Additive Industries signed a partnership agreement to provide integrated powder management solutions for the MetalFAB1 additive manufacturing machine.
Market Size Breakdown by Segment
The 3D Printing Materials Market report offers comprehensive market segmentation analysis along with market estimation for the period 2013–2023.
Based on Type
Based on Form
Based on Application
Aerospace and Defense
Medical and Dental
Automotive
Consumer Goods
Geographical Analysis
North America
Europe

U.K.
Germany
France
Italy

Asia-Pacific (APAC)
Rest of World (ROW)

Brazil
South Africa
Saudi Arabia