Global CAD Software Market Overview
Valued at $9.3 billion in 2019, the global computer-aided design (CAD) software market size is set to witness growth of 6.6% during 2020–2030 (forecast period), reaching $18.7 billion by 2030. A major factor driving the growth of the market is the increasing usage of CAD software in the manufacturing and automotive industries. Packaging machines are increasingly becoming complex, especially with the rise in the focus on efficiency, due to which designers and engineers are deploying CAD software to meet mechatronic engineering challenges. Such factors are resulting in the increasing demand for CAD software, globally.
The CAD software market growth has shown a dip in 2020, owing to the global lockdown to curtail the spread of the novel coronavirus (COVID-19) disease. Several factors, including the halt in production across several industries, in the wake of the complete or partial lockdown, have been considered for the market number estimation for 2020. Furthermore, in the media and entertainment industry, there has been an intermittent suspension of movie and advertisement production. Additionally, the construction of buildings has also been postponed in some countries, thereby reducing the demand for CAD software.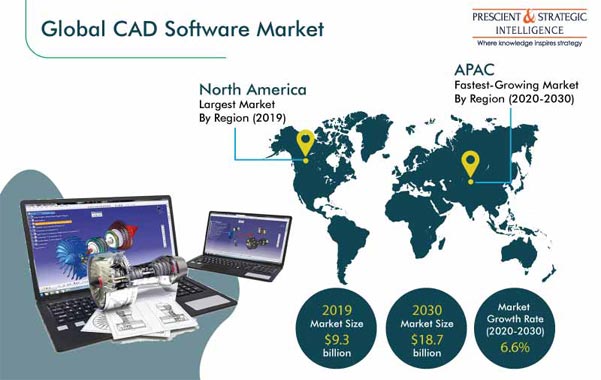 3D CAD Software Held Larger Market Share in 2019
Three-dimensional (3D) CAD software held the larger share in the CAD software market in 2019, based on technology. This can be mainly attributed to the high adoption of 3D CAD software, owing to the increasing number of professionals in the field of designing, especially in sectors such as aerospace & defense, automotive, and healthcare. 3D CAD offers several advantages over 2D CAD, including enhanced product visualization and presentation. It also helps accelerate the product development cycle, with virtual testing and optimization.
Solid Modeling Category Is Projected To Dominate Market during Forecast Period as Well
The solid modeling category dominated the CAD software market during the historical period (2014–2019), and it is projected to continue its dominance during the forecast period. This is majorly due to the rise in the focus on precise designing and professional product prototyping. Solid modeling CAD software enables the designer to see the designed object as it would look like when manufactured. It can be seen from various directions and angles, which further helps the designer be sure that the object looks exactly the way he/she wants it to be.
Cloud-Based Deployment Is Projected To Attain Faster Growth in Industry
During the forecast period, the CAD software market is projected to register the faster growth in the cloud bifurcation, based on deployment. This would primarily be because of the global rise in internet penetration and awareness regarding the fact that cloud makes CAD functionality easier, with better access to data. For instance, internet penetration was about 90% in North America and more than 85% and 55% in Europe and Asia-Pacific (APAC), respectively, as of July 2020.
CAD Software Usage at Intermediate Level Dominated Market during Historical Period
The intermediate category held the largest share in the CAD software market in 2019, on the basis of level. This was majorly due to the presence of a large number of designers functioning at the intermediate level, globally. It has been observed that intermediate-level designers are the most active users in the industry, primarily designing models for small-sized and some mid-sized projects. Due to budget constraints, they require software that costs less, but offers more productivity and value.
CAD Software Is Expected To Gain Fastest Adoption in Healthcare Industry
The healthcare category is projected to witness the fastest growth in the CAD software market during the forecast period, under the application segment. The role of 3D CAD software is no longer limited to engineering design in the manufacturing sector; it is increasingly being used in the healthcare industry. With the aid of 3D CAD modeling, it has become possible to create 3D models from the data acquired from medical images, such as magnetic resonance imaging (MRI) and computed tomography (CT) scans. The usage of 3D CAD models is increasing for planned surgeries, especially those involving the implantation of medical devices and prostheses.
North America – Largest Adopter of CAD Software
Geographically, North America held the largest share in the CAD software market in 2019, and it is projected to continue leading the industry during the forecast period. This is majorly due to the high adoption of CAD software in the aerospace & defense industry of the region for product prototyping, where it is used to facilitate the process of imaging, creating, and refining aircraft designs.
Moreover, some of the major CAD software providers have their operational center in North American countries. For instance, Dassault Systèmes SE has a total of 188 offices worldwide, of which around 25% are in North America. The presence of other key players, such as Autodesk Inc., Trimble Inc., and Adobe Inc., continues to boost the growth of the CAD software market in the region.
Asia-Pacific (APAC) – Fastest-Growing Market
During the forecast period, the CAD software market is projected to demonstrate the fastest growth in the APAC region. This can be mainly attributed to the wide adoption of CAD software in China, Japan, and India, majorly for healthcare applications. This is driven by the growing use of the technology for the development of advanced medical devices and diagnostic tools. In addition, the increasing investments in the defense, construction, manufacturing, and automotive industries are expected to substantially propel the market for CAD software in the region in the near future.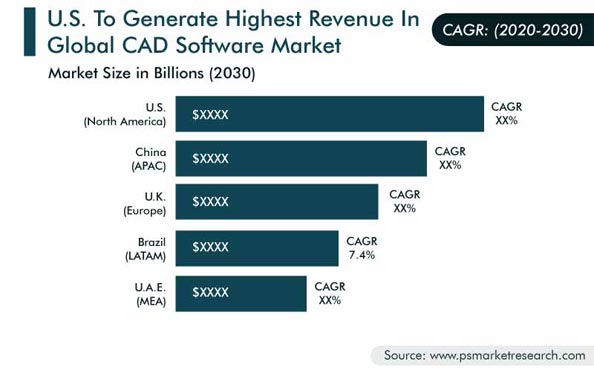 Increasing Focus on Acquisitions by Industry Players Is Key Trend
Companies offering CAD software are increasingly focusing on the acquisition of other software solution providers to enhance their offerings and expand their user base. Key players, such as Dassault Systèmes SE and Hexagon AB, are laying stress on such acquisitions to expand their expertise and roll out new products and services in the CAD software market. For instance, in March 2020, Hexagon AB announced the acquisition of CAEfatigue Limited, a provider of mechanical fatigue simulation solutions, to improve product design and manufacturing. Through this acquisition, the former company aims to enhance its simulation solutions for smart factories.

Increasing Use of CAD Software in Packaging Industry To Drive Market Growth
The rising use of CAD software in the packaging industry is driving the growth of the CAD software market. Packaging involves the planning, designing, developing, wrapping, boxing, or bottling of goods for individual customers, as well as industrial, manufacturing, military, and other markets. Packaging machinery, which is widely used in industries, helps complete all the phases of packaging, including product filling, wrapping, strapping, and labeling. With packaging machines becoming increasingly complex, engineers and designers are adopting CAD software to meet mechatronic engineering challenges. CAD software enables the unconventional modeling of these machines, through simulation and communication control tools. In addition, the surge in the demand for smart packaging is driving the technology adoption in the industry.
Market Is Driven by Growing Technology Adoption in Automotive Industry
The CAD software market is also being driven by the growing technology adoption in the automotive industry, which has witnessed a considerable increase in the demand for quality components and products in recent years. While the users are increasingly focusing on quality over brand value, manufacturers are striving to reduce the burden of product recalls. Moreover, with millions of connected cars expected to ply on the roads in the coming years, engineers are considering advanced solutions and tools supported by CAD software to facilitate the design and development of products. CAD, in this regard, plays a key role in ensuring utmost quality and precision during the manufacturing of components.
CAD Software Market Report Coverage

| | |
| --- | --- |
| Report Attribute | Details |
| Historical Years | 2014-2019 |
| Forecast Years | 2020-2030 |
| Base Year (2019) Market Size | $9.3 Billion |
| Forecast Period CAGR | 6.6% |
| Report Coverage | Market Trends, Revenue Estimation and Forecast, Segmentation Analysis, Regional and Country Breakdown, Company Share Analysis, Companies' Strategic Developments, Product Benchmarking, Company Profiling |
| Market Size by Segments | Technology, Deployment, Level, Application, Geography |
| Market Size of Geographies | U.S., Canada, U.K., Germany, Russia, France, Spain, China, Japan, India, South Korea, Australia, Brazil, Mexico, U.A.E., South Africa |
| Secondary Sources and References (Partial List) | Aerospace Industries Association (AIA), Alliance for American Manufacturing, Alliance of Automobile Manufacturers, American Architectural Manufacturers Association (AAMA), American Design Drafting Association (ADDA), American Institute of Aeronautics and Astronautics (AIAA), European Association of Automotive Suppliers (CLEPA), European Automobile Manufacturers' Association (ACEA), European Cloud Alliance, Information Technology Association (ITA), Institute of Electrical and Electronics Engineers (IEEE) |
Explore more about this report - Request free sample pages
Industry Participants Launching New Products to Attain Competitive Edge
The global CAD software market is consolidated in nature, with the presence of market players such as Dassault Systèmes SE, Autodesk Inc., Robert McNeel & Associates (Rhinoceros), and Trimble Inc.
In recent years, players in the industry have launched several advanced and new products, in order to stay ahead of their competitors. For instance:
In April 2020, PTC Inc. announced the release of its Vuforia spatial toolbox platform. The new open-source platform enables developers to create, innovate, and solve spatial computing problems in a new way. It also helps innovators and academic researchers explore the potential of internet of things (IoT) and spatial computing in augmented reality (AR) and IoT applications.
In March 2020, Trimble Inc. announced the 2020 versions of its Tekla software, which include Tekla Structures 2020, Tekla Structural Designer 2020, Tekla Tedds 2020, and Tekla PowerFab 2020, for advanced building information modeling (BIM), structural engineering, and steel fabrication management. The products are integrated in design and construction workflow, and they enable the free flow of information, development of constructible models, and improvements, in terms of collaboration.
In February 2020, Dassault Systèmes SE announced the launch of its new 3DEXPERIENCE WORKS, which provides SOLIDWORKS users with a connected, integrated, and automated way of streamlining their work processes and saving time and money. The new offering also includes 3D Creator and 3D Sculptor, which are next-generation design applications that can run on any browser and enable users to extend and improve what they can do with SOLIDWORKS, by selecting from dozens of other powerful 3DEXPERIENCE WORKS applications and using only the ones they need for their tasks.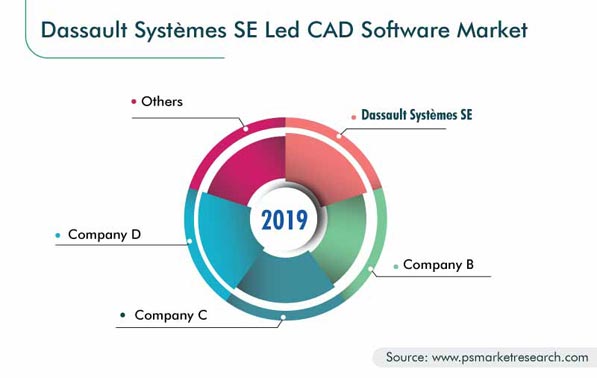 Some of the key players included in the CAD software market report are:
Autodesk Inc.

Bentley Systems Inc.

Dassault Systèmes SE

Trimble Inc.

PTC Inc.

Gstarsoft Co. Ltd.

3D Systems Corporation

AVEVA Group plc
Hexagon AB

IronCAD LLC

AO Nanosoft

CNC Software Inc.

SolidCAM GmbH

ZWSOFT CO. LTD.

Siemens AG
CAD Software Market Size Breakdown by Segment
The CAD software market report offers comprehensive market segmentation analysis along with market estimation for the period 2014–2030.
Based on Technology
Two-Dimensional (2D) Software
Three-Dimensional (3D) Software
Based on Model
Based on Deployment
Based on Level
Professional (Pro)
Intermediate
Beginner
Based on Application
Aerospace & Defense
Automotive
Manufacturing
Healthcare
Media & Entertainment
Arts
Geographical Analysis
North America
Europe

U.K.
Germany
Russia
France
Spain

Asia-Pacific (APAC)

China
India
Japan
South Korea
Australia

Latin America (LATAM)
Middle East & Africa (MEA)