Market Overview
The global polymer market was valued at $589,902.9 million in 2021, and it is expected to reach $946,991.38 million by 2030, growing at a significant CAGR of 5.4% between 2021 and 2030. This is majorly attributed to the increasing demand for the product in numerous end-use industries, such as packaging, automotive, and electronics.
Moreover, plastics are those polymers that are widely used in various sectors, owing to their attributes, such as lightweight, strength, flexibility, transparency, ease of sterilization, easy manufacturing, permeability, low cost, and great resistance to physical aging and biological degradation. Because of its beneficial properties, the product is suited for a wide range of applications. It is used in toys, sports, and fashion items. Also, it expands rather than breaks, thus it enables simple product molding and packing. Despite being electrostatically charged, polymer-based goods have electrical trembling resistance.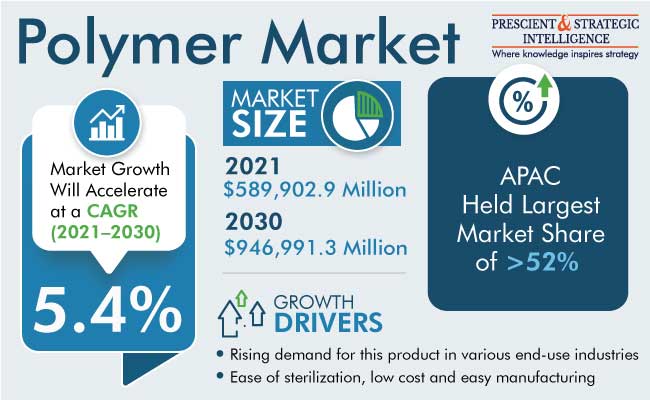 Increased Replacement of Conventional Materials in the Automotive Sector
The rising adoption of lightweight materials as a replacement for conventional materials, such as ceramics and metals, has increased in the automotive and other manufacturing industries. This is majorly due to their outstanding mechanical, electrical, and chemical properties, such as strength-to-weight ratio, elasticity, insulating and optical, and corrosion resistance. Further, it is projected that around 10% reduction in the weight of vehicles causes a proportional reduction in fuel consumption, which leads to high volumetric adoption of polymer in automobiles, which, in turn, propels the market growth.
Surging Need for Polyethylene Drives the Industry
The polyethylene category is expected to grow at the highest growth rate throughout the forecast period, with a CAGR of around 5.7%. This can be ascribed to the increasing demand for the product from different end-use sectors. Furthermore, the rising usage of high-density polyethylene (HDPE) and low-density polyethylene (LDPE) in food and beverage packaging applications, such as milk, fruit juices, and other food products, drives the market growth in this category.
Polyethylene is widely utilized in the construction industry as sheets, plates, films, foils, and strips that provide plastic protection for flooring. Additionally, it is utilized in pipes and fittings, which are crucial components of several industrial processes. In addition, common household items including bowls, buckets, water bottles, drums, and trash cans are made of polyethylene. Thus, the need for polymers is fueled by the rising sales of consumer items, which offers lucrative opportunities to suppliers in the polyethylene industry.
Thermoplastics Is Principal Revenue Contributor
The thermoplastics category accounted for the largest share, of 69.2%, in the market in 2021. This is attributed to the rising need for thermoplastics in the food sector, owing to their cost efficiency, high mechanical strength, and ease of manufacturing. Furthermore, these attributes have pushed the demand for thermoplastics in other areas, such as construction for lightweight structures, storage tanks, and window frames and panels. Additionally, thermoplastic polymers are used in various applications, such as automotive components, food containers, medical devices, electronic appliances, and industrial labeling materials, due to their superior properties compared with other similar products available in the market and lower cost of production.
The packaging category, based on application, held the largest market share in 2021. Due to the essential qualities of polymer, such as high flexibility, protective, high resistance to shock/vibration, and high resistance to surface abrasion, it is replacing conventional materials in the packaging sector. In addition, due to technical developments, the physical, mechanical, and barrier characteristics of the product have been improved by the addition of nanofillers to polymer matrices, which has increased its demand in this area.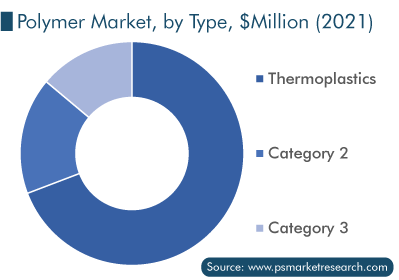 Rising Demand from End-Use Industries Boosts the Market Growth
The polymer is suited for a variety of industrial end-use applications because of its many beneficial features. It is extremely ductile, has good impact strength, and has low hardness. The item also features an excellent electric insulator that offers resistance to electric trembling but can develop electrostatic charges. As a result of these qualities, the product demand is growing across a range of industries, including consumer products, electrical and electronics, food & beverages, and automobile.
Manufacturers in the automobile industry are concentrating on reducing their vehicles' weight to increase their efficiency. Because it is lightweight and has simple processing, sealing, and stiffness features, this kind of material is recommended in this sector. Due to the product's rising demand for the creation of packaging materials for food and beverage goods, its consumption is rising quickly in the food and beverage industry. Effective packaging is preferred by manufacturers to lower the risk of food contamination and quality loss.
Furthermore, the application of this product in fashion, sports, and toys is increasing because of its capacity to withstand physical stresses, allow for easy product shaping, and provide durability and flexibility. Moreover, the product usage in the agriculture sector is expanding because of the increased demand for microtubes, nozzles, drippers, and emission pipes in irrigation areas. As a result, a surge in the number of polymer applications across many sectors is fueling the market growth.
Shifting Focus toward Bio-Based Polymers
Plastics created from renewable biological materials are referred to as "bio-based." For instance, ethylene may be produced from sugar cane and then utilized to create polyethylene. Lactic acid and polylactic acid may be produced from starch by processing. A bio-based polymer is ideal for lowering global carbon emissions, total energy use, and environmental protection. Because it benefits both customers and packaging industries, many businesses are increasingly turning to this wonderful plastic substitute.
Furthermore, it is important to realize that bio-based polymers like bio-based polyethylene include renewable carbon components. This is one of the primary factors driving many firms to move from polymers derived from fossil fuels to those derived from biomaterials. This is also true since bio-based plastics, at the end of their life cycles, return to the atmosphere and do not introduce any new carbon into the environment.
Polymer Market Report Coverage

| | |
| --- | --- |
| Report Attribute | Details |
| Historical Years | 2017-2021 |
| Forecast Years | 2022-2030 |
| Market Size in 2021 | 589,902.9 million |
| Revenue Forecast in 2030 | $946,991.38 Million |
| Growth Rate | 5.4% CAGR |
| Report Scope | Market Trends, Drivers, and Restraints; Revenue Estimation and Forecast; Segmentation Analysis; Impact of COVID-19; Segmentation Analysis of Countries; Companies' Strategic Developments; Market Share Analysis of Key Players; Company Profiling |
| Segments Covered | By Type; By Base Material; By Application; By Region |
Explore more about this report - Request free sample pages
APAC Is the Market Leader
APAC led the market with the largest revenue share, of around 52.4%, in 2021, and it is also expected to retain its industry dominance over the next few years. This is primarily due to the high adoption of polymers in wide application areas in industries such as automotive, construction, packaging, agriculture, electronics & electrical, and textile in the region. These application areas include flexible bottles, gears, film wrapping, battery parts, bearings, safety helmets, bushings, cams, handles, jacketing for wires and cables, and anti-corrosive seals. Furthermore, the growth in the automotive and construction industries in India, China, and Indonesia, is expected to drive the product demand in the regional market.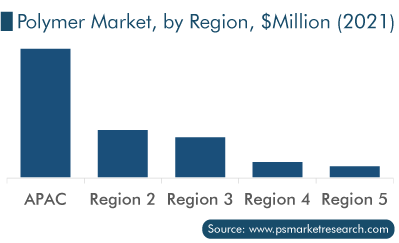 Top Players in the Polymer Market Are:
The Dow Chemical Company
Evonik Industries AG
Royal DSM
Eastman Chemical Company
Covestro AG
Mitsui Chemicals Inc.
Exxon Mobil Corporation
BASF SE
Clariant International Limited
Huntsman Corporation
Global Polymer Market Size Breakdown by Segment
The study uncovers the biggest trends and opportunities in the market, along with offering segmentation analysis at the granular level for the period 2017 to 2030.
Based on Type
Thermoplastics
Thermosets
Elastomers
Based on Base Material
Polyethylene
Polypropylene
Polyvinyl Chloride
Polyethylene Terephthalate
Polystyrene
Polyurethane
Based on Application
Packaging
Construction
Automotive
Agriculture
Electrical & Electronics
Textile
Geographical Analysis
North America
Europe

U.K.
Germany
France
Spain
Italy

Asia-Pacific

China
India
Japan
South Korea
Australia

Latin America
Middle East and Africa

Saudi Arabia
South Africa