Market Overview
The global 3D printing market was valued at USD 16,102 million in 2022, and the size is predicted to reach USD 77,228 million by 2030, advancing at a CAGR of 21.7% during 2022–2030. The industry is driven by the rising demand for quick prototyping, growing demand for mass customization, and efficient use of material, less labor and transportation cost.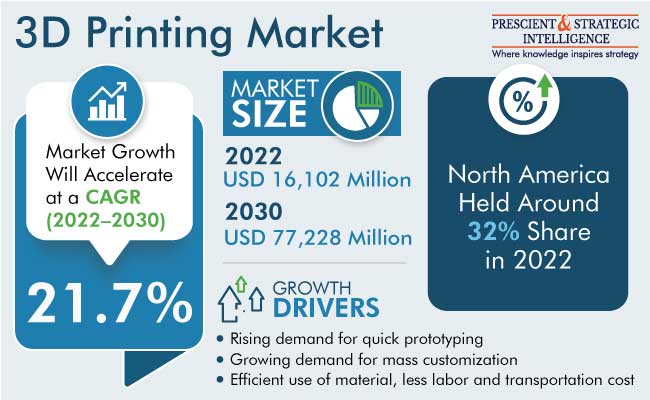 The products developed through this process gives the flexibility to customize the products as per consumer's needs. Whereas in standard mass production the products coming from the molds are same. Hence, it helps in personalization of the products which makes it useful in the current industrial spectrum. Customization of designs is especially helpful in industries, such as healthcare, and gems and jewelry, where people can have distinguished products through this process.
The make-to-order environment is the main application of additive manufacturing for personalization with high potential for companies. Also, 3D printing offers high variation in the industrial processes while the internal processes remain standardized. The types of personalization processes differ in degree of customer integration, preplanning of customization, and influence on the design process.
The major factors driving the market growth include, easier development of customized products, reduction in overall manufacturing price and innovation of new printing materials. The technology further provides various benefits, such as reduced lead times along with better inventory management. Although, the industry witnessed significant growth rate during the last five years, it still faces certain challenges, such as maintaining product quality as well as the availability of the designing tools and software.
Despite significant growth, there is enormous untapped potential in this field. Currently, 3D printing amounts to less than 1% of the global manufacturing sector, with prototyping as the major use. The biggest opportunity lies in the production of parts, since there is ample scope for streamlining production to achieve high assembling efficiencies.
Moreover, PLA is 3D printing filament is high in demand. It is due to its low warping concerns and ease of usage, PLA is the ideal material for 3D printing. In addition to being biodegradable, it is one of the most environmentally friendly materials. The affordability of and the variety of colors and blends available are further benefits.
Printers are Majorly Used
The printer category accounted for the largest share of more than 40% in 2022 in terms of revenue. This can be attributed to the fact that the technology is still in adoption phase by various large organizations. Industrial printers are high in demand attributed to their ability to produce complex geometric forms in a single step resulting in higher efficiency and lower price of production.
The service category is expected to register highest growth rate during the forecast period owing to the increasing requirements of equipment maintenance in the upcoming years. In services, after sales services are in high demand. This can be attributed to the rising sale of 3D printers globally, which in turn is pushing the demand for after sales services, such as periodic maintenance and replacement of parts.
Vat Photopolymerization is Dominating
Vat Photopolymerization category is expected to grow at a fastest rate with a highest CAGR of 22.8% during the forecast period. This is mostly due to its high accuracy, excellent finish, reasonably quick procedure, and the fact that these are often enormous build areas: Objet 1000 measures 1000 by 800 by 500 and has a maximum model weight of 200 kg. Hearing aids, facial prostheses, and surgical learning aids are some of the most notable applications in the medical and dental fields. Vat photopolymerization can be used by manufacturers to create molds for low-volume injection molding.
Stereolithography Technology is Widely Adopted
Stereolithography category held the largest share of 16% in 2022. This is due to various benefits associated with it, such as lower price, high precision and lesser time required for casting. However, the fuse deposition modelling (FDM) technology will register the highest growth rate in the years to come. Due to the stereolithography process's extremely thin layer (0.05 to 0.10 mm) and the precise laser beam, it is feasible to create prototypes with intricate geometrical designs and a highly realistic finish. Despite the use of substitute materials (resin), the parts created by this technology have excellent functional quality, and a smooth finish.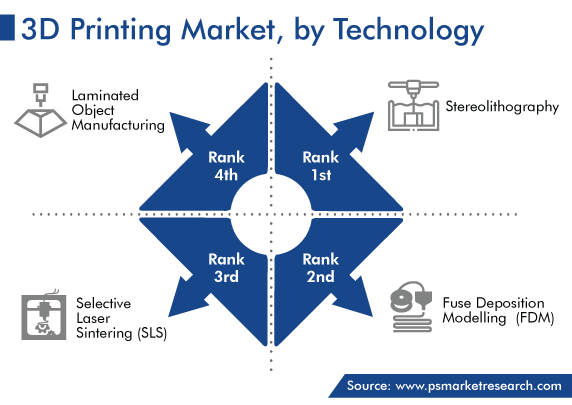 Prototyping is Boosting the Industry
Prototyping category held the largest share in 2022 and it is witnessed to grow fastest during the forecast period. Prototyping with 3D printing provides a fair number of advantages, such as the ability to test the products before mainstream production and improving the efficiency of product design in a relatively lesser time as compared to conventional methods. Making high-fidelity prototypes can cut-down on communication expenses dramatically, and they are also more accurate. Additionally, prototyping enhances the quality of requirements and specifications offered by clients and helps minimize misconceptions and miscommunications during the development process.
Mostly Used in Aerospace and Defense
The aerospace and defense category accounted for a significant market share of 16% in 2022 owing to its widespread adoption by aerospace and defense components manufacturers to design and test products in a shorter duration along with reducing the price of making tools and fixtures. The energy category will witness the highest growth rate during the forecast period. The energy sector is exhibiting increasing advancements in 3D printing technology in the form of high-resolution prototypes and complex production parts.
The aerospace industry offers significant opportunities to the market players. The stringent necessities, such as precision and accuracy in the designs of aircraft parts and lightweight components, are some of the factors predominantly escalating the growth for the industry. The industrial 3D printing technology provides maximum flexibility in production planning and processes, which requires less energy and raw material than conventional manufacturing operations. Also, construction with this technique enables faster iteration, decision-making and response to industry. The airlines hinge on this technique for alleviating supply chain constraints, limiting warehouse space, and reducing waste materials from traditional processes of manufacturing.
Efficient Use of Material, Less Labor and Transportation Costs
The advantages offered by the technology, such as reduced material usage, less labor cost, decreased transportation cost is impacting the manufacturers and fueling growth of the market. It offers the technology, which is quite helpful in reducing the amount of material used compared the subtractive manufacturing. The scraps left from the jobs, such as metal cutting are wasted and may be destroyed in some other processes, theoretically it produces no waste. Practically some waste is inevitable in the post production supports and some in production contamination, but the waste still can be reduced to below 10% fueling the growth of global 3D printing market.
As 3D printing is an automatic process, it cuts down the cost of labor associated with the traditional manufacturing. Although, some additional cost of appointing skilled labor is added but it still proves to be lower than the labor cost in large and complex applications. There are many implications with the labor in traditional process, such as injuries, emergencies and intentional leaves that harm the businesses, this is curbed by the use of this technique.
3D Printing Market Report Coverage

| | |
| --- | --- |
| Report Attribute | Details |
| Historical Years | 2017-2022 |
| Forecast Years | 2023-2030 |
| Market Size in 2022 | USD 16,102 Million |
| Revenue Forecast in 2030 | USD 77,228 Million |
| Growth Rate | 21.7% CAGR |
| Report Scope | Market Trends, Drivers, and Restraints; Revenue Estimation and Forecast; Segmentation Analysis; Impact of COVID-19; Companies' Strategic Developments; Market Share Analysis of Key Players; Company Profiling |
| Segments Covered | By Component; By Process; By Technology; By Application; By Industry; By Region |
Explore more about this report - Request free sample pages
Growth Opportunity
DDM is the process that makes the required parts directly using CAD or other data, to drive an additive manufacturing. Companies are integrating DDM process into their business processes to eliminate investment in tooling, disregard time lag between design and production, and eliminate penalty for redesign. DDM is used for fabrication and assembly testing and making of end- user parts. DDM offers shorter lead times and allow immediate design changes in prototype stages. 3D printing technologies enable DDM to accomplish these objectives, which in turn increases the demand for 3D printing. Hence, due to these reasons the use of DDM would lead to the expansion of 3D printing in DDM in the coming years.
North America Held Largest Share
North America accounted for highest revenue share of more than 32% in 2022 owing to widespread adoption of 3D printing technology, various technological advancements, and increasing R&D investments. In the region, there are many government initiatives that are financially supporting the advanced manufacturing and 3D printing research. The National Additive Manufacturing Innovation Institute (NAMII) is a public-private institute for manufacturing innovation in the U.S. that helps accelerate these technologies to the U.S. manufacturing sector. The leading players in the region, include 3D Systems, Autodesk Inc., Stratasys Ltd., Organovo Holdings Inc., and EnvisionTEC.
Moreover, APAC will be the fastest growing region during the forecast period. Countries that majorly contribute to this region's progress are China, Japan, and India. Being the most technologically advanced country in APAC, Japan is presently leading the APAC industry. However, the market is expected to grow fastest in China, during the forecast period.
As 3D printing offers freedom of designing and enables to create the most complex and unconventional designs, 3D printed Jewelry is gaining traction in the region. Besides, with surgeons and healthcare experts concentrating on experimenting with various 3D printing materials for implants and automotive assemblers utilizing 3D printers to produce parts in lesser cost and time, the healthcare and automotive industries are the major end-users of 3D printing technologies in the region.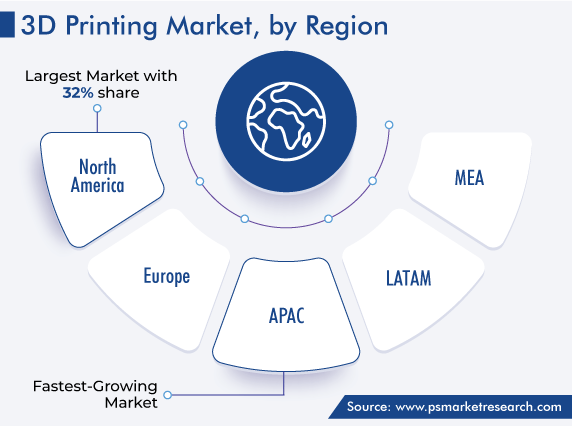 Top 3D Printing Companies Are:
Stratasys Ltd.
3D Systems Corporation
Materialise NV
GE Additive
The ExOne Company
Voxeljet AG
HP Inc.
SLM Solutions Group AG
Autodesk Inc.
Concept Laser GmbH
Market Size Breakdown by Segment
The report analyzes the impact of the major drivers and restraints on the market, to offer accurate market estimations for 2017–2030.
Based on Component
Printer
Software
Material
Service
Based on Process
Powder Bed Fusion
Binder Jetting
Direct Energy Deposition (DED)
Sheet Lamination
Vat Photopolymerization
Material Extrusion
Material Jetting
Based on Technology
Stereolithography
Fuse Deposition Modelling (FDM)
Selective Laser Sintering (SLS)
Laminated Object Manufacturing (LOM)
Digital Light Processing (DLP)
Polyjet Printing
Inkjet Printing
Direct Metal Laser Sintering (DMLS)
Electron Beam Melting (EBM)
Laser Metal Deposition (LMD)
Based on Application
Prototyping
Product Development
Innovation
Efficiency Increment
Cost reduction
Supply Chain Improvement
Based on Industry
Aerospace & Defense
Healthcare
Jewelry
Automotive
Industrial
Architecture & Construction
Energy
Geographical Analysis
North America
Europe

U.K.
Germany
France
Italy
Spain

Asia-Pacific

China
Japan
Australia
India
South Korea

Latin America
Middle East & Africa

Saudi Arabia
South Africa