Market Overview
The polyphthalamide resin market size stood at USD 1,522.3 million in 2023, and it is expected to advance at a CAGR of 6.4% during 2024–2030, to reach USD 2,320.6 million by 2030.
The growth can be primarily ascribed to the rising usage of PPA resin as an alternative to metals in vehicles and the burgeoning R&D investments. The material has various advantageous properties, such as higher thermal and electrical tolerance, hygroscopicity, and high tensile strength. Other good chemical and mechanical properties of this material include opaqueness, semi-crystalline structure, and moisture resistance.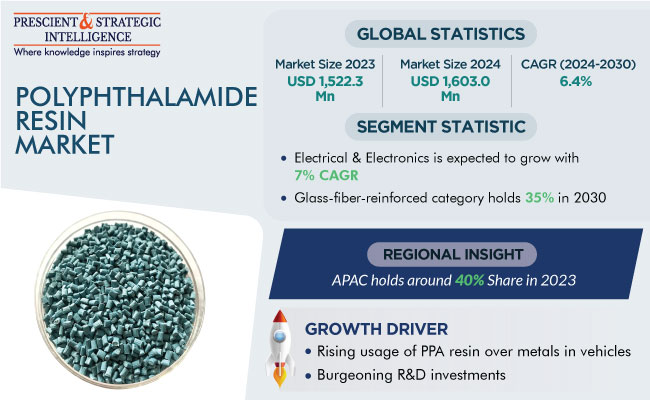 Hence, the growing trend of eco-friendly materials, coupled with the rising need for fuel efficiency, is expected to propel the consumption of these resins. It is well-understood now that if approximately 100 pounds of vehicle weight can be reduced, its fuel consumption could come down by up to 2%.
In addition, a range of electrical appliances are used extensively because of their increasing necessity and the rising disposable income of consumers. PPA resin also has a wide range of applications in the medical field, such as catheters and toothbrush bristles. Further, it is used in sports equipment, valve bodies, bearing pads, and bushings.
The demand for PPA is also growing at a significant pace in the aerospace industry because this field requires lightweight and rigid materials for various applications, such as robots, high-speed machine parts, power transmission lines, helicopter rotor blade sleeves, fighter aircraft ventral fins, and jet engine fan exit guide vanes, where material weight significantly affects performance. Therefore, the demand for PPA resin in this industry is increasing owing to its low weight and high impact resistance. The need for weight reduction in aircraft is propelled by the skyrocketing fuel prices, which, in turn, has triggered the need for a higher fuel efficiency.
By Product, Glass-Fiber-Reinforced Category Holds Largest Share
The glass-fiber-reinforced category holds the largest share as this variant is non-flammable, compressive, and resistant to humidity and temperature and does not bend easily. Additionally, it is easily available, and the automotive and electronics sectors are widely using it. Moreover, it offers good value for money and possesses chemical resistance, which will, in turn, propel the growth of the market in this category.
The demand for carbon-fiber-reinforced PPA is expected to register considerable growth, attributed to its high strength, extreme stiffness, and low weight, which make it an important building material. Moreover, this product is stable and electrically conductive and can be used for replacing magnesium and aluminum without the loss of strength. Due to all these benefits, it can be used for the manufacturing of chassis, powertrains, and other parts of vehicles.
Polyphthalamide Resin Market Report Coverage

| | |
| --- | --- |
| Report Attribute | Details |
| Market Size in 2023 | USD 1,522.3 Million |
| Market Size in 2024 | USD 1,603.0 Million |
| Revenue Forecast in 2030 | USD 2,320.6 Million |
| Growth Rate | 6.4% CAGR |
| Historical Years | 2017-2023 |
| Forecast Years | 2024-2030 |
| Report Scope | Market Trends, Drivers, and Restraints; Revenue Estimation and Forecast; Segmentation Analysis; Impact of COVID-19; Companies' Strategic Developments; Market Share Analysis of Key Players; Company Profiling |
| Segments Covered | By Product; By End User; By Region |
Explore more about this report - Request free sample pages
Electrical and Electronics Application Is Expected To Show Highest CAGR
Electrical and electronics applications are expected to show the highest CAGR, of 7.0%, over the forecast period, because PPA resin retains its size and structure under varying environmental conditions, possesses surface-mount capability, and has an excellent processing ability. The material is used in a variety of electronics and electrical components, such as switches, LEDs, circuit breakers, sockets, and connectors. The key benefits that make it ideal for these applications, as well as electric cars, are good electrical properties and flame retardance.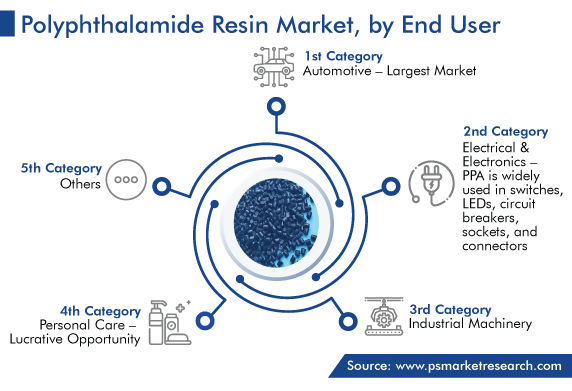 North America Is Second-Largest Market for PPA
North America has the second-highest position in the market, with a value of USD 0.3 billion in 2023. This is ascribed to the rising adoption of electrical vehicles and of advanced materials in a range of applications.
In North America, the U.S. dominates the market, ascribed to the initiatives taken by the government for reducing emissions, the most prominent of which is the implementation of stringent regulations on industries, aircraft, and automobiles.
Moreover, companies are focusing on expanding their production capacities in the region. For instance, in October 2022, Solvay planned to augment its Amodel brand PPA resin production by 15% at its Georgia site, in order to help reduce CO2 emissions from vehicles. In the automotive sector, this chemical is heavily used in power electronics, electric motors, batteries, and various other components.
In 2021, the government announced an investment of USD 100 billion in the manufacturing of electric vehicles and doubling of the number of EV chargers.
APAC is the highest revenue contributor because of the rising sales of vehicles, which is augmenting automobile manufacturing. Across China, India, and Japan, the presence of a large number of automobile manufacturing centers boosts the growth of the market. Due to the availability of financial incentives and the low cost of producing automobiles, the automotive industry is growing consistently in Indonesia, China, Thailand, and India.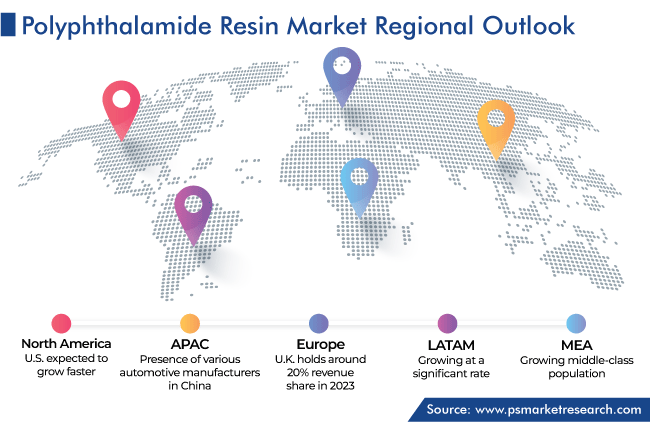 Moreover, the implementation of the Corporate Average Fuel Economy (CAFE) standards has made it imperative for automakers to reduce the overall emissions from their entire fleet. Thus, making automobiles lighter will be crucial to meet the regulations, as the weight of an automobile directly influences the amount of fuel it consumes. In addition, by reducing the weight of the chassis, the other heavy components that cannot be substituted can be accommodated. Hence, auto manufacturers are utilizing a rising volume of PPA resin in order to improve the overall performance of automobiles and meet the stringent environmental regulations.
Increasing Demand for Electric and Lightweight Vehicles Fuels Market Advance
The automotive industry is growing due to the rise in the per capita income. With this, the sale of passenger cars continues to surge in developed and developing countries. Additionally, in recent years, the industry has seen an enormous uptake of advanced technologies as a result of the rising competition among manufacturers. Moreover, the demand for electric vehicles is increasing with the rising concerns for the environment and the several steps governments around the world are taking to enable a low-emission transport system.
Around 4.3 million EVs were sold all over the world in the first half of 2022, which was more than the sales in 2021. The rising demand for lightweight automobiles and minimized emissions is the major factor contributing to the usage of polyphthalamide resin in vehicles. The development of such vehicles has increased, in part, due to the stringent regulations in various countries, such as the U.S., Japan, China, and India, for reducing the ecological impact of transportation.
Key Players in Polyphthalamide Resin Market Are:
AKRO-PLASTIC GmbH
Arkema SA
BASF SE
DuPont de Nemours Inc.
Evonik Industries AG
Solvay S.A.
Pro Polymers Inc.
Celanese Corporation
EMS-CHEMIE HOLDING AG
SABIC
Market Size Breakdown by Segment
The report analyzes the impact of the major drivers and restraints on the polyphthalamide resin market, to offer accurate market estimations for 2017–2030.
Based on Product
Unreinforced, Plain
Glass-Fiber Reinforced
Carbon-Fiber-Reinforced
Mineral-Filled
Based on End User
Automotive
Electrical & Electronics
Industrial Machinery
Personal Care
Based on Region
North America
Europe

Germany
U.K.
France
Italy
Spain

Asia-Pacific

Japan
China
India
South Korea
Australia

Latin America
Middle East and Africa

Saudi Arabia
South Africa
U.A.E.