Market Overview
The electric motors market size stood at USD 123.76 billion in 2022, and it is expected to grow at a compound annual growth rate of 6.75% during 2022–2030, to reach USD 208.70 billion by 2030.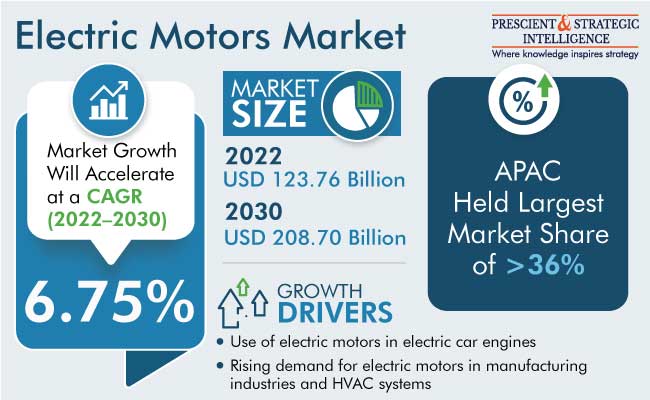 The major growth factors of the industry, include rising demand for such motors in manufacturing industries and HVAC systems amongst residential, industrial, and commercial users.
Moreover, the use of electric motors in electric car engines is of major interest for manufacturers across the world, in order to produce environmentally friendly automobiles.
Governments have partnered with other authorities on the reduction of carbon dioxide emissions, as it has grown significantly impacting the environment, due to transportation.
As a part of the global zero-carbon emissions targets, strict government regulations have also been laid down, which has led to an increase in the installation of electric motors in electric cars.
Furthermore, AC motors are a great option for manufacturers of robotic systems due to factors including, torque requirements, angular movements, acceleration, speed, and control. Diverse types of DC motors include shunt, series, and permanent magnets, while different types of AC motors include, synchronous machines and reluctance motors. Pumps, conveyor systems, compressors, fans, OEM-based goods, and industrial machinery all use AC motors. By integrating electronic hardware and sensors, it is possible to create AC and DC systems that provide predictive maintenance and minimize downtime during repair.
Due to the great efficiency of AC synchronous motors, the automotive industry's increase in requirement for superior machine control which is one of the major driver for the expansion of the industry. In response to regulations, such as the Minimum Energy Performance Standards, new energy-efficient products have been designed to maximize the performance of the motors. This has also driven the adoption of energy-efficient products in electrical appliances, boosting the global demand.
Also, the demand has increased in HVAC applications as a result of features, such as strong torque and low noise. The International Energy Agency (IEA) estimates that almost 40% of all electricity is utilized to power electric motors. Additionally, these are lighter, more portable, and operate at a higher speed.
Additionally, the systems of <1 HP is highly in demand as, the primary applications of fractional horsepower (less than one horsepower) are material handling systems, which are highly demanded. Additionally, the adoption of it between 21 and 60 volts in the HVAC sector is expected to result in a strong demand in the upcoming years.
Furthermore, globally, efforts to reduce fertilizer import costs and encouraged domestic fertilizer production are gaining momentum. The fertilizer industry has observed a major reform in various nations, notably China and India. An example of this is the Make in India project for the chemical industry. Around the world, there is an increasing trend of reopening closed fertilizer plants and constructing new ones, which will boost the expansion of the market during the forecast period.
In addition, businesses are increasingly taking part in government-run energy management initiatives. Such initiatives benefit businesses directly by lowering costs, reducing vulnerability to energy price fluctuations, and boosting competitiveness. In the near future, this will represent a significant opportunity for market expansion.
Electric Motors Market Report Coverage

| | |
| --- | --- |
| Report Attribute | Details |
| Historical Years | 2017-2022 |
| Forecast Years | 2023-2030 |
| Market Size in 2022 | USD 123.76 Billion |
| Revenue Forecast in 2030 | USD 208.70 Billion |
| Growth Rate | 6.75% CAGR |
| Report Scope | Market Trends, Drivers, and Restraints; Revenue Estimation and Forecast; Segmentation Analysis; Impact of COVID-19; Companies' Strategic Developments; Market Share Analysis of Key Players; Company Profiling |
| Segments Covered | By Motor Type; By Power Rating; By Voltage; By Rotor Type; By Output Power; By End User; By Region |
Explore more about this report - Request free sample pages
DC Electric Motors Will Experience Higher Growth Rate
The category for DC electric motors will experience a CAGR of 7.1% throughout the forecast period. These offer strong speed management and excellent beginning torque capacity. They are widely utilized in compact DC products and in traction applications. It produces strong starting torque, which is a feature of series motors. However, the speed of no load and full load varies significantly.
It works well in small electrical appliances, hoists, winches, mobile electric equipment, crane applications, and traction applications. When a consistent speed is required and the starting circumstances are not challenging, shunt motors are employed. These are used in lathes, centrifugal pumps, fans, blowers, elevators, conveyors, and spinning and weaving equipment. Improved starting torque is offered by the series field, while better speed control is offered by the shunt field. Compound motors are utilized in shears, conveyors, presses, elevators, rolling mills, and heavy planners, among other applications where increased starting torque and steady speed are necessary.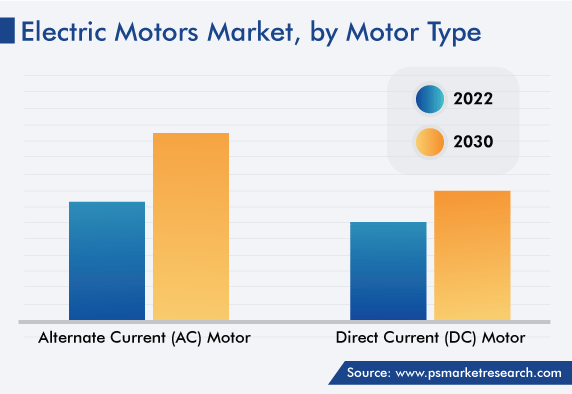 Higher Demand for Energy-Efficient Motors Drives the Market
Number of laws have been put forth to guarantee competent and effective energy use. Energy efficiency standards are currently set by the IEC, a regulatory body in Europe. To increase the energy efficiency, these requirements are implemented in majority of the countries. For the purpose of lowering carbon emissions, the IEC has created a set of efficiency requirements known as IE1, IE2, IE3, and IE4.
As per the CEE, the efficiency rules for electric motors came into effect from January 2017 and mandated efficient operation for all AC motors with rate outputs between 0.75 and 375 kW. Energy-efficient electric motors with a higher degree of tolerance and better magnetic materials have been manufactured over time.
Both OEMs and end users experienced benefits of high-performance IE3 and IE4. In general, electric motors require less maintenance and may generate a lot of torque despite being at low speeds. As a result, there is a greater need for electric motors, particularly those with a power range of 0.75 to 375 kW.
APAC Held Largest Revenue Share
In 2022, APAC held the largest revenue share of 36%. This was due to improvements in the agricultural sector and significant industrialization and investments made by China, India, South Korea, and Australia. The presence of well-known OEMs like Toyota, Honda, Nissan, and Hyundai is also expected to boost the market's growth, as are the rising sales and production of EVs in China and Japan.
Between 2023 and 2030, the market will be dominated by APAC, followed by Europe and North America. The region's dominance will be a result of government's rules and requirements for motor efficiency as well as increasing development.
Moreover, in 2022, Europe and North America held a significant share and experienced an increase in product demand. For premium motors, which are utilized in electric vehicles, industrial applications, and HVAC systems, these regions have a significant market. Due to increased government support, growth potential in LATAM, and MEA will increase soon. The market in these regions is increasing from the expanding need for motors from the oil and gas sector, the brisk growth of the mining sector, and the considerable demand across the construction sector.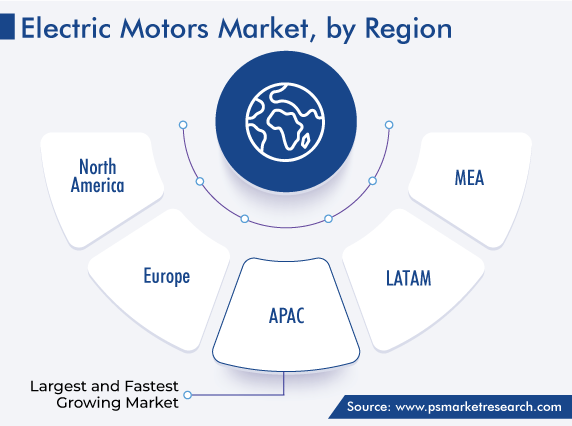 Demand for Electric Motors will Rise As a Result of Developing Robotics Technology
Players in the electric motors market will have numerous opportunities in the near future due to the rapidly developing field of robotics. Robots are widely utilized in businesses for repetitive activities as well as in dangerous settings, including the ones with close proximity to radioactive and explosive chemicals. Specific duties, such as assembly-line work, military services, warehouse distribution, space exploration, medical help, mine clearing, underwater exploration, duct cleaning, and commercialized agricultural actions are all carried out using this technology.
In order to move the robot's wheels, tracks, sensor turrets, or weapon systems, industrial and portable robots need electric motors, including brushless DC, AC, and stepping motors. This will increase the demand for robotics-related electric motors.
SMEs have a significant impact on the overall business spectrum. SMEs make up over 90% of all enterprises worldwide. A number of SME manufacturing companies have been focusing on various aspects of industrial machinery, such as quality, speed, and adaptability. Industrial SMEs now have access to cost-effective techniques that may be used to produce high-quality goods in large quantities. In order to increase business efficiency, Industry 4.0 alters the processes of SMEs by using automation. Common trends in technology include, the IoT, Big Data and analytics, additive manufacturing, and adoption of robotics.
Fractional Horsepower Output (<1HP) is Mostly Used Output Power Motor
Under the segment of output power, the <1 HP category is the largest with share in 2022. There are many different sectors and applications that employ the <1 HP type. One of the main user is the automotive industry, where they are employed in roof and trunk openers, electric windows, wing mirrors, powered seats, central locking systems, and powered seats. In the oil and gas sector, 1 hp motors are as well utilized in the applications of upstream, midstream, and downstream.
It is utilized for artificial lift systems and pumping well in the upstream industry. In midstream applications, they are utilized for storage and transportation, while in downstream applications, they are used to refine crude oil. Pump, vertical thrust handling, and hazardous site motors all employ the <1HP power pumps and compressors in small appliances.
Key Electric Motor Manufacturers Are:
ABB Ltd
Siemens AG
WEG Equipamentos Elétricos S.A.
Wolong Electric Group Co. Ltd
Nidec Corporation
Regal Rexnord Corporation
Toshiba Corporation
Hyosung Heavy Industries
TECO Electric & Machinery Co.
Hitachi Industrial Equipment & Solutions America LLC
Robert Bosch GmbH
Johnson Electric Holdings Limited.
Market Size Breakdown by Segment
The study uncovers the biggest trends and opportunities in the market, along with offering segmentation analysis at the granular level for the period 2017 to 2030.
Based on Motor Type
Alternate Current (AC) Motor
Direct Current (DC) Motor
Based on Power Rating
<1 kW Motors
1–2.2 kW Motors
2.2–375 kW Motors
>375 kW Motors
Based on Voltage
Low Voltage Motors
Medium Voltage Motors
High Voltage Motors
Based on Rotor Type
Based on Output Power
Based on End User
Industrial
Commercial
Residential
Agriculture
Transportation
Geographical Analysis
North America
Europe

U.K.
Germany
France
Italy
Spain

Asia-Pacific

China
Japan
Australia
India
South Korea

Latin America
Middle East & Africa

Saudi Arabia
South Africa
U.A.E.