Market Overview
The electric car market sales is expected to reach 8.1 million units in 2022, and it is expected to grow at a CAGR of 23.8% during 2023–2030, to reach 45 million units by 2030.
In recent years, EVs have become a major area of focus for significant automakers, including Ford Motors, General Motors, and BMW AG. Additionally, key factors that are propelling the demand for battery cars include the rising consumer interest in reducing their vehicles' carbon footprint, favorable government policies, and improving battery technology. The advancement of EV batteries is the primary reason for the lowering price and extending driving range of EVs. New cell chemistries are being researched to make EV batteries lighter, smaller, and be able to store more energy, in order to allow these vehicles to compete with conventional fuel-based ones.
Moreover, due to the elimination of emissions and the opportunity to expand the usage of renewable energy sources, EVs have a significant advantage over internal combustion engine (ICE) vehicles. Additionally, as people become more aware of climate change, regulatory agencies are enacting strict fuel efficiency laws and actively promoting the deployment of EVs, through subsidies and programs that support the production of battery cells. Essentially, the concerns about vehicular emissions would accelerate the growth of the domain in the next few years.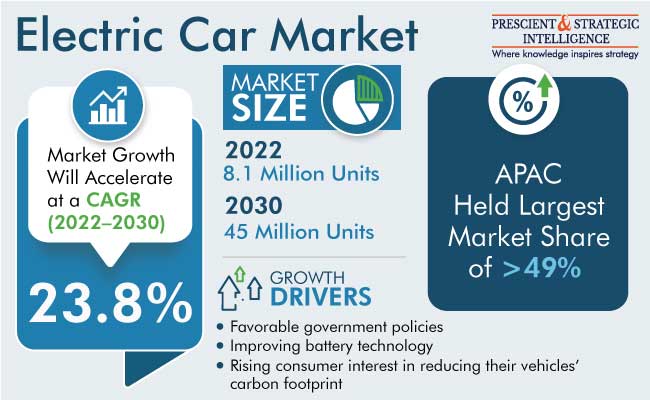 China is expected to be the largest buyer of EVs during the forecast period, after already making the largest contribution to global sales. The rising environmental concerns, growing government support and subsidies for electric cars, and increasing ownership costs of ICE alternatives are the major factors driving the demand for the former.
In addition, Europe is set to have the highest CAGR, of around 26%, over the forecast period, primarily as a result of the rapidly increasing adoption of such vehicles in Norway, Germany, and the U.K. Along with the significant incentives on purchases in the region, the initiation of numerous programs for the setup of the charging infrastructure is predicted to have a positive impact on the European market.
Stringent Emission Norms
The emission of greenhouse gases (GHG) has increased significantly over the last decade. To limit the adverse effects of these gases and achieve a cleaner environment, several actions have been taken all around the world.
For example, as per the European Environment Agency (EEA), the European Union (EU) met its three primary energy and climate targets in 2020. If extra efforts are made and new policies are put into place, the 2030 target of a 55% decrease in net GHG emissions can be achieved.
Similarly, many countries in other regions have proposed motor vehicle fuel efficiency and GHG emission policies to reduce vehicle emissions. Moreover, the growing environmental concern around the world is leading to a gradual phaseout of fossil fuels. The stringent emission norms would ultimately increase the price of conventional cars and encourage customers and automobile companies to adopt battery-driven alternatives.
Many countries have also increased the taxes on conventional fuel cars, and, at the same time, they are offering financial and non-financial incentives to promote the sale of low-emission vehicles.
U.S. Is Expected Witness Significant Growth in Electric Car Sales
The U.S. is expected to experience significant growth, at a CAGR of 24.2%, based on volume, over the forecast period, because of the increasing government support for environment-friendly automotive technologies. The important initiatives for EVs in the country include the U.S. federal tax credit of $7,500 on their purchase, Corporate Average Fuel Economy (CAFE) standards, and the ZEV program in California and other states.
Under the CAFE standard introduced in 2011, the average new fleet fuel efficiency should be 40.3–41.0 mpg by 2021 and 54.5 mpg by 2025. Although the CAFE standards are not being currently implemented, as automakers believe they are hard to achieve, they are expected to witness stringent implementation during the forecast period, thus contributing to the sales of EVs in the country.
Apart from the fiscal tax credit of up to $7,500, incentives of $1,000–$2,500 are being offered by many states individually. Many states also offer non-financial incentives, such as access to high-occupancy vehicle lanes and preferential parking. Both BEVs and PHEVs have witnessed a considerable demand growth in the U.S. over the last few years as a result of such federal and state-level initiatives.
BEVs account for the majority of the sales in the country, with a share of around 72% in 2022. Further, Tesla, General Motors, and Toyota together account for the majority of the commercial electric vehicle sales here. The federal tax credit of $7,500 is valid only till the manufacturer reaches cumulative sales of 200,000 cars. On the other hand, the PHEV market is benefitting from the introduction of new models.
Furthermore, the demand for EVs in Canada has been largely concentrated in Quebec and Ontario, due to the attractive purchase subsidies and non-financial incentives, such as local waivers on fees and access to high-occupancy vehicle lanes. For instance, in 2017, Ontario increased the subsidy under the Electric Vehicle Incentive Program to $3,000–$14,000 from $8,500.
Moreover, over 141,000 new zero-emission vehicles have already been purchased or leased by Canadians, buoyed by the implementation of Incentives under Zero-Emission Vehicles Program in 2019. In April 2022, the program was broadened to cover more car models that Canadians favor, such as minivans, light-duty pickup trucks, and SUVs.
Sales have also benefited from the large number of new PHEV models introduced in recent years, including the Audi A3 e-tron, Tesla Model X, Hyundai Sonata PHEV, Volvo XC90 PHEV, BMW 740e, BMW 330e, BMW X5 xDrive40e, Mercedes-Benz S550e, and Mercedes-Benz GLE550e. Therefore, Canada will experience a significant CAGR, during the forecast period.
Launch of New Models
With the entry of advanced vehicle models, the demand for them is expected to grow at a high rate. Many automobile companies have already announced their upcoming models and advancements in the battery technology.
For instance, Volkswagen has announced plans to launch 30 models by 2025. Similarly, Ford is planning to launch 13, while the Renault–Nissan–Mitsubishi Alliance plans to launch 12 vehicles by end of 2022.
Additionally, many Chinese automakers are entering the battery and hybrid electric car segment with their existing and improved models. For instance, BYD opened another assembly plant in Ontario, Canada, in 2019. Moreover, SAIC Motor has entered the Indian market with its MG brand battery-driven cars. The launch of new models would provide customers with more options to choose from, thereby contributing to the industry growth during the forecast period.
Electric Car Market Report Coverage

| | |
| --- | --- |
| Report Attribute | Details |
| Historical Years | 2017-2022 |
| Forecast Years | 2023-2030 |
| Market Size in 2022 | 8.1 million Units |
| Revenue Forecast in 2030 | 45 Million Unit |
| Growth Rate | 23.8% CAGR |
| Report Scope | Market Trends, Drivers, and Restraints; Revenue Estimation and Forecast; Segmentation Analysis; Impact of COVID-19; Companies' Strategic Developments; Market Share Analysis of Key Players; Company Profiling |
| Segments Covered | By Technology; By Segment; By Region |
Explore more about this report - Request free sample pages
China Is Most-Promising Market in APAC Region
In the APAC region, China is the leading market, with a share of around 90% in 2022, driven by the high-volume manufacturing of electric cars, supported by government support and reimbursement policies.
As EVs are more expensive than the traditional ICE vehicles, the Chinese government began offering large subsidies for the former in 2009. Since then, the central government has spent more than RMB 200 billion on EV subsidies, while local governments have added another RMB 100 billion, for a total of $47 billion.
The government plans to continue offering support to the industry via many other initiatives, such as Phase IV standards, which require automobile companies to reduce fleets' average fuel consumption. Moreover, as per the emission rules introduced in 2017, companies manufacturing or importing more than 30,000 vehicles annually had to obtain carbon credit points or scores (based on the production of zero- or low-emission vehicles) of at least 10% and 12% in 2019 and 2020, respectively.
These credit points can be transacted among automobile companies, which would also encourage them to increase the share of EVs in sales. Besides, the government is planning to ban the sale of conventional automobiles by 2030.
Due to such strong government support for clean transportation, the Chinese EV market is highly competitive, with the three players accounting for the majority of the sales volume in 2022. Moreover, sales are expected to pick up even more during the latter half of the forecast period because of the declining battery costs and implementation of new policies.
Specifically, during the forecast period, BEV sales in the country are expected to grow with a CAGR of around 24%, benefitting from the policies and mandates favoring ZEVs. Affordable, small cars (which are most often BEVs) are preferred by Chinese customers, which would continue to benefit their sales during the forecast period.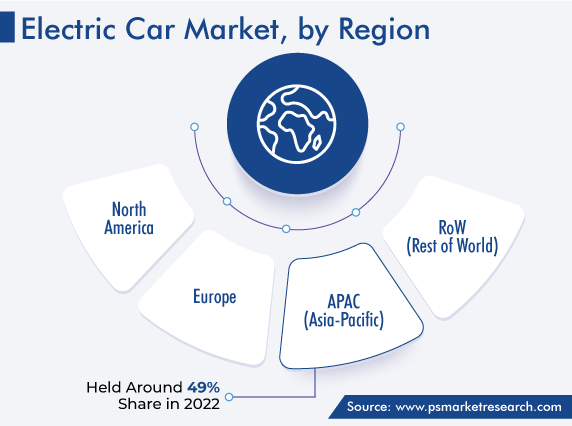 Declining Battery Costs
The battery accounts for a considerable share in the total cost of an EV. For BEVs to become cost-competitive with conventional models, the price of the battery packs must fall below $120/kWh by 2030. Automotive lithium-ion battery pack prices already dropped significantly during the 2010–2016 period, to $227/kWh. With the continuous advancements in manufacturing technology and cathode, anode, and electrolyte materials, as well as economies of scale, their cost is expected to further decrease in the coming years, and wider opportunities would be available to the players to increase their battery capacity and range.
BEVs Have Maintained Significant Share in Global Sales
Globally, BEVs have maintained a significant share in the market, partly due to the launch of advanced BEV models, such as the Tesla Model 3.
Moreover, the market growth would be aided by the rise in the investments by industry participants in R&D projects to provide cutting-edge battery solutions for BEVs. For instance, in order to boost its profit margin, Tesla stated in October 2021 that all of its standard-range electric cars would employ lithium–iron phosphate (LFP) batteries.
In comparison to lithium–nickel–cobalt–aluminum oxide (NCA) battery packs, LFP variants have a longer life, require no maintenance, are lightweight, self-discharge slowly, charge efficiency, and are simpler to recycle. The industry's growth will also be accelerated by the improvements in electric powertrains, reflected in an increased torque and the ability to function in a variety of weather and road conditions.
Further, PHEVs will witness a significant increase in sales during the forecast period, with around 22% CAGR, with the launch of variants such as the Volkswagen Passat GTE and the Mercedes-Benz C350e.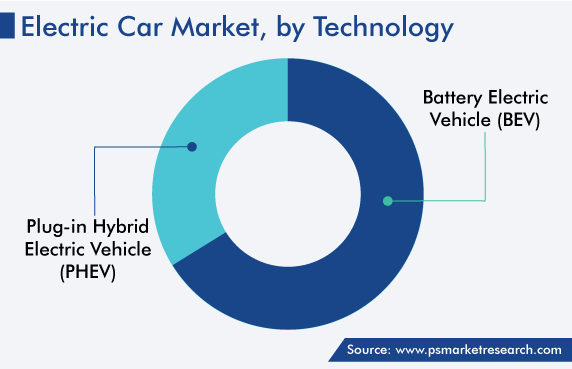 Top Electric Car Manufacturers Are:
Toyota Motor Corporation
Honda Motor Co. Ltd.
BMW AG
Ford Motor Company
Volkswagen AG
General Motors Company
Hyundai Motor Company
Tesla Inc.
BYD Company Limited
BAIC Motor Corporation Limited
Renault Group
Market Size Breakdown by Segment
This report offers deep insights into the market, with size estimation for 2017 to 2030, the major drivers, restraints, trends and opportunities, and competitor analysis.
Based on Technology
Battery Electric Vehicle (BEV)
Plug-In Hybrid Electric Vehicle (PHEV)
Based on Segment
Economy
Low
Medium
Premium
Geographical Analysis
North America
Europe

Germany
France
U.K.
Norway
Netherlands

Asia-Pacific
ROW (Rest of World)