Market Outlook
The increasing deployment of electric rickshaws, surging sales of electric scooters and their adoption in various business-to-business (B2B) services, such as moto-taxi and scooter sharing, mushrooming adoption of electric buses in public transit fleets, and burgeoning usage of electric cars in ride-hailing services are creating ample opportunities for infrastructure developers in the Indian electric vehicle battery swapping market. In addition to this, the government has recently announced that the registration of vehicles without batteries would be allowed in the country, which will also fuel the market expansion.
Fundamentals Supporting Indian Electric Vehicle Battery Swapping Market Growth
One of the major trends currently being witnessed in the electric vehicle battery swapping market in India is the partnerships and collaborations between battery swapping station operators and battery manufacturing companies, utility providers, and vehicle manufacturers. For example, power distribution companies, namely BSES Rajdhani Power Ltd. (BRPL) and BSES Yamuna Power Ltd. (BYPL), announced in November 2019 that they have entered into a collaboration with Ola Electric Mobility Pvt. Ltd. in order to install battery swapping stations in Delhi.
Similarly, SUN Mobility Pvt. Ltd., which is a Bengaluru-based organization, has started working with fleet operators and vehicle manufacturers and entered in at least 10 partnerships for offering a network of battery swapping stations and tailor-made battery solutions.
The growing demand for zero waiting time for electric vehicle (EV) charging is one of the key factors driving the advance of the Indian EV battery swapping market. The deployment of EVs, especially in long-haul applications, is dependent on their charging time. Most of the EVs running on Indian roads use a slow-charge system, which takes up to eight hours for replenishing the battery overnight.
Electric four-wheelers, three-wheelers, and two-wheelers in India are equipped with onboard chargers that charge the battery at a rate of 2.5–3 kilowatts (kW) per hour. These 3-kW or 2.5-kW alternating current (AC) chargers charge an electric two-wheeler battery with a 2-kWh energy capacity in at least one hour. Similarly, these systems charge large vehicles or four-wheelers equipped with 12-kWh or higher-capacity batteries in at least five or six hours.
As such a long charging time can ground the vehicle for a major portion of the day and hurt the revenue for commercial operators, the demand for the battery swapping technology is growing rapidly in the country. This technology drastically reduces the waiting time by enabling the interchange of batteries in less than three minutes. To do this, users simply need to visit a swapping station and get the depleted battery swapped with a fully charged one. This also massively enhances the operational characteristics of EVs.
The burgeoning requirement for electric rickshaws with lithium-ion batteries is creating lucrative growth opportunities for the players operating in the Indian electric vehicle battery swapping market. Most electric rickshaws in the country are equipped with sealed lead–acid (SLA) batteries because the initial cost of these batteries is lower than that of lithium-ion batteries. However, major electric rickshaw manufacturing companies are increasingly adopting lithium-ion batteries as the main power source.
Lithium-ion batteries provide a higher energy density, engine power-to-weight ratio, and battery energy-to-weight ratio and are more durable and reliable and smaller, and lighter than SLA batteries. Due to this reason, original equipment manufacturers (OEMs) are heavily focusing on using lithium-ion batteries as alternatives to SLA batteries. This is pushing up the sales of electric rickshaws with lithium-ion batteries, which is, in turn, creating immense growth opportunities for the players in the Indian EV battery swapping industry.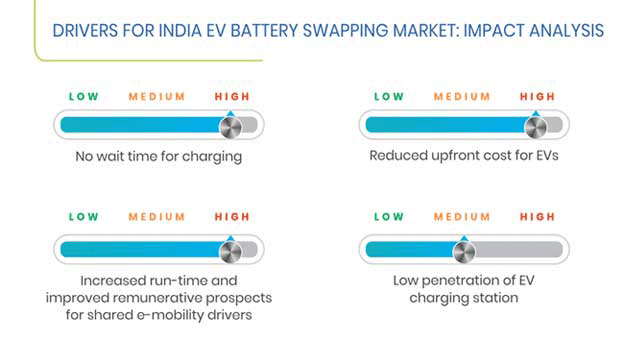 Segmentation Analysis of Indian Electric Vehicle Battery Swapping Market
The three-wheeler category is predicted to dominate the market in the future, under the vehicle type segment, with a share of over 90%. The battery swapping technology augments the daily operational hours of electric three-wheelers. These vehicles are used for ferrying passengers, which is why they run for more than 100 km daily on an average, therefore require regular battery charging. As replacing the batteries leads to a shorter downtime than conventional charging methods, the rising popularity of this technology among the e-rickshaw operators in the country is propelling the Indian EV battery swapping market.
The subscription model category is predicted to exhibit the faster growth in the EV battery swapping market in India, under the service type category, in the forthcoming years. The growing adoption of the battery swapping technology in commercial vehicles is causing the expansion of this category. Electric buses usually have fixed stops and routes, which is why the drivers have a thorough understanding of the total distance covered by the vehicle per day; therefore, they prefer the subscription model.
Competitive Landscape of Indian Electric Vehicle Battery Swapping Market
The Indian electric vehicle battery swapping market is fragmented in nature, characterized by the presence of key players, such as SUN Mobility Pvt. Ltd., Lithion Power Pvt. Ltd., Ola Electric Mobility Pvt. Ltd., Exicom Tele-Systems Ltd., Twenty Two Motors Pvt. Ltd. (22KYMCO), and Panasonic India Pvt. Ltd.
Recent Strategic Developments of Major Indian Electric Vehicle Battery Swapping Market Players
In recent years, major players in the Indian electric vehicle battery swapping market have taken several strategic measures, such as service launches, partnerships, and investments. For instance, in December 2019, E-ChargeUp Solutions set up two electric three-wheeler battery swapping stations at Noida. The company has plans to open 500 more battery swap stations across the country in order to support over 50,000 EVs. Also, the company is targeting 1.7 million e-rickshaws through this model in coming years, where it will offer battery swapping and related services to the vehicle owners.
Also, in January 2020, EVI Technologies Pvt. Ltd. (EVIT) entered into a partnership with Bharat Sanchar Nigam Ltd. (BSNL) for installing battery swapping and charging stations. Under this 10-year memorandum of understanding (MoU) signed between the two companies, EVIT would set up charging infrastructure at 5,000 locations of BSNL across the country, covering major cities. EVIT will make the entire upfront investment on services, operation, and maintenance of battery swapping and charging infrastructure. On the other hand, BSNL would be responsible for providing the necessary power connections and space for installing the battery swapping stations.
India Electric Vehicle Battery Swapping Market Size Breakdown by Segment
The India electric vehicle battery swapping market report offers comprehensive market segmentation analysis along with market estimation for the period 2020–2030.
Based on Vehicle Type
Two-Wheeler

Pay-per-use model
Subscription model

Three-Wheeler

Pay-per-use model
Subscription model

Commercial Vehicle

Pay-per-use model
Subscription model
Based on Service Type
Pay-Per-Use Model
Subscription Model