Market Overview
The lithium-ion battery market size was valued at $49.6 billion in 2022, and it is expected to grow at a CAGR of 16.3% during 2022–2030, to reach $165.6 billion by 2030.
Li-ion batteries are mostly used in hybrid and electric vehicles as well as in computers and cellphones. Since these are light weight, have a high energy density to extend battery life, and can be recharged, their use is expanding across a variety of applications. Things like smartphones to power tools, electric vehicles to aerospace parts is driven by such batteries. As opposed to disposable batteries, which make use of metallic lithium as the electrode, lithium-ion batteries (LIB) employ intercalated lithium compound as the electrode.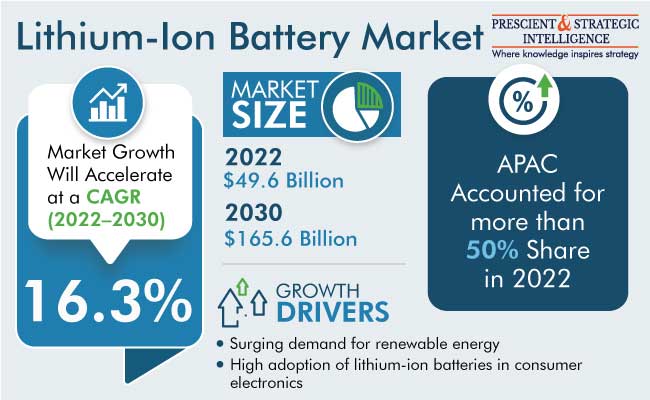 The rising demand for such products has increased rapidly across industries, predominantly in manufacturing and automotive. This is due to the increasing adoption of electric vehicles, the decreasing costs of Li-ion batteries, the surging government initiatives, and the rising number of innovations.
In the automotive industry Li-ion generated the highest revenue, around $16 billion, in 2022 in the market. The increasing focus of major developing and developed countries to reduce carbon emissions and shift from conventional internal combustion engine (ICE) vehicles to EVs are the major factors driving the demand for these power sources in the automotive sector.
Moreover, this sector is the largest user of such power sources, due to the increasing demand for electric automobiles as an alternative to conventional fuel-based automobiles. In the current scenario, batteries are the main factor for the high cost of EVs as compared to ICE vehicles. By keeping this in consideration, various countries are offering subsidies for EVs. Additionally, falling battery costs, due to the construction of a number of large-scale manufacturing plants mainly in APAC, Europe, and North America, will result in the lower cost of electric automobiles. These factors will cumulatively drive the requirements for Li-ion cells in the coming years.
APAC accounted for the largest revenue share, more than 50%, in 2022. The expanding middle-class population, changing lifestyle preferences, the booming demand for electric vehicles, rapid technological advancements, and surging inclination toward smart electronic devices are the primary factors for the market expansion. Furthermore, the decreasing prices of EVs due to increasing number of government policies and subsidies which, in turn, will also drive the need for Li-ion batteries.
Key components for batteries are majorly manufactured in APAC. Thus, battery manufacturers in developed countries were majorly impacted by the shutdown of operations in APAC during the COVID-19 pandemic. This condition has exposed the overdependency on the region for key materials. Since the impact of the pandemic was high in the region, the requirements could not be fulfilled, which resulted in limited production, leading to a decline in the business in various countries during the pandemic.
Moreover, companies have been focusing on investing in R&D, in order to increase productivity and efficiency, which is expected to increase the demand for Li-ion variants. Thus, it can be construed that the demand will regain momentum across the world in the coming years.
Declining Costs and Changing Chemistry with Innovation in Manufacturing Major Trends In Battery Industry
Increasing activities across the manufacturing landscape are leading to greater demand for Li-ion cells and battery packs. Planners, regulators, policymakers, and investors are taking several measures to cover most of the demand by focusing on electric mobility and the usage of lithium, which will lower the cost of these products and change the dynamics of the market. Also, many automotive companies are investing heavily in pack assembly, which is leading battery makers to offer more aggressive prices, and to enter the stationary storage segment to diversify their revenue streams.
Innovation is a critical component of cost reduction for Li-ion batteries. Advancements in electrolytes and anode materials, as well as the emergence of battery recycling processes, are the key developments. The Li-ion cell requires robust materials to satisfy properties such as high-energy density, long life, and high-charging/discharging power. Moreover, most manufacturers anticipate the life of lithium-ion batteries to be 5 years or 2,000 charging cycles. However, lithium-ion batteries can operate for up to 3,000 cycles if they are handled with care and utilized properly.
Li-Ion Battery Market Report Coverage

| | |
| --- | --- |
| Report Attribute | Details |
| Historical Years | 2017–2022 |
| Forecast Years | 2023–2030 |
| Market Size in 2022 | $49.6 Billion |
| Revenue Forecast in 2030 | $165.6 Billion |
| Growth Rate | 16.3% CAGR |
| Report Scope | Market Trends, Drivers, and Restraints; Revenue Estimation and Forecast; Segmentation Analysis; Impact of COVID-19; Companies' Strategic Developments; Market Share Analysis of Key Players; Company Profiling |
| Segments Covered | By Type; By Capacity, By Application; By Region |
Explore more about this report - Request free sample pages
U.S. Leads the North American Market
The U.S. held a higher revenue share, around 90%, in 2022, in North America. The high requirement for such batteries in the country is attributed to the extensive usage of electric vehicles and consumer electronics. The surging sales of electric vehicles in the nation are mainly driven by supportive government policies and stringent targets for reducing GHG emissions. Moreover, the country's consumer electronics sector is in matured and captures a noticeable share of global revenue. Additionally, advanced technologies, such as IoT and home automation, will also thrive the demand for Li-ion batteries in the U.S.
Use of Lithium-ion Batteries To Grow Encouraging in Europe
European countries have been encouraging the use of renewable energy sources, such as wind, geothermal, and solar; and low-carbon fuels such as natural gas and biomass, to reduce the GHG emissions in the region. In this process, governments of several countries in Europe are providing subsidies to electric vehicle buyers to encourage the sales of the vehicles, resulting in lower pollution levels, and thus, they support the development of Li-ion batteries.
Along with environmental factors, electric vehicles' fuel cost is also less than that of the conventional vehicles. Hence, the subsidies are expected to drive the regional market for Li-ion cells, which is expected to grow at a CAGR of around 16% in the forecast period.
Surging Demand for Renewable Energy
The unregulated diesel cost and carbon dioxide emissions are acting as barriers for the use of diesel generators. As a result, telecom companies are constantly working toward attaining energy-efficient solutions, as fuel expenses account for 30% of the operational cost of telecom tower. Thus, at many locations, telecom companies are combining high-efficiency Li-ion batteries with renewable energy sources.
Furthermore, governments' strict regulations for emission standards to safeguard the environment and reduce degradation possibilities are projected to have a significant positive impact on the Li-ion battery business. Further, they plan to reduce the dependency on fossil fuels such as crude oil and look for optimal solutions to reduce the cost with regard to imported oil. Thus, the use of Li-ion battery-based off-grid charging goods and solar lighting, solar home systems, and solar PV mini-grids has increased.
The world is shifting toward the renewable energy sector, driven by surging concerns about the environmental impact of fossil fuels and the rising electricity demand. As renewable power is a clean & reliable way of power generation, it uses natural resources to generate power. Additionally, supportive government policies, increasing investors' interest in the sector, and technological advancements in the solar and wind power generation segments are also driving the demand for renewable energy. For instance, in May 2020, 226 mayors of the U.S. adopted goals for transition to 100% clean and renewable energy in cities and towns, across the country.
Moreover, the European Union (EU) targets renewable energy to be used at around 27% of the total energy consumption by 2030. Batteries are used to store the electricity generated from various renewable sources such as solar and wind power plants. Therefore, these components will be seen as technology enablers, allowing a higher penetration of renewable energy sources in the energy system. Additionally, the high energy density and decreasing cost of Li-ion batteries will drive their need in the renewable energy sector, and thus increase the lithium-ion battery sales all over the world
China Is Considered as Production Hub for Lithium-Ion Batteries
The APAC lithium-ion battery market generated a revenue of around $30 billion in 2022. The growing sales of portable electronic devices and electric vehicles are driving the lithium-ion battery market in the region. Moreover, portable electronic devices, such as smartphones, tablets, gaming systems, and personal computers (PCs), are highly demanded in India, China, and South Korea, which are driving the need for lithium-ion batteries in the region.
Moreover, the region has some of the major lithium mining areas. With around 55,000 metric tons of lithium mine production in 2021, Australia is the top producer of lithium. With 26,000 and 14,000 metric tons of lithium produced, Chile and China were in second and third position respectively. while China is the largest consumer of lithium due to its electronics manufacturing and electric vehicle (EV) industries. Additionally, it controls the majority of the world's lithium-processing facilities and manufactures more than three-quarters of the lithium-ion batteries used worldwide. Although China presently imports the majority of its lithium from Australia, but it plans to increase its production.
Further, the adoption of electric vehicles in China, India, South Korea, and Japan, will also have a positive impact on the lithium-ion battery market. These countries have been offering incentives or subsidies to manufacturers as well as customers of electric vehicles to encourage their sales. For instance, the Chinese government has been providing subsidies to local manufacturers of lithium-ion batteries to reduce the prices of electric vehicles in the country. Thus, the encouragement by governments in order to fuel the electric vehicle market is further expected to increase the sales of lithium-ion batteries in the region during the forecast period.
China is the largest producer of electric vehicles and will also lead the industry in terms of demand in the coming years. The electric vehicle sales in the country will continue to be driven by government subsidies. Thus, these factors drive the demand for such batteries in the nation. Therefore, China is projected to exhibit a CAGR of around 18% during the forecast period.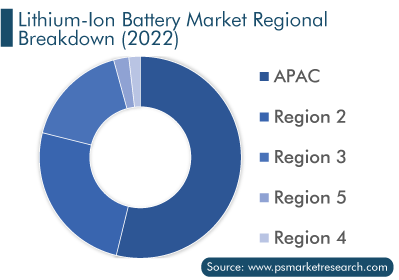 High Adoption Of Li-Ion Batteries In Consumer Electronics
Expanding middle-class population, changing lifestyle preference, inclination toward using smart electronic devices are the main factors supporting the high demand for lithium-ion batteries for consumer electronic products. Additionally, governments around the world are increasingly supporting digitalization, and promoting the usage of various electronic devices. Additionally, telecom companies are working on 5G for better connectivity.
Li-ion batteries have high-specific energy, as well as high energy and power density relative to other battery technologies. The advantageous characteristics and promising avenues to further improve the characteristics of Li-ion batteries have made them the first choice for consumer electronic products. Moreover, companies are designing Li-ion batteries particularly for 5G telecom sites providing a wide range of charging voltage, long life, fast charging, and intelligent management.
Furthermore, increasing technological advancement in the internet of things (IoT) will connect almost each and every electrical device to the internet. As many of these devices will use Li-ion batteries as a power source, which in a long run prove to be advantageous for the market. Additionally, artificial intelligence (AI) is the key emerging technology. High adoption of AI is going to introduce a countless number of electrical devices, which is expected to ramp up the market growth.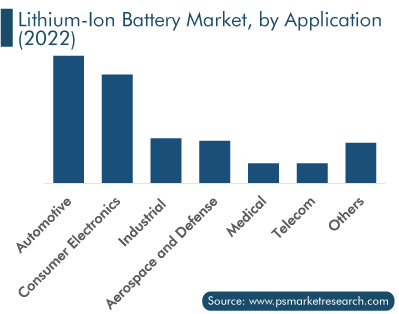 Mexico And Brazil Are Witnessing Significant Growth
The LATAM lithium-ion battery market generated around $1 billion in 2022. This is due to the increasing adoption of portable electronic devices in the region.
Mexico and Brazil are witnessing significant growth in smartphones sales, and they are also using lithium-ion batteries as a power source for mobile phones, tablets, PCs, and gaming accessories. Further, in recent times, these countries have started using these batteries for energy storage of solar and wind power. This energy storage application will drive the lithium-ion battery demand during the forecast period in LATAM.
Taking the advantage of the situation, other countries, such as India, China, and the U.S., are planning to invest in LATAM countries by setting up manufacturing plants of lithium-ion batteries. These investments in the region will increase the usage of lithium-ion batteries. With the several growth factors, this region is projected to exhibit a CAGR of around 15% during the forecast period.
Key Players in the Lithium-Ion Battery Market Are:
BYD Company Limited
LG Chem Ltd.
Panasonic Corporation
Samsung SDI Co. Ltd.
Shenzhen BAK Battery Co. Ltd.
GS Yuasa Corporation
Showa Denko K.K.
Toshiba Corporation
Amperex Technology Limited
Tesla Inc.
Lithium-Ion Battery Market Size Breakdown by Segment
This report offers deep insights into the market, with size estimation for 2017 to 2030, the major drivers, restraints, trends and opportunities, and competitor analysis.
Based on Type
Lithium–Nickel–Manganese–Cobalt (Li-NMC)
Lithium–Iron Phosphate (LFP)
Lithium–Cobalt Oxide (LCO)
Lithium–Manganese Oxide (LMO)
Lithium–Nickel–Cobalt–Aluminum Oxide (NCA)
Based on Capacity
0–3,000 mAh
3,001–10,000 mAh
10,001–60,000 mAh
More than 60,000 mAh
Based on Application
Consumer Electronics

Smartphones
Uninterruptible power supply (UPS) systems
Laptops

Automotive

Battery electric vehicles (BEV)
Plug-in hybrid electric vehicles (PHEV)
Hybrid electric vehicles (HEV)

Aerospace and Defense
Medical
Telecom
Industrial
Geographical analysis
North America
Europe

U.K.
Germany
France
Sweden
Norway
Netherlands

Asia-Pacific

China
India
Japan
South Korea

Latin America
Middle East and Africa

South Africa
Saudi Arabia