Market Overview
The global electric bus market registered 82,604 unit sales in 2020, and it is expected to grow at a CAGR of 14.9% during the forecast period (2021–2026). The key factors responsible for the growth of the market include the rising environmental concerns due to greenhouse gas (GHG) emissions, declining cost and improving operational efficiency of batteries, and long-term cost benefits of electric buses.
BEBs Held Largest Share due to Proliferating Government Support
Battery electric buses (BEBs) recorded the largest market share in 2020, based on vehicle, and they are expected to dominate the electric bus industry in the coming years too. This will be owing to the increasing government support in the form of incentives, subsidies, and other financial benefits, to promote their adoption. Besides, major manufacturers are focusing on adding BEBs to their product portfolios, which is further boosting the sales growth of these variants globally.
Private Sector To Witness Faster Growth due to Reducing Total Cost of Ownership
Based on end user, the private category is projected to witness higher growth rate during the forecast period in the electric bus market. With the ongoing decline in lithium-ion battery prices, the upfront cost of electric buses is expected to decrease, which, in turn, will reduce their total cost of ownership (TCO) in the coming years. The decreasing TCO, in turn, is expected to attract private transport operators, thereby resulting in the faster market growth in the private end user category during the forecast period.
APAC Accounted for Largest Volume Contribution to Industry due to Ambitious Government Targets
Asia-Pacific (APAC) held the largest share in the electric bus market in 2020, which can be majorly attributed to the high sales in China. This is primarily attributed to the favorable government policies, such as financial incentives, for the replacement of conventional-fuel-based buses with alternative-fuel variants. Several countries in the region target to transition a significant part of their public bus fleet to electric variants by 2030, which is why they are offering such a strong support for EVs.
North America To Witness Fastest Market Growth due to Favorable Government Initiatives
The electric bus market in the North American region is expected to record the fastest growth during the forecast period on account of the stringent emission norms. The U.S. is the larger market for BEBs, plug-in hybrid electric buses (PHEBs), and hybrid electric buses (HEBs) in the region. Besides, the subsidies, financial incentives, and tax credits offered by the federal and state governments have had a major impact on electric bus sales in the U.S. in recent years. A number of other initiatives have also been taken by the U.S. government to encourage the adoption of these automobiles, including exemption from toll charges and vehicle emission tests.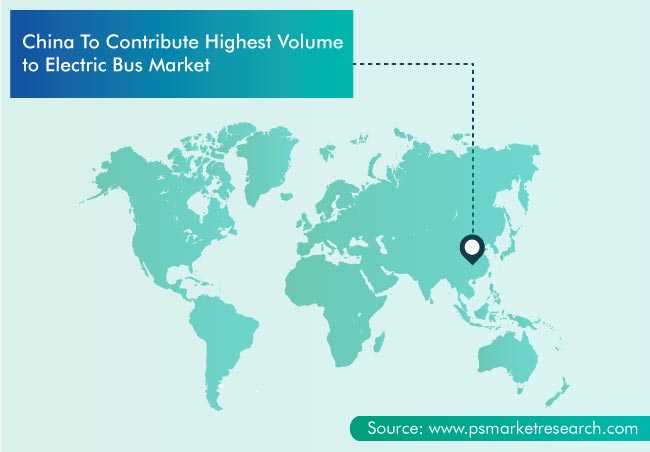 Autonomous Buses Key Market Trend
Advancements in instrumentation and the actuation and sensing technologies have led to the emergence of autonomous and semi-autonomous transportation systems. Autonomous buses are equipped with features such as light detection and ranging (LiDAR), odometer, global positioning system (GPS), and computer-aided vision, which aid in perceiving the surroundings. Over the years, autonomous driving has gained traction in the electric bus market because the technology provides improved efficiency (more-predictable transport times) and reduced costs (including fuel, labor, and maintenance costs). Due to the above-mentioned benefits, original equipment manufacturers (OEMs), such as Navya SAS, AB Volvo, Easy Mile SAS, and SB Drive, are embracing autonomous driving and working on the development of autonomous bus shuttles.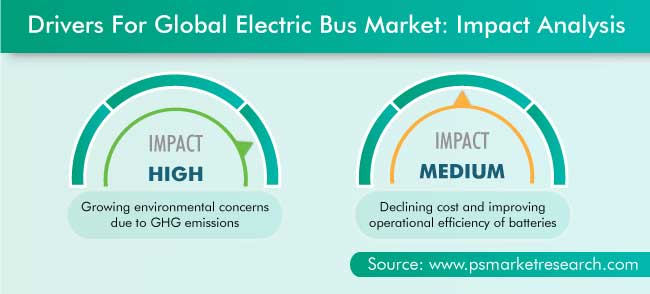 Declining Cost and Improving Operational Efficiency of Batteries Key Drivers for Market
According to industry experts, the average price of Li-ion battery packs for large orders declined from approximately $600 per kilowatt-hour (kWh) in 2015 to approximately $150/kWh in 2020. As the battery accounts for around 40% of the electric bus manufacturing cost, any decline in the battery price would help automotive OEMs cut down the price of the vehicles, thus boosting their sales. Additionally, with technological advancements, the battery capacity will likely increase, which will help meet the demand for a longer driving range. Thus, manufacturers are consistently working toward achieving a higher energy density and lower reliance on cobalt, an expensive raw material used in these batteries, which, in turn, would increase the operational efficiency of these batteries and lower their cost, respectively, thus, ultimately, boosting bus sales. This acts one of the key drivers in the electric bus market.
Electric Bus Market Report Coverage

| | |
| --- | --- |
| Report Attribute | Details |
| Historical Years | 2015-2020 |
| Forecast Years | 2021-2026 |
| Base Year (2020) Market Size | 82,604 Units |
| Forecast Period CAGR | 14.9% |
| Report Coverage | Market Trends, Drivers, and Restraints; Volume Estimation and Forecast, Segmentation Analysis, Regional and Country Breakdown, Companies' Strategic Developments, Company Profiling |
| Market Size by Segments | By Vehicle; By Length; By Battery; By End User; By Region |
| Secondary Sources and References (Partial List) | Alternative and Renewable Fuel and Vehicle Technology Program (ARFVTP), American Public Transportation Association (APTA), Association of State Road Transport Undertakings (ASRTU), Department for Transport (DfT), Minnesota Pollution Control Agency (MPCA), International Council on Clean Transportation (ICCT), California Energy Commission (CEC) |
Explore more about this report - Request free sample pages
Market Players Involved in Product Launches to Gain Significant Position
In recent years, players in the global electric bus market have involved in product launches in order to attain a significant position. For instance:
In September 2020, Proterra Inc. introduced its ZX5 electric bus, a fifth-generation battery-electric transit vehicle. The 40-foot Proterra ZX5 can be equipped with 660 kWh of energy storage, to deliver up to 529 km of driving range. The ZX5 is available in 35-foot and 40-foot models with 440-kWh and 220-kWh options of energy storage capacity.
In February 2020, Olectra Greentech Limited launched its first lineup of 12-meter C9 electric buses for intercity transportation. The new electric C9 range is a zero-emission 45–49-seater, which can cover up to 350 km on a single charge, with a maximum power of 360 kW and a speed of over 100 kmph.
Key Players in Electric Bus Market Include:
Zhengzhou Yutong Bus Co. Ltd.
BYD Company Limited
Zhongtong Bus & Holding Company Limited
Solaris Bus & Coach S.A.
Proterra Inc.
Dongfeng Motor Corporation
Beiqi Foton Motor Co. Ltd.
AB Volvo
Tata Motors Limited
Olectra Greentech Ltd.
Ashok Leyland Limited
Market Size Breakdown by Segments
The electric bus market report offers comprehensive market segmentation analysis along with market estimation for the period 2015-2026.
Based on Vehicle
Battery Electric Bus (BEB)
Plug-In Hybrid Electric Bus (PHEB)
Hybrid Electric Bus (HEB)
Based on Length
More Than 10 m
Less Than 10 m
Based on Battery
Lithium–Iron–Phosphate (LFP)
Lithium–Nickel–Manganese–Cobalt Oxide (NMC)
Based on End User
Geographical Analysis
Asia-Pacific (APAC)
Europe

U.K.
Germany
Netherlands
Lithuania
Austria
Belgium
Poland
Sweden
Spain
France

North America
Rest of the World (RoW)