Compressor Market Overview
The global compressor market size was $39.9 billion in 2019, which is expected to witness a CAGR of 3.1% during the forecast period (2020–2030), to reach $48.5 billion in 2030. The surging replacement of piston compressors with screw compressors, expanding automotive sector, and growing number of food processing units are among the primary driving factors for the compressor industry.
The disruption of the global supply chain, owing to companies' over-dependence on China, is one of the leading factors that resulted in the closure of manufacturing units in different countries during the COVID-19 pandemic. China, which is a leader in the manufacturing as well as export of compressors globally, is witnessing a halt in the operations of manufacturers. Additionally, numerous countries have imposed nationwide lockdown, logistics restrictions, and a ban on imports from China. Owing to all these factors, the compressor market is recording sluggish growth in 2020.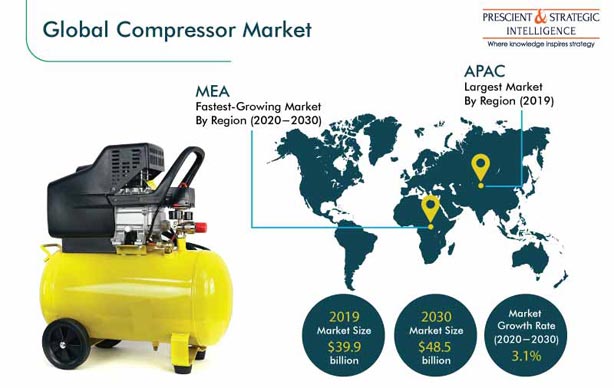 Positive Displacement Category Held Larger Share in 2019
Based on type, the positive displacement category held the larger share in 2019, and it is expected to maintain the trend in the compressor market during the forecast period. This can be attributed to the benefits offered by positive-displacement compressors, such as higher efficiency, lower operating cost, higher pressure ratio for a relatively smaller size, and suitability for wide-ranging application areas, including small and medium-scale industries. Additionally, positive-displacement compressors work with a constant air and gas flow, regardless of the outlet pressure.
Oil-Free Category To Record Faster Growth during Forecast Period
Based on lubrication type, oil-free compressors would witness the higher CAGR during the forecast period in the compressor market. The purity of the air is critical for various applications where even the tiniest drop of oil can cause product damage, wastage, and recall or even production equipment damage. Hence, end-use industries, such as food and beverage and healthcare, require uncontaminated air in order to ensure the safety of both the manufacturing process and end customers. In such industries, oil-free compressors help in maintaining the high air purity standards required, which is why they are expected to rapidly increase in demand in the future.
Stationary Compressor Category To Dominate Market in Future
Based on portability, the stationary compressor category accounted for the larger revenue share during the historical period (2014–2019), and, on account of its faster growth, it is expected to continue its dominance throughout the forecast period. Stationary compressors are significantly more powerful and store greater volumes of compressed air than portable compressors, which is why they are a preferred choice in the industrial manufacturing as well as the oil and gas industry. Further, there is a high demand for stationary/fixed compressors from the manufacturing sector owing to their lower maintenance cost and higher efficiency in the compressor market.
Medium-Pressure Category Will Observe Highest CAGR during Forecast Period
Based on pressure, the medium-pressure category is expected to record the largest market share by 2030, advancing with the highest CAGR during forecast period in the compressor market. This can be attributed to the features of these variants such as continuous duty rate and air-cooled pressure-lubricated mechanism, which make them ideal for even the most-demanding requirements.
Automotive Sector To Remain The Largest Revenue Contributor Till 2030
On the basis of application, the automotive category contributed the highest revenue to the compressor market in 2019. The automobile industry is one of the major users of compressors, as vehicle production is continuously increasing. Global automobile production was 89.7 million units in 2014, and it reached 91.7 million units in 2019, as revealed by Organisation Internationale des Constructeurs d'Automobiles (OICA). Electric vehicles are expected to be the backbone of the future growth of this sector, with the Deloitte EV Outlook forecasting around 21 million EVs to be manufactured in 2030, in comparison to around 4 million units in 2020. All these developments are projected to further boost the global compressor industry during the forecast period.
APAC Dominated Market in the Past
The Asia-Pacific (APAC) region held the largest share in compressor market in the historical period, and it is projected to continue its dominance throughout the forecast period, buoyed by the growing automotive industry. The automotive industry in the region is primarily driven by the adoption of EVs, with China and Japan witnessing the most sales due to their governments' support. For instance, the Chinese government allotted a subsidy of over $10,000 per vehicle in 2017 and per kilo-watt-hour subsidy rates for battery electric vehicles (BEVs) and plug-in hybrid vehicles (PHEVs) in 2019. Similarly, the Indian government rolled out the second phase of its FAME scheme in 2019 to boost EV adoption in the country.
MEA To Witness Fastest Growth during Forecast Period
The Middle East and Africa (MEA) region is projected to witness the fastest growth during the forecast period, owing to the increasing investments in the setting up of manufacturing units and surging production of processed food items in the region. The automotive sector in the region is expanding quickly, as original equipment manufacturers (OEMs) are setting up production facilities in countries such as Algeria, Egypt, Morocco, and Tunisia.
Further, visionary economic growth plans of the major Gulf countries are set to transform the region's industrial landscape. For instance, the U.A.E.'s Abu Dhabi Economic Vision 2030 and Saudi Arabia's Saudi Vision 2030 are focused on diversifying their economic sources, developing infrastructure, and increasing the industrialization rate. Such initiatives will trigger the compressor market growth in the region in the coming years.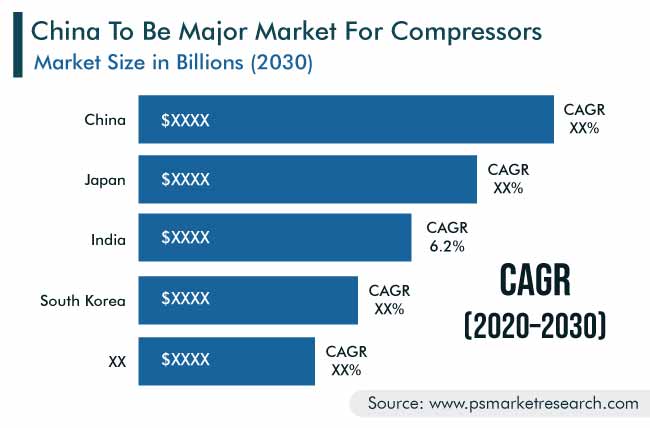 Use of Variable-Frequency Drives (VFD) over Gas Turbines Is Key Market Trend
Gas/steam turbines were used as the prime mechanical movers, especially in large compressors, historically. However, presently, VFDs are replacing gas turbines owing to the numerous advantages offered by the former. Some of these include reduced downtime (since VFDs require less maintenance), improved productivity, accurate speed and process control, lower energy costs and capital requirement, and reduced noise. It has also been noted that VFD systems have a 95% efficiency, while industrial gas turbine-based compressors have a 36% efficiency. VFD compressors create no local air quality issues, while gas turbine-based compressors generate CO2, CO, and NOx.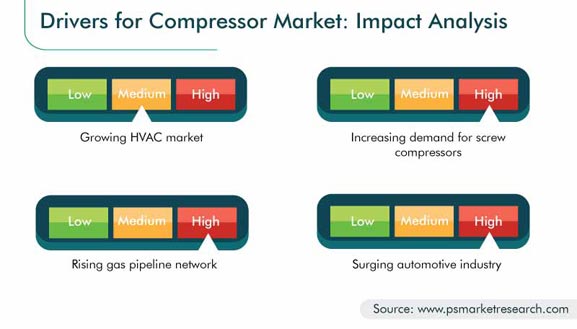 Expanding Automotive Industry Is Major Driving Factor
Presently, the automotive industry is displaying an increasing demand for compressors. Some of the primary uses of compressors in the industry include tire inflation, car painting, air conditioning systems, and engine construction. The rising disposable income, technological innovations, and increasing demand for electric cars are the key factors driving the global automotive industry. For example, sales of electric cars topped 2.1 million units, globally, in 2019, surpassing 2018's figures, which were already a record. Electric cars, which accounted for 2.6% of the global car sales in 2019, registered a 40% year-on-year (Y-o-Y) growth from 2018. Such developments are prognosticated to drive the compressor market growth in the coming years.
Growing HVAC Market also Playing Its Part
The increasing adoption of heating, ventilation, and air conditioning (HVAC) systems is a major factor driving the growth of the compressor market size, globally. The HVAC market is likely to register strong growth in the future, due to the rising construction of residential, as well as commercial buildings, development of energy-efficient systems, and growing smart homes market. Thus, the rising demand for energy-efficient HVAC equipment is boosting the growth of the compressor market.
Compressor Market Report Coverage

| | |
| --- | --- |
| Report Attribute | Details |
| Historical Years | 2014-2019 |
| Forecast Years | 2020-2030 |
| Base Year (2019) Market Size | $39.9 Billion |
| Forecast Period CAGR | 3.1% |
| Report Coverage | COVID-19 Impact Analysis, Market Trends, Drivers, Restraints, and Opportunities, Value Chain Analysis, Revenue Estimation and Forecast, Segmentation Analysis, Regional and Country Breakdown, Company Market Share Analysis, Major Countries Analysis, Companies' Strategic Developments, Product Benchmarking, Company Profiling |
| Market Size by Segments | Type, Lubrication Type, Portability, Pressure, Application, Region |
| Market Size of Geographies | U.S., Canada, France, Germany, Italy, Russia, Spain, U.K., China, India, Australia, Japan, South Korea, Brazil, Mexico, Saudi Arabia, Turkey, U.A.E., South Africa |
| Secondary Sources and References (Partial List) | Alliance of Automobile Manufacturers (AAM), Consortium for Energy Efficiency (CEE), Association of Equipment Manufacturers (AEM), European Forum for Reciprocating Compressors (EFRC), Gas Compressor Association (GCA), and International Association of Food Industry Suppliers |
Explore more about this report - Request free sample pages
Partnerships and Product Launches Are Strongest Strategic Developments, as per Market Outlook
The global compressor market is fragmented and competitive, with the primary competing parameters being price, reputation, quality, and timeliness of the delivery of products. With the backing of stakeholders, manufacturers are heavily focused on research and development (R&D), resulting in regular product launches. Moreover, in order to have a better delivery network, key players are partnering with local and regional companies.
For instance, in July 2020, Ingersoll Rand plc launched a new rotary screw compressor and small reciprocating compressor in India, created with the integration of Ingersoll Rand and Gardener Denver's technologies.
Moreover, in February 2020, SAUER COMPRESSORS and TMC Compressors entered into a strategic partnership to expand their market positions as suppliers of compressor solutions for worldwide shipping and offshore applications. In the coming years, they will cover the entire product portfolio for all compressed air and gas applications at sea.

Key players in compressor market report are:
Mitsubishi Heavy Industries Ltd.

Gardner Denver Holdings Inc.

Kaeser Kompressoren SE

Accudyne Industries LLC

Atlas Copco AB

Kobe Steel Ltd.

ANEST IWATA Corporation
Zhe Jiang Hongwuhuan Machinery Co. Ltd.

MAHLE GmbH

Sanden Holdings Corporation

Valeo SA

Hanon Systems

Toyota Industries Corporation
Compressor Market Size Breakdown by Segment
The compressor market report offers comprehensive market segmentation analysis along with market estimation for the period 2014–2030.
Based on Compressor Type
Positive Displacement

Reciprocating

In-line
V-shaped
Tandem piston
Single-acting
Double-acting
Diaphragm

Rotary

Screw
Vane
Lobe and scroll

Dynamic
Based on Lubrication Type
Based on Portability
Based on Pressure
Ultra-Low-Pressure
Low-Pressure
Medium-Pressure
High-Pressure
Hyper-Pressure
Based on Application
Construction
Power
Industrial Manufacturing
Heating, Ventilation, Air Conditioning, and Refrigeration (HVAC-R)
Chemical and Cement
Automotive
Oil and Gas
Food and Beverage
Textile
Geographical Analysis
North America
Europe

Germany
France
U.K.
Italy
Spain
Russia

Asia-Pacific (APAC)

China
Japan
India
South Korea

Latin America (LATAM)
Middle East & Africa (MEA)

Saudi Arabia
U.A.E.
Turkey
South Africa
Sudan