Market Overview
The global compressor rental market revenue was USD 5,104.2 million in 2023, which is expected to reach USD 7,439.6 million by 2030, growing at a CAGR of 5.7% during 2024–2030.
This growth is due to the widespread application of compressors in multiple industries, such as aerospace, automotive, manufacturing, and construction. There has also been an increasing demand for energy-efficient compressors, which rental companies are trying hard to leverage.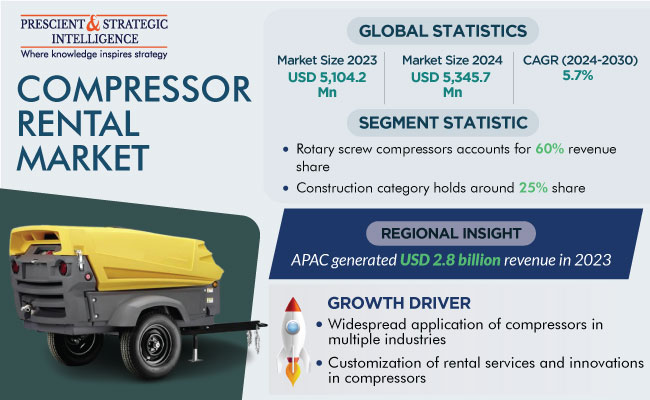 A compressor is a piece of equipment used to compress and supply air in an enclosed unit at the required pressure levels. This machine is used in various industries, such as refrigeration & air conditioning, power generation, food & beverage, medical devices & healthcare, and automotive. The demand for compressor rental services is increasing as requirement from these industries is rising to perform processes and operations seamlessly.
There has been an increasing demand specifically from the refrigeration & air conditioning industry as a result of the surging population and heat levels globally. Moreover, with the rising disposable incomes, people are leaning toward more-comfortable ways of living, which, in turn, add up to the demand for ACs and refrigerators, thus leading to a rising sale of compressors.
Moreover, the surging demand for new-generation rental air service is likely to propel the growth of the compressor rental industry during the prediction period. Compressors are utilized to a large extent in multiple industries to supply high-pressure air to jackhammers and pneumatic tools. For instance, oil & gas demand is surging globally, thus creating strong pressure on producers to augment extraction and refining outputs. This industry heavily employs compressors in gas processing, natural gas transmission, and oil refining operations.
The mining sector also has a significant demand for rental compressors as they are used in hydraulic shovels, continuous machines, and cable shovels. The demand for gold, silver, platinum, iron, copper, aluminum, and coal will be forever on the rise, thus leading to a strong need for compressors all around the world.
Further, construction activities are on the rise due to the increasing population and ongoing infrastructure development projects, especially in emerging economies. Compressor are used to a wide extent here for powering equipment such as jackhammers and pneumatic drills. In addition, pressurized air is important in spraying paints and coatings in multiple industries.
Thus, many users are renting customized compressors as a result of their reduced operational costs and advantages. Renting compressors ensures flexibility in choosing the perfect one for the desired applications. It also helps in optimizing the maintenance costs of the existing compressors, by lowering the seasonal peak demand. In this regard, the significant investments in refineries and construction & infrastructure activities will aid the growth of the market for rental compressors.
Customization of Rental Services and Innovations in Compressors Drive Growth
There has been a surging demand for customized rental solutions, as businesses are extensively looking for products that suit their requirements; this is in consideration of the rising cost of purchasing and maintaining these machines. The overall cost of purchasing a compressor and maintaining it afterward can put a load on users' pockets. To alleviate these challenges, rental companies are offering cost-effective and customized solutions, according to businesses' requirements.
Moreover, there has been a significant increase in the number of companies providing these services. This has led to stiff competition, ultimately making it easier for businesses to find the right compressor for their needs at reasonable costs. Additionally, due to the stringent regulations for sustainable development and corporate social responsibility, there has been a surge in the use of energy-efficient compressors, which is driving the market growth and innovations in these appliances as well. The surging popularity of online platforms is also adding to the market growth, as they aid businesses in finding the right kind of compressor at more-competitive pricing.
Additionally, this market is continuously evolving with technological changes, key among which are remote monitoring and diagnostics capabilities. Businesses want to keep an eye on the performance of their assets and find out any problem before it becomes severe. Thus, remotely monitoring these devices and predicting major problems help in preventing costly breakdowns and downtime.
3D printing is also being used to create custom compressors that are in accordance with particular business needs. This is due to the surging demand for these machines from many industries that need compressed air for some or the other purpose.
The next generation of compressors is also being created with attention to efficiency, reliability, and sustainability. One of the advanced features in these new-age machines, variable-speed drives (VSDs) permit compressors to work at the most-efficient speed for the load available. This helps in saving energy, specifically in applications where the load varies frequently. Moreover, integrated electronics aid in optimizing the machine's performance, with smart sensors monitoring operations and sending alerts if there are problems.
These next-gen devices are even being manufactured with sustainable materials, including recycled plastics and composites, thus leading to a further reduction in their environmental impact. Some examples of next-generation compressors are Ingersoll Rand's R-series, Atlas Copco's Ecoline, and GE's Jenbacher.
Rotary Screw Compressors Dominate Market
The rotary screw category leads the type segment of the compressor rental market with a 2023 share of 60%, and it is set to continue on the same path during the prediction period.
This domination is due to these variants' higher efficiency, as they have a more-continuous flow of compressed air, which results in a reduced energy loss. They also have a longer service life owing to the presence of fewer moving parts, which results in less wear and tear. Additionally, these variants have quieter operations than other variants, thus making them ideal for sensitive environments. Another among their major advantages is oil-free operation, which makes them perfect for applications where oil-free air is needed, such as in the food & beverage industry.
Moreover, the reciprocating category held a significant share as these alternatives are widely used in small enterprises and are compatible with single-phase or three-phase AC. They are particularly used where air is either not needed continuously or needed in not-too-high volumes. They also have lower maintenance costs than their rotary screw counterpart, as well as the potential to offer high pressure and high power. Moreover, they can be operated near the point of use, thus eliminating the need for lengthy piping. Further, they are durable, affordable, efficient, and long-lasting.
Construction Category Held Largest Market Share
The construction category accounted for the largest market share in the end user segment, of 25%, in 2023, and it is predicted to maintain its position during the forecast period.
The forever-growing construction industry uses compressed air to a great extent for powering pneumatic tools, such as jackhammers, nail guns, impact wrenches, and air drills. These tools are dependent on compressed air to provide the apt force and perform tasks efficiently. Compressors also play an important role in concrete spraying equipment by providing pressurized air to propel the concrete mix on to surfaces. This helps in a uniform concrete application for building walls, lining tunnels, or repairing structures.
Moreover, the industrial sector holds a significant share in the market for rental compressors, because these machines are extensively used in a variety of industrial processes. Most important, they provide compressed refrigerant for air conditioners and ventilation systems, thus keeping industrial facilities cool and comfortable, while removing dust and pollutants as well.
Additionally, a variety of tools used in industrial production are powered by air compressors, such as pneumatic tools, air welders, and paint sprayers. Further, oil & gas demand is forever rising as a result of the population expansion and increasing automobile sales. This, in turn, boosts the demand for compressors as they are used to pressurize natural gas and oil in order to facilitate transportation and storage.
Top Companies Offering Compressors on Rent Are:
Atlas Copco
United Rentals Inc.
Ingersoll Rand Inc.
Caterpillar Inc.
Herc Rentals Inc.
Ashtead Group Plc
Loxam Group
Aggreko Ltd.
H&E Equipment Services Inc.
HSS ProService Limited
Compressor Rental Market Report Coverage

| | |
| --- | --- |
| Report Attribute | Details |
| Market Size in 2023 | USD 5,104.2 Million |
| Market Size in 2024 | USD 5,345.7 Million |
| Revenue Forecast in 2030 | USD 7,439.6 Million |
| Growth Rate | 5.7% CAGR |
| Historical Years | 2017-2023 |
| Forecast Years | 2024-2030 |
| Report Scope | Market Trends, Drivers, and Restraints; Revenue Estimation and Forecast; Segmentation Analysis; Impact of COVID-19; Companies' Strategic Developments; Market Share Analysis of Key Players; Company Profiling |
| Segments Covered | By Type; By Drive Type; By Industry; By Region |
Explore more about this report - Request free sample pages
Asia-Pacific Leads Market
In 2023, the APAC region held the largest market share in the compressor rental market, of 55%, and it is expected to continue being dominant during the prediction period.
This is due to the presence of many growing economies in the region, as well as of rental companies providing advanced models with features such as remote monitoring, predictive maintenance, and real-time data analytics. Additionally, corporations are going for compressor rentals because of the enhanced performance, reduced downtime, and higher energy efficiency of the newer models.
Further, governments of many nations have implemented initiatives and regulations to hasten the expansion of industry, achieve environmental sustainability, and boost the rate of infrastructure development. This creates a high demand for next-generation compressors, which are energy-efficient and quieter, thus reducing energy wastage and noise pollution, respectively.
Moreover, Germany, in the European region, is registering a healthy market growth rate, owing to its growing automotive industry, characterized by the presence of a large number of plants and assembly lines. This sector employs compressors in a variety of applications, such as powering pneumatic tools, operating production machinery, and facilitating compressed air for testing, painting, and cleaning processes. With the continuous expansion of the automotive industry, the need for air compressors will rise dramatically, thus leading to the need for rentals to a great extent.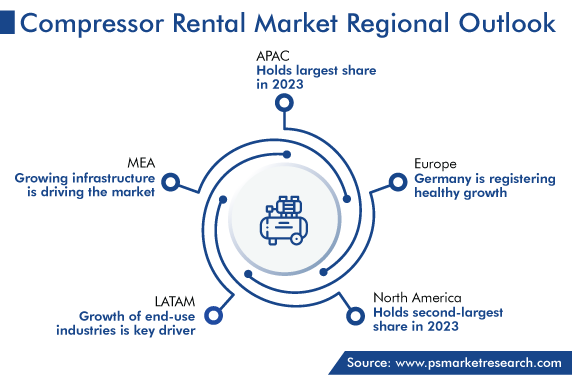 Market Size Breakdown by Segment
This fully customizable report gives a detailed analysis of the industry from 2017 to 2030, based on all the relevant segments and geographies.
Based on Type
Rotatory Screw
Reciprocating
Based on Drive Type
Engine-Driven
Gas-Driven
Hydraulically Driven
Electrically Driven
Based on Industry
Construction
Mining
Oil & Gas
Power
Manufacturing
Chemical
Geographical Analysis
North America
Europe

U.K.
Germany
France
Italy
Spain

Asia-Pacific

China
Japan
Australia
India
South Korea

Latin America
Middle East & Africa

Saudi Arabia
South Africa
U.A.E.