APAC Compressor Market Overview
The APAC compressor market was valued at $19.9 billion in 2019, and is projected to grow at a CAGR of 3.2% during the forecast period (2020–2030). The growing automotive and HVAC industries in the region are fueling the growth of the compressor industry. Also, increasing infrastructure spending and surging gas pipeline network in APAC are opening new avenues for the market growth.
The COVID-19 pandemic has impacted the APAC compressor market. The region has witnessed a temporary shutdown of many companies in different industries, due to the lockdown implemented by various countries, including China, India, Japan, South Korea, and Australia. China is a major supplier of raw materials and components for compressors, such as rotary blades, embedded systems, and fan units. This pandemic has severely affected the supply chain of these components, which, in turn, is restraining the growth of the market.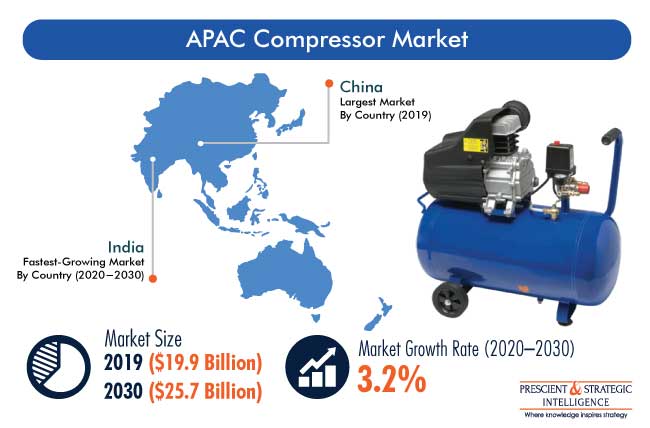 Due to High Efficiency, Positive Displacement Category Held Larger Market Share in 2019
In the APAC compressor market, based on type segment, the positive displacement category held larger share in 2019, and it is projected to continue witnessing this trend during the forecast period as well. This can be primarily attributed to the advantages offered by compressors in this category, including lower operating cost, wide application areas, long-service life, and high efficiency. Further, the replacement of older compressor units with advanced ones is boosting the adoption of positive displacement compressors.
Owing to High Pressure, Oil-Flooded Category to Hold Major Market Share
The oil-flooded compressors category, under lubrication type segment, dominated the compressor market in historical period (2014–2019), and is expected to follow the same growth pattern in coming years. This is due to their high preference among end users, owing to their ability of providing higher pressure as compared to oil-free compressors. Further, these are increasingly being used in food and beverage facilities, hospitals, and others, where the clean air is of the utmost importance.
Stationary Compressor Category to Dominate Market in Future Due to Low Maintenance Cost
The stationary category accounted for larger share in the compressor market in 2019, due to the growing demand for compressors for the production of motor vehicles, particularly in passenger vehicle air-conditioning system. Stationary compressors are increasingly being adopted for mainly construction, oil and gas mining, and automotive applications, as they are more powerful and store greater volume of compressed air than portable compressors. Also, stationary/fixed compressors are finding increased applications in the manufacturing sector, due to their low maintenance cost.
Due to the Growing Automotive Sector, Medium-Pressure Category to Advance with Highest CAGR during Forecast Period
The medium-pressure category, on the basis of pressure segment, dominate the market in the historical period, and is further predicted to maintain the trend along with the fastest growth throughout the forecast period. This can be primarily ascribed to its higher usage across vehicles as well as in home air conditioners and refrigerators, and the growth in the automotive and home appliances industries.
Automotive Sector, Owing to Increasing Adoption of Electric Vehicles, to Remain the Largest Revenue Contributor to Market
The automotive category in the application segment held the highest market share and also it would be the fastest-growing category throughout the forecast period. According to the data revealed by the Organisation Internationale des Constructeurs d'Automobiles (OICA), the APAC vehicle production in 2019 stood at 49 million units. Electric vehicles are prognosticated to remain the backbone of the growth in coming years for the automotive sector. The Deloitte EV Outlook has forecasted production of around 21 million electric vehicles in 2030, in comparison to around 4 million units in 2020.
China Dominated Market, As It Is Global Manufacturing Hub For Compressors
China held the largest share during the historical period in the compressor market, as it is the regional as well as global manufacturing hub. Moreover, China's machinery production is expected to rise at a CAGR of over 8% during 2018–2023, buoyed by the vision 'Made in China 2025', which encourages enterprises to use high-end machine tools. Apart from the vision, the government allotted a subsidy of over $10,000 per electric vehicles in 2019, which has propelled the demand for compressors in the automotive sector. For instance, owing to this subsidy, China recorded rise in adoption of these vehicles in 2019 by over 42% from 2018.
Indian Market to Witness Fastest Growth during Forecast Period
The Indian compressor industry is expected to register the fastest growth during 2020–2030 in the region, buoyed by the increasing automobile production as well as the growth of the industrial sector. For example, the country manufactured over four million vehicles in 2019, and the production is expected to grow with a substantial rate during the forecast period as well. Also, the country is projected to witness high adoption of compressors, in terms of volume, owing to the robust growth of small businesses and construction industry. India's construction industry is projected to reach about $1 trillion by 2025, which, in turn, would generate high demand for compressors.
Use of Energy-Efficient Air Compressors Is Key Market Trend
Increased energy efficiency of compressors can reduce greenhouse gas emissions and other pollutants. Several countries in APAC, such as China and India, are developing energy-efficiency programs to conserve energy. For instance, in 2018, to scale up India's energy efficiency program, India and World Bank signed a $220 million loan agreement, with $80 million guarantee agreement. As a result, the demand for energy-efficient compressors has increased significantly. In another development, in June 2019, India-based air-compressor manufacturer, Elgi Equipments Limited unveiled "energy-efficient" compressor, as the company is investing in and focusing toward product offerings with improved energy efficiency. Thus, energy-efficient air compressors are trending in the APAC compressor industry.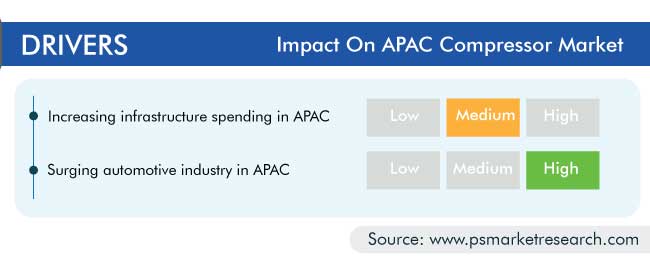 Increasing Infrastructure Spending in APAC Is Major Driving Factor
Increasing infrastructure spending of countries, such as China and India, is supporting the growth of the APAC compressor market. In China, there are several infrastructural projects in pipeline, wherein major contribution is derived from the transportation sector. For instance, in December 2018, China approved urban rail projects worth $43.3 billion (CNY 298 billion) for Shanghai. On the other hand, the Government of India is working on its plan to build 100 smart cities and rejuvenate other 500 cities. Subsequently, a budget of $13.9 billion (INR 980 billion) for the development of 100 cities and $6.8 billion (INR 480 billion) for the upgrading of 500 others is proposed.
Surging Automotive Industry in APAC also Playing Its Part
Presently, the automotive industry is displaying increasing demand for compressors for quality vehicles, by leveraging their ability to be utilized in various applications throughout the production process. Some of the primary uses of compressors in the automotive industry include tire inflation, car painting, air-conditioning systems, and engine construction. For instance, from 2012 to 2019, the automotive industry witnessed a growth of almost 35% in sales of all types of vehicles in China, and India registered a growth of nearly 22% in sales of all types of vehicles from 2012 to 2018. Thus, the growing automobile sector is supporting the compressor market growth across the APAC region.
APAC Compressor Market Report Coverage

| | |
| --- | --- |
| Report Attribute | Details |
| Historical Years | 2015-2019 |
| Forecast Years | 2020-2030 |
| Base Year (2019) Market Size | $19.9 Billion |
| Forecast Period CAGR | 3.2% |
| Report Coverage | COVID-19 Impact Analysis; Market Trends, Drivers, Restraints, and Opportunities; Value Chain Analysis; Revenue Estimation and Forecast; Segmentation Analysis; Regional and Country Breakdown; Company Market Share Analysis; Companies' Strategic Developments; Product Benchmarking; Company Profiling |
| Market Size by Segments | Type, Lubrication Type, Portability, Pressure, Application, Region |
| Market Size of Geographies | China, India, Japan, South Korea |
| Secondary Sources and References (Partial List) | Alliance of Automobile Manufacturers (AAM), Consortium for Energy Efficiency (CEE), Association of Equipment Manufacturers (AEM), European Forum for Reciprocating Compressors (EFRC), Gas Compressor Association (GCA), and International Association of Food Industry Suppliers |
Explore more about this report - Request free sample pages
Partnerships and Product Launches Are Strongest Strategic Developments, as per Market Outlook
The APAC compressor market is highly fragmented and competitive. Competition in the market is primarily characterized by prices, brand value, and product quality. Partnerships and product launches are among the primary strategies followed by players. Some of the major players in the APAC compressor market include RECHI Precision Co. Ltd., Elgi Equipments Limited, Kaeser Kompressoren SE, Ingersoll-Rand plc, Atlas Copco AB, Kobe Steel Ltd., ANESI IWATA Corporation, Hitachi Ltd., Zhe Jiang Hongwuhuan Machinery Co. Ltd., MAHLE GmbH, Hanon Systems, and Toyota Industries Corporation.
For instance, in July 2020, Xiaomi Corporation launched a tire pumping device Mi Portable Air Compressor for the Indian market. The device is lightweight and portable, and can be carried easily.
Moreover, in February 2020, SAUER COMPRESSORS and TMC Compressors entered a strategic partnership to expand their market positions as suppliers of compressor solutions for worldwide shipping and offshore applications. In the coming years, they will cover the entire product portfolio for all compressed air and gas applications at sea.
Key players in compressor market report are:
Rechi Precision Co. Ltd.

Elgi Equipments Limited

Mitsubishi Heavy Industries Ltd.

Gardner Denver Holdings Inc.

Kaeser Kompressoren SE

Atlas Copco AB
Kobe Steel Ltd.

ANEST IWATA Corporation

Zhe Jiang Hongwuhuan Machinery Co. Ltd.

MAHLE GmbH

Hanon Systems

Toyota Industries Corporation
Market Size Breakdown by Segment
The APAC Compressor Market report offers comprehensive market segmentation analysis along with market estimation for the period 2015–2030.
Market Segmentation by Type
Positive Displacement

Reciprocating

In-line
V-shaped
Tandem piston
Single-acting
Double-acting
Diaphragm

Rotary

Screw
Vane
Lobe and scroll

Dynamic
Market Segmentation by Lubrication Type
Market Segmentation by Portability
Market Segmentation by Pressure
Ultra-Low-Pressure
Low-Pressure
Medium-Pressure
High-Pressure
Hyper-Pressure
Market Segmentation by Application
Construction
Power
Industrial Manufacturing
Heating, Ventilation, Air Conditioning, and Refrigeration (HVAC-R)
Chemical and Cement
Automotive
Oil and Gas
Food and Beverage
Textile
Geographical Analysis
China
India
Japan
South Korea
Rest of APAC