Market Overview
The global automotive busbar market size stood at USD 41,266.0 thousand in 2023, which is expected to reach USD 168,858.1 thousand by 2030, advancing at a CAGR of 21.4% during 2024–2030. This is mainly ascribed to the surging development and adoption of EVs and the low cost and operational benefits of busbars over cables.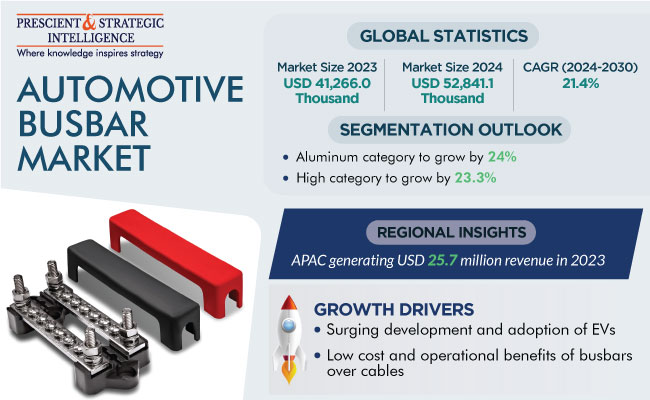 With the electrification of automobiles, inverters and power modules have been undergoing modifications and advancements in terms of their design, manufacturing, and integration with other systems. Modern inverters are being developed with high-power insulated gate bipolar transistors (IGBTs) that control and monitor all electronic switching functions with high efficiency.
Moreover, the integration of IGBTs and busbars in an inverter stack enhances power efficiency, contracts the size, and reduces the cost of the inverter. Thus, the rising adoption of EVs is bolstering the production of EV inverters and, consequently, increasing the demand for busbars. Moreover, as companies such as Tesla Inc. and Hyundai Motor are focusing on ramping up their production of new electric cars, there has been an equal emphasis on the manufacturing of modern inverters, wherein busbars are widely used.
In addition, with the increasing demand for EVs, the demand for new components is also increasing. Due to this, EV power systems have become more complex and smaller. This has led to innovations in busbars, making them more efficient and able to work in tightly spaced battery management systems. For example, Interplex has launched a new power busbar connector with a small footprint that can be used with hybrid vehicle power systems, electric power steering, charging systems, and many more components. Companies are also coming with laminated busbars and flexible busbars, which have improved power efficiency, high thermal resistance, better electrical conductivity, and enhanced vibration absorption. Due to these constant innovations, the demand for busbars in the automotive sector is increasing.
Low-Power Rating Automotive Busbar Is Dominating the Market
The low category held a larger revenue share, of around 84%, in 2023. This is because low-power busbars are widely being used in EVs battery modules and pack interconnection as well as in EV charging stations. Moreover, since the consumption of these busbars in the above-mentioned areas is higher as compared to alternating current (AC)/direct current (DC) converters and powertrain inverters, where high-power busbars are commonly used, therefore this category leads the industry.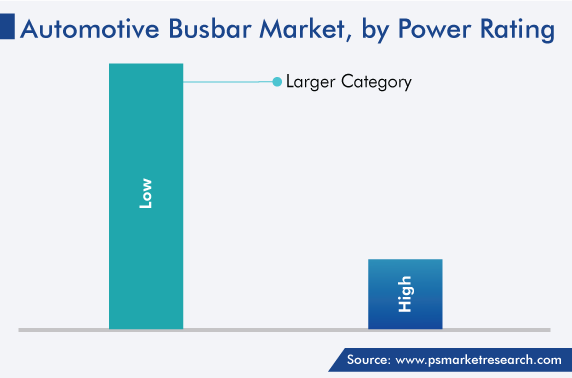 Demand for Aluminum Busbars Is Rising at a Higher Rate
The aluminum category is expected to grow at a higher CAGR, of around 24%, during the forecast period, in terms of revenue. This can be because aluminum is much lighter and cheaper than copper, and it offers less electrical conductivity compared to copper. Since EV manufacturers are focusing on reducing the costs of automobiles without degrading their quality, aluminum busbars are increasingly replacing the copper variants.
Low Cost and Operational Benefits of Busbars over Cables
Increasing awareness regarding energy-efficient and cost-effective busbars is another major factor driving the market growth. The busbars curtail the internal material handling and manufacturing costs by reducing assembly time. Thus, automobile manufacturing companies are inclined toward using busbars over cables. Moreover, they offer ease of retrofitting, owing to the shift in loads and requirement of less space, which have accelerated their preference for motor control center application. Also, conventional cell connections, such as welded wires, strips, and lugs, are highly prone to failure when the cells dislocate slightly due to the vibration caused by a moving vehicle, resulting in the increased consumption of busbars in EVs. Further, they have low electrical and thermal resistance, which increases their use in the manufacturing of EVs and PHEVs.
Cables are highly labor-intensive and need pre-installed cable runners, while busbars are easy to install and require less labor, resulting in a reduction in installation cost. The busbars also offer high reliability and flexibility, and alleviate all the wiring errors, as wiring harnesses have a huge failure rate and are costly to repair. Additionally, they are environmental-friendly due to less requirement of installation materials and plug-in outlets are reusable and re-locatable, which, in turn, augment the consumption of busbars.
Automotive Busbar Market Report Coverage

| | |
| --- | --- |
| Report Attribute | Details |
| Market Size in 2023 | USD 41,266.0 Thousand |
| Market Size in 2024 | USD 52,841.1 Thousand |
| Revenue Forecast in 2030 | USD 168,858.1 Thousand |
| Growth Rate | 21.4% CAGR |
| Historical Years | 2017-2023 |
| Forecast Years | 2024-2030 |
| Report Scope | Market Trends, Drivers, and Restraints; Revenue Estimation and Forecast; Segmentation Analysis; Regulatory Scenario; Impact of COVID-19; Companies' Strategic Developments; Market Share Analysis of Key Players; Company Profiling |
| Segments Covered | By Power Rating, By Conductor, By Region |
Explore more about this report - Request free sample pages
APAC Is the Market Leader
APAC held the largest revenue share, of around 62.7%, in 2023 in the global market, and it is expected to witness the same trend in the coming years. The rising demand for EVs, in order to reduce carbon emissions, and the increasing number of initiatives by the automotive and power sectors, in order to build a smart transportation network, are some of the major factors driving the growth of the regional market.
Interest in electric vehicles is rising rapidly, as battery solutions are enhancing and the driving range of EVs is improving. Also, such vehicles offer a "green" alternative to traditional automobiles powered by internal-combustion engines. These vehicles rely on power inverters, large-capacity battery packs, robust electric motor drives, and efficient distribution of energy to the battery from the charging source and then throughout the vehicles.
Busbars can be used in place of wires, as they provide efficient use of a limited amount of energy in these vehicles, whose numbers are increasing continuously across the world. For instance, according to the IEA report, in 2021, China contributed 6.2 million BEVs and 1.6 million PHEVs to the global electric car stock. Thus, China is holding the highest share of EVs. Moreover, the sales of EVs tripled in Australia despite the lack of government support in the country. Thereby, the rising sales of EVs lead to the increasing demand for automotive busbars in the region.
The North American automotive busbar market is expected to witness significant growth in the coming years. This can be ascribed to the initiatives taken by governments for the reduction of carbon emissions and the rising adoption of EVs in the region.
In the U.S., electric vehicle sales witness significant growth, due to the increasing government support for the implementation of environment-friendly technologies. Important initiatives for electric vehicles in the country include the U.S. federal tax credit of USD 7,500 on the purchase of an electric vehicle and renewing and modifying the existing tax credit. Additionally, the demand for both BEVs and PHEVs (e.g., HOV/carpool lanes, bus lanes) is expected to witness significant growth in the U.S. over the next few years. Due to all these factors, the demand for busbars is expected to increase in the country.
Additionally, the rising number of projects in order to improvise the functioning of EVs leads to the increasing demand for automotive busbars in the region. For instance, in March 2021, Siemens AG announced the formation of an eMobility Partner Ecosystem to increase the accessibility of the company's EV charging infrastructure and financing solutions. Thus, the rising technological advancements related to EVs, in order to improve their performance, lead to high growth in the regional market.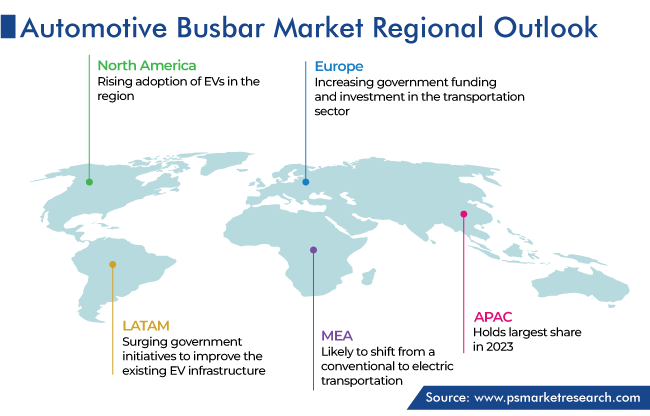 The RoW automotive busbar market is likely to witness steady growth during the forecast period. This can be due to the rising demand for EVs and the surging government initiatives to improve the existing EV infrastructure. LATAM and MEA nations are slowly but confidently stirring toward the electrification of the transportation sector, trying to harness the corresponding health, environmental, and economic benefits. Thus, these countries are likely to shift from a conventional mode to an electric mode of transportation.
Top Automotive Busbar Providers Are:
ABB Ltd.
Mersen Corporate Services SAS
Eaton Corporation plc
Interplex Holdings Pte. Ltd.
AMETEK Inc.
Siemens AG
Proterial Ltd.
Legrand Holding SA
EG Electronics AB
TB&C Holding GmbH
Market Size Breakdown by Segment
This report offers deep insights into the automotive busbar market, with size estimation for 2017 to 2030, the major drivers, restraints, trends and opportunities, and competitor analysis.
Based on Power Rating
Based on Conductor
Geographical Analysis
North America
Europe

Germany
France
U.K.
Sweden
Netherlands

Asia-Pacific