Market Overview
The global battery management system market was valued at USD 7,177.5 million in 2022, and it is expected to reach USD 26,797 million by 2030, growing at a CAGR of 17.90% between 2022 and 2030. This is primarily attributed to the increasing demand for electric vehicles and the rising usage of rechargeable batteries in consumer electronics.
The successful administration of electric grids is aided by the battery management system. The mechanism aids in shielding or guarding against harm to the battery. Moreover, governments around the world have s`tringent policies in place to minimize greenhouse gas emissions, as well as campaigns to promote awareness about the harmful effects of conventional fuels and an alternative that they are providing, which are electronic automobiles and hybrid electric vehicles. Manufacturers have begun to include battery management in cars in order to maximize battery storage capacity and eliminate difficulties caused by failing batteries in electric and hybrid vehicles.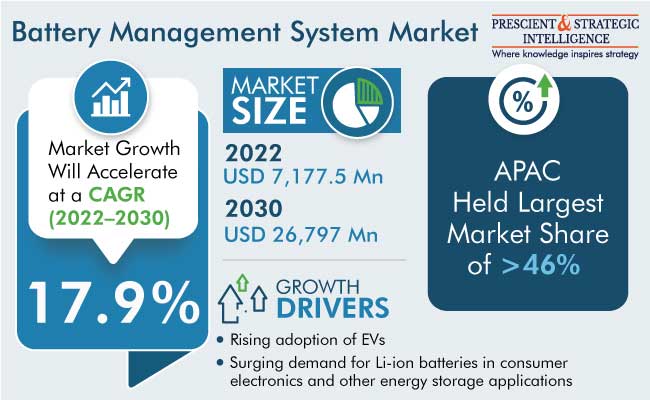 Li-Ion Batteries Are Major Revenue Contributors
In 2022, the lithium-ion (Li-ion) category held the largest share in the market, mainly because Li-ion batteries have several advantages over other battery types, such as a longer life cycle, higher energy density, lower maintenance requirement, and better resilience. Furthermore, Li-ion batteries are eco-friendly, as they contain relatively lower levels of toxic heavy metals when compare to other battery types, such as lead–acid and nickel–cadmium (Ni–Cd).
In addition, the output of lithium-ion batteries is expected to increase from 450 GWh in 2021 to 1,450 GWh in 2025, because of their high-power density, minimal self-discharge, and low cost. Also, due to these factors, Li-ion batteries are a potential alternative for electric car batteries and other uses.
Furthermore, the fast development of the automotive and consumer electronics sectors in China and other European nations is encouraging BMS use. Despite their superior energy density, Li-ion batteries have disadvantages, particularly in terms of safety. Also, Li-ion batteries overheat or fail at high voltages, and their storage capacity declines with age, finally failing after a few years of operation. Each battery pack must include electronic battery management to guarantee safe and efficient operation.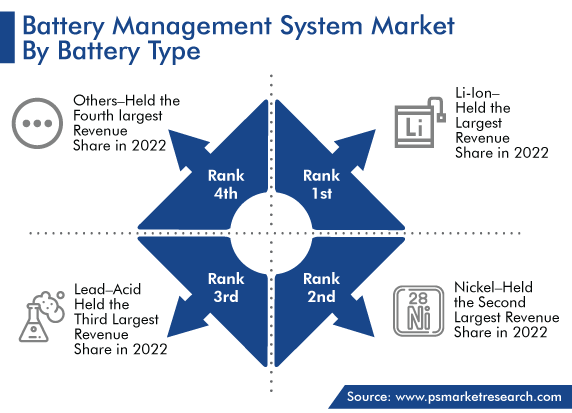 Modular Topology Holds Significant Revenue Share
The modular topology category is projected to witness the fastest growth during the forecast period. Most of the manufacturers desire modular topology, as it is safe and offers significant computational power, as it does not need extensive wire harnesses. Modular topology is also suitable for a range of applications such as in industrial UPS, energy storage systems, parts of electric vehicles, medical mobility vehicles, and drones. Thus, the increasing demand for modular topology from these applications is projected to drive the market during the forecast period.
Centralized Topology Is Prime Revenue Contributor
The centralized topology category accounted for the largest share in the past. A single controller board is directly linked to each battery pack cell in the centralized system. Many wire harnesses are often utilized to route voltage levels for all cells in the battery, as well as temperature sensors dispersed throughout the battery. These battery management solutions, however, are not expandable. The centralized architecture is often cost-effective; however, it is not scalable.
In addition, connecting all of the cells to the controller board may necessitate a considerable number of cables. The centralized architecture is appropriate for battery packs with a limited number of cells. The centralized BMS is mostly used in medium-power applications like e-bikes, portable electronics, portable medical equipment, household appliances, and so on. Centralized architecture provides the maximum processing power and is the most cost-effective topology.
Automotive Category To Record Highest CAGR
The automotive category is expected to witness the fastest growth during the forecast period, due to the surging adoption of EVs globally. Many governments across the world are introducing policies to promote the manufacturing and usage of EVs. Since it is an important part of EVs, the market will be impacted positively by the surging environmental concerns and the resulting adoption of such new-energy automobiles.
Furthermore, governments are taking initiatives to promote EVs in order to reduce the emissions from petrol and diesel vehicles. For instance, the Government of India has launched the Faster Adoption and Manufacturing of (Hybrid &) Electric Vehicles (FAME) scheme in two phases to support 1 million two-wheelers, 500,000 three-wheelers, 55,000 four-wheelers, and 7,000 buses.
Battery Management System Market Report Coverage

| | |
| --- | --- |
| Report Attribute | Details |
| Historical Years | 2017-2022 |
| Forecast Years | 2023-2030 |
| Market Size in 2022 | USD 7,177.5 Million |
| Revenue Forecast in 2030 | USD 26,797 Million |
| Growth Rate | 17.90% CAGR |
| Report Scope | Market Trends, Drivers, and Restraints; Revenue Estimation and Forecast; Segmentation Analysis; Impact of COVID-19; Segmentation Analysis of Countries; Companies' Strategic Developments; Market Share Analysis of Key Players; Company Profiling |
| Segments Covered | By Battery Type; By Connectivity; By Topology; By Vertical; By Region |
Explore more about this report - Request free sample pages
Increasing Demand for Efficient Battery Monitoring in Renewable Energy Sector
To minimize carbon emissions and safeguard fossil fuels from extinction, there has been a paradigm shift away from fossil fuels and to renewable energy fuels in recent years. Photovoltaic and wind energy are the most widely used renewable energy sources. Although these energies are plentiful, they are neither consistent nor continuous in terms of time and production. Storage solutions must be implemented in order to deliver the load at any moment.
Electricity is stored using battery energy storage devices, which help balance the gap between the amount of energy available from the sources and the amount of energy needed. When there are unexpected supply changes, they provide frequency and voltage control services. Grid operators can save electricity when there is an excess of renewable energy by using battery energy storage devices. When there is a great demand, electricity may be stored in batteries and subsequently supplied to cities, towns, companies, and households.
Cloud-Connectivity Is Gaining Popularity Across Industries
Cloud-connected systems have several benefits, including online monitoring and analysis of battery data, estimation of the accurate state of charge (SOC) and state of health (SOH), and early detection of potential major faults. It also aids in predicting the remaining usable life of the battery cells, allowing for battery state monitoring. Because of these advantages, businesses have begun to employ cloud-connected battery control systems, which, in turn, will fuel the market expansion in the coming years.
Increasing Demand for EVs Drives the Market Growth
Due to the presence of a large number of petrol- and diesel-engine-powered vehicles, global carbon emissions have increased significantly in the past few decades. According to Our World in Data, in 2021, the transportation industry generated 27% of the total greenhouse emissions around the world. Since EVs can help reduce emissions, they will contribute toward reversing climate change and improving public health. Hence, since BMS is an integral part of EVs, the rise in EV production will have a positive impact on the market over the next few years.
Asia-Pacific Is the Major Revenue Contributor
Asia-Pacific held the largest share of the market in 2022. This is attributed to the surge in demand for battery management from automotive applications such as electric automobiles, e-bikes, and automated guided vehicles. In these applications, high-energy-density lithium-ion batteries with hundreds of cells stacked in series are employed. To avoid vehicle failure, these cells must be maintained and regulated, making the system a critical component in the electric vehicle design. The system determines the battery's utilization, safety, and performance. It also increases battery life and vehicle range.
Further, China leads the APAC market, as it is a major hub of automotive manufacturing. The country market is being driven by a rise in the manufacturing of automobiles and batteries used in vehicles. Furthermore, China is a world leader in the production of electrical equipment. This is expected to fuel the product demand across a wide range of applications.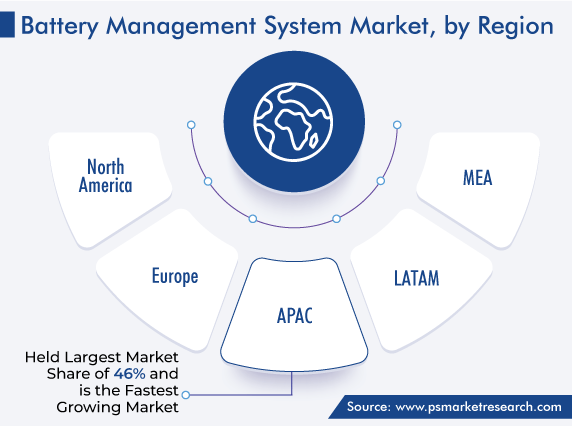 Top Players in the Battery Management System Market Are:
Leclanche SA
Lithium Balance A/S
Nuvation Energy
Eberspaecher Vecture Inc.
Storage Battery Systems LLC
Renesas Electronics Corporation
Elithion Inc.
Cummins Inc.
BMS Powersafe
Navitas Systems
Market Size Breakdown by Segment
This report offers deep insights into the battery management system market, with size estimation for 2017 to 2030, the major drivers, restraints, trends and opportunities, and competitor analysis.
Based on Battery Type
Based on Connectivity
Based on Topology
Distributed
Modular
Centralized
Based on Vertical
Automotive
Consumer Electronics
Industrial
Aerospace & Defense
Telecommunications
Geographical Analysis
North America
Europe

U.K.
Germany
France
Italy
Spain

Asia-Pacific

China
Japan
India
South Korea
Australia

Latin America
Middle East & Africa

South Africa
Saudi Arabia