Market Overview
The global acrylic acid market revenue is estimated to have stood at USD 12.1 billion in 2023, advancing at a CAGR of 3.2% during 2024–2030, to reach USD 14.9 billion by 2030. This is due to the surging demand for paints and coatings and superabsorbent polymers, the rising use of polymers in manufacturing lighting fixtures, glazing, and electronic displays, and the increasing consumption of surfactants, surface coatings, and adhesives & sealants.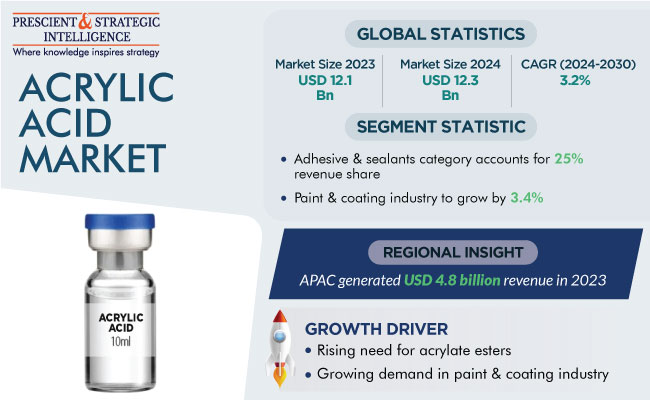 Rising Need for Acrylate Esters
Acrylic acid is a main component in the production of acrylate esters, which have extensive use in the paints & coatings industry. It is a versatile monomer that can be polymerized to complex molecular arrangements. Acrylate esters derived from acrylic acid function as an essential ingredient in a great variety of coatings that include architectural coatings, OEM finishes for automobiles and other products, and special-purpose coatings.
Moreover, these acrylates are widely used because of their multipurpose applications and wide-ranging utility across various industries. These are also clear and volatile liquids and have a double-bond and functional carboxyl group. One of the essential characteristics of acrylic esters is glass transition temperature, which allows the polymer to be more flexible and softer rather than hard and brittle. They are moderately soluble in water and completely soluble in alcohols, ethers, and other organic solvents. Thus, the increasing demand for acrylate esters drives the growth of the market.
Due to the growing demand for acrylic acid and its derivatives like methacrylic esters and methyl methacrylate, manufacturers have been involved in collaborations with other players to increase their production. For example, BASF SE, in 2018, announced to increase in the production of acrylic acid and butyl acrylate in its plants located in Kuantan, Malaysia, to meet their rising demand in the Asia-Pacific region.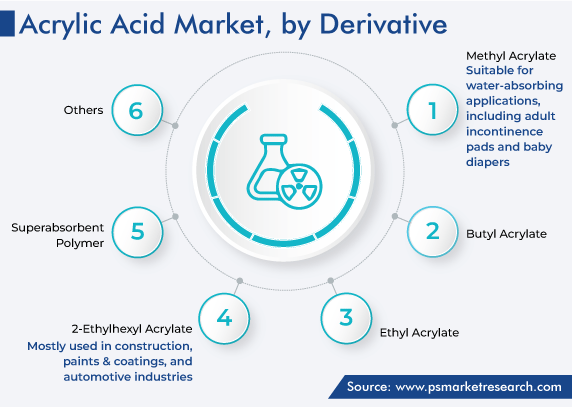 SAP Holds a Significant Market Share
Based on derivative, the superabsorbent polymer (SAP) category accounts for a significant market share. This is because of its properties, such as being suitable for water-absorbing applications including adult incontinence pads, baby diapers, controlled released drugs, and absorbent medical dressings. Moreover, these polymers are prepared by using raw materials such as acrylic acid and sodium hydroxide to form polyacrylic acid. Also, glacial acrylic acid is a major feedstock material used in the manufacturing of SAP. In addition, acrylic acid manufacturers are involved in the manufacturing of downstream products, such as acrylate esters and glacial acrylic acid.
Whereas, the 2-ethylhexyl acrylate category is expected to witness significant growth in the coming years. This can be because it is used to produce fast swelling and highly porous superabsorbent hydrogels, as it is a flexible liquid. It is widely used for the production of high-quantity inks and paints, which are mostly used in the construction, paints and coatings, and automotive industries. Another application is the production of UV-cured coatings. These coatings are cured or hardened by exposing them to UV light and are then used in the printing and packaging industry.
Acrylic Acid Market Report Coverage

| | |
| --- | --- |
| Report Attribute | Details |
| Market Size in 2023 | USD 12.1 Billion |
| Market Size in 2024 | USD 12.3 Billion |
| Revenue Forecast in 2030 | USD 14.9 Billion |
| Growth Rate | 3.2% CAGR |
| Historical Years | 2017-2023 |
| Forecast Years | 2024-2030 |
| Report Scope | Market Trends, Drivers, and Restraints; Revenue Estimation and Forecast; Segmentation Analysis; Impact of COVID-19; Companies' Strategic Developments; Market Share Analysis of Key Players; Company Profiling |
| Segments Covered | By Derivative; By End User; By Region |
Explore more about this report - Request free sample pages
Paints and Coatings Industry Generates a Lucrative Demand
The paints and coatings industry is a lucrative market, due to the wide use of acrylic acid to enhance paints and coatings formulations. Polymers based on acrylic acid have substituted conventionally used materials in the sector. For example, ethylene acrylic elastomer is an acrylic acid-based elastomer that is used as an alternative to synthetic rubber.
Moreover, acrylic acid esters used in paints and coatings exhibit durability, excellent adhesion, and weather resistance, which make them a desired choice for the consumer goods and automotive industries. The capability of acrylic acid esters to instruct gloss, corrosion protection, and color retention, coupled with their compatibility with a wide range of other chemicals, drives their adoption in surface coatings, solidifying their prominence in the acrylic acid market's landscape. In addition, in the paints and coatings industry, ethyl acrylate and methyl acrylate are mostly used for the production of solvent-based and water-based paints and coatings.
Furthermore, the water treatment industry holds a significant market share. The polymer derived from acrylic acid such as polyacrylamide is employed as a flocculent in water treatment process, detergents, and mineral processing. With rapid urbanization along with the increasing emphasis of governments on water cleaning, the demand for acrylic acid is rising for water treatment.
This is also because the disposal of acid that does not bind with the soil, enters groundwater and contaminates it. This contamination has been an important issue and has attracted attention from environmental agencies around the world. Therefore, the increased regulatory pressure on companies has led to the development of bio-acrylic acid, which is in great demand due to its properties such as durability, easy adhesion, and ease of cleaning. Also, acrylic acid is used in the adjustment of pH and the stabilization of water.
In addition, an increase in investment in advanced technology and R&D by major companies for the production of bio-acrylic acid from renewable sources, including sugar and glycerol, also offers growth in the market. For instance, Låkril Technologies is a new company stepping into the bio-based acrylic acid game. It uses catalytic dehydration to convert corn-derived lactic acid into a bio-based acrylic acid. It is done by using an amine to suppress a decarbonylation side reaction.
Additionally, the plastic additives industry is growing significantly, due to the rising requirement for dispersants, impact modifiers, and plasticizers in various sectors like construction, packaging, and automotive. For the synthesis, acrylic acid is used as a raw ingredient, as it has good compatibility with various polymers. Also, the market growth in this category can be propelled by the surging demand for lightweight and high-performance plastic materials.
Moreover, the adhesives and sealants industry generates significant demand for 2-ethylhexyl acrylate and acrylic acid-based copolymers, which are used for the purpose of bonding and sealing. These copolymers deliver exceptional adhesion to various substrates like plastics, woods, metals, and ceramics. This type of adhesion strength is required in the aerospace sector as well.
Furthermore, the surfactants industry holds a significant share of the acrylic acid market, as derivates of acrylic acid are used to produce surfactant products. Surfactants are used in agriculture, personal care, cleaning, and industrial processes. Also, sodium lauryl acrylate and sodium lauroyl sarcosinate acrylate are used in formulations such as body wash, shampoos, household cleaning products, and detergents, which improve the effectiveness of these products by providing emulsifying and forming properties.
Asia-Pacific Is the Largest and Fastest-Growing Market
Globally, APAC is the largest as well as the fastest-growing market, advancing at the highest CAGR, of 4.0%, during the forecast period. This is due to the economic growth and the surging demand for consumer goods in regional countries like China, India, and Japan. Also, South Asian countries, such as Indonesia, Taiwan, and South Korea, are witnessing high economic growth.
Moreover, other drivers behind the surging demand for acrylic acid in the region include the growing population; the rising industrialization and urbanization; a large number of application areas of coatings, adhesives, and superabsorbent polymers, such as personal care and agriculture; and the surging use of water-based paints and coatings due to environmental standards concerning volatile organic compounds (VOC) reduction.
In China, due to its strict VOC regulations, there has been a shift from solvent-based coatings to environment-friendly water-based coatings containing acrylic acid, which offer comparable performance while significantly reducing VOC emissions and aligning with China's environmental goals and regulations. To cater to the growing Chinese market, in August 2021, BASF SE and SINOPEC planned to expand their joint venture site, Verbund in Nanjing, China. The plan was to expand several chemical plants including a new tert-butyl acrylate plant, which would use acrylic acid and isobutene of the existing Verbund as feedstock.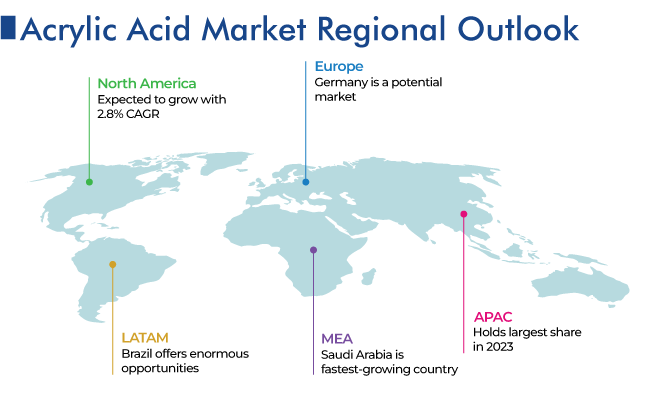 Geographically, the second-largest market for acrylic acid is North America, as it consists of developed economies like the U.S. and Canada and it is one of the key regions for the automotive industry, which generates a high demand for acrylic acid-based adhesives and coatings used in vehicle assembly and repair. Moreover, the U.S. is a major market for glacial acrylic acid, high growth in the geriatric population in the region, the presence of key players, and significant growth in end-use sectors are expected to drive the market growth in North America.
Key Players Offering Acrylic Acid Are:
Arkema S.A.
BASF SE
The Dow Chemical Co.
Nippon Shokubai Co. Ltd.
LG Chem Ltd.
Mitsubishi Chemical Group Corporation
The Lubrizol Corporation
Formosa Plastic Group
Sasol Limited
Merck KGaA
Market Size Breakdown by Segment
The report analyzes the impact of the major drivers and restraints on the acrylic acid market, to offer accurate market estimations for 2017–2030.
Based on Derivative
Methyl Acrylate
Butyl Acrylate
Ethyl Acrylate
2-Ethylhexyl Acrylate
Superabsorbent Polymer
Based on End User
Paints and Coatings
Adhesives and Sealants
Textiles
Water Treatment
Plastic Additives
Surfactants
Geographical Analysis
North America
Europe

Germany
U.K.
France
Italy
Spain

Asia-Pacific

Japan
China
India
South Korea
Australia

Latin America
Middle East and Africa

Saudi Arabia
South Africa
U.A.E.