Water Treatment Chemicals Market Overview
The global water treatment chemicals market stood at $48,938.1 million in 2019. The market is further expected to demonstrate a CAGR of 5.2% during the forecast period (2020–2030). Some of the key growth factors of the water treatment chemicals industry include increasing concerns for waterborne diseases, stringent government regulations, and increasing desalination across the globe.
Although the COVID-19 pandemic has had a negative impact on several markets, on the account of the nationwide lockdowns, leading to manufacturers shutting down their operations, the water treatment chemicals market has witnessed growth during the pandemic on the account of increased water consumption for maintaining hygiene. Provision of safe water, sanitation, and hygienic conditions is extremely vital for human health during outbreaks like COVID-19. Also, according to the World Health Organization Interim Guidance April 2020, frequent hand hygiene is one of the most important measures to prevent attack of coronavirus.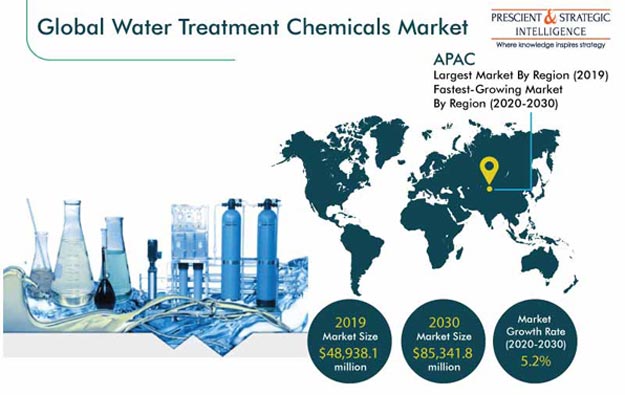 Coagulants & Flocculants to Showcase the Fastest-Growing Consumption
Coagulants and flocculants are widely used for water purification, lime softening, solids removal, solids dewatering, and sludge thickening. In addition, they are required for the removal of contaminants, such as heavy metals, phosphate, and oil. With the increasing need to treat water, since it is a limited resource, the usage of coagulants and flocculants is witnessing a rise, and the trend is likely to continue in the coming years. Owing to this, the coagulants and flocculants category in the water treatment chemicals market is projected to demonstrate the fastest growth during the forecast period.
Raw Water Treatment Application to Retain Its Dominance in the Water Treatment Chemicals Market
The raw water treatment category witnessed the highest product demand in 2019, based on application, and the trend is likely to continue during the forecast period. This can be ascribed to the increased consumption of chemicals for treating rainwater, groundwater, and water from infiltration wells and from water bodies, such as seas, rivers, and lakes. In order to suffice the increasing water demand, the water treatment industry is witnessing a profound growth.
Municipal Water Treatment to Account for the Highest Consumption
In 2019, based on end users, the municipal water treatment category held the largest share in the water treatment chemicals market. The growing global population is resulting in an increase of municipal waste worldwide. This, in turn, has led to a higher consumption pattern of water treatment chemicals for municipal water treatment purposes. Additionally, with the rapidly growing population worldwide, the consumption of such chemicals is expected to increase further for municipal water treatment.
Asia-Pacific (APAC) to Account for the Largest Consumption throughout the Forecast Period
In 2019, APAC accounted for the largest volume share in the water treatment chemicals market. This trend is likely to continue during the coming years, owing to the presence of large industrial base and high living standards of the population, demanding high-quality and clean water. China and Japan are among the leading countries that account for high consumption of chemicals for treating water. China, being a manufacturing hub, is also among the largest polluters in the world. In the past few years, the unchecked discharge of effluents from industries has deteriorated the quality of water bodies in major cities of the country.
Hence, governments in the region are now addressing the concern regarding high concentration of pollutants in freshwater sources by imposing strict rules on power plants, industries, oil and gas projects, and construction projects to treat the water before discharge. Owing to such factors, the consumption of chemicals for treatment of water in the APAC region is expected to witness high volume demand in the coming years.
APAC to Demonstrate the Fastest Growth in the Water Treatment Chemicals Market
The APAC water treatment chemicals market is expected to witness the fastest growth during the forecast period. This can be on the account of stringent government regulations for water treatment, increasing awareness among citizens in developing countries regarding the vitality of treated water, and diseases caused by consumption of untreated water. In addition, Japanese government is implementing strict environment protection laws that mandate the proper treatment of wastewater from housing and industrial processes. Growing consciousness and need to preserve freshwater also boost the water treatment chemicals market growth in the APAC region.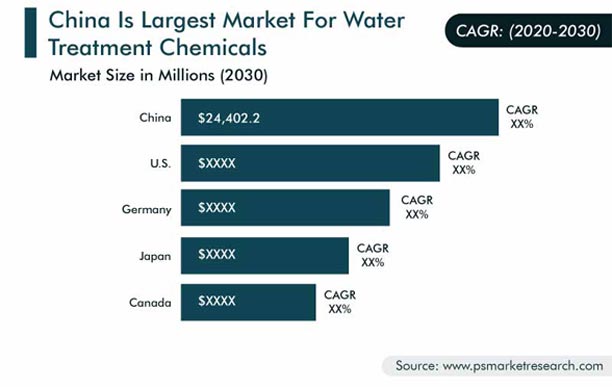 Development of New Chemical Water Treatment Technology
The development of chemical water treatment technology has been identified as a key trend in the water treatment chemicals industry. At present, chemical water treatment is majorly done using the flocculating method, in which clarifying agent is used to remove suspended pollutant particles from water. However with the increasing investments in research and development, chemical-based water treatment technologies are being developed with an aim to enhance the efficiency of these water treatment processes.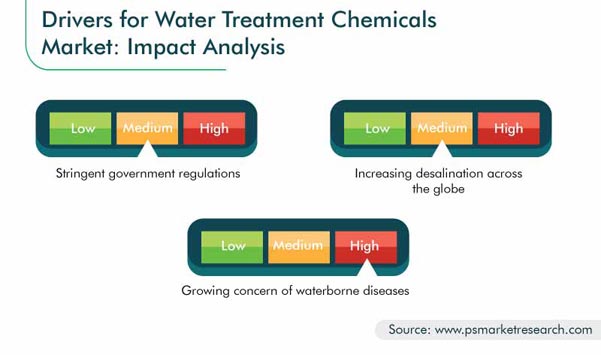 Stringent Government Regulations
With the rapid industrialization worldwide, large-scale discharge of toxic pollutants in freshwater reserves has made water unfit for consumption on different levels. Considering this, governments across the globe are focusing on improving the water quality by implementing strict regulatory framework, which restricts the discharge of toxic chemicals directly to the water bodies and ensures proper water treatment.
Increasing Desalination across the Globe
Desalination has garnered a pace rapidly in countries with limited freshwater reserves, such as Saudi Arabia, the U.A.E., Qatar, and sub-African nations. The process of desalination is adopted to change seawater or brackish water into potable or freshwater, hence it requires a variety of water treatment chemicals. Owing to the rising population across various water-starved nations, the demand for high-quality freshwater is rising at a rapid pace. This, in turn, is propelling the consumption of chemicals for water treatment.
| Report Attribute | Details |
| --- | --- |
| Historical Years | 2014-2019 |
| Forecast Years | 2020-2030 |
| Base Year (2019) Market Size | $48,938.1 million |
| Forecast Period CAGR | 5.2% |
| Report Coverage | Market trends, revenue estimation and forecast, segmentation analysis, regional and country breakdown, company share analysis, companies' strategic developments, competitive benchmarking, company profiling |
| Market Size by Segments | Type, application, end user, geography |
| Market Size of Geographies | U.S., Canada, Germany, France, Italy, U.K., Russia, China, India, Japan, Japan, South Korea, Brazil, Mexico, Saudi Arabia, South Africa |
| Secondary Sources and References (Partial List) | American Chemical Society, American Chemistry Council, American Water Works Association, Association of Water Technologies, Brazil Chemical Industry Association, Chemical Industry Association of India, European Chemical Industry Council, European Environment Agency |
Growing Concern for Waterborne Diseases
The large-scale discharge of untreated water from industrial plants, power plants, household, and commercial waste has increased the pollution levels in water-bodies significantly. Owing to this, water in freshwater sources has been contaminated with high levels of toxic chemicals, making it unfit for human consumption. In order to prevent the spread of waterborne diseases, water treatment is necessary, which promotes the growth of water treatment chemicals market.
Market Players Entering into Mergers & Acquisitions
The water treatment chemicals market has a few large-scale players operating at the global level. These include BASF SE, Ecolab Inc., Kemira Oyj, SUEZ, and Solenis LLC. Players in the industry are engaging in mergers and acquisitions in order to strengthen their market presence. For instance:
In August 2019, Global Water Technology Inc. (GWT) acquired water treatment company Butler Chemical Company Inc. This acquisition provided GWT additional 175 customer portfolio across Illinois and Indiana in the U.S.
In March 2019, Kurita Water Industries Ltd. acquired water treatment chemical manufacturer U.S. Water Services Inc. in a deal worth $270 million. U.S. Water Services Inc. has strong portfolio of serving 5,000 customers across the U.S. and employs more than 500 people. With this acquisition, Kurita would strengthen its presence in North America.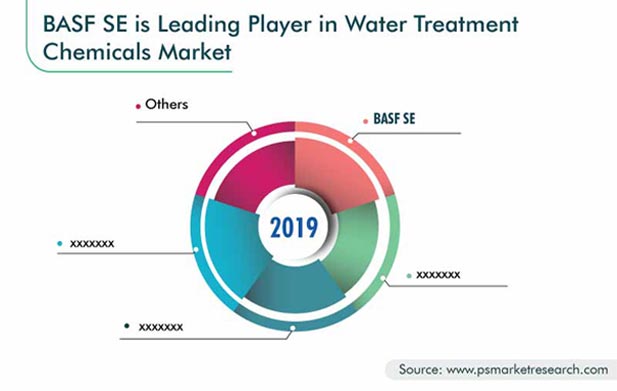 Some of the Key Market Players inWater Treatment Chemicals Market Include:
BASF SE

Ecolab Inc.

Kemira Oyj

SUEZ

Solenis LLC
Water Treatment Chemicals Market Size Breakdown by Segment
The water treatment chemicals market report offers comprehensive market segmentation analysis along with market estimation for the period 2014–2030.
Based on Type
Coagulants & Flocculants
Corrosion Inhibitors
Scale Inhibitors
Chelating Agents
Biocides & Disinfectants
PH Adjusters & Stabilizers
Anti-Foaming Agents
Oxidants
Oxygen Scavengers
Based on Application
Raw Water Treatment
Water Desalination
Cooling
Boiler
Effluent Water Treatment
Based on End User
Power Generation
Municipal Water Treatment
Chemical Processing
Pulp and Paper
Food and Beverages
Metal and Mining
Oil and Gas
Construction
Geographical Analysis
North America Water Treatment Chemicals Market

By type
By application
By end user
By country

Europe Water Treatment Chemicals Market

By type
By application
By end user
By country

Asia-Pacific (APAC) Water Treatment Chemicals Market

By type
By application
By end user
By country

Latin America (LATAM) Water Treatment Chemicals Market

By type
By application
By end user
By country

Middle East and Africa (MEA) Water Treatment Chemicals Market

By type
By application
By end user
By country