Market Overview
The acrylic surface coating market value is USD 40.1 billion (E) in 2023, and it will observe 7.7% CAGR between 2024 and 2030, to touch USD 66.4 billion in 2030.
The growth of this industry is attributed to the surging need for decorative paints, increasing requirements for these materials in the construction and automotive industries, and strict environmental regulations. Due to their varied uses, acrylic surface coatings are manufactured to suit all important markets that need paints.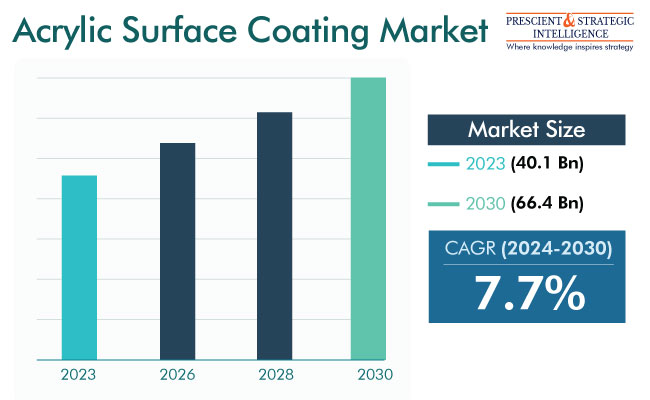 Moreover, the constant economic growth in developing nations, as well as the increase in the worries regarding the environment, has substantially augmented the requirement for acrylic surface coatings. In addition, a rise in the investment in infrastructure is likely to boost the need for these paints throughout this decade. For instance, under its Smart Cities Mission, the Indian government has sanctioned 7,934 projects with an investment of INR 1,70,392 crore.
Growing Paint Demand for Decorative Applications Is Key Driver
Acrylic surface coatings are used on automobiles, exterior & interior walls, and furniture. With the fast urbanization and rising disposable income, the need for decorative paints is increasing around the world.
Moreover, the rising worries regarding the environment have resulted in the formation of strict emission regulations. As a result, the need for paints that have low levels of volatile organic compounds is rapidly increasing. This is also because of the rising consciousness of the adverse effects of such agents, for instance, cancer and respiratory issues.
Growing Real Estate Sector To Boost Market
The development in the construction and real estate sector is significantly propelling the growth of the industry. The boom of the construction sector has led to an increase in the number of residential properties, office spaces, and commercial facilities. This drives the requirement for acrylic surface coatings for architectural and structural applications.
In the construction industry, acrylic surface coatings are favored because of their smoothness. They are also highly durable and reflective, thus making them a great investment. In addition, their reflective property helps decrease the indoor temperature and, in turn, reduce the energy consumption of AC systems.
As per the United Nations, by 2050, 68% of the global population will live in urban areas, thus increasing the need for non-residential and residential buildings. The growing expenditure for infrastructure construction in emerging economies, especially China and India, is a key driver in this regard. Similarly, the acrylic surface coating industry will observe rapid development in Latin America and Eastern Europe, which are also witnessing rapid urbanization.
Acrylic Surface Coating Market Report Coverage

| | |
| --- | --- |
| Report Attribute | Details |
| Market Size in 2023 | USD 40.1 Billion (E) |
| Revenue Forecast in 2030 | USD 66.4 Billion |
| Growth Rate | 7.7% CAGR |
| Historical Years | 2017-2023 |
| Forecast Years | 2024-2030 |
| Report Scope | Market Trends, Drivers, and Restraints; Revenue Estimation and Forecast; Segmentation Analysis; Impact of COVID-19; Companies' Strategic Developments; Market Share Analysis of Key Players; Company Profiling |
Explore more about this report - Request free sample pages
Water-Borne Category Is Growing Fastest
The water-borne category, based on technology, is advancing at the highest rate. These surface coatings use water as the solvent for the dissolution of the resin, which makes them easily applicable and environment-friendly. Moreover, European and U.S. guidelines direct waterborne paints to have below 3.5 pounds per gallon of VOC content.
The solvent-borne category held a significant market share throughout the historical period of 2017–2023. They are ideal for use in humid settings, which do not let water-borne paints cure properly. Solvent-borne paints are mostly used in the automotive and construction sectors, both of which continue to advance at high rates. Moreover, the VOC emission guidelines apply to these variants too, which is driving players to modify their solvent-borne coatings' compositions accordingly.
Construction Is Leading Application
The construction category, based on application, is leading the industry. Acrylic surface coatings are becoming increasingly popular in the construction sector because they provide weather resistance, sturdiness, various color options, and UV protection. The surging need for sustainable and eco-friendly building materials is also likely to assist the progress of this category. VOCs can cause numerous life-threatening issues, which is now driving the demand for paints that are low on these agents.
Moreover, the automotive category is expected to observe significant growth during the projection period. This is because automotive companies use paints that provide better functionality, regulatory compliance, low maintenance expenses, and reduced emissions. The growing funding to increase automobile production will offer profitable opportunities to the players in the years to come.
Luxury automotive businesses are widening their bases in developing nations, such as Indonesia, Brazil, and India, to tap the upper-middle-class and middle-class populaces. One of the most-striking features of these vehicles is their shine and color, for which advanced surface coatings are essential. Further, every automobile has at least three layers of paints: a primer, basecoat, and clearcoat. This drives the demand for automotive coatings among both OEMs and aftermarket entities.
Major Companies Producing Acrylic Surface Coatings Are:
Akzo Nobel N.V.
Dow Inc.
Arkema S.A.
Brillux GmbH & Co. KG
Axalta Coating Systems Ltd.
BASF SE
U K Paints (India) Private Limited
PPG Industries Inc.
Nippon Paint Holdings Co. Ltd.
The Sherwin-Williams Company
Asian Paints Ltd.
Kansai Paint Co. Ltd.
Sika AG
Berger Paints Ltd.
RPM International Inc.
Jotun
APAC Is Dominating Market
APAC is the largest contributor to the acrylic surface coating market. The increasing construction activities in China, India, Japan, Thailand, Singapore, the Philippines, and Indonesia are likely to increase the requirement for these materials in the continent. The regional real estate sector is rapidly advancing because of various government initiatives. For instance, the Chinese government is continuing its construction initiatives to move 250 million people to cities by 2026.
Moreover, APAC is the largest automobile manufacturer in the world, with regional and international companies both augmenting their production outputs. Almost all paints and coatings companies in APAC offer specially crafted formulations for automotive OEMs and aftermarket firms. Here, just like other industries, low-VOC acrylic surface coatings are becoming a trend, driven by the stringent environmental guidelines in regional countries.
North America is likely to observe significant growth in the acrylic surface coating industry during the forecast period. This would be primarily because of the overall increasing industrial production, which is likely to create a high requirement for all kinds of manufacturing equipment. Moreover, the growing construction activity and surging car sales will boost the progress of the regional industry.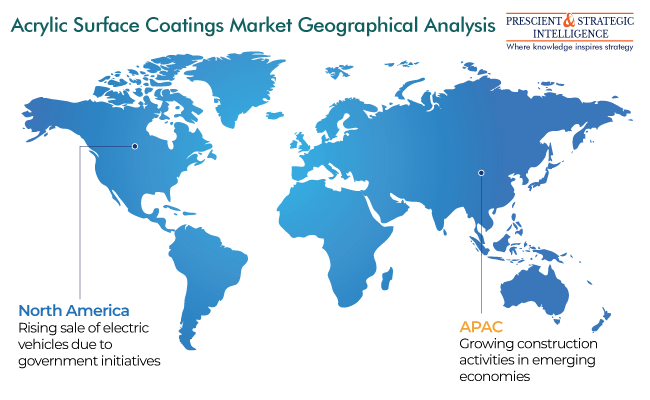 As per a July 2023 article in the Wall Street Journal, new vehicle sales in the U.S. increased at a rate of 13% in the first half of 2023. With the growing production of vehicles, the demand for acrylic automotive OEM coatings continues to rise in the region.