Market Overview
The global ultrasound probe covers market generated revenue of USD 203.1 million in 2022, which is projected to reach USD 358.9 million by 2030, advancing at a CAGR of 7.4% between 2023 and 2030.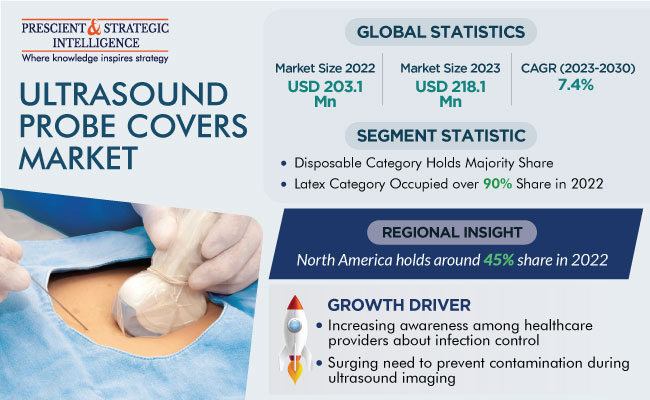 The rise in day-to-day cases related to gynecological and urological disorders and infectious diseases has increased the usage of ultrasound and the development of advanced technology in ultrasonic imaging. However, there is a high chance of infection from transducers during ultrasonic imaging. After the COVID-19 outbreak, there is a high focus on the safety of patients from infectious diseases through ultrasound probes, which leads to the increased use of protective covers.
Ultrasound transducers are basically ultrasonic sensors that work on high-intensity sound waves to capture the imaging and create a picture called a sonogram. Transducer covers are generally used by doctors or medical staff to cover probes and protect them from catching contamination and infections through bacteria and pathogens. Moreover, healthcare facilities have to follow government rules for the safety of patients and also to follow medical ethics to ensure trust between the patients and the hospitals. Thus, these covers ensure the safety of both the patients and the medical staff who operates ultrasound devices.
Disposable Ultrasound Probe Covers Dominate the Industry
The disposable type category generated a larger revenue size, exceeding USD 190 million, in 2022. This is attributed to its cost-effectiveness and the ability to mitigate the risk of disease or infection transmission among patients.
Disposable or single-use medical equipment covers are generally convenient and easy to use, as they can be swiftly disposed of after each use. This makes them highly favored by healthcare providers who prioritize infection control and operational efficiency. Additionally, their disposable nature ensures a higher level of hygiene and protection from infection and reduces the burden of cleaning and sterilization processes.
Latex Category Leads the Market
Based on product type, the market is divided into latex and latex-free probe covers. Between the two, the latex category occupied a larger market share and it is expected to increase at a CAGR of 7% during the forecasted period. This is because latex protective sheaths are generally more affordable than other types and are easily accessible mainly in developing countries with limited healthcare facilities. In these nations, healthcare professionals are looking for a balance between cost and patient safety, and latex type is a better option for infection control.
On the other hand, the latex-free category is expected to witness significant growth during the forecast period. This can be because latex-free probe covers are specially designed to address the needs of patients with latex allergies. These covers act as a protective barrier against contamination and prevent bacteria and pathogens from entering open wounds. The usage of these sheaths is crucial to avoid allergic reactions, as latex is derived from natural rubber and contains proteins that can trigger allergic responses in some individuals. By opting for latex-free covers, healthcare providers ensure the safety and well-being of latex-allergic patients.
Endocavity Application Accounts for Larger Share
The endocavity category holds a larger revenue share. This is due to the increasing demand for endocavity ultrasound procedures, particularly in the fields of obstetrics, gynecology, and age-related chronic diseases. In addition, a medical probe cover is specifically designed for use in endocavity procedures that involve inserting the ultrasound probe into body cavities such as the vagina and rectum. These covers are utilized to prevent contamination of the examination site from fluids or other materials that could potentially cause infections if they enter through open wounds during ultrasonic imaging.
The external cavity category is expected to witness significant growth in the coming years. This can be because external cavity probe covers are generally used for examinations that involve scanning the area outside of the body such as the rectum or vagina where skin contact may be deemed inappropriate in certain cultural contexts. Also, these covers are crafted from both latex and latex-free materials.
Moreover, these covers uphold a range of protective coverings, which are employed in various ultrasound devices for maintaining patient safety, improving workflow efficiency, and reducing equipment costs in healthcare facilities. Also, these help in infection control, increasing the lifespan of devices, and following hygiene regulatory compliances.
Ultrasound Probe Covers Market Report Coverage

| | |
| --- | --- |
| Report Attribute | Details |
| Historical Years | 2017-2022 |
| Forecast Years | 2023-2030 |
| Market Size in 2022 | USD 203.1 Million |
| Market Size in 2023 | USD 218.1 Million |
| Revenue Forecast in 2030 | USD 358.9 Million |
| Growth Rate | 7.4% CAGR |
| Report Scope | Market Trends, Drivers, and Restraints; Revenue Estimation and Forecast; Segmentation Analysis; Impact of COVID-19; Companies' Strategic Developments; Market Share Analysis of Key Players; Company Profiling |
| Segments Covered | By Type; By Product Type; By Application; By End User; By Region |
Explore more about this report - Request free sample pages
Hospitals Are the Largest End Users
In the dynamic of the ultrasound probe covers market, end users, such as hospitals, clinics, diagnostic imaging centers, maternity hospitals, and research institutes, play a crucial role in shaping the industry landscape. Among these, hospitals have emerged as the largest end users. This is due to the escalating prevalence of chronic diseases in developing countries, which has amplified the demand for ultrasound procedures; prompting hospitals to adopt cutting-edge technologies and infection control measures; and the surging awareness among patients and medical staff regarding the importance of infection control. These factors drive healthcare providers to prioritize the use of probe covers to mitigate the risk of hospital-acquired infections.
Moreover, the rise in disposable income has also played a pivotal role in the widespread adoption of medical equipment covers in hospitals. The day-to-day increased spending power enables healthcare facilities to invest in advanced medical supplies and equipment, including high-quality ultrasound transducer covers. This, in turn, further helps in strengthening the market landscape in this end-user category.
Whereas, the maternity centers category is expected to witness the fastest growth in the coming years. This can be due to the introduction of awareness programs aiming at raising healthcare professionals' responsiveness to the potential transmission of infections through endocavity probes to both mother and the baby, the rising number of prenatal testing, and the surging attention to eliminating infections acquired in maternity centers.
Furthermore, diagnostic imaging centers are considerably prompting the demand for these covers, due to the growing emphasis on medical device regulatory compliance. As per the guidance document of the U.S. FDA, the Reprocessing Medical Devices in Health Care Settings: Validation Methods and Labeling, it is compulsory to use covers to protect ultrasound devices for their easier reuse. Thus, by ensuring a sterile and safe environment in diagnostic imaging centers worldwide for the proper examinations, these protective sheaths play a vital role in the operations of these centers, hence driving the market growth.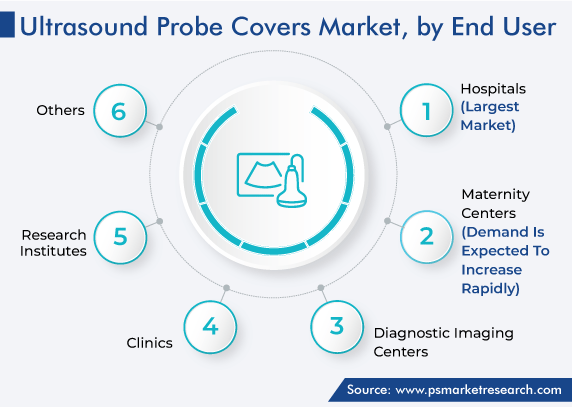 North America Is the Market Leader
The North American market holds the largest revenue share globally. This is due to the increasing availability of medical reimbursements for ultrasound procedures, the rising number of diagnostic centers and hospitals, the non-invasive nature of ultrasound technology and its ability to produce real-time images, and the presence of major industry players in the region. Additionally, the rising awareness of infection control and ultrasound disinfection practices, the well-developed healthcare infrastructure, the presence of a favorable regulatory environment, and numerous product approvals and launches are driving the demand for ultrasound probe covers in the region.
In North America, the U.S. is the market leader. This is due to the presence of leading manufacturers of protective sheaths, which are heavily investing in the development of probe covers, and the existence of world-class medical infrastructure in the country. Some of the major industry players in the U.S. are CIVCO Medical Solutions, Ecolab Inc., CS Medical LLC, and Parker Laboratories Inc.
Whereas, the APAC market is experiencing the fastest growth. This is primarily driven by factors such as the increasing population; improving medical facilities because of the increasing government healthcare expenditure, particularly in developing nations; and the significant development in a number of ultrasound diagnostic procedures conducted in the region. Additionally, due to the availability of latex-free products in the market, people in the region who earlier had latex allergies now can easily go for medical check-ups through ultrasound.
Moreover, many countries like India, China, Hong Kong, Singapore, Japan, and South Korea in APAC are investing in the development of healthcare infrastructure such as hospitals, clinics, and diagnostic centers, which are equipped with advanced ultrasound systems, and thus, the need for protective sheaths is increasing in these countries. In addition, China is the world's second-largest healthcare market in terms of revenue generation, and it holds the top position in the population size globally. Thus, improved healthcare infrastructure and solutions, including advanced ultrasound technology, are needed to cover the entire population's medical demands.
Europe is also contributing significantly to the market, due to the presence of well-developed healthcare infrastructure, including hospitals, clinics, and diagnostic centers, and the region highly prioritizes infection control, and for this, the use of disposable probe covers is crucial to minimize the infection risks in patients. In addition, point of care ultrasound (POCUS) is gaining prominence in Europe, through which a large number of invasive and semi-invasive procedures are performed and it also reduces the risk of cross-contamination. Thus, these factors are propelling the regional market.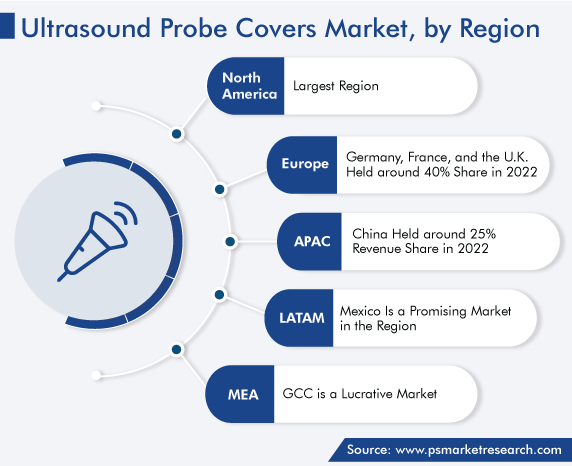 Some of the Key Players in the Probe Covers Market Are:
CIVCO Medical Solutions
CS Medical LLC
Ecolab Inc.
Fairmont Medical Products Ltd.
Fuji Latex Co. Ltd.
Karex Berhad
Medline Industries Inc.
Nanosonics Ltd.
Parker Laboratories Inc.
PDC Healthcare
Protek Medical Products Inc.
Sheathing Technologies Inc.
Market Size Breakdown by Segment
This fully customizable report gives a detailed analysis of the ultrasound probe covers market from 2017 to 2030, based on all the relevant segments and geographies.
Based on Type
Disposable or Single Use Probe Covers
Reusable Probe Covers
Based on Product Type
Based on Application
Endocavity
External Cavity
Based on End User
Clinics
Diagnostic Imaging Centers
Hospitals
Maternity Centers
Research Institutes
Geographical Analysis
North America
Europe

Germany
U.K.
France
Italy
Spain

Asia-Pacific

Japan
China
India
South Korea
Australia

Latin America
Middle East and Africa

Saudi Arabia
South Africa
U.A.E.