Market Overview
The ultrasound devices market size stood at $6,929.7 million in 2021, and it will witness a CAGR of 6.4% during 2021–2030, to increase to $12,073.4 million by 2030.
High-frequency sound waves are used in ultrasound to create images of anatomical structures, which are subsequently analyzed by medical specialists to look for abnormalities. With this technology, a number of chronic diseases affecting the important body parts, including the joints, arteries in the abdomen, and the heart, can be diagnosed. Moreover, it is one of the safest non-invasive techniques for inspecting organs.
This technique is widely used for minimally invasive diagnosis, by visualizing the tissues and organs of the body. It is are also used in interventional radiology for fluid management. Some of the ultrasound-guided procedures are fluid collection by needle aspiration and tissue sampling. Since minimally invasive procedures cause less pain and do not require a long stay in a hospital, the preference for them is increasing, which, in turn, is leading to the growth of the ultrasound devices industry.
Hence, the industry is growing at a significant rate due to the booming geriatric population, rising prevalence of chronic and lifestyle-associated diseases, such as cardiovascular diseases and cancer, and increasing healthcare expenditure. The geriatric population is prone to diseases due to its low immunity, thus leading to the expanding demand for diagnosis and treatment. This would increase the demand for ultrasonograms, as they are cost-effective, especially over CTs and MRIs, and non-invasive.
In addition, the advancements in the technology of ultrasonography equipment and the growing demand for minimally invasive diagnoses and therapeutics are driving the global market.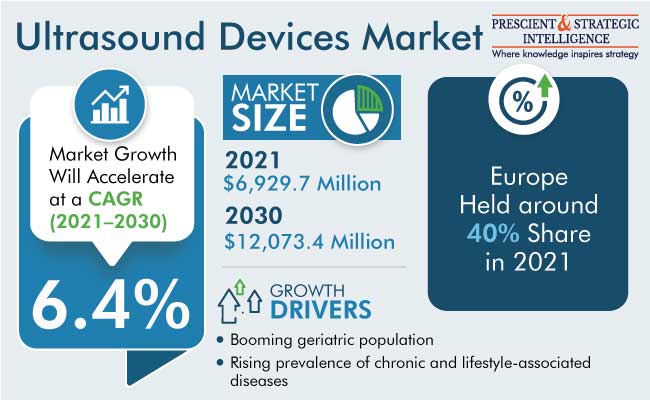 Moreover, the growing number of product launches and development of small, portable devices for point-of-care applications are the key trends being observed. The leading market players are also focused on creating cutting-edge systems that use artificial intelligence. The idea behind this step is to tackle some of the drawbacks of conventional devices, such as the lengthy examination times, occasionally poor image quality, and reliance on experts for image acquisition and interpretation.
COVID-19 negatively affected industries, particularly in nations with a high incidence of this infection, including India, Brazil, China, the U.S., and several European countries. The healthcare industry focused on streamlining their operations to serve the large number of patients and, for this, reassigned healthcare professionals.
Therefore, the pandemic negatively impacted the ultrasound market due to the changes in regulations and the implementation of movement restriction guidelines. The closure of manufacturing facilities during the lockdowns, supply chain disruptions, and challenges in patient recruitment for clinical trials further impacted the ultrasound device demand.
Europe had the largest share of the sales revenue, around 40%, in 2021. The expansion in focused ultrasound's clinical applications and the early commercialization of these devices in the region, as well as the substantial healthcare expenditure across the developed European countries (such as Germany, France, the U.K., Italy, and Spain), are causing the ultrasound devices market in Europe to grow.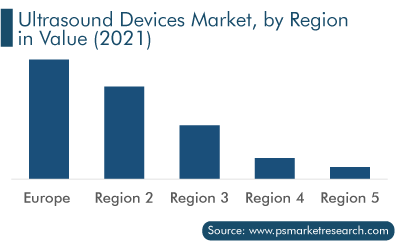 Miniaturized Point-of-Care Devices Are Trending
The medical device technology is transitioning toward miniaturization, with portable, lighter devices replacing their bulky counterparts. To provide point-of-care treatment to patients, healthcare settings are focusing on the use of compact and lightweight devices. In view of this, manufacturers in the market are introducing portable devices to facilitate improved healthcare.
Hence, the miniaturization of ultrasound devices has led to their increased application in emergency and intensive care units (ICUs). Handheld devices help physicians in routine bedside scanning, which further reduces the overall time and cost associated with healthcare. Besides, miniaturized, wearable ultrasonic diathermy devices are widely being utilized in deep therapy.
Therefore, compact/handheld portable ultrasound devices held a considerable share in 2021 in the market.
Growing Geriatric Population Drives Market
The elderly population requires extensive care as it is prone to illnesses due to its low immunity levels, with the long recovery time further degrading its quality of life. Diseases such as diabetes and cardiovascular disorders are highly prevalent in older people due to their weak regenerative abilities, thus leading to an increase in the demand for better diagnosis and therapy.
As per the WHO, the population aged 60 years and over will increase from 1 billion in 2019 to 1.4 billion by 2030. Moreover, between 2020 and 2050, the number of people 80 years or older is projected to triple, reaching 426 million.
With the increasing aging population, the need for better procedures for diagnosis and treatment is rising. In addition, with the rising emphasis on shorter and relatively pain-free treatment, the preference for minimally invasive medical procedures is booming, which would further lead to an increase in the usage of echography equipment.
Rising Prevalence of Chronic and Lifestyle-Associated Diseases Increases Demand for Ultrasound Devices
The prevalence of chronic diseases, such as heart disease, cancer, respiratory diseases, and diabetes, is increasing due to the alterations in lifestyles and the lack of access to preventive care. For instance, more than 18.1 million cancer cases were diagnosed and nearly 10 million deaths were recorded around the world in 2020, equaling nearly one in six deaths. The rising prevalence of such diseases would increase the demand for diagnostic and therapeutic ultrasound procedures, which are cost-effective and minimally invasive.
Ultrasound Devices Market Report Coverage

| | |
| --- | --- |
| Report Attribute | Details |
| Historical Years | 2017-2021 |
| Forecast Years | 2022-2030 |
| Market Size in 2021 | $6,929.7 Million |
| Revenue Forecast in 2030 | $12,073.4 Million |
| Growth Rate | 6.4% CAGR |
| Report Scope | Market Trends, Drivers, and Restraints; Revenue Estimation and Forecast; Segmentation Analysis; Impact of COVID-19; Companies' Strategic Developments; Market Share Analysis of Key Players; Company Profiling |
| Segments Covered | By Technology; By Device Display, By Portability; By Application; By End User; By Region |
Explore more about this report - Request free sample pages
Development of Advanced Healthcare System Drives Market
Ultrasonic imaging is a powerful diagnostic tool for medical practitioners and researchers, and it is widely accepted due to its non-invasive nature. In addition, the technological advancements in computing applications and transducers have revolutionized them and expanded their application.
Moreover, the device display category is divided into color ultrasound and B/W, of which the demand for color variants is projected to grow with a CAGR of around 7% during the forecast period.
The developments in transducer materials and array designs have resulted in greater bandwidths, with improvements in the spatial and contrast resolutions. Similarly, the developments in digital signal processing have produced innovations in beam forming, image display, and archiving. This has resulted in the emergence of several novel imaging modes that exploit the non-linear performance of tissues and micro-bubble contrast agents.
In addition, the advances in the 3D and 4D technologies offer a better visualization of congenital birth defects, as well as offering dynamic and multi-planar views of the fetal heart. The 4D ultrasound technology, for instance, allows for the real-time viewing of the organs, including the baby's heart, as they function.
Furthermore, sonograms are used for guided biopsies and other minimally invasive interventional radiology procedures. Guided biopsies involve fluid collection by needle aspiration and cytological or tissue sampling. Endoscopic ultrasonography is also used for the diagnosis of conditions. For instance, in endobronchial sonography, an ultrasound device is attached to fiber-optic bronchoscopes in order to diagnose and stage lung cancer and determine the appropriate treatment.
Moreover, companies are actively involved in developing advanced ultrasound systems. For instance, in September 2022, Boston Imaging, the U.S.-based unit of Samsung's digital radiography and ultrasound business, launched the V7 ultrasound system. This system has sophisticated image processing (CrystalLive) technology, beamforming (CrystalBeam) functionality, and S-Vue single-crystal transducers, which help in producing high-resolution images.
General Imaging Accounts for Largest Share
In 2021, the general imaging category generated the highest revenue, around 40%. This is owing to the growing availability of high-intensity focused ultrasound (HIFU) and the preference for them among physicians during tissue biopsy and the treatment of cancer and many other diseases.
Moreover, in the end user segment, the demand for such devices is the highest among hospitals, surgical centers, and diagnostics centers. This can be ascribed to the easy availability of sonography-based medical procedures at these medical centers, expansion in their number in key regions, and increase in the use of minimally invasive diagnostic and surgical techniques here.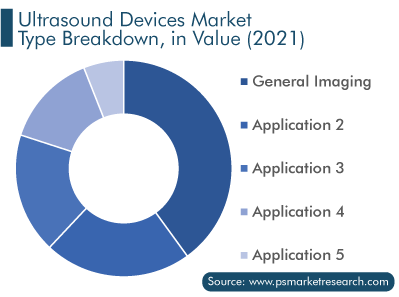 Key Players in Ultrasound Devices Market Are:
General Electric Company
Koninklijke Philips N.V.
Canon Inc.
Hitachi Ltd.
Siemens Healthineers AG
Hologic Inc.
FUJIFILM Holdings Corporation
Samsung Electronics Co. Ltd.
Shenzhen Mindray Bio-Medical Electronics Co. Ltd.
Analogic Corporation
Global Ultrasound Devices Market Size Breakdown by Segment
The study offers a comprehensive market segmentation analysis along with market estimation for the period 2017-2030.
Based on Technology
Diagnostic
Therapeutic

High-intensity focused ultrasound (HIFU)
Extracorporeal shockwave lithotripsy (ESWL)
Based on Device Display
Based on Portability
Trolley/Cart-Based
Compact/Handheld
Point-of-Care (POC)
Based on Application
General Imaging

Abdominal
Musculoskeletal
Vascular
Urology

Obstetrics/Gynecology
Cardiology
Pain Management
Based on End User
Hospitals, Surgical Centers, and Diagnostic Centers
Maternity Centers
Ambulatory Care Centers
Research and Academic Institutes
Geographical Analysis
North America
Europe

Germany
U.K.
France
Italy
Spain

Asia-Pacific

Japan
China
India
South Korea
Australia

Latin America
Middle East and Africa

Saudi Arabia
South Africa
U.A.E.