Robotaxi Market Size & Share
The robotaxi market is valued at USD 458.9 million (E) in 2023, which is expected to reach USD 29.2 billion by 2030, growing at a CAGR of 82.6% during 2024–2030.
A practical and economical form of transportation is provided by robotaxis. Via smartphone applications, passengers may request a ride, thus doing away with the need to own a car and saving money on traveling. These services are available on-demand, thus saving travelers' time and facilitating a smooth journey. The global market is growing as a result of the expansion of ride-sharing fleets and the rising acceptance of mobility as a service (MaaS). Such facilities fit into the shared economy model since they let numerous people ride the same car at once, thus maximizing vehicle efficiency and easing traffic flow.
Moreover, the popularity of autonomous taxis has been fueled by the efforts to cut pollution and promote environment-friendly traveling options. By minimizing air pollution in cities and reducing the dependence on fossil fuels, electrically powered autonomous vehicles help create a greener world. To speed up the use of this concept, numerous automotive and technology businesses are forging alliances and partnerships. By fusing innovative software and AI technologies with automotive manufacturing skills, these partnerships combine knowledge from several industries.
Further, the demand for such services will increase as the customer confidence in self-driving technology increases, particularly among ecologically aware and technologically savvy customers.
Passenger Transportation Is Dominant Category
The primary application in the industry is passenger transportation. When it comes to the creation and utilization of automated vehicles, passengers are the main focus of OEM and service providers' efforts and resources. The dominance of passenger transportation on this sector has been fueled by the high consumer demand for a convenient, efficient, and independent ride-hailing system.
The MaaS model provides numerous benefits in passenger transportation, including improved convenience, increased safety, less congestion, and larger cost savings, compared to standard human-driven taxis. Additionally, a heavy investment in the robotic vehicle technology is being made by Waymo, Cruise, Uber, and Lyft. These companies also conduct testing and pilot programs on a large scale to roll these services out to the masses. On the path to introducing autonomous vehicles for passenger mobility, considerable achievements have been made.
Goods Transportation Is Expected To Show Significant Growth
The distribution of items on time is becoming increasingly important with the expansion of the online shopping sector. In moving packages from fulfillment centers or regional hubs to the doorsteps of consumers, this service could help online shopping networks offer an enhanced customer experience. This also presents an approach to controlling the shipping charges and, ultimately, making the products being transported cheaper for the end customers.
The vehicles deployed for such services could be fitted with specific luggage racks and cabinets to make the transfer of things easier. Different types of commodities, including containers, food, and commercial merchandise, can be ferried in these spaces. Depending on the unique needs of the transportable cargo, the compartments may have temperature controls or other special features. The efficiency of goods delivery is enhanced as automated vehicles provide better direction plans and schedules, by using innovative algorithms and the current data to navigate in traffic.
Robotaxi Market Report Coverage

| | |
| --- | --- |
| Report Attribute | Details |
| Market Size in 2023 | USD 458.9 Million |
| Market Size in 2024 | USD 789.3 Million |
| Revenue Forecast in 2030 | USD 29,297.0 Million |
| Growth Rate | 82.6% CAGR |
| Historical Years | 2017-2023 |
| Forecast Years | 2024-2030 |
| Report Scope | Market Trends, Drivers, and Restraints; Revenue Estimation and Forecast; Segmentation Analysis; Impact of COVID-19; Companies' Strategic Developments; Market Share Analysis of Key Players; Company Profiling |
| Segments Covered | By Application; By Component; By Level; By Vehicle Type; By Propulsion; By Region |
Explore more about this report - Request free sample pages
LiDAR Sensors Are Fastest-Growing Technology Category
Based on component, LiDAR sensors are expected to witness the fastest growth during the forecast period. Automated vehicles' perception skills are improved by this technology, which enables them to recognize and classify items such as other cars, passengers, and barriers with greater accuracy. For reliable and secure operation, the car's choices and preparation procedures depend on such data.
Although self-driving vehicles often use other sensor techniques, such as cameras and radar, LiDAR has some advantages. Especially under poor illumination conditions, it enables high-resolution and precise depth perception. For automated driving functions, where accurate object identification and localization are crucial, LiDAR proves especially advantageous.
In the robotaxi sector, such technology can help with mapping and location functionalities. Such sensors assist cars in correctly establishing their location and navigating effectively, especially in complex metropolitan situations, by constantly analyzing the surroundings and comparing the data with previously created high-resolution maps.
A 360-degree range of sight is provided by LiDAR sensors, thus giving automobiles a thorough understanding of their surroundings. Instead of depending on constrained viewpoints, this technology enables self-driving vehicles to have a full understanding of their surroundings and make choices accordingly.
In driverless vehicles, this sensor can function as a backup safety mechanism. It provides more precision in the detection and confirmation of nearby objects by working with other sensor technologies, such as cameras and radar. This improves the security and dependability of such automobiles, especially in life-or-death situations, where precise perception is essential.
Camera Is Expected To Show Significant Growth
In the coming years, the camera category is also expected to grow considerably. Since cameras are less expensive, manufacturers and operators of robotic vehicles are more likely to choose them when deploying sizable fleets of these vehicles.
Cameras may be utilized for vision-based perception, which entails identifying and categorizing objects by studying photographs. To recognize and monitor vehicles, people, road signs, and other items in the vicinity, modern computer vision methods may be used with camera images. These techniques involve using deep learning for the recognition of objects and semantics for segmentation.
Together with additional sensors, such as LiDAR and radar, cameras can function as a backup safety mechanism. The integration of information from several sensor modalities improves the vehicle's overall perceptive abilities and dependability.
Level 4 Automation Is Dominant
The level 4 category holds the larger share in the automation level segment of the market. By offering secure, feasible, and affordable modes of transport, level 4 automation has the ability to alter how people and freight travel.
Robotaxis with level 4 automation are built to function in predetermined locations or under particular circumstances, as in certain cities, on well-defined roads, or in pleasant weather. This makes the automobile more dependable and advanced within those set limitations.
By removing human aspects, such as driver distraction and exhaustion, level 4 driving automation can dramatically increase the safety for passengers and pedestrians. These taxis consist of cameras, LiDAR sensors, radars, and strong onboard processors to precisely assess their surroundings and take prompt, deliberate actions. Such technology can lower the incidence of collisions and improve the traffic safety all around.
Thus, level 4 automation in taxis could offer individuals a comfortable means of transport. It could also provide alternatives to driving to those who cannot, such as senior citizens or those with physical impairments. Robotaxis with level 4 automation can also be requested on demand using mobile apps, thus offering users quick and effective travel options.
Moreover, with their deployment, transportation systems may become more reasonably priced, due to their scalability. Numerous passengers can travel in one shared vehicle, thus maximizing fleet utilization and lowering the number of vehicles on the road.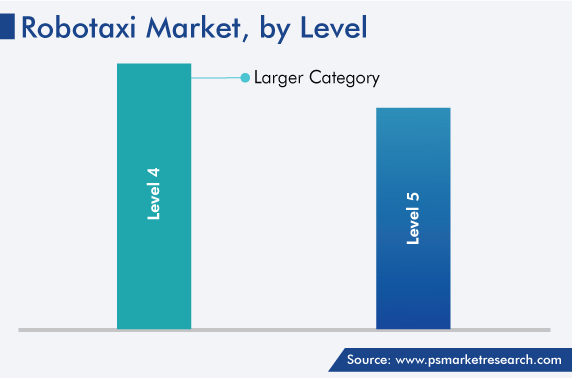 Future Prospects for Level 5 Automation
Level 5 automation can manage every element of driving on its own, including acceleration, brake, steering, and navigation through intricate road systems, a variety of climates, and unanticipated situations. These automobiles do not need assistance from humans at any moment while traveling.
Additionally, there are no geographical or operational restrictions for level 5 robotaxis. They can run in any place that a typical car can, thus offering mobility assistance in urban, suburban, and rural regions. The level 5 technology can change the way people travel and move around. With people moving to pooled self-drive vehicles rather than using their own, individual car ownership rates would come down. This would further result in less traffic congestion, optimal vehicle utilization, and more-efficient transit systems.
Car Category Is Expected To Show Fastest Growth
On the basis of vehicle type, the fastest growth during the forecast period is expected in the car category. Due to the current infrastructure and road network being built for conventional automobiles, cars have an edge in this sector. It is simpler to deploy and integrate autonomous cars since they can take advantage of the enormous road networks, parking lot availability, and charging infrastructure currently in place.
Moreover, customers tend to be comfortable with cars because they are a generic form of transportation. Robotic cars may be more widely accepted because of this familiarity. When compared to other vehicle types, users may absorb modern technologies in cars more quickly, since they can relate to the experience of driving a conventional car.
Further, since short- and medium-distance trips make up the majority of the commutes in metropolitan areas, there is expected to be a sizable market for robotaxis and driverless freight services. Therefore, cars, especially small ones, which can rapidly navigate congested city streets and offer a pleasant experience, are preferred by urban customers.
APAC Dominates Market
The APAC region holds the largest share in the market because of the strong automobile production capacities of regional nations. The large-scale deployment of automated taxis is possible due to the developed automotive industry and substantial manufacturing infrastructure in nations such as China and Japan.
Additionally, robotic vehicles, particularly robotaxis, have received significant backing from governments throughout the APAC region for development, testing, and commercialization. They have put policies and rules in place to support the development and application of the autonomous driving technology, thus fostering an atmosphere that is advantageous for the businesses in this industry.
Several well-known ride-hailing and technology businesses based in APAC are making investments in driverless automobiles and such services. Didi Chuxing, Grab, and numerous Japanese automotive and technology firms have been aggressively researching and investing in the market.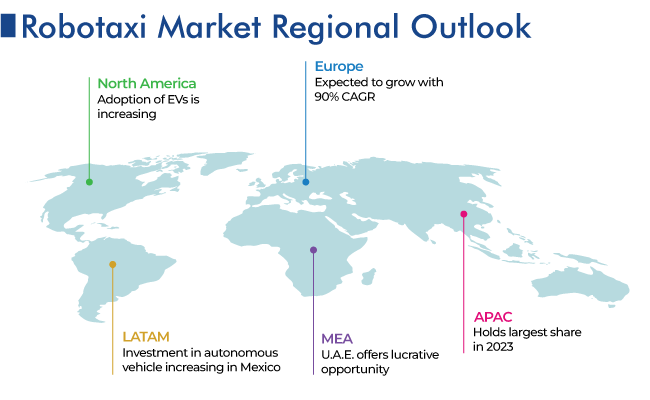 Key Players Offering Robotaxi Vehicles Are:
Waymo LLC
Baidu Inc.
Beijing Didi Chuxing Technology Co. Ltd.
Cruise LLC
Easy Mile.
Tesla Inc.
Aptiv
Lyft
Zoox inc.
AutoX Inc.
Market Size Breakdown by Segment
This fully customizable report gives a detailed analysis of the robotaxi industry from 2017 to 2030, based on all the relevant segments and geographies.
Based on Application
Based on Component
Cameras
Radars
LiDAR Sensors
Ultrasonic Sensors
Based on Level
Based on Vehicle Type
Based on Propulsion
Geographical Analysis
North America
Europe

U.K.
Germany
France
Italy
Spain

Asia-Pacific

China
Japan
Australia
India
South Korea

Latin America
Middle East & Africa

Saudi Arabia
South Africa
U.A.E.