Market Overview
The global automotive manufacturing equipment market size is estimated to stood at USD 6,810.5 million in 2023, and it is expected to advance at a compound annual growth rate of 11.3% during 2024–2030, to reach USD 14,260.4 million by 2030. This is mainly ascribed to the rapidly growing automobile demand and the increasing adoption of robotics and automation technologies to meet the increasing automotive need.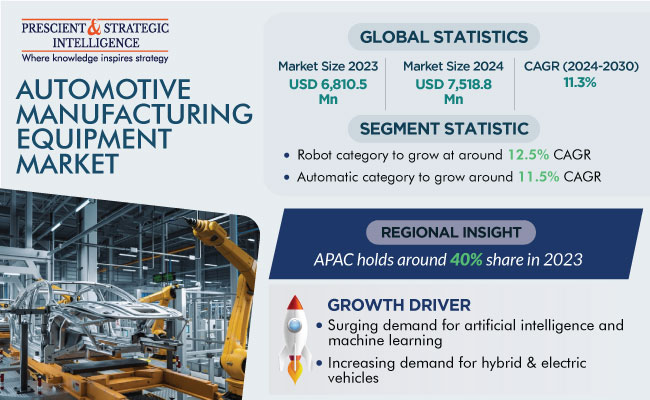 In addition, the surging demand for hybrid & electric vehicles is also boosting the need for advanced manufacturing technology. This is because, for these types of vehicles, companies have set up advanced manufacturing facilities or production lines in which these vehicles are manufactured. Moreover, some of the automotive OEMs are using different production lines, due to which the requirement for vehicle manufacturing equipment is multiple on the establishment of every new production line. Automobile OEMs are using these technologies for the mass production of cars because this innovation is taking very less time as compared to traditional methods. Thus, these factors propel the growth of the market.
Surging Demand for Artificial Intelligence and Machine Learning Drives the Market
In today's technological world, industries are shifting from conventional methods to advanced production technologies, such as machine learning (ML) and artificial intelligence (AI). These technologies are found in the whole automotive industry, which help it to meet the demand for vehicles on time. These also help control systems and communicate with other equipment so the work does not get affected. Several organizations have adopted AI and advanced technologies, due to their several benefits, to improve quality, help meet the demand on time, boost the supply chain, and operate functions smoothly.
Additionally, approximately in every new manufacturing facility, automotive makers are adopting advanced technologies such as automation and robotics from the start of the production process for the manufacturing of automobiles. This is because these provide several benefits to the automotive industry such as detecting faults at the manufacturing stage, monitoring manufacturing processes, running the assembly line smoothly without overlapping, helping in welding parts of vehicles and moving heavy metals, saving production costs of production, and improving the quality of products.
Moreover, almost every vehicle manufacturing company mandates the use of AI-based equipment in the production area, where the risks of human accidents and injuries are high. Also, the implementation of AI in companies saves many incidents from happening and the incident number is decreasing day by day. For instance, BMW Group uses AI-powered image recognition technology, which helps it in inspection, quality control, and removing wrong faults.
Promptly Growing Demand for Hybrid and Electric Vehicles
In the last few years, electric vehicle manufacturing companies have gained significant growth. This is due to the changing consumer preferences, government support and policies, and the surging awareness among people about the benefits of electric vehicles and their positive impact on the environment. These factors are boosting the demand for EVs, due to which companies are using new production lines and advancing current production facilities by adopting advanced manufacturing equipment. For instance, Tesla is using almost 600 robots in its manufacturing facilities.
In addition, for instance, in December 2021, Toyota Motor Corporation aimed to launch 30 electric vehicles and set an aim to achieve the sale of 3.5 million electric vehicles per year by 2030. Kia Corporation also aims to achieve electric car sales of almost 1.2 million by 2030. Likewise, Ford Motor Company's EV sales would be growing by 50% by the end of 2030. In most vehicle manufacturing facilities, robots and conveyor belts are almost used in every production line. Thus, the increasing demand for EVs is expected to drive the growth of the market.
Automotive Manufacturing Equipment Market Report Coverage

| | |
| --- | --- |
| Report Attribute | Details |
| Market Size in 2023 | USD 6,810.5 Million |
| Market Size in 2024 | USD 7,518.8 Million |
| Revenue Forecast in 2030 | USD 14,260.4 Million |
| Growth Rate | 11.3% CAGR |
| Historical Years | 2017-2023 |
| Forecast Years | 2024-2030 |
| Report Scope | Market Trends, Drivers, and Restraints; Revenue Estimation and Forecast; Segmentation Analysis; Impact of COVID-19; Companies' Strategic Developments; Market Share Analysis of Key Players; Company Profiling |
| Segments Covered | By Equipment Type; By Mode of Operation; By Vehicle Type; By Region |
Explore more about this report - Request free sample pages
Robot Is the Fastest-Growing Category
The robot category is expected to grow at the highest CAGR, around 12.5%, in the coming years. In the vehicle manufacturing industry, robots are the most important part of production processes because they do works in the best way with improved management of tasks. Also, robots can repetitively do tasks with the same quality, less error rate, high consistency, and great productivity.
Moreover, robots are programmed to do multiple tasks in the industry such as welding smaller parts and body panels, windshield installation, assembly, wheel mounting, fault inspection, screw driving, paint coating, and material handling. These are also used to perform tasks that are difficult and dangerous to the human. For instance, General Motors (GM) is using a welding robot, called UNIMATE, which does spot welding. In addition, Fords, Mercedes-Benz, and BMW are using Cobots (collaborative robots) in their production plants.
Furthermore, robots are found almost in every part of vehicle manufacturing plants. According to the International Federation of Robotics, the automobile sector has a large number of robots, which is around one million across the world. In the Republic of Korea, almost 2867 units of robots are in operation for every 10,000 employees. In Germany, there are almost 1,500 units, and in Japan with 1,422 robots per 10,000 employees. Also, major operating players in this industry are investing more in research and development to enhance the performance of robots. Thus, these factors drive the market in this category.
Automatic Is the Faster-Growing Category
The automatic category is expected to grow at a higher CAGR, of around 11.5%, during the forecast period. In the automobile industry, automatic technologies are adopted widely because of their work efficiency, high quality, and maximum productivity. Also, automatic manufacturing technologies can perform tasks without the involvement of humans, due to which the cost of production is reduced with maximum production output. Further, these technologies help in making vehicles' production facilities more efficient and advanced.
In addition, automated machines can manufacture cars at a higher production rate without error, in comparison to humans or traditional conventional production lines. Also, companies use these technologies because they can process functions faster and more accurately and can do the work efficiently, and coordinate with robots so that the work does not get affected. For instance, in the Czech Republic, an FCC industrial system site uses several single-arm YUMI robots (ABB Inc.'s product) to help in part-loading processes.
APAC Market Is Expected To Rise at the Highest Growth Rate
The Asia-Pacific automobile manufacturing equipment market is expected to grow at the highest CAGR, of around 12%, in the coming years. This can be because the region consists of major countries, such as China, South Korea, Japan, and India, manufacturing automotive systems, and companies are investing in automation and robot technologies to reduce labor costs and improve work efficiency, in the region.
Moreover, the rapidly growing population is driving the demand for electric vehicles, due to which companies are investing in new production facilities to fulfill the need and they also investing in making new vehicle models, which, in turn, drive the requirement for automotive manufacturing technologies in the region. For instance, in 2021, in APAC, almost 2.90 million electric vehicles were sold. China is at the top of the sales list. In addition, over the next few years, electric vehicles almost change the whole automotive industry scenario. Almost every company manufactures EVs on a new production line, which is also increasing the demand for automobile manufacturing equipment.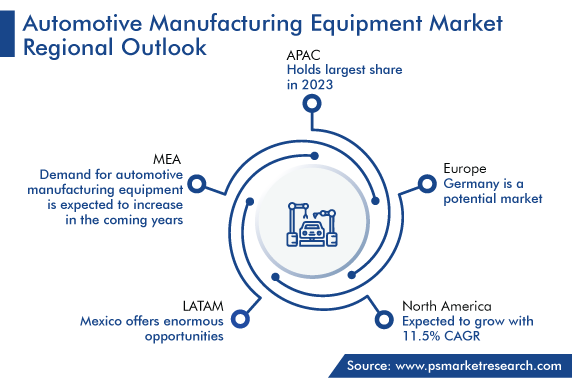 European Market To Grow at a Significant Growth Rate
The European market is expected to grow significantly over the next few years. This can be ascribed to the rapidly growing demand for electric vehicles in the region. This scenario for EVs forces companies to make a new production line, as these vehicles' engines and parts are lightweight as compared to fuel-consumption vehicles and are also different. Thus, with the increasing number of production lines, the need for automotive manufacturing devices is projected to rise significantly in the region in the coming years.
Some Top Automotive Manufacturing Equipment Manufacturers Are:
ABB Group
FANUC AMERICA CORPORATION
KUKA AG
Yaskawa Electric Corporation
Kawasaki Heavy Industries Ltd.
AMADA CO. LTD.
AIDA ENGINEERING LTD.
Dürr Group
Schuler Group GmbH
Universal Robots A/S
Market Size Breakdown by Segment
This report offers deep insights into the automotive manufacturing equipment market, with size estimation for 2017 to 2030, the major drivers, restraints, trends and opportunities, and competitor analysis.
Based on Equipment Type
CNC Machine
Conveyor Belt
Injection-Molding Machine
Robot
Stamping Machine
Welding Machine
Based on Mode of Operation
Based on Vehicle Type
Passenger Vehicle
Commercial Vehicle
Geographical Analysis
North America
Europe

Germany
U.K.
France
Italy
Spain

Asia-Pacific

Japan
China
India
South Korea
Australia

Latin America
Middle East and Africa

Saudi Arabia
South Africa
U.A.E.