Market Overview
The recycled carbon fiber market generated revenue of USD 168.3 million in 2022, which will reach USD 310.3 million by 2030, advancing at 7.9% CAGR between 2022 and 2030. Recycled carbon fiber is lower in cost than virgin carbon fiber. Stiffness, endurance, and heat, fatigue, and corrosion resistance are some of the advantageous properties of this material. Moreover, it could allow automakers to produce low-cost mass-market electric vehicles, as well as reduce the weight and space requirement of batteries.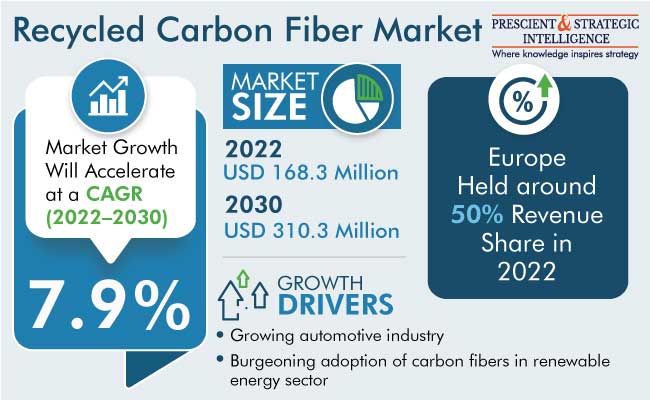 Furthermore, carbon fiber is heavily used in making lightweight components such as, spacecraft and aircraft parts, golf club shafts, racing car bodies, bicycle frames, automobile springs, fishing rods, sailboat masts, and many others.
Moreover, it could be used in the manufacturing of wind turbine blades, enables longer and lighter blades that can capture more wind energy. Moreover, rCF components can also be utilize in the solar panels and energy storage systems which results creating more demand in renewable energy sector and can see growth in upcoming years.
Growing Automotive Industry
Based on end user, the automotive & transportation category held significant share in the market, and it is expected to grow at a CAGR of 10% during the forecast period. This is due to the increase in the collaboration between automotive manufacturers and rCF producers. Recycled carbon fiber composites are highly adaptable and can be molded into any tough shape. Major automotive manufacturers, including BMW and Volvo, are heavily investing in this adaptable material to make premium and luxury vehicles.
Moreover, the rapid economic growth has increased the need for faster and easier modes of transportation. Recycled carbon fibers are extensively used in automobiles because of their low weight and low cost, the latter of which is especially beneficial to electric vehicle manufacturers.
Moreover, the automotive industry is using more recycled carbon fiber than before, the is reason is because increase in the adoption of the technologies such as, non-destructive testing (NDT) and composite recycling and the allocation of tax benefits and funds. This is due to manufacture auto parts with the usage of this material can help to reduce energy and fuel consumption and increase the safety of vehicles.
The demand for recycled carbon fiber is, thus, growing due to the expansion of the automotive industry, itself due to the shifting needs and evolving lifestyles of people around the globe. This material is adopted by the automotive industry primarily due to its cost-effectiveness over virgin carbon fiber.
Additionally, a large number of cars and trucks are manufactured using rCF because it helps reduce the overall vehicle weight. Companies also use rCF because of its advantages in reducing module interim and increasing the lifetime of automobiles.
In this regard, The SGL Group and BMW have established a joint venture, named SGL Automotive Carbon Fibers GmbH & Co. KG. The company uses rCf in various automotive parts for the i3 electric drive and i8 plug-in hybrid cars. Such initiatives will continue to drive the consumption of lightweight alternatives to iron and steel in the automotive industry.
Growing Adoption of Carbon Fiber in Renewable Energy Sector
Research studies funded by the U.S. Department of Energy's Vehicle Technologies Office, as part of the Composites Core Program, have discovered that incorporating bio-based epoxies and an anhydride hardener into carbon fiber composites can lead to the creation of an entirely recyclable material. By forming linkages that are more readily degradable, this advancement enables the recycling process, known as methanolysis, to occur at room temperature without compromising the quality of the fibers.
Moreover, rCF components can also be utilized in the solar panels and energy storage systems, which would open up a new growth potential for the players.
Recycled Carbon Fiber Market Report Coverage

| | |
| --- | --- |
| Report Attribute | Details |
| Historical Years | 2017-2022 |
| Forecast Years | 2023-2030 |
| Market Size in 2022 | USD 168.3 Million |
| Revenue Forecast in 2030 | USD 310.3 Million |
| Growth Rate | 7.9% CAGR |
| Report Scope | Market Trends, Drivers, and Restraints; Revenue Estimation and Forecast; Segmentation Analysis; Companies' Strategic Developments; Market Share Analysis of Key Players; Company Profiling |
| Segments Covered | By Type; By Source; By End User; By Region |
Explore more about this report - Request free sample pages
Advancements in Technology
The advancement of recycling technologies and processes has been key factor in driving the growth of the rCF market, this is because some key areas where these advancements have notably improved such as, efficiency, quality, and viability. Therefore, it has improved the utilization of rCF in various industries.
Moreover, the manufacturing of recycled carbon fiber has led on improving of recycling technologies, this includes refining the techniques such as, alignment, consolidation and forming, which is very important for manufacturing products with own choice of properties. The improvement in producing processes have open gates for the production of materials that will meet the particular performance requirements, therefore allowing manufacturers to embody it to their products without any compromise on quality and performance.
Additionally, the quality and consistency of this material has been improved due to the advancement in purification processes which played a vital role in this. Carbon fiber contain impurities which obtain through recycling or what left from original composite structures. Purification helps in removing these impurities and restore its mechanical properties of this material to the same as virgin counterparts. By enabling the purity of the material, these advancements have increased the range of verticals and industries that can use it with no hesitations.
Chopped Carbon Fiber Held Largest Share
Based on type, the chopped category accounted for the largest larger share, around 70%, in the recycled carbon fiber market in 2022, and it will further maintain its dominance in the future. This is owing to the heavy consumption of this variant because of its cost-savings and sustainability. Thermoplastic compounding is extensively employed in a wide range of industries, including automotive and electronics, for the production of various products.
Moreover, chopped carbon fiber is easier to manage and mix with other materials, such as resins and polymers. It is also shorter in length, which allows for better dispersion within the matrix. This results in an improvement in mechanical properties and product performance.
Additionally, a new technology, called electric-field-induced manipulation, is being used to increase the lifespan of short chopped carbon fiber (SCCF). This technology will enable the reutilization of carbon fibers in an effective manner.
Moreover, the dispersion process, along with dielectric polarization, enables effective control over a substantial amount of SCCF.
Furthermore, this type of rCF also helps in a reduction of 3–5% in the cost of the final product compared to those created using virgin carbon fiber. Moreover, the surge in the R&D investments by the leading players is driving the growth of the category.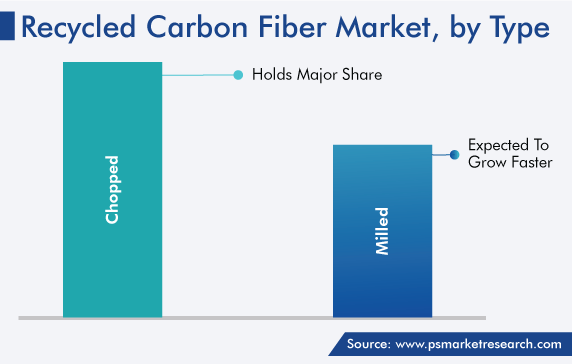 Europe Is Dominating Market
Europe captured the largest revenue share in the market, around 50%, in 2022, and it is further expected to maintain its dominance during the forecast period. The major reason for this is the burgeoning automotive and aerospace industries in the region. Moreover, the strong presence of prominent manufacturers across industries makes it lucrative for the players. In addition to this, technological advancements, such as composite reprocessing and mechanical recycling, drive the growth in this region.
Other key drivers are the wide presence of electric vehicle manufacturers in the region and the growing demand for lightweight and fuel-efficient vehicles, as well as for their various parts. Many automotive manufacturers are investing in R&D to develop cost-effective carbon composite materials.
North America will also witness significant growth owing to the rising standard of living and the increasing demand for high-end vehicles, as a result. Automakers in the region widely use this material to reduce the weight of vehicles, as well as increase their speed.
Moreover, governments in the region are focusing on the usage of sustainable products, including rCF. The market growth in the North American region is also backed by the advancements in the recycling technology and the penetration of composites in the automotive & transportation, consumer goods, sports goods, marine, aerospace, & defense, and wind energy sectors. The automotive and aerospace sectors are already major contributors to the region's GDP. According to the American Automotive Policy Council, the automotive industry contributed 3% of the U.S.'s GDP in 2020.
Across the border, in Canada, McGill University's Department of Chemical Engineering is actively working on recycled carbon fiber composites. The key focus area of this initiative is the development of advanced technologies and processes to retrieve carbon fibers from scrap and utilize it in more applications.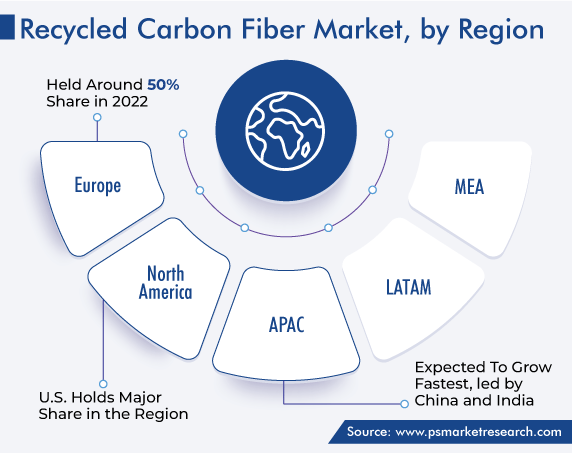 Top Recycled Carbon Fiber Providers Are:
Procotex Belgium SA
Vartega Inc.
SGL Carbon SE
Teijin Carbon Europe GmbH
ELG GmbH
Toray Industries Inc.
Hadeg Recycling GmbH
Sigmatex Limited
Market Size Breakdown by Segment
The report analyzes the impact of the major drivers and restraints on the recycled carbon fiber market, to offer accurate market estimations for 2017–2030.
Based on Type
Based on Source
Aerospace Scrap
Automotive Scrap
Based on End User
Automotive & Transportation
Consumer Goods
Sporting Goods
Marine
Aerospace & Defense
Wind Energy
Geographical Analysis
North America
Europe

Germany
U.K.
France
Italy
Spain

Asia-Pacific

Japan
China
India
South Korea
Australia

Latin America
Middle East and Africa

Saudi Arabia
South Africa
U.A.E.