Market Overview
The hybrid electric car market sales volume is expected to reach 2.2 million unit in 2022, and it is expected to grow at a CAGR of 20.1% during 2022–2030, to reach 9.9 million unit by 2030.
This is due to the increasing implementation of stringent emission norms, growing government support, and surging environmental awareness among customers in many countries. During the forecast period, the demand will be driven by emission standards for automobiles, declining sales of diesel passenger cars, falling prices of li-ion batteries, and increasing number of models.
To limit the adverse effects of greenhouse gas, several actions have been taken in the past. For instance, agencies, such as the United States Environmental Protection Agency and the Central Environment Council of Japan took several steps to regulate vehicle emissions. Similarly, governments of other countries supported the sales of such EVs by providing various financial and non-financial support to the customers.
Furthermore, emission standards in many countries will also drive the demand during the forecast period. In addition, the declining sale of diesel vehicles, especially in Europe, after the Volkswagen emission scandal, has shifted the public preference toward such cars. Furthermore, the falling prices of li-ion batteries are also expected to support the market during the forecast period. Moreover, challenges for BEVs and PHEVs, such as poor charging infrastructure high cost, long charging time, and range anxiety, will also encourage customers to shift toward hybrid vehicles.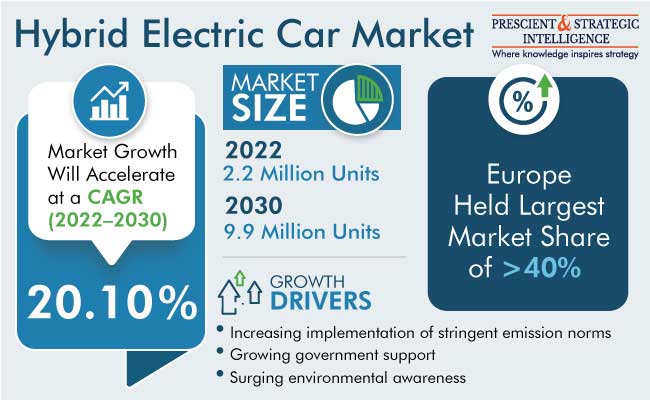 Moreover, during the projection period, the Asia-Pacific industry is predicted to expand rapidly. The rising sales of such vehicles in China, Japan, and South Korea are responsible for the expansion in the region. The key players in the market, including Honda, Toyota, Kia, BYD, Nissan, and Hyundai, are based in the Asia-Pacific region, which fosters a favorable business environment.
Similarly, due to the government support in the form of subsidies and strict emission standards, Europe has seen significant growth in the HEVs adoption including hybrid electric car and electric bus in recent years. Additionally, the industry has expanded as a result of manufacturers expanded and improved options as well as consumers' growing environmental consciousness. During the projection period, the demand will increase dramatically in the region, mostly due to high fuel prices, the decline in the sales of diesel vehicles, and countries' long-term ambitions to phase out conventional passenger automobiles.
Full Hybrid Electric Cars Dominated Market
The full category contributed around 66% revenue share in 2022, in global revenue, owing to its earlier inception. However, the mild category is expected to have faster growth during the forecast period, mainly due to its low price as compared to the full category.
Moreover, some other factors contributing to the mild category growth are easy mechanical integration of components and powertrains and more features, such as electric power steering, electric turbocharger/supercharger, and electric air conditioning, at a low cost.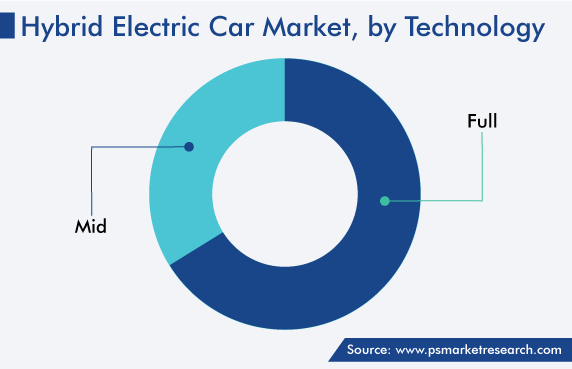 Stringent Emission Norms
Several steps are being taken by the European Commission to ensure a cleaner environment. For example, the European Union (EU) recently targeted to reduce net emissions by 55% by 2030. Similarly, many countries have also proposed motor vehicle fuel efficiency or carbon emission policies. The growing concern for CO2 emission around the world is leading to a gradual phase-out of conventional vehicles.
These stringent emission norms will ultimately increase the price of conventional cars and encourage customers and automobile companies to adopt low-emission cars. Many countries have increased taxes on conventional fuel cars and are offering incentives, such as high-occupancy vehicle lane exemption and emission inspection exemption, to hybrid car customers.
In order to lessen the impact of greenhouse gases, the government of the U.S. and Europe are also focusing on lowering emission standards and enhancing vehicle fuel efficiency. For instance, the Corporate Average Fuel Economy standards for automotives were established by the U.S. Department of Transportation. Moreover, the U.K. suggested a ban on the sale of all polluting automobiles by 2035 and committed to a goal of net-zero emissions by 2050.
Falling Battery Prices
The electric car battery pack cost dropped significantly in the last decade and it is expected to decline further. Thus, li-ion batteries are expected to witness a steep decline in prices compared to NiMH batteries during the forecast period. With increasing investments in li-ion and the high manufacturing capacity of companies such as Tesla and Nissan, an oversupply of li-ion batteries is expected in the coming years, which will further decrease the prices of battery packs in the forecast period.
In 2020, there were around 160 gigawatt hours of electric vehicle li-ion battery capacity, which is 33% more than in 2019. According to industry experts, the cost of li-ion batteries is expected to fall more, which is expected to benefit the market. The lower price of batteries will also create new opportunities for the players to increase battery capacity and range.
Increasing Fuel Economy
One of the major factors driving the growth of the hybrid electric car market is the surging fuel economy offered by HEVs compared to conventional cars, which run entirely on the engine. Such cars offer better fuel efficiency because of the incorporation of a battery and other electric systems, which results in lower fuel costs. They do not run entirely on the engine but use an electric motor during the start/stop/idling period, which considerably increases their fuel efficiency.
These cars reduce fuel consumption by 15–40% as compared to non-hybrid cars. Additionally, the new-generation hybrid car model delivers better fuel efficiency than the previous-generation models, which also drives the growth of the market.
Hybrid Electric Car Market Report Coverage

| | |
| --- | --- |
| Report Attribute | Details |
| Historical Years | 2017-2022 |
| Forecast Years | 2023-2030 |
| Market Size in 2022 | 2.2 Million Unit |
| Revenue Forecast in 2030 | 9.9 Million Unit |
| Growth Rate | 20.1% CAGR |
| Report Scope | Market Trends, Drivers, and Restraints; Revenue Estimation and Forecast; Segmentation Analysis; Impact of COVID-19; Companies' Strategic Developments; Market Share Analysis of Key Players; Company Profiling |
| Segments Covered | By Hybridization; By Battery; By Type; By Geography |
Explore more about this report - Request free sample pages
Fastest-Growing Region To Be APAC
Asia-Pacific, led by Japan, held a significant share in 2022, owing to increasing government support in the form of incentives, coupled with stringent emission norms in the region, which led to the growth of the industry during the forecast period.
Japan is a hub for major companies, such as Toyota, Honda, Mitsubishi, Nissan, and Panasonic. Thus, in terms of revenues, Japan accounted for a significant revenue share of in 2022. This is because of the considerable penetration of such cars in the country. The increasing government initiatives in the form of tax breaks and subsidies on purchases have led to the high penetration of such cars in the country.
Moreover, the strong positions of the pioneers of the technology, Toyota and Honda, have also helped in the penetration of such cars in the country. Moreover, China has witnessed significant growth over the last few years, with the increased popularity of Toyota's Levin and Corolla models, with key car components locally. Thus, the Japanese market is expected to grow at a significant CAGR during the forecast period.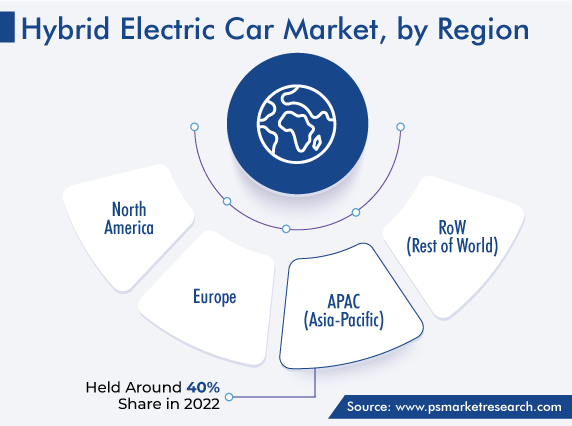 NiMH Batteries Will Maintain Dominance
NiMH batteries accounted for the larger share in HEV sales during the last decade, owing to their lower cost, higher durability, and more safety features than li-ion batteries.
The dominance of Toyota (which uses NiMH batteries) in the market also helped in the sales of NiMH battery-fitted HEVs. However, falling prices of li-ion batteries coupled with their inherent advantages, such as lightweight, small size, high energy density, low maintenance cost, and low rate of self-discharge, are expected to increase their demand during the forecast period.
Top Hybrid Electric Car Manufacturers Are:
Toyota Motor Corporation
Honda Motor Co. Ltd
Bayerische Motoren Werke (BMW) Group
Ford Motor Company
Volkswagen AG
General Motors Company
Hyundai Motor Company
AB Volvo
Kia Motors Company
Nissan Motor Company
Hybrid Electric Car Market Size Breakdown by Segment
This fully customizable report gives a detailed analysis of the hybrid electric car market from 2017 to 2030, based on all the relevant segments and geographies.
Based on Hybridization
Based on Battery
Nickel–Metal Hydride (NiMH)
Lithium-Ion (Li-ion)
Based on Type
Geographical Analysis
North America
APAC
Europe