Market Overview
The global network probe market generated revenue of USD 557.4 million in 2023, and it is further predicted to reach USD 1,139.1 million by 2030, exhibiting a CAGR of 10.9% between 2024 and 2030. This is due to the rising number of network-connected devices worldwide, the rapidly increasing adoption of monitoring tools and software solutions to reduce complexities in the IT infrastructure, and the surging need for centralized monitoring systems.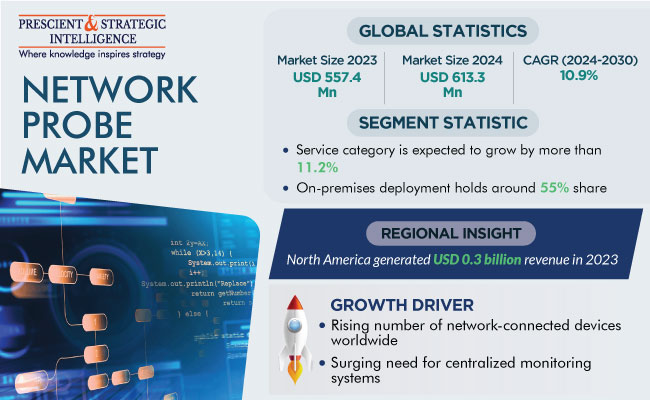 The market growth has been significantly influenced by the increasing reliance on remote work and digitalization and the rising prevalence of social media worldwide. Network probes help businesses in monitoring their traffic and further improve their performance, particularly in the work-from-home environment. Thus, their usage is rising for the real-time monitoring of the network traffic and quick identification of the causes of any slowdown.
Moreover, with the increasing investments of enterprises across industries for the expansion of their infrastructure and to tackle the challenges of an advancing IT infrastructure, the requirement for these solutions to manage the additional layer of network has risen. Thus, the rising adoption of this centralized approach with the use of visualized dashboards has led to the rapid deployment of the associated monitoring software and tools by service providers and enterprises.
Additionally, the rising frequency of cyberattacks is a major factor that has created a greater requirement for these probes. This is because of small businesses and IT departments' strengthening focus on protecting their valuable data, preventing network disruptions, resolving issues quickly, and improving their IT infrastructure's performance. In addition, the growing adoption of cloud-based technologies by several enterprises, with an emphasis on cybersecurity management, is propelling the industry.
Solutions Hold Larger Market Share
The solutions category, based on component, holds the larger market share, because of the rising demand for these tools from various industries, including BFSI, aerospace & defense, ICT & media, public services, and telecommunications. These solutions offer a wide range of services that allow network administrators and engineers to gather important information about the network performance, to detect security threats and ensure the smooth operations of the telecom infrastructure. Market players also provide solutions for performance monitoring, troubleshooting, security analysis, bandwidth management, and cloud monitoring.
Moreover, these solutions provide enterprises with complete, real-time visibility into their traffic and application issues. This enables the monitoring, analysis, and optimization of network performance, while addressing the challenges posed by encrypted, evasive, IoT, and SCADA traffic in hybrid IT & cloud environments.
The services category is expected to witness the faster growth, at a CAGR of more than 11.2%, over the forecast period. This can be because consulting services related to these probes assist businesses in tackling the challenges and seizing the opportunities associated with their networking infrastructure. These services also aid in strategically aligning and prioritizing operational, networking, and business needs. Companies operating in this field offer comprehensive services ranging from assessment and strategic planning to deployment and design, along with ongoing management and monitoring.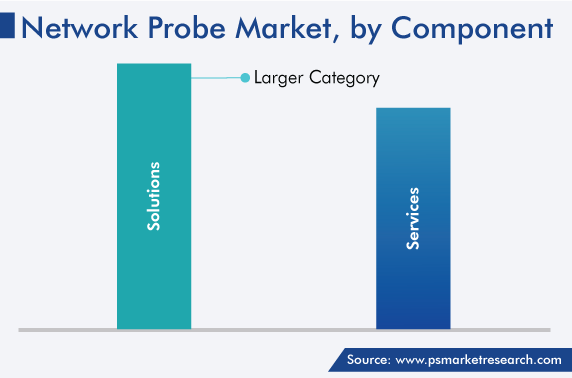 Small & Medium Enterprises is Growing Faster
Based on organization size, small & medium enterprises is expected to grow faster with a CAGR of more than 11.5% during the forecast period. This is due to the rising utilization of advanced technologies, such as software-defined networking (SDN), AI, cloud computing, and IoT, by them to improve their operational efficiency. In addition, SMEs are using these solutions and services to efficiently manage and optimize their intercommunication infrastructure, simplify management, and edge out competitors, driven by network probes' advantages such as affordability, scalability, and flexibility.
Furthermore, these enterprises struggle with management due to the complexity of their IT infrastructure, which makes them more susceptible to attacks. Due to the limited budgets for IT management, SMEs often have gaps in their network security. By enabling their monitoring, real-time analysis, and visibility, these probe solutions play an important role in protecting SMEs against cyberthreats and improving their performance.
The large enterprises category is projected to witness the faster growth over the forecast period. This can be attributed to the rising investments by large enterprises to address cyberattacks. These enterprises operate in various challenging environments, including geographically dispersed locations and cloud-based infrastructure, which are susceptible to cyberthreats. As a result, there is a growing demand for network monitoring solutions to mitigate these risks.
On-Premises Category Dominates Industry
The on-premises deployment mode dominates the market due to its increasing usage at small & medium enterprises as well as large enterprises. This mode provides several benefits, including enhanced security, performance, control over data usage and access, and the ability to handle setup, configuration, maintenance, and deployment locally, at customers' premises. This deployment strategy allows for offline data analytics and package filtering, as well as improved system and data control. It also gives users the power to customize their security settings and the freedom to update their software themselves, whenever necessary.
Additionally, it brings advantages such as reduced bandwidth costs, heightened security and privacy, and greater control over server hardware.
BFSI Sector Holds Significant Market Share
Based on enterprise end users, the BFSI category accounts for a significant market share, due to the growing emphasis on cybersecurity. With the rise in the need for the real-time monitoring of traffic, as well as its timely analysis and appropriate management, because of the sensitive nature of financial transactions and data, these probes are being used for achieving the best possible performance, transparency, security, and compliance.
The need for these solutions has been further spurred by the industry's ongoing digital transformation and increasing investments in infrastructure that enables the deployment of advanced technologies. Moreover, as the sector is adopting cutting-edge technologies, such as cloud computing, mobile banking, and IoT, these solutions are playing a critical role in delivering complete network visibility and management.
These solutions are even more significant for the BFSI sector because of the imperative need for regulatory compliance and risk management. They make it possible to continuously monitor and analyze IT activity, thus guaranteeing compliance with data privacy laws, identifying potential security concerns, and aiding forensic investigations and incident response.
Moreover, by prioritizing value generation through ease of use, price differentiation, and variety in their offerings, fintech companies are challenging the old banking paradigm, which depended on client loyalty and trust. Further, with Industry 4.0, the BFSI business is changing as well. In this stage of the BFSI business model, human forces are more-heavily involved. Numerous business applications and academic research studies have already benefited greatly from developments in neural networks and computing.
The service providers category held a larger market share for network probes in 2023. Due to the rising need for cutting-edge technologies, including 5G and IoT, the demand for solutions to support their operations has risen. Here, network probes are essential for tracking and evaluating performance, security, and quality.
Service providers can identify and resolve problems, such as high latency, packet loss, and low throughput, by monitoring and analyzing network traffic, which eventually enhances the entire subscriber experience.
Furthermore, the necessity for improved monitoring technologies has increased due to the exponential expansion in the amount of data traveling through data centers. Service providers are emphasizing the deployment of reliable intercommunication infrastructure that gives optimal performance, in order to provide a better subscriber experience and outperform their rivals.
Network Probe Market Report Coverage

| | |
| --- | --- |
| Report Attribute | Details |
| Market Size in 2023 | USD 557.4 Million |
| Market Size in 2024 | USD 613.3 Million |
| Revenue Forecast in 2030 | USD 1,139.1 Million |
| Growth Rate | 10.9% CAGR |
| Historical Years | 2017-2023 |
| Forecast Years | 2024-2030 |
| Report Scope | Market Trends, Drivers, and Restraints; Revenue Estimation and Forecast; Segmentation Analysis; Impact of COVID-19; Companies' Strategic Developments; Market Share Analysis of Key Players; Company Profiling |
| Segments Covered | By Component; By Organization Size; By Deployment Mode; By End User; By Region |
Explore more about this report - Request free sample pages
North America Is Market Leader
North America held the largest market share, of around 55%, in 2023, primarily due to the region's rapid expansion of internet connectivity and widening application area for network performance metrics. This is credited to the presence of many top companies across industries that have a strong commitment to financial stability and a need for accurate and dependable performance monitoring solutions, for protection, monitoring, and performance enhancement. This is why they are and significantly investing in cutting-edge tools and technologies for network monitoring.
APAC is the fastest-growing regional market as a result of the significant rise in infrastructure investments and the presence of well-known IT and telecom enterprises. Additionally, the adoption of network probing solutions among the SMEs in the region is expected to be influenced by the increasing IP traffic, growing intercommunication complexity, and rising acceptance of SaaS-based monitoring solutions.
Additionally, the rise in data traffic leads to an increase in the frequency and severity of cyberattacks on enterprise networks, including malware, viruses, and denial-of-service (DoS) attacks. The need for these probing solutions among enterprises in the region has grown as a result of the rise in the number of cyberthreats in rapidly developing nations, including China and India, and other major economies, such as Japan and South Korea.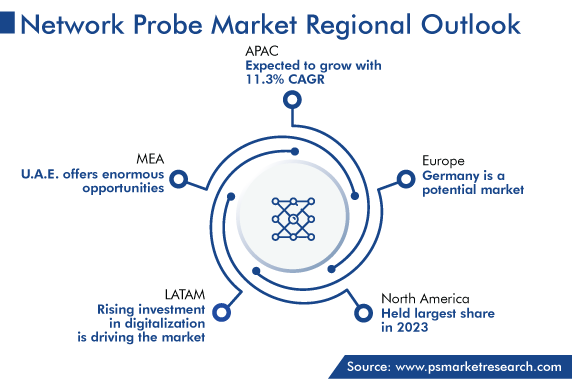 Some Key Network Probe Providers Are:
Accedian Networks Inc.
Broadcom Inc.
Catchpoint Systems Inc.
Cisco Systems Inc.
Dynatrace LLC
ExtraHop Networks Inc.
FirstWave Cloud Technology Limited
IBM Corporation
Nagios Enterprises LLC
NEC Corporation
NetScout Systems Inc.
Nokia Corporation
Paessler AG
Riverbed Technology LLC
SolarWinds Worldwide LLC
Market Size Breakdown by Segment
The study uncovers the biggest trends and opportunities in the network probe market, along with offering segmentation analysis at the granular level for the period 2017 to 2030.
Based on Component
Based on Organization Size
Based on Deployment Mode
Based on End User
Service Providers

Telecom service providers
Cloud service providers

Enterprises

BFSI
IT and ITeS
Government
Geographical Analysis
North America
Europe

Germany
U.K.
France
Italy
Spain

Asia-Pacific

Japan
Chin
India
South Korea
Australia

Latin America
Middle East and Africa

Saudi Arabia
South Africa
U.A.E.