Market Overview
The SCADA market size stood at USD 9,600 million in 2022, and it is expected to grow at a compound annual growth rate of 7.4% during 2022–2030, to reach USD 16,994 million by 2030. This is ascribed to the high adoption of Industry 4.0 solutions using SCADA devices, the surging use of software platforms such as Internet of Things (IoT) and artificial intelligence (AI), the increasing need for industrial mobility solutions for effective process management, and the rising development in wireless sensor networks (WSNs).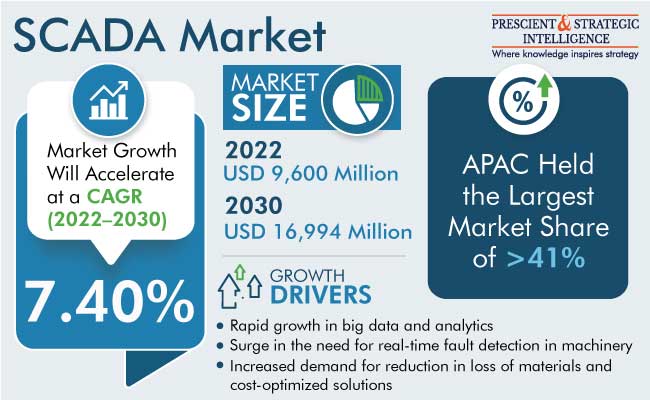 A group of software applications for controlling industrial processes is referred to as SCADA. It gathers data in real-time from remote locations in order to control equipment and conditions, and provides businesses with the tools they require to make decisions about their industrial processes based on data.
SCADA systems include both hardware and software. Field controller systems receive data from hardware and forward it to other systems for processing and timely presentation to a human-machine interface (HMI). Additionally, systems record all events so that process status and issues can be reported. When conditions become hazardous, SCADA applications sound alarms.
The COVID-19 pandemic posed a huge impact on the SCADA market, followed by the restricted reception of modern control and cycle arrangements across application businesses. This is due to national lockdowns, restricted operations in a number of industrial sectors, a temporary halt in manufacturing, and disruptions in supply chains. However, the market has begun to recover since 2021, as a result of the increasing need to automate industrial operations and production facilities. Moreover, in order to control operations and stop the virus from spreading any further, automated control solutions must have very little human contact with newly manufactured products.
Furthermore, the surging requirements for real-time, data-driven decisions, and remote data visualization are driving the evolution of data acquisition strategies. Because they can perform analytics on edge devices and provide the agility and resilience necessary for success, HMI and SCADA systems are becoming increasingly important for digital transformation.
Growing Acceptance of AI and IoT Across Industries
The IoT and AI have improved the operations of several sectors. Based on different world statistics, the number of devices connected to IoT networks is rapidly increasing. Through the use of SCADA systems, the IoT is transforming production facilities by connecting a vast network of smart systems. IoT and AI-based systems enable industries to control and monitor their processes and applications, accurately predict machine failure, and achieve faster response times, thereby increasing efficiency and lowering operational costs. Moreover, by using AI and IoT, data is collected, analyzed, and used for developing predictive models, which can make work efficient and lead to increased profits for an organization. In order to streamline plant operations, IoT and AI-based SCADA platforms simplify data transmission and analysis.
SCADA systems are widely deployed in different industries for different applications. For instance, a water SCADA system is responsible for monitoring and controlling the water, which is being pumped at well sites and treated at water treatment plants. Similarly, the oil and gas sector uses SCADA systems for the management of physical substances that are moved in a vast area in the sector. Also, oil and gas SCADA monitors wells, pumping sites, and pipeline flow, which can make operations more reliable and profitable.
Furthermore, IoT technology contributes to a reduction in downtime through its capacity to identify and prevent potential issues. Similarly, product recommendations on e-commerce websites are frequently made using AI. For instance, around 78% of brands report that they have already implemented AI tools in their online stores or plan to do it in the nearest future.
Increased Acceptance of Industry 4.0 Solutions
The rise in the emergence of Industry 4.0 across both manufacturing and process industries accelerates the market growth. They use these services as part of their digitalization plans. Due to their high level of technology acceptance, industries are experiencing a high need to update an existing SCADA system. Thus, the demand for such systems has been increasing, as a result of the digitization of production processes through the use of sensors and information devices.
With its advanced capabilities to focus more on productivity, SCADA makes a positive change. Even a successful IoT report generation contributes significantly to improving decision-making and the formulation of novel strategies for enhancing business performance. According to World Economic Forum, the level of digitization is high, and this value is expected to rise on an average from 33% to 72% within the next five years.
Rising Development in Wireless Sensor Networks (WSNs)
WSNs are used in several companies, including oil & gas, wastewater treatment, and pharmaceuticals, which are mostly situated in inaccessible areas with coarse environmental conditions. For instance, with the assistance of sensors placed in a WSN, an oil and gas plant's tanks, generators, compressors, separators, and other components are managed, monitored, and controlled by a SCADA system. The costs of setting up a sensor network and communication system are cut down when a WSN is used.
Moreover, due to their flexibility and easy deployment, WSNs help resolve the disadvantages of wired networks. Also, due to the amplified hardware necessities, including cables, routers, networking devices, and network adapters, wired technology is more expensive than its wireless counterpart. Further, the regular software updates for WSNs make them suitable for the existing mechanized systems in several industries deploying SCADA solutions.
Hardware Category To Witness Fastest Growth
The hardware category is predicted to expand at the highest growth rate, of around 7.8%, over the projection timeframe. This is due to the high demand for components like HMI, PLC, and RTU in industrial operations and automation solutions to achieve the goal of efficiency, growth, and scalability in the manufacturing industry. Moreover, advanced hardware improves the performance of systems, responsible for process automation, and provides valuable data. Thus, industry giants working on technologies for the development of HMI and advanced PLCs, which can work with different SCADA solutions.
For example, Arduino and Finder developed a PLC named Opta, which is used in industrial IoT applications. It is developed to make users scale up projects regarding industrial and building automation by employing open-source technologies.
SCADA Market Report Coverage

| | |
| --- | --- |
| Report Attribute | Details |
| Historical Years | 2017-2022 |
| Forecast Years | 2023-2030 |
| Market Size in 2022 | USD 9,600 Million |
| Revenue Forecast in 2030 | USD 16,994 Million |
| Growth Rate | 7.4% CAGR |
| Report Scope | Market Trends, Drivers, and Restraints; Revenue Estimation and Forecast; Segmentation Analysis; Impact of COVID-19; Companies' Strategic Developments; Market Share Analysis of Key Players; Company Profiling |
| Segments Covered | By Offering; By Component; By End User; By Region |
Explore more about this report - Request free sample pages
RTU Category To Record the Highest CAGR
Based on component, the market is classified into human-machine interface (HMI), programmable logic unit (PLC), remote terminal unit (RTU), communication system, and others. Among these, the RTU category is predicted to expand at the highest rate, of around 8%, over the projection timeframe. This can be because an RTU is one of the fundamental components of a SCADA system, which collects data, formats it for transmission, and then sends it to the main device. The system employs a number of RTUs to accomplish these operations.
Moreover, deep-sea exploration and shale gas production lead to an increase in the need for RTUs, as oil and gas is the most common end-use industry for SCADA systems. Also, RTUs can keep employees safe and productive while also saving money. One can take advantage of automated responses and technological solutions that cut down on windshield time and save trips to difficult, remote locations. The most important benefit of using an RTU is, without a doubt, the potential for business transformation in terms of both immediate and long-term ROI.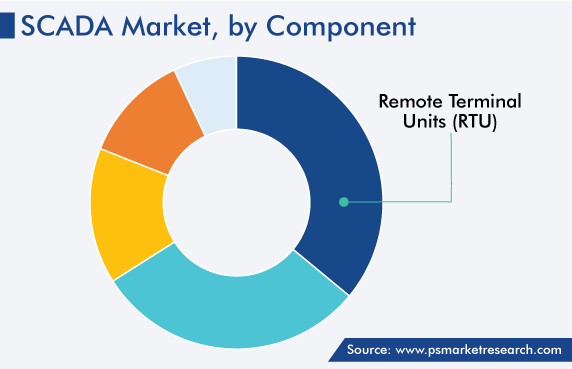 North America Has a Significant the Market
North America accounts for a significant revenue share in the global market. This is due to the stable power management of SCADA, massive investment in technologies, the expanding industrial sector, and the surging adoption of automation technology. Also, automation technology adoption is aided by the rising industrial sector in the region. Moreover, the demand for supervisory control and data acquisition products would be bolstered by governments' increased focus on smart city development, as these systems are used by smart cities to improve transportation and wastewater management.
In addition, more than 238 million people are served by an estimated 14,748 POTWs, which collect, treat, and dispose of wastewater. Consuming reclaimed water is becoming more and more common, especially in areas that are prone to drought or have a high need for water like the southwest of the U.S. For instance, in 2015, California recycled approximately 714,000 acre-feet (ac-ft) of water, which increased to around 1.5 million ac-ft in 2020. It has also set ambitious targets to increase water recycling, aiming to recycle at least 2.5 million ac-ft per year by 2030.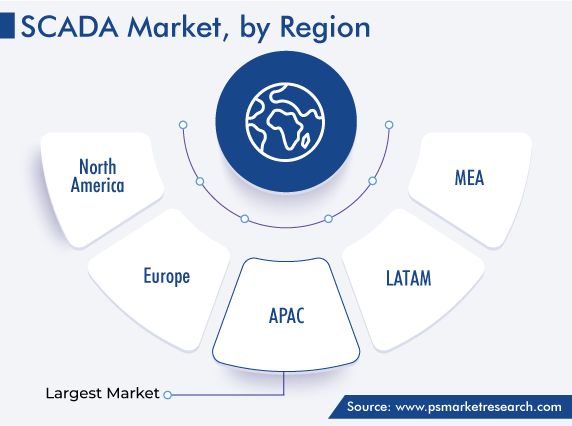 Key SCADA Manufacturers Are:
Schneider Electric S.E.
ABB Ltd.
Hitachi Ltd.
Toshiba Infrastructure Systems and Solutions
Emerson Electric Co.
Rockwell Automation Inc.
Honeywell International Inc.
Mitsubishi Electric Corporation
Yokogawa Electric Corporation
Omron Corporation
Siemens AG
Market Size Breakdown by Segment
This fully customizable report gives a detailed analysis of the SCADA industry from 2017 to 2030, based on all the relevant segments and geographies.
Based on Offering
Hardware
Software
Services
Based on Component
Human-machine Interface (HMI)
Programmable Logic Unit (PLC)
Remote Terminal Units (RTU)
Communication System
Based on End User
Electrical Power
Oil & Gas
Water & Wastewater
Manufacturing
Transportation
Telecommunication
Chemicals
Food & Beverages
Pharmaceuticals
Geographical Analysis
North America
Europe

Germany
U.K.
France
Italy
Spain

Asia-Pacific

Japan
China
India
South Korea
Australia

Latin America
Middle East and Africa

Saudi Arabia
South Africa
U.A.E.