Market Overview
The motor lamination market size has been estimated at USD 22.9 billion in 2023, and it is expected to advance at a compound annual growth rate of 4.9% during 2024–2030, to reach USD 32.0 billion by 2030.
The growth can be primarily ascribed to the increasing sale of vehicles, especially those using electricity as the primary or secondary propulsion source, all over the world. Moreover, vehicle and equipment safety standards are rising, which is further propelling the demand for motor laminations.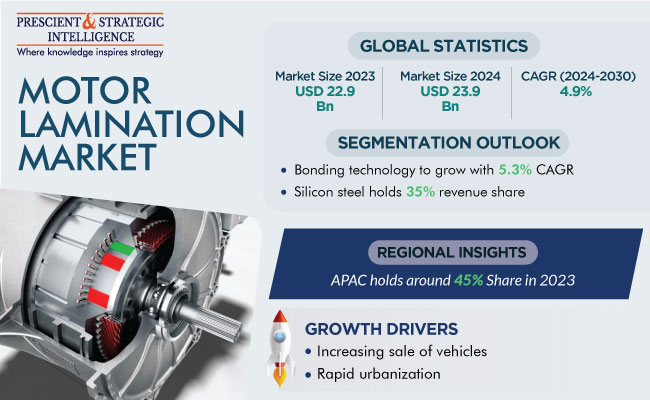 In order to minimize operational time and reduce fabrication costs, lamination sheets have undergone various changes with time. The significant development in lamination technologies to enhance the motor performance is essentially expected to drive the market over the coming years.
The increasing demand for automation across several industries is another major reason for the growth of the market. Further, in the past few years, the requirement for environment-friendly and time-saving equipment has increased, which is impelling players to produce lamination using low-emission, sustainable material. Industrialization and urbanization have led to an increase in the usage of electric motors, which, in turn, generates a massive demand for lamination. Moreover, the growing necessity of HVAC systems, especially in hot and humid places, is behind this increase. Additionally, electric machines are an environment-friendly choice, require lower maintenance, and save money on fossil fuels.
They are widely used in robots, to which they provide motion via the conversion of electrical energy into mechanical energy. Robots are generally integrated with DC motors operating at low voltages, ranging from 3 to 12 V. Due to the increasing demand for safety, quality products, and minimized chances of human error, robot demand will increase across industries. This will, in turn, fuel the usage of electric motors and, further, drive the growth of the market.
Rapid Urbanization Is Strong Driver
With the rising focus of people on living in cities, the level of urbanization has increased significantly in the recent past. Due to this, construction activities have risen, which, in turn, drives the demand for motor lamination across the world. For instance, the percentage of the Indian population living in cities will rise from around 34% in 2019 to over 40% by 2030. This will create a demand for an additional 25 million affordable housing units. Moreover, the increasing disposable income augments the sale of automobiles, which further increases the usage of these products.
Further, in several industries, such as building & construction and automotive, the strict regulations governing VOC emissions will expand the application of isocyanate-free, eco-friendly material in motor lamination
Bonding Technology To Show Fastest Growth
The bonding technology is expected to show the fastest growth, at a CAGR of 5.3%, because it eliminates the requirement for magnetic core rivet joints to minimize interlaminar loss.
Additionally, bonded cores do not produce hum noise, due to their excellent thermal conductivity. Additionally, this technology is widely used owing to its flexibility for customized requirements.
In this regard, Precision Micro Ltd. has developed a bonding technique that protects the metal's surface at the time of chemical etching, using a photoresist as the bonding agent. The method is more cost-effective than the existing bonding and welding, and it also provides insulating properties. Thus, the need for the bonding technology is expected to increase as the application area of motors expands due to the growing adoption of advanced equipment across industries.
The welding category is also growing significantly due to the usage of this process in manufacturing a durable and strong motor, by joining laminations together. Welding offers stronger production, efficiency, and cost-effectiveness to electric motors, the demand for which is growing in almost every industry.
Motor Lamination Market Report Coverage

| | |
| --- | --- |
| Report Attribute | Details |
| Market Size in 2023 | USD 22.9 Billion |
| Market Size in 2024 | USD 23.9 Billion |
| Revenue Forecast in 2030 | USD 32.0 Billion |
| Growth Rate | 4.9% CAGR |
| Historical Years | 2017-2023 |
| Forecast Years | 2024-2030 |
| Report Scope | Market Trends, Drivers, and Restraints; Revenue Estimation and Forecast; Segmentation Analysis; Impact of COVID-19; Companies' Strategic Developments; Market Share Analysis of Key Players; Company Profiling |
| Segments Covered | By Material Type; By Industry; By Technology; By Application; By Region |
Explore more about this report - Request free sample pages
Silicon Steel Holds Largest Share, of 35%
Silicon steel accounts for the largest share, of 35%, as it increases the electrical resistivity, which means that it minimizes the loss of current and lessens the conductivity. It is a type of ferritic alloy made of steel and iron that also possesses magnetic properties, because of which it is used in transformers and machines. Along with this, the grain resistance of the motor is reduced by silicon, which further minimizes the loss of copper. Silicon steel lamination reduces the loss of current and hysteresis and the risk of corrosion. For minimizing current loss, the magnetic core is laminated. Similarly, hysteresis loss is minimized because the hysteresis coefficient of silicon is low.
The demand for laminations made from nickel alloys is also projected to grow at a rapid pace over the forecast period. This will be because of the high permeability and lower core losses attributed to them. Nickel alloys are composed of iron and either 49% or 80% pure nickel, are resistant to corrosion, and provide greater strength at higher temperatures.
Automotive Industry Contributes Most in Revenue Generation
The automotive industry contributes the highest revenue due to the rising demand for luxury and comfortable vehicles with features such as HVAC equipment, power steering and windows, and retractable sunroofs. Because of the increase in the per capita income, the automotive industry is growing with the rising sale of passenger cars both in developing and developed countries. Over 2 million three-wheelers, passenger vehicles, quadricycles, and two-wheelers were manufactured in India in March 2023 alone. Essentially, the demand for automobiles is increasing ascribed to the presence of a large youth population, coupled with the middle class's rising income.
In the past few years, many advanced technologies have been adopted in the industry, as the manufacturers are competing intensely. However, with the increasing level of environmental pollution, concerns for health are rising, which is, in turn, boosting the demand for EVs. Governments across the world are also taking several initiatives to support low-emission transport systems. As a result, according to government reports, more than 2.3 million EVs were sold in the first quarter of 2023, which is 25% more than the same period of the previous year.
In various countries, including China, Japan, India, and the U.S., the manufacturing of electric vehicles has increased. In order to lessen the ecological impact of transportation, stringent emission regulations have also been passed in these countries; thus, several companies are investing in the development of electric vehicles. The strong government support for the development of ZEVs is enabling OEMs to lessen their operational costs and boost sales. For instance, Mahindra & Mahindra has announced that it will invest USD 1.2 billion in an EV manufacturing plant in Pune, Maharashtra.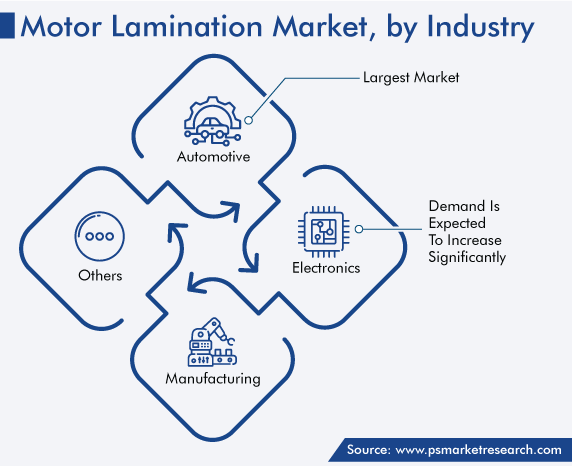 Growing Use of Electric Motors Fuels Sales
The use of electric motors is increasing because a large number of industries are focusing on utilizing electrical power over burning fossil fuels for motion. Moreover, these machines are used in homes and EVs, which, in turn, drives the demand for laminating materials. In this regard, the rising number of government initiatives for safeguarding the environment from carbon emissions and increasing the sale of EVs are contributing in revenue generation.
Motors are used in compressors, fans, domestic appliances, pumps, power tools, EVs, robots, and a lot of other machines. Moreover, these power conversion devices offer various benefits, such as low maintenance, less consumption of energy, and long operating life, which ensure cost savings. Moreover, they have fewer parts than engines and no reciprocating parts, do not require explosive ignition, and also possess higher efficiency, which makes them suitable for various purposes.
Asia-Pacific Region Has Largest Market Share
Asia-Pacific has the leading position in the motor lamination market, and it will also hold the same position in the coming years, with a value of USD 10.3 billion by 2030. The growth of the market is ascribed to the increase the production of electric vehicles.
In APAC, China holds the leading position, and it will grow at a CAGR of 5.3% during the forecast period. This is attributed to the rapid economic development and adoption of smart manufacturing. Additionally, due to the availability of financial incentives and the low cost of producing automobiles, the automotive industry is growing consistently in Indonesia, China, Thailand, and India.
In addition, the presence of alloy materials in abundance drives the industry as they are required for the manufacturing of motor laminations. Along with this, the favorable government regulations, such as Make in India, propel the growth of the market across the region. The presence of key players is another key reason behind the market advance. The rapid urbanization and the increasing adoption of electric vehicles will increase the use of motors, which will, in turn, increase the usage of laminations.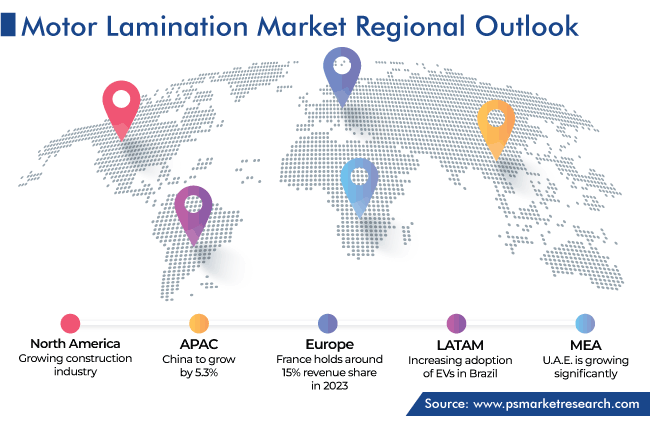 Furthermore, governments are actively focusing on the construction of railways, such as the construction of a metro line from Joka to Binoy Badal Dinesh Bagh in West Bengal. Similarly, in Nagaland, the Indian Railways' broad gauge rail line is under construction between Dimapur and Kohima, which will enhance rail connectivity in Arunachal Pradesh, Nagaland, and Assam. Additionally, with the target to electrify the entire railway network by 2024, the demand for electric traction motors for locomotives and EMUs will rise, thus propelling the market.
Key Players in Motor Lamination Market Are:
Tempel
EuroGroup Laminations S.p.A.
Polaris Laser Laminations LLC
Sinotech Inc.
LCS Company
Lake Air Companies
R.Bourgeois
Alinabal Inc.
Market Size Breakdown by Segment
This fully customizable report gives a detailed analysis of the motor lamination industry from 2017 to 2030, based on all the relevant segments and geographies.
Based on Technology
Based on Material Type
Nickel Alloys
Cold-Rolled Lamination Steel
Cobalt Alloys
Silicon Steel
Based on Industry
Automotive
Electronics
Manufacturing
Based on Application
Electrical Stators/Rotors
Magnetic Coils
Transformers
Geographical Analysis
North America
Europe

U.K.
Germany
France
Italy
Spain

Asia-Pacific

China
Japan
Australia
India
South Korea

Latin America
Middle East & Africa

Saudi Arabia
South Africa
U.A.E.