Micro Motor Market Size & Share
The micro motor market estimated revenue is USD 43.9 billion in 2023, which is expected to reach USD 77.5 billion by 2030, growing at a CAGR of 8.6% during 2024–2030.
The market is growing as a result of the rising popularity of portability and miniaturization in a host of industries; tiny motors are perfect for small gadgets and wearable devices. Moreover, their performance has been greatly enhanced by the recent developments in microelectronics, nanotechnology, and material science. Highly efficient and potent motors can be produced with the usage of less energy because of the improving manufacturing methods and adoption of superior materials.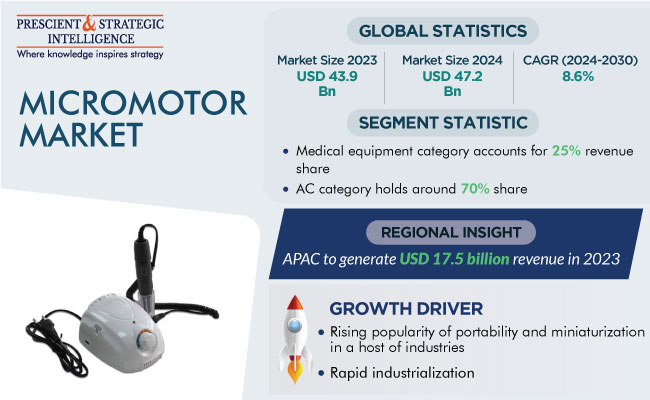 The desire for such motors has been fueled by the growth in the adoption of robotics and automation in the transportation, manufacturing, and medical industries. Various robotic systems, such as robot arms, automated guided vehicles (AGVs), and medical robots, depend on these components. Automated systems can carry out complex tasks with accuracy and efficiency due to micro motors, which provide precise motion control.
In the healthcare sector, these components are widely used in implantable devices to enable active capabilities, such as controlling the heart rhythm; minimally invasive surgeries, for precise movements; and drug delivery systems, for focused medicine release. They are also used in endoscopy and imaging, for high-quality visualization; lab-on-a-chip systems, for automated diagnostic testing; and as microbots, for disease treatment. With extensive research and development, they would have the potential to significantly alter medical procedures and improve patient care.
Further, since they provide precise and regulated motion in small devices, they are widely used in the consumer electronics sector. They perform a number of crucial tasks, such as generating vibrations for haptic feedback in smartphones and fitness trackers, which improves user engagement.
In the same way, because of their excellent energy efficiency, these components are perfect for battery-powered gadgets. As customers and businesses become increasingly concerned with energy savings and sustainability, such motors offer a valuable solution for reducing power consumption and extending the battery life in a range of applications.
Additionally, the market is growing with the booming automotive industry, where these instruments are employed in electric windows, power steering, and seat reclines. Further, the rapid acceptance of EVs and autonomous driving technologies is propelling the demand for these motors. This is because they regulate a variety of advanced driver-assistance system (ADAS) and self-driving functionalities.
In the same way, micro-motor-powered 3D printing technologies have transformed manufacturing by making it possible to precisely fabricate small structures from a variety of materials. They make it possible to print complex human tissues and other high-quality 3D structures layer by layer. These methods enable high-throughput printing, personalization, and quick prototyping, which shortens the time needed for development, while promoting microfabrication and microfluidics research and innovation.
For simple tasks in toys and consumer electronics, brushed motors are affordable and acceptable. Contrarily, brushless motors have a higher efficiency and a longer lifespan, which makes them perfect for cutting-edge applications in electric vehicles and medical equipment.
Medical Equipment Is Expected To Witness High Growth Rate
The medical equipment category of the application segment holds a significant share, of 25%, in 2023, and it is set to showcase a robust CAGR.
On account of their capacity to deliver precise and regulated motion in small form factors, micro motors are essential in portable medical equipment. They enable accurate motion during scanning and imaging in handheld ultrasound scanners and portable X-ray machines. Moreover, for patients receiving long-term care at their homes, portable infusion pumps with these motors ensure precise and monitored delivery of drugs, fluids, and nutrients.
These motors are also used in the portable ventilators and other respiratory equipment utilized in critical care and ambulatory settings to adjust airflow and pressure. Furthermore, such components create haptic feedback and motion-related functionality in wearable medical devices, such as smartwatches and fitness trackers, thus boosting user interaction and monitoring capabilities.
Additionally, in portable surgical robots, they allow for constant, accurate movement during intricate procedures with minimal incisions, thus improving results and hastening patient recovery. Further, deep brain stimulation (DBS) and neurostimulation, which are recommended for people with movement disorders, such as Parkinson's disease, are two key uses of these instruments in neurology. During the procedure, the electrodes are carefully positioned and adjusted with the help of these tiny energy conversion devices.
Moreover, precise fluid and particle manipulation, fluid mixing, valve and pump control, and on-chip propulsion within microfluidic channels are made possible by these components in lab-on-a-chip ecosystems. Additionally, reduced sample consumption, quick analysis, and point-of-care diagnostics result from the miniaturization, automation, and efficiency enhancement of diagnostic testing using these miniature power sources.
Micro Motor Market Report Coverage

| | |
| --- | --- |
| Report Attribute | Details |
| Market Size in 2023 | USD 43.9 Billion |
| Market Size in 2024 | USD 47.2 Billion |
| Revenue Forecast in 2030 | USD 77.5 Billion |
| Growth Rate | 8.6% CAGR |
| Historical Years | 2017-2023 |
| Forecast Years | 2024-2030 |
| Report Scope | Market Trends, Drivers, and Restraints; Revenue Estimation and Forecast; Segmentation Analysis; Impact of COVID-19; Companies' Strategic Developments; Market Share Analysis of Key Players; Company Profiling |
| Segments Covered | By Type; By Application; By Technology; By Voltage; By Region |
Explore more about this report - Request free sample pages
Automotive Sector Is Significant User of Micro Motors
The automotive category is another significant contributor to the micro motor market, because of the rapid replacement of the conventional hydraulic steering with electric power steering (EPS) systems. Micro motors are a crucial component of EPS since they enhance the steering column's torque, when the driver turns the wheel. The heating, ventilation, and air conditioning (HVAC) systems of automobiles also make use of these instruments. The flow, temperature, and distribution of air within the cabin through flaps and actuators are controlled by them.
Moreover, luxury cars can have active suspension systems, which let passengers modify the ride height and dampening characteristics of each wheel. To regulate the electronically operated dampers and springs in these systems, micro motors are used. Active suspension systems enhance handling and ride comfort by instantly changing the suspension arrangement in response to traffic circumstances and driving dynamics.
Further, modern vehicles cannot function without this component as it is essential for many more features, such as electric mirrors, for enhanced sight; electric seats, for individualized comfort; and power windows, for simple operation. Additionally, they are used for automatic headlamp adjustment, active grille shutters, for better fuel efficiency; electric sunroof control, and electric parking brakes, for convenience and space-saving. They guarantee accurate and effective motion, thus boosting performance, safety, and the overall driving experience.
AC Category Is Expected To Witness High Growth Rate
The AC category holds a significant share, of 70%, in 2023, under the type segment, and it is expected to witness rapid growth during the forecast period. This is because consumer gadgets, such as computers, smartphones, and wearables; HVAC equipment, robots, industrial automation systems, and automobiles, are widely integrated with these variants.
AC motors have a high efficiency, or a high ratio of the output mechanical power to the input electrical power, which is why they offer better motion and generate less heat. As conserving energy is crucial for extending battery life, their high efficiency is particularly significant for battery-powered gadgets.
These motors are also recognized for their dependability and durability; they require little maintenance and are designed to operate continuously over long durations. For many applications, especially industrial machinery, where downtime can result in expensive production delays, this reliability is essential.
Further, the capabilities of AC micro motors have significantly enhanced due to the developments in their technology, particularly precision engineering and miniaturization. As a result, compact electronics, including smartphones, cameras, and medical equipment, now use smaller, more-efficient AC motors.
Brushed Motors Are Expected To Witness High Growth Rate
Based on technology, the brushed category is expected to witness a healthy CAGR during the forecast period. Compared to brushless motors, brushed variants have a simpler design and manufacturing process, thus making them more affordable. Because of this advantage, they are suited for applications where simple functionality is valued above advanced performance, or if there are considerable financial constraints. Low-power consumer electronics, toys, craft projects, home appliances, and some non-critical industrial applications use these components. Here, they offer necessary functionalities, such as actuation, vibration feedback, and basic mechanical movements, without making the final product expensive.
Because of the simple design of brushed motors, their integration becomes easier, thus resulting in less downtime and expenses. When legacy systems are built with brushed motors in mind, retrofitting enables continuing usage and increased longevity. Additionally, when brushless motors are unavailable or short-term operation is sufficient, brushed variants can be used temporarily.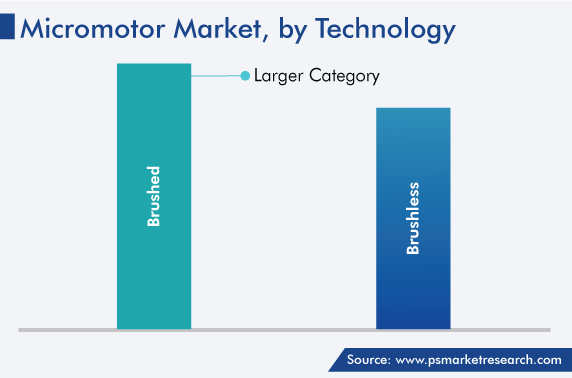 APAC Dominates Market
The Asia-Pacific region holds the largest share, of 40%, in 2023, and its revenue contribution is expected to witness a CAGR of 9.0% during 2024–2030.
Due to a growing middle class and increasing rate of urbanization, some of the world's largest consumer electronics markets are located in APAC, namely China, Japan, South Korea, and India. Numerous consumer electronics, including smartphones, tablets, laptops, gaming consoles, and wearables, depend on micro motors.
APAC is also the largest automotive market in the world, with China and Japan being significant manufacturers and customers. Automotive applications, including power windows, side mirrors, seat adjustments, windscreen wipers, and HVAC systems, rely on these components. The region's growing use of hybrid and electric cars further increases the demand for them in the automotive industry.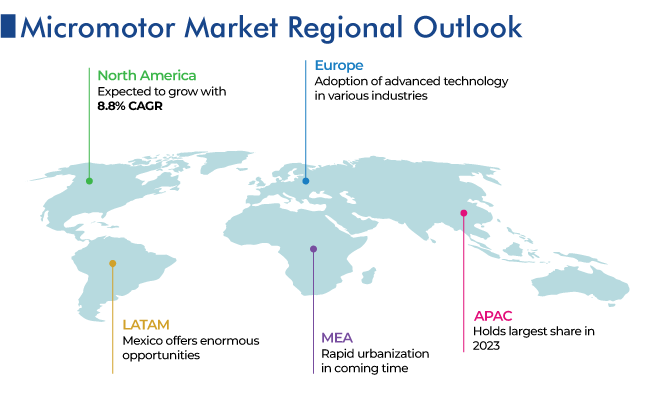 The healthcare sector is also expanding quickly in the region, and cutting-edge medical technologies are receiving more attention than ever. Medical gadgets, such as infusion pumps, portable diagnostic tools, and surgical instruments, all make use of these power sources for motion and control. The introduction of micro motors in the healthcare industry is a result of the requirement for accurate and precise motion control.
Key Players in Micro Motor Market Are:
MITSUBA Corporation
Nidec Corporation
Johnson Electric Holdings Limited
Mabuchi Motor Co. Ltd.
maxon international ag
Constar Micromotor Co. Ltd.
Buhler Motor GmbH
Arc Systems Inc.
ABB Ltd.
Siemens AG
Market Size Breakdown by Segment
This fully customizable report gives a detailed analysis of the micromotor industry from 2017 to 2030, based on all the relevant segments and geographies.
Based on Application
Automotive
Medical Equipment
Industrial Automation
Aircraft
Construction & Mining
Agriculture Equipment
3D Printers
Based on Type
Based on Technology
Based on Voltage
<11V
11–24 V
25–48V
>48 V
Geographical Analysis
North America
Europe

U.K.
Germany
France
Italy
Spain

Asia-Pacific

China
Japan
Australia
India
South Korea

Latin America
Middle East & Africa

Saudi Arabia
South Africa
U.A.E.