Fitness Trackers to Hold Largest Share in Wearable Medical Devices Market
Valued at $10.6 billion in 2019, the global wearable medical devices market is expected to grow to $67.2 billion by 2030, at a CAGR of 18.3% during 2020–2030 (forecast period). The major factors driving the market advance are the rising preference for technologically improved products, increasing fitness consciousness, booming geriatric population, and surging incidence of chronic diseases.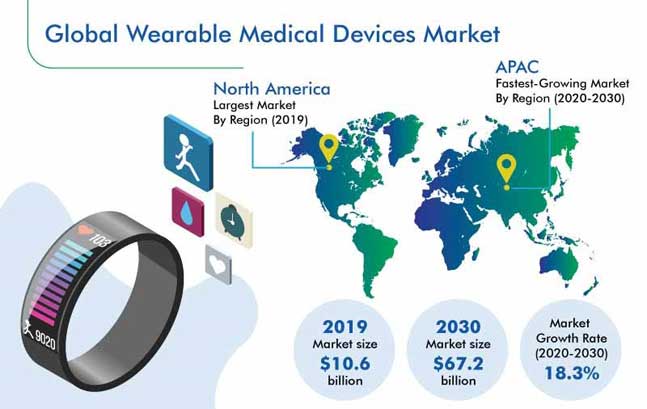 Segmentation Analysis of Wearable Medical Devices Market
Till 2030, fitness trackers are expected to dominate the wearable medical devices market, under the type segment. This is because of the increasing consciousness of people about tracking the number of steps taken and calories burnt and their general health condition. Further, fitness trackers are also cost-effective, which makes them popular among consumers.
The sports & fitness division would observe the highest CAGR in the market, on the basis of application, throughout the forecast period, because not only are people becoming aware about maintaining a healthy lifestyle, but the need for monitoring the condition of athletes in various sports is also rising.
In 2019, the online category held the largest wearable medical devices market share, on the basis of distribution channel, because a wide range of such devices are available on e-commerce platforms.
North America had been the largest market for these devices during the historical period (2014–2019). This is ascribed to its advanced healthcare infrastructure and presence of numerous established market players. Other reasons behind this are the rising geriatric population, frequent product launches, and high prevalence of chronic diseases in the continent.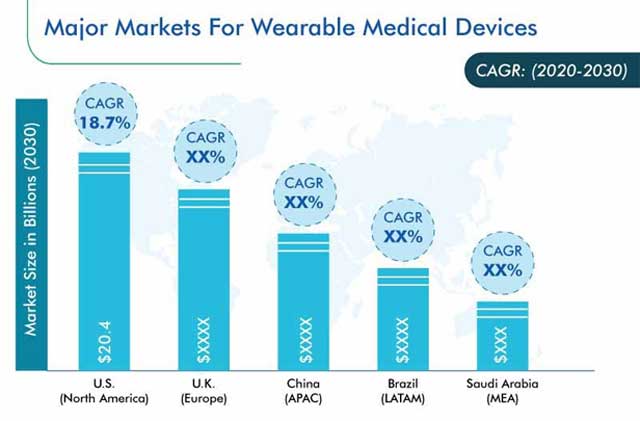 Product Launches are Biggest Trend in Market
Currently, the wearable medical devices market is witnessing the trend of product launches. For instance, Sony Corporation launched mSafety, a platform which integrates a wristwatch, connected wearable device, and cloud-based backend solution, in October 2019. The aim behind the product was to provide a ready-made platform for mobile health (mHealth) applications and remote health monitoring, to mHealth app developers, healthcare systems, and users. Similarly, in February 2019, new activity and sleep tracker wristlets, under the Inspire and Inspire HR brands, were introduced by Fitbit Inc. These devices count the calories burnt, monitor activity and sleep, and track the heart rate.
Increasing Fitness Consciousness is Major Market Driver
One of the most important reasons behind the growth of the wearable medical devices market is the increasing awareness of people about fitness. This, along with the increasing incidence of obesity, is prompting people to engage in physical activities and keep a check on their health, which is driving the popularity of fitness trackers and smartwatches. Additionally, awareness programs and campaigns are being initiated by a number of organizations to make people realize the importance of staying fit. Another reason behind the rising uptake of these devices is that the companies which manufacture these also offer users advice from dieticians or nutritionists.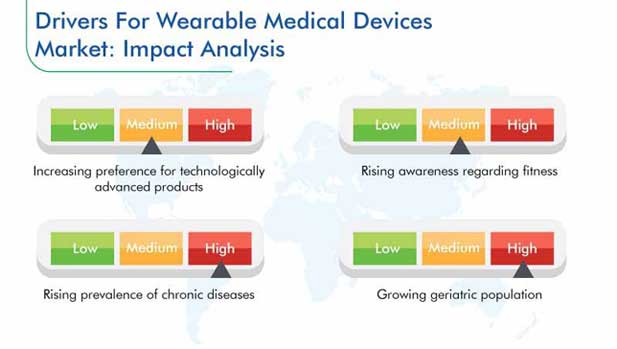 Emerging Economies Offer Market Players Growth Potential
There is a huge untapped market in emerging economies, which the players in the wearable medical devices market can target for increased sales. Due to less awareness about these devices, inefficient export and import operations, slow economic growth, and high risk of cybercrime, many developing countries display a low adoption rate of such consumer electronics. To help in the timely provision of medical help to patients, organizations and government in many emerging economies, including Colombia and India, are stepping up efforts. This is expected to lead to a higher uptake of wearable medical devices here in the coming years.
Wearable Medical Devices Market Report Coverage

| Report Attribute | Details |
| --- | --- |
| Historical Years | 2014-2019 |
| Forecast Years | 2020-2030 |
| Market Size by Segments | Type, Application, Distribution Channel |
| Market Size of Geographies | U.S., Canada, U.K., France, Germany, Russia, Italy, Spain, Netherlands, Switzerland, Belgium, Poland, China, Japan, India, Australia, Singapore, South Korea, Indonesia, Brazil, Mexico, Colombia, Argentina, Peru, Saudi Arabia, South Africa, U.A.E., Israel |
| Market Players | Apple Inc., Mad Apparel Inc., Proteus Digital Health Inc., Neurotech LLC, Garmin Ltd., Fitbit Inc., Samsung Electronics Co. Ltd., Xiaomi Inc., Fossil Group Inc., Moov Inc., Sony Corporation, Senseonics Holdings Inc., ZOLL Medical Corporation, Medtronic plc |
Market Competition being Shaped by Collaborations
In recent times, the wearable medical devices market players have collaborated with numerous companies to expand their portfolio and edge out the competition.
For instance, Garmin International Inc., owned by Garmin Ltd., began collaborating with SCOR Global Life, in November 2019. With this collaboration, SCOR has integrated its Biological Age Model BAM solution with the wearables data provided by Garmin, so that a person's biological age can be calculated, which provides users as well as insurers with an easy-to-understand health indicator.
Similarly, in January 2019, Aetna, an insurance firm, and Apple Inc. co-developed an application for the Apple Watch and iPhone, which offers rewards, such as the chance to win a new Apple Watch, to those who get the required hours of sleep and regular exercise.
Apple Inc., Mad Apparel Inc., Proteus Digital Health Inc., Neurotech LLC, Garmin Ltd., Fitbit Inc., Samsung Electronics Co. Ltd., Xiaomi Inc., Fossil Group Inc., Moov Inc., Sony Corporation, Senseonics Holdings Inc., ZOLL Medical Corporation, and Medtronic plc are the key players in the global wearable medical devices market.
Market Size Breakdown by Segment
The wearable medical devices market report offers comprehensive market segmentation analysis along with market estimation for the period 2014–2030.
Based on Type
Fitness Trackers
Smartwatches
Smart Cloths
Hearing Aids
Patches
Breath Analyzers
Based on Application
Sports & Fitness
Remote Patient Monitoring
Home Healthcare
Based on Distribution Channel
Online
Hypermarkets
Pharmacies
Geographical Analysis
North America
Europe

U.K.
France
Germany
Russia
Italy
Spain
Netherlands
Switzerland
Belgium
Poland

Asia-Pacific (APAC)

China
Japan
India
Australia
Singapore
South Korea
Indonesia

Latin America (LATAM)

Brazil
Mexico
Colombia
Argentina
Peru

MEA

Saudi Arabia
South Africa
U.A.E.
Israel