Market Outlook
The wearable medical devices market value was $10.6 billion in 2019, and it is predicted to rise to $67.2 billion by 2030. Furthermore, the market is predicted to grow at a CAGR of 18.3% between 2020 and 2030. The increasing demand for technologically advanced products, rising fitness consciousness, surging population of geriatric people, and growing prevalence of chronic diseases are the major factors fueling the expansion of the market.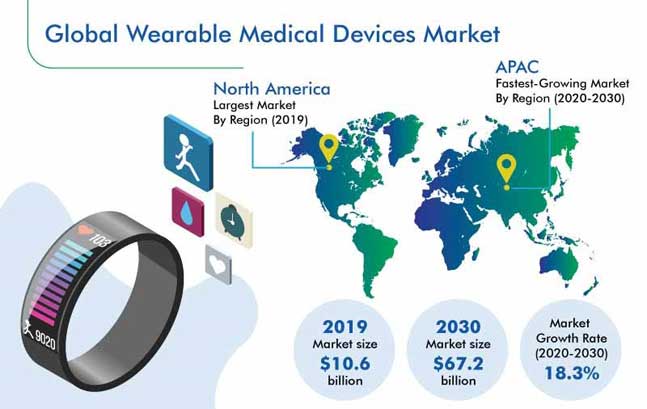 Segmentation Analysis of Wearable Medical Devices Market
The fitness trackers category is generate the highest revenue in the forthcoming years, under the type segment. This is credited to the growing consciousness of people regarding the number of calories being burned, number of steps being taken, and their overall health condition. Besides this, the cost-effectiveness of fitness trackers is propelling their popularity.
The sports & fitness category is predicted to demonstrate the fastest growth in the coming years, under the application segment. This is attributed to the fact that people are rapidly becoming aware of the benefits of a healthy lifestyle and the growing requirement for monitoring the health of athletes around the world.
The online category dominated the wearable medical devices market in 2019, under the distribution channel segment. This was because of the availability of a diverse range of wearable medical devices on e-commerce platforms at cost-effective rates and the online payment and home delivery services provided by such portals.
North America held the largest share in the wearable medical devices industry between 2014 and 2019. This is credited to the existence of advanced healthcare infrastructure and several leading market players in the region. Apart from this, the large geriatric population, high incidence of chronic diseases, and frequent product launches contributed toward the expansion of the market in this region in the past.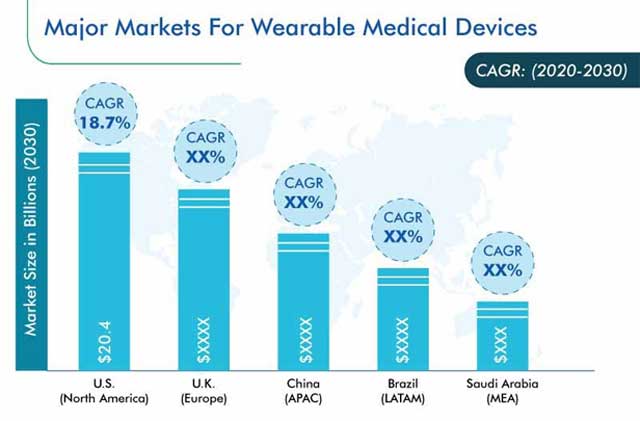 Product Launches Major Market Trend
One of the major market trends is the launch of products by the industry players. For example, mSafety, which is a platform that integrates a connected wearable device, cloud-based back-end solution, and wristwatch, was launched by Sony Corporation in October 2019. This product provides healthcare practitioners, general users, and mHealth app developers with a ready-made platform for remote health monitoring and mobile health (mHealth) applications. Similarly, Fitbit Inc. launched new activity and sleep tracker wristlets, under the Inspire HR and Inspire brands, in February 2019. These devices monitor sleep and activity, track the heart rate, and count the number of calories being burned by the wearer.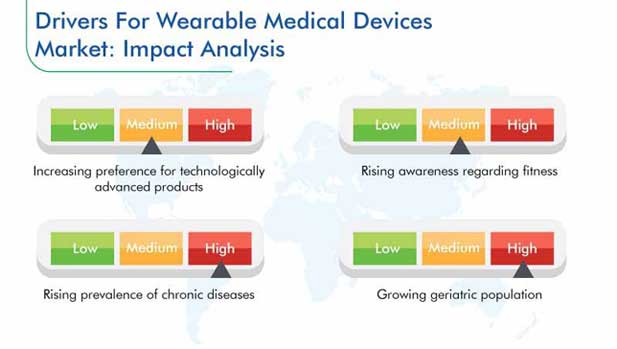 Rising Fitness Consciousness Driving Market Growth
One of the major wearable medical devices market drivers is the growing consciousness among the masses regarding health and fitness. The increasing prevalence of obesity is one of the biggest reasons behind the rising fitness consciousness of people. In addition to this, several organizations are conducting programs and seminars for raising public awareness about health and fitness. Furthermore, companies manufacturing these devices are increasingly offering users nutritionist- and dietician-backed advice, tips, and suggestions.
Developing Countries Offering Growth Opportunities to Market Players
Players in the market for wearable medical devices can leverage the opportunities present in developing countries for augmenting their product sales and expanding their operations. Due to the slow economic growth, low public awareness about these devices, inefficient import and export operations, and high incidence of cybercrimes, the uptake of consumer electronic devices remains low in developing countries. Due to this reason, many emerging economies, such as India and Colombia, are taking measures for ensuring that patients receive timely medical care. This is, in turn, predicted to augment the sales of wearable medical devices in these countries.
Wearable Medical Devices Market Report Coverage

| | |
| --- | --- |
| Report Attribute | Details |
| Historical Years | 2014-2019 |
| Forecast Years | 2020-2030 |
| Market Size by Segments | Type, Application, Distribution Channel |
| Market Size of Geographies | U.S., Canada, U.K., France, Germany, Russia, Italy, Spain, Netherlands, Switzerland, Belgium, Poland, China, Japan, India, Australia, Singapore, South Korea, Indonesia, Brazil, Mexico, Colombia, Argentina, Peru, Saudi Arabia, South Africa, U.A.E., Israel |
Explore more about this report - Request free sample pages
Market Competition being Shaped by Collaborations
In recent times, the wearable medical devices market players have collaborated with numerous companies to expand their portfolio and edge out the competition.
For instance, Garmin International Inc., owned by Garmin Ltd., began collaborating with SCOR Global Life, in November 2019. With this collaboration, SCOR has integrated its Biological Age Model BAM solution with the wearables data provided by Garmin, so that a person's biological age can be calculated, which provides users as well as insurers with an easy-to-understand health indicator.
Similarly, in January 2019, Aetna, an insurance firm, and Apple Inc. co-developed an application for the Apple Watch and iPhone, which offers rewards, such as the chance to win a new Apple Watch, to those who get the required hours of sleep and regular exercise.
Apple Inc., Mad Apparel Inc., Proteus Digital Health Inc., Neurotech LLC, Garmin Ltd., Fitbit Inc., Samsung Electronics Co. Ltd., Xiaomi Inc., Fossil Group Inc., Moov Inc., Sony Corporation, Senseonics Holdings Inc., ZOLL Medical Corporation, and Medtronic plc are the key players in the global wearable medical devices market.
Market Size Breakdown by Segment
The wearable medical devices market report offers comprehensive market segmentation analysis along with market estimation for the period 2014–2030.
Based on Type
Fitness Trackers
Smartwatches
Smart Cloths
Hearing Aids
Patches
Breath Analyzers
Based on Application
Sports & Fitness
Remote Patient Monitoring
Home Healthcare
Based on Distribution Channel
Online
Hypermarkets
Pharmacies
Geographical Analysis
North America
Europe

U.K.
France
Germany
Russia
Italy
Spain
Netherlands
Switzerland
Belgium
Poland

Asia-Pacific (APAC)

China
Japan
India
Australia
Singapore
South Korea
Indonesia

Latin America (LATAM)

Brazil
Mexico
Colombia
Argentina
Peru

MEA

Saudi Arabia
South Africa
U.A.E.
Israel