Market Overview
The lateral flow assays market size stood at USD 22.0 billion in 2023, and it is expected to grow at a CAGR of 2.1% during 2024–2030, to reach USD 25.4 billion by 2030. The growth can be primarily attributed to the rising prevalence of infectious disorders, the surging demand for point-of-care testing, the growing geriatric population, the increasing usage of home-based lateral flow assay devices, the rising need for efficient diagnostic techniques, and the increasing government initiatives encouraging health awareness.
Rising Demand for Point-of-Care Testing Drives the Industry
At present, the majority of diagnostic test procedures are laboratory-based all over the world. Therefore, there is a rapid surge in the adoption of POC testing based on lateral flow assays, to replace time-consuming conventional laboratory test procedures. Due to the use of such assays, POC testing is rapid, simple, inexpensive, easy to interpret, and convenient. Also, the cost of test procedures is less than conventional tests, and they do not need complex infrastructure and training. Thus, these factors are subsequently fueling the development and demand for these assays.
Moreover, the rising need for cardiac marker testing and infectious disease testing is contributing to the growth in demand for POC testing, owing to the growing awareness of these tests in home care settings. The common tests in point-of-care testing include coagulation tests, pregnancy and fertility tests, and urine analysis tests.
Kits & Reagents Category Holds Larger Share
The kits and reagents category holds larger share for lateral flow assays, based on the product segment, in the coming years. This can be ascribed to the rising number of application areas of lateral flow kits and reagents for point-of-care testing, the growing prevalence of chronic disorders, and the surging use of lateral flow kits in residential care, owing to their easy, comfortable, and convenient benefits.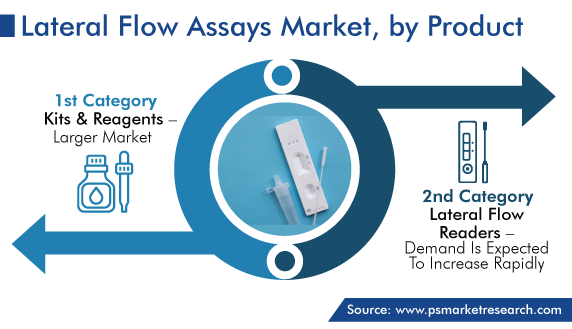 Clinical Testing Category is Dominant in the Market
The clinical testing category holds, 40% revenue share in 2023, due to its significance in the detection and identification of various disorders. Together with the surge in cases of infectious disorders and other medical diseases, the need for these assays is expected to rise. For instance, according to the World Health Organization, Global Tuberculosis Report 2022, approximately 1.6 million people died from tuberculosis in 2021, including 187,000 individuals having HIV. Additionally, 10.6 million individuals developed tuberculosis, including 1.2 million children, globally in 2021. As a result, the increasing burden of tuberculosis is expected to propel the need for quick and affordable diagnostics, particularly in developing countries, which will drive the market.
Furthermore, the sudden COVID-19 outbreak led to the increasing need for advanced healthcare solutions. In order to meet the surging demand, key players are focusing on launching new technologies with a focus on research in the field of clinical testing. For instance, in June 2021, Roche announced that FDA granted approval to cobas SARS-CoV-2 Nucleic acid test for use on the cobas Liat System. This test is for PCR testing of both symptomatic and asymptomatic individuals with results within 20 minutes at the point of care. This is enabling healthcare professionals to take action quickly and confidently.
Moreover, in recent years, the rising demand for clinical testing is leading to new approvals of self-test kits, including TRUSTline HIV-Ab/Ag 4th Gen Rapid Test, Atomo HIV Self-Test, and Dr Trust HIV Sure, among others. This helps patients with assurance, early diagnosis, ease of use, and better convenience, which, in turn, drives the market in this category.
Sandwich Assays Technique Is Widely Used
The sandwich assays category held the largest revenue share, around 50%, in 2023. This is primarily ascribed to the enhanced sensitivity and specificity of these assays for larger analytes that have two epitopes or binding sites. The most common kind of commercially paper-based biosensors is sandwich lateral flow assays that offer an affordable, accurate, quick, and single-step assay. For instance, the sandwich-based assay can provide results in just 20 minutes and can be utilized in low-resource healthcare facilities without needing the help of trained medical professionals.
In addition, the rising adoption of technologically advanced flow assays for managing patient burden in various healthcare settings is also leading to the growth of the market in this category. For instance, in March 2020, Abcam plc launched a Universal Lateral Flow Assay Kit, which is intended to facilitate the rapid and simple development of customized sandwich lateral flow immunoassays by combining InnovaCoat gold conjugation and Lightning-Link technologies with an immunochromatography test performed on Universal-LFA strips. One of the benefits offered by this kit is its adaptability to work with any pair of capture and detection antibodies, which allows it to detect any type of analyte.
On the other hand, the multiplex detection assays category accounts for a considerable revenue share. This is because of its multiple advantages such as efficient testing, accurate results, lower cost, advanced decision-making, and supply of samples.
Moreover, the rising development of several multiplex flow assays through academic and research centers is positively impacting the market growth. For example, as per the ACS Omega Journal, a novel multiplex lateral flow immunoassay sensor array Blind Spot was developed in August 2021, for the detection of biothreat agents. This multiplex detection assay is a six-plex assay, which has test spots printed in six positions, together with a modular automated colorimetric analysis widget (MACAW) sensor for the interpretation and analysis of images of test results.
Lateral Flow Assays Market Report Coverage

| | |
| --- | --- |
| Report Attribute | Details |
| Market Size in 2023 | USD 22.0 Billion |
| Market Size in 2024 | USD 22.4 Billion |
| Revenue Forecast in 2030 | USD 25.4 Billion |
| Growth Rate | 2.1% CAGR |
| Historical Years | 2017-2023 |
| Forecast Years | 2024-2030 |
| Report Scope | Market Trends, Drivers, and Restraints; Revenue Estimation and Forecast; Segmentation Analysis; Impact of COVID-19; Companies' Strategic Developments; Market Share Analysis of Key Players; Company Profiling |
| Segments Covered | By Product; By Application; By Technique; By Sample Type; By End User; By Region |
Explore more about this report - Request free sample pages
Blood Samples Category Dominates Sample Type Segment
The blood samples category accounts for the largest revenue share, based on sample type. This is due to the use of blood samples for performing lateral flow assays, and the lateral flow tests can detect various infectious diseases including HIV, malaria, and syphilis, among others. Moreover, the growing knowledge of rapid solution providers, the easiness of detecting disease antigens from blood samples, and the increasing awareness regarding the rapid testing solutions and uncomplicated identification of disease antibodies from blood samples are driving the market growth in this category.
North America Accounted for the Largest Share
North America leads the global lateral flow assays market, accounting for a revenue share of 45% in 2023. This is due to the increased incidences of COVID-19, Lyme disease, and tuberculosis, and a rise in mortality rates related to HIV and AIDS in the region. According to government statistics, in October 2022, around 1.2 million people have HIV in the U.S. and an estimated 13% population is unaware of the fact and needs testing.
The U.S. accounts for a larger revenue share in the North American market. This is due to the rising pool of patients suffering from illnesses and high affordability with growing disposable income. Also, the outbreak of COVID-19 hit the country very hard and compelled the government to conduct mass screening programs. In addition, the reporting of rapidly spreading conditions, including urinary tract infections and meningitis, requires immediate diagnosis, which is further busting the demand for fast diagnostic test procedures.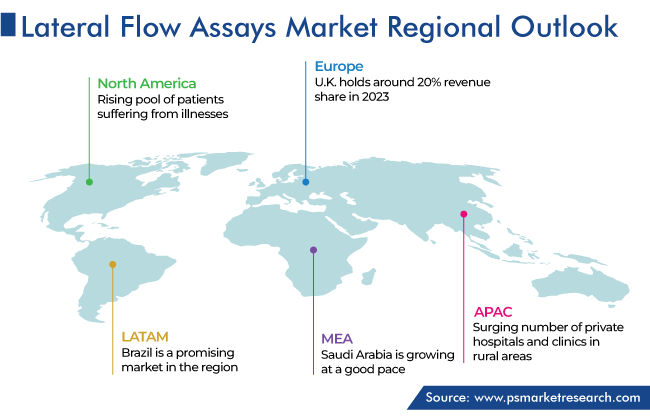 Hospitals & Clinics Make Largest Contribution
The hospitals and clinics category accounted for the largest revenue share, of around 35%, in 2023. This is on account of the surging adoption of point-of-care testing, rising patient focus toward early diagnosis, and technological advancements in diagnostic technologies. Additionally, the rise in the application scope of lateral flow assays in hospitals and clinics is propelling the growth of the market in this category. Lateral flow diagnostics are extensively used in these facilities, as they give rapid and accurate results for cardiac markers, infectious conditions, cholesterol testing/lipid profiling, pregnancy & fertility testing, and drug abuse testing.
Furthermore, in hospitals, these types of assays provide quantitative and qualitative detection of certain antigens and antibodies. Further, during the COVID-19 pandemic, lateral flow immunoassays were extensively utilized by hospitals and clinics to identify the infection at a large scale. Also, the need for advanced diagnostic solutions in clinical setups will support the penetration of the products over the upcoming years.
Expanding Applicability of Lateral Flow Assays Providing Growth Opportunities
In the last decade, lateral flow assays have progressively evolved and are consistently utilized in POC as well as various diagnostic applications. Despite the fact that lateral flow tests are comprehensively being used for the diagnosis of infectious conditions and cardiac diseases, and in the veterinary sector, their usage has increased in many new applications. For instance, the emergence of new application areas for these assays includes biowarfare for anthrax detection, saliva diagnostics, detecting contaminating enzymes in manufacturing plants, behavioral health detection, food microbiology for detecting Salmonella, E. coli, Listeria, and food spoiling organisms, and detecting genetically modified organisms and crop quality testing in the agricultural sector.
Top Lateral Flow Assay Providers Are:
Abbott Laboratories
Thermo Fisher Scientific Inc.
F. Hoffmann-La Roche Ltd.
Bio-Rad Laboratories Inc.
Siemens Healthineers GmbH
Quidel Corporation
Hologic Inc.
PerkinElmer Inc.
QIAGEN N.V.
Becton, Dickinson and Company
Market Size Breakdown by Segment
This fully customizable report gives a detailed analysis of the lateral flow assays market from 2017 to 2030, based on all the relevant segments and geographies.
Based on Product
Kits & Reagents
Lateral Flow Readers
Based on Application
Clinical Testing

Infectious disease testing
Cardiac marker testing
Pregnancy & fertility testing
Cholesterol testing/lipid profile
Drug of abuse testing
Other tests

Veterinary Diagnostics
Food Safety & Environmental Testing
Drug Development & Quality Testing
Based on Technique
Sandwich Assays
Competitive Assays
Multiplex Detection Assays
Based on Sample Type
Based on End User
Hospitals & Clinics
Diagnostics Laboratories
Homecare Settings
Pharmaceutical & Biotechnology Companies
Geographical Analysis
North America
Europe

Germany
U.K.
France
Italy
Spain

Asia-Pacific

Japan
China
India
South Korea
Australia

Latin America
Middle East and Africa

Saudi Arabia
South Africa
U.A.E.