Market Overview
The global biosensors market size stood at $25.2 billion in 2021, which is expected to reach $49.3 billion by 2030, advancing at a CAGR of 7.8% during 2021–2030. This is primarily attributed to the advent of nanotechnology-based devices and the rising adoption of sensors for the detection of blood glucose levels in diabetic patients. In addition, the augmenting demand for home-based point-of-care testing, coupled with the surge in the count of product approvals by regulatory authorities, is aiding the sector growth.
Early and accurate diagnosis is critical for disease prognosis and therapeutic efficacy. In recent years, there has been a surge in the demand for user-friendly, disposable, and cost-effective instruments with rapid responses. Because of their ability to meet these criteria through an interdisciplinary combination of strategies from medical science, chemistry, and nanotechnology, these devices have made swift advancement in the medical sector.
Furthermore, due to the rising number of chronic and lifestyle-related diseases, consumers are being prompted to use biological sensors for the identification of pathogenic agents in the body. In this regard, the applications of these are widening as a result of a significant increase in the global elderly population and the advancement of nanotechnology, which is making these instruments affordable and highly accurate.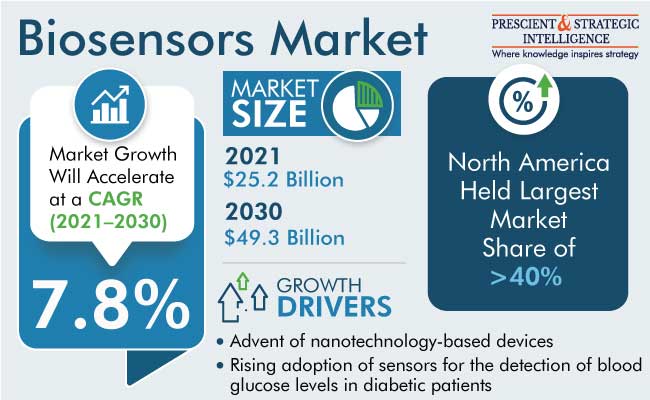 Moreover, these devices are predicted to find numerous applications in a variety of industries, such as microbial activity monitoring, and food analysis. The domain outlook is expected to strengthen in the near future due to the high preference for minimally invasive surgical procedures and tailored drugs.
Additionally, the prominent players are actively involving themselves in agreements as well as collaborations to strengthen their position in the domain. For instance, Ethicon Endo-Surgery Inc. has signed a partnership agreement with Brainstem Biometrics to evaluate the clinical efficacy of the tremor monitor unit of Brainstem Biometrics, which is a compact and non-invasive biological sensor used for the detection of minute eye movements in patients under anesthesia.
Embedded Devices Account for Larger Market Share
Embedded devices accounted for the larger biosensors market share, in 2021. This was on account of their burgeoning use in home-based diagnostics, research laboratories, and POC testing. In this regard, the high adoption of IoT in home healthcare settings for real-time tracking, monitoring, and alerting is snowballing the category's growth. Additionally, in the recent past, there has been an increase in the adoption of embedded solutions integrated with IoT in healthcare settings to tackle the inaccessibility of healthcare professionals in remote areas. These solutions assist in the identification of various disorders and administer different diagnostic tests, to allow doctors to deliver reliable and precise treatments in remote areas.
Furthermore, government organizations have launched various programs to strengthen the field of genomics and proteomics, which is burgeoning the category growth. The demand for embedded biosensors is also expected to grow tremendously owing to the heavy investments done by prominent IT companies, such as Infosys, IBM, and TCS.
Wearable Biosensors To Witness Faster Sales Growth
The demand for wearable biosensors is expected to register the higher CAGR, of around 8%, in the forecast period, primarily attributed to their ability to bring the concept of medical diagnostics to the homes of patients, thus saving both medical costs and time. These sensors, incorporated with a physiochemical detector, which analyzes a biological element, aid in the detection of various chemical substances responsible for disease progression. Moreover, wearable analytical devices assist in the early detection of adverse health events and the prevention of hospitalization.
During the COVID-19 pandemic, the prominent players focused on the development of various wearable sensors. For instance, Royal Philips developed the FDA-approved Philips Biosensors BX100, which was widely used at hospitals for the management of patients suffering from the virus. Its real-time data accessibility enables improved clinical conclusions, which leads to enhanced health outcomes and the effectual usage of healthcare systems.
Electrochemical Technology Leads Market
Based on technology, the electrochemical category garnered the largest market size in 2021, driven by the surge in the use of this technology for biological and biochemical analyses. The technology offers high stability, a wide linear response range, and no detection limits, thereby resulting in high penetration in the healthcare domain. Furthermore, end users prefer this technology owing to its robust nature, ease of use, cost-effectiveness, high compatibility with novel microfabrication equipment, and lower power consumption.
The optical category is predicted to register the highest CAGR, during the forecast period, driven by the ability to be used for a wide range of analytical purposes optical sensors can be used for. Further, they aid in the monitoring of the fermentation process and cell–receptor interactions and in structural research.
Biosensors Market Report Coverage

| | |
| --- | --- |
| Report Attribute | Details |
| Historical Years | 2017-2021 |
| Forecast Years | 2022-2030 |
| Market Size in 2021 | $25.2 Billion |
| Revenue Forecast in 2030 | $49.3 Billion |
| Growth Rate | 7.8% CAGR |
| Report Scope | Market Trends, Drivers, and Restraints; Revenue Estimation and Forecast; Segmentation Analysis; Regulatory Scenario; Impact of COVID-19; Companies' Strategic Developments; Market Share Analysis of Key Players; Company Profiling |
| Segments Covered | By Type, By Product, By Technology, By Application, By End User, By Region |
Explore more about this report - Request free sample pages
Medical Testing Leads Market
Medical testing accounted for the largest market share, of more than 60%, in 2021. Biosensors are used for assessing, diagnosing, and monitoring various diseases. These devices are easy to use and cost-effective, and they also reduce errors during the diagnosis, which is driving their usage in this application. Additionally, they help track the progression of the disease and monitor treatment outcomes. Cholesterol, cerebrospinal, and pathogen detection are some of the biomarkers these sensors are used to detect.
Glucose detectors are widely available as a minimally invasive and small device, to measure the glucose level in the subcutaneous tissue. The glucose biosensor, an electrochemical sensing device, consists of a screen-printed amperometric disposable electrode. In addition, electrochemical sensors are used to estimate blood cholesterol levels.
Agricultural testing is expected to register the highest CAGR, of more than 8%, in the forecast period. In contrast to traditional methods of preventing crop and livestock losses due to bioterrorism and natural threats, these devices enable specific detection of a wide range of fungi. These instruments also measure the concentration of heavy metals, pesticides, herbicides, and pesticides in soil water, and ground. They are also used to detect soil diseases and, thus, deliver reliable, enhanced approaches for soil disease prevention at an initial phase.
Biosensors Are Mainly Employed in Point-of-Care Testing
Among the various applications, point-of-care testing accounted for the highest biosensors market revenue, in 2021, owing to the development of ultrasensitive instruments for the POC detection of biomarkers in bodily fluids, such as urine, blood, perspiration, and saliva. These systems provide users with quick and accurate results, allowing for earlier diagnoses and treatment.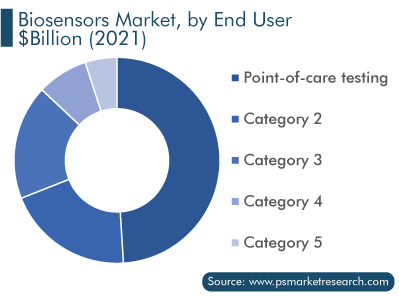 North America Is Market Leader
North America led the market in 2021, with a market share of more than 40%, driven by a growing aging population, increasing health awareness, technological developments in various home-use medical devices, and appropriate insurance coverage. The increasing prevalence of chronic and lifestyle-associated diseases is also driving the growth of the sector. North America uses this technology more than other regions due to the advancements technology and a wider application area across industries. Further, on account of the high healthcare expenditure, these systems are extensively used to accurately, reliably, and quickly detect and prevention of diseases early.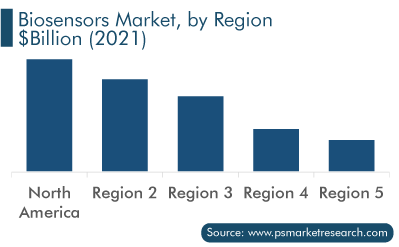 Miniaturizations of Sensors due to Technological Advancements Is Key Trend
The need for biosensors is increasing in the fields of medical diagnostics, environmental monitoring, and food testing, for the accurate detection of analytes. The increasing number of environmental laws and advancements in the field of genetic technology demand the miniaturization of sensors. Traditionally, huge and bulky instruments were used for detection and diagnosis, in addition to a well-trained staff for performing the tests. The completion of a single test required multiple days. However, the increasing need for portability and the usage of these systems in health, food, and environmental applications began to majorly influence the size of the sensors. Currently, the demand for miniaturized products is increasing due to the improving electrochemical properties of microelectrodes.
Top Players in Biosensors Market Are:
Bio-Rad Laboratories Inc.
Medtronic
Abbott Laboratories
Biosensors International Group Ltd.
Pinnacle Technologies Inc.
Ercon Inc.
DuPont Biosensor Materials
Johnson & Johnson
Koninklijke Philips N.V.
LifeScan Inc.
Market Size Breakdown by Segment
The study offers a comprehensive market segmentation analysis along with market estimation for the period 2017-2030.
Based on Type
Sensor Patch
Embedded Device
Based on Product
Based on Technology
Electrochemical
Optical
Thermal
Piezoelectric
Nanomechanical
Based on Application
Medical testing
Industrial process
Food toxicity
Environment
Agricultural testing
Based on End User
Point-of-care testing
Home diagnostics
Research laboratories
Security and bio-defense
Food industry
Geographical Analysis
North America
Europe

Germany
U.K.
France
Italy
Spain

Asia-Pacific

China
India
Japan
Australia
South Korea

Latin America
Middle East and Africa

Saudi Arabia
South Africa