Drug of Abuse Testing Market Overview
The global drug of abuse testing market size was valued at $4.8 billion in 2016, and it is forecasted to grow at 9.6% CAGR during 2017-2023. Vendors in the global market offer drug of abuse testing products such as consumable and equipment, with consumable being the larger contributor to the market in 2016, since consumables including rapid test kits and assay kits & reagents, can be quickly made available for the on-site testing of the drugs.
GLOBAL DRUG OF ABUSE TESTING MARKET, BY PRODUCT, $M (2013 – 2023)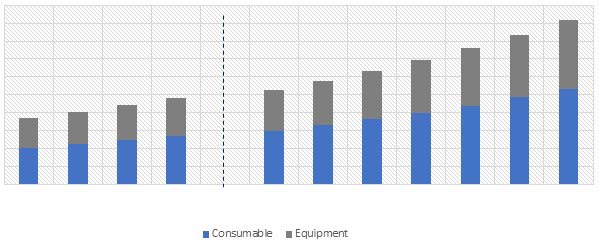 The equipment used in drug of abuse testing market include immunoassay analyzers, chromatography instruments and breath analyzers. Amongst these equipment, immunoassay analyzers held the largest market share in 2016 as this is a rapid, inexpensive and convenient method to screen large numbers of samples in a variety of matrices, when compared to other methods. Breath analyzers market size is projected to grow at the fastest rate, with a CAGR of 9.5% during the forecast period.
Drug of abuse testing is generally done using urine, hair and saliva samples. Other than that, blood and nail samples are also used for testing. Among these samples, urine was the majorly utilized for drug of abuse testing in 2016, since urine samples contain secreted metabolites which can be used to detect the presence of illicit drugs. The key end users in drug of abuse testing market include hospitals, laboratories, workplace and at home users. Some of the other end users are academic institutes and research laboratories. Globally, hospitals were the largest end user in 2016, since a large number of drug tests and researches are conducted in hospitals due to availability of latest techniques and experienced professionals.
North America was the largest market in 2016 contributing 49.2% to the drug of abuse testing market, followed by Europe and Asia-Pacific. Asia-Pacific is expected to register the fastest growth during the forecast period owing to increased trade and consumption of illicit drugs, and rising compliance in organizations with respect to workplace drug of abuse testing. According to a report published by Australian Criminal Intelligence Commission (ACIC), in 2017, police agencies made 115,421 national illicit drug seizures, weighing a total of 21 tons, with a record 154,538 national illicit drug arrests, in 2015–16. The number of national illicit drug arrests increased 87.6% over the last decade, from 82,389 in 2006–07 to 154,538 in 2015-16.
Drug of Abuse Testing Market Dynamics
The drug of abuse testing market is driven by increased adoption at organizational levels, increase in the consumption of illegal drugs, and high production and trade of illicit drugs, worldwide. Also, the global rise in the number of road accidents and death rates, initiatives by government and non-profit organizations to reduce drug abuse levels, and technological advancements are increasing the demand for such products. The factors that hinder the growth of the industry include, legalization of illicit drugs, social issues associated with drug of abuse testing, and the inability to detect low dose designer drugs.
Trends
Due to increasing interest of the companies in drug of abuse testing market, the major players in the market are acquiring or collaborating with other firms in order to attain a larger drug of abuse testing market share. For instance, in January 2017, Sonic Healthcare Limited acquired Medical Laboratory Bremen, a laboratory in the North-West of Germany. The acquisition was mainly focused to expand Sonic Healthcare's presence in Germany and also to strengthen the company's commitment to medical leadership in laboratory medicine.
Moreover, during the same time Laboratory Corporation of America Holdings (LabCorp) and the Mount Sinai Health System, health systems in metropolitan New York City, entered into a definitive agreement for LabCorp to acquire the assets of Mount Sinai's Clinical Outreach Laboratories. Following the acquisition, LabCorp agreed to provide comprehensive laboratory services to the physicians and patients that currently use Mount Sinai's outreach laboratory.
Growth Drivers
The use of illicit drugs has been increasing globally, due to which, the demand for drug of abuse testing is also expected to rise in the future. According to the World Drug Report by United Nations Office on Drugs and Crime (UNODC), in 2013, approximately 203 million illicit drugs users aged 15 years to 64 years were reported, and the number was reported to be approximately 246 million in 2015, globally. Moreover, according to UNODC, the cannabis consumption in the U.S. increased from approximately 24.7% in 2012 to 25.8% in 2013 among high-school students. The increased consumption of illicit drugs has led to a high demand for products in drug of abuse testing market, which is helpful in monitoring potential drug consumers.
Drug of Abuse Testing Market Competitive Landscape
Key players in the drug of abuse testing market are developing new products in the industry. For instance, in August 2016, Shimadzu Corporation announced the release of its Quick-DB GC/MS/MS forensic toxicological database (Quick-DB Forensic) for triple quadrupole gas chromatograph mass spectrometers (GC-MS/MS). This product was developed in cooperation with the Department of Legal Medicine and Bioethics, Postgraduate School of Medicine Nagoya University. This database includes all the information necessary for analyzing the 68 toxicological substances, often involved in drug poisoning cases in Japan. Therefore, it provides a total solution for trace analysis of toxicological substances contained in blood.
Some of the other key players operating in the drug of abuse testing industry include Danaher Corporation, Siemens AG, Merck KGaA, Drägerwerk AG & Co. KGaA, Express Diagnostics Int'l, Inc., bioMérieux S.A., Waters Corporation, Roche Holding AG, Quest Diagnostics Inc., Laboratory Corporation of America Holdings, Alere Inc., Abbott Laboratories, Randox Laboratories Ltd., Psychemedics Corporation, Bio-Rad Laboratories, Inc., Sonic Healthcare Ltd., and ThermoFisher Scientific Inc.
Scope for Customization
P&S Intelligence offers customization as per specific business requirements of clients. Illustrative customization within the scope of this report includes:
Period of Analysis – Increase in the study period, including historic and forecast years
Geographical Analysis – Increase in country coverage
Segment Analysis – More granular coverage related to:

Further analysis of other sample type and end user under drug of abuse testing by region

Company Profiles – Wider company coverage in terms of detailed analysis or additional company profiles
New custom report – A completely customized report can be provided on the market, specific to a region/ country/ segment