Market Overview
The AI image recognition market value has been estimated at USD 5,110 million in 2023, and it will reach USD 18,087.3 million by 2030, advancing at a rate of 19.8% during 2023–2030.
This is credited to the increasing usage of image recognition technologies in the retail sector for marketing purposes and in the BFSI sector for identity and access management. The market is also propelled by the need for regulatory compliance in critical industries, rising disposable income, increasing need for big data analytics, growing focus on business process automation, and surging integration of AI in diagnostic imaging.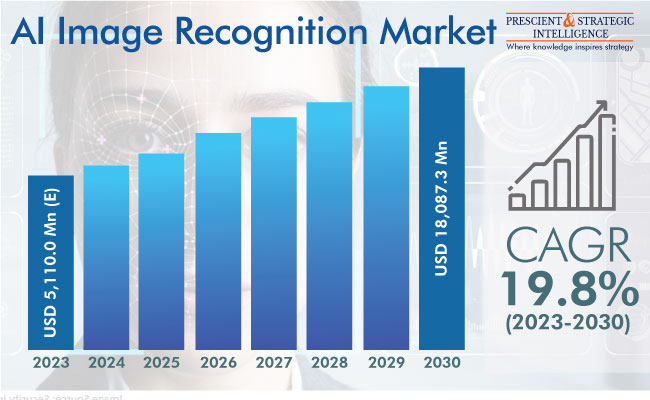 AI replicates the cognitive procedures of the human intellect, and image recognition has been recognized as one of AI's most-beneficial applications. Image recognition, closely associated with computer vision, is an interdisciplinary area of computer science dealing with a computer's capacity to identify and understand the material within images.
Object Recognition Technology Has a Significant Share
The object recognition category holds a significant share, on the basis of technique. Object identification is a computer vision technology that has become rapidly central in consumer-facing technology and manufacturing enterprises.
In the same way, facial recognition will show a substantial growth in its usage as it is important from the point of security and surveillance. The photos of suspects in a crime can simply be run through a computer, and the facial recognition program will furnish all the details on that person, if they are stored on the central database of the law enforcement agency.
QR/barcode recognition is another important technique, as barcode scanners are quickly being accepted by companies for tracking their fixed assets. Numerous advantages of barcode recognition, such as time-saving, smooth internal operations, and accuracy, have fortified tracking and tracing operations for companies.
Likewise, the usage of barcode recognition in entertainment, art and pop culture, games, and advertisements has contributed to the substantial share of this technique. The acceptance of this method in retail and other businesses will also power the growth of the QR/barcode recognition category, as scanning barcodes saves those at the payment counter from the trouble of putting in all product details while billing; the automated system does that for them.
Marketing and Advertising Application Is Considerable Contributor
The marketing and advertising category holds a significant share in the application segment. This is because numerous businesses have accepted AI-integrated image recognition technology for improving their marketing activities with customer interaction, innovative advertising, and branding. The key social media platforms are also making use of AI-enabled image recognition technologies for improving the experience of users and letting firms place relevant advertisements.
The augmented reality category will observe considerable growth during the forecast period. Image detection programs can detect 2D images and superimpose improved content in the form of videos, audio, slideshows, 3D animations, 360° panoramas, and text. Image recognition in AR is used for numerous purposes, for example, entertainment, product displays, and improvement of printed magazines.
Retail and E-Commerce Industry Is Market Leader
The retail and e-commerce industry leads the market, and this trend will continue till the end of this decade. With image identification, online shoppers can search for accessories or clothing by taking a snap of an apparel, print, texture, or color. The picture taken from the smartphone is uploaded to an app that initiates a search to find similar products with the use of AI.
The media and entertainment industry held a considerable share too, because of the ability of image recognition to extract business insights from pictures shared on social media. The development of VR environments has altered the media and entertainment sector, by enriching interactive media, advertising, games, and TV and film production experience.
AI Image Recognition Market Report Coverage

| | |
| --- | --- |
| Report Attribute | Details |
| Market Size in 2023 | USD 5,110 Million (E) |
| Revenue Forecast in 2030 | USD 18,087.3 Million |
| Growth Rate | 19.8% CAGR |
| Historical Years | 2017-2022 |
| Forecast Years | 2023-2030 |
| Report Scope | Market Trends, Drivers, and Restraints; Revenue Estimation and Forecast; Segmentation Analysis; Impact of COVID-19; Companies' Strategic Developments; Market Share Analysis of Key Players; Company Profiling |
Explore more about this report - Request free sample pages
North America Is Leading Industry
North America holds the largest share in the industry, and this trend will continue till the end of this decade, because of the fast growth in the usage of cloud-based streaming services in the U.S. Additionally, in October 2020, Canada updated its regulations for protecting the privacy of the customers, in view of the constant privacy breaches during the COVID-19 pandemic.
Additionally, numerous IT companies based in the U.S. are working to develop an array of AI capabilities. Enterprises in North America have already embraced AI, deep learning, cloud computing, and many other modern technologies. This, together with the region's robust economic position, allows for substantial investments in leading tools and technologies for efficient business operations.
APAC Market Will Grow Fastest
The market in APAC will grow the fastest because of the rising use of tablets and mobiles, rapid technological progressions, and acceptance of online streaming in India and China. The growth will also be because of the high acceptance of cloud solutions to address information security issues.
Further, the rising use of facial recognition in security and surveillance systems in China will play a major role in the development of the industry. The Government of China has enforced real-name registration policies in the country, under which citizens need to link their online accounts with the government ID. These policies have popularized the use of image recognition across the nation.
Moreover, as per a report by Georgetown University's CSET, India will become an important player in the AI ecosystem. Recently, six more Indian startups centered on technology became unicorns. According to the experts, by 2025, India will have over 150 unicorns, which will boost the pace of advancements in AI and lead to newer applications.
Growing Integration of AI in Medical Imaging Modalities
The acceptance of the AI image recognition technology in healthcare is quickly growing because of the numerous applications for it in X-rays, ultrasounds, CT scans, and MRIs. Additionally, by enhancing security and helping improve patient identification, monitoring, and analysis, this technology has helped decrease the workload for healthcare professionals.
The FDA has approved around 200 radiological devices and software integrated with AI technologies, to improve diagnosis and patient outcomes. AI image recognition models can be deployed to analyze X-ray or MRI images for the detection, location, and flagging of medical irregularities. For example, it can recognize the number and exact location of tumors inside the body from the image.
Cloud Category Has Larger Market Share
The cloud category is the larger in 2023, and this trend will continue throughout the forecast period. The growth of the category is because of the augmenting acceptance of cloud computing in sectors that have a need for centralized monitoring, such as BFSI, media and entertainment, and government. Cloud-based solutions allow for remote access, on-demand scaling, and automatic updates, while saving expenses.
Several organizations are applying cloud-based image processing solutions for securing private data and strengthening their marketing endeavors. For example, Amazon Rekognition, which uses the deep learning technology, carries out accurate facial search and analysis for the detection, analysis, and comparison of faces, for user verification. Likewise, Google Vision allows designers to implement ML models to comprehend image content.
Software To Hold Significant Share
On the basis of component, software holds a considerable share, because of the increasing usage of image processing software for numerous applications, for example, computer graphics, autonomous vehicles, medical imaging, and photo editing. Moreover, the retail and e-commerce applications of this technology are expanding, with mobile online shopping apps now allowing people to search for products using the photos clicked with the smartphone camera.
Key Players in AI Image Recognition Market
IBM Corporation
Imagga Technologies Ltd.
Amazon Web Services Inc.
Qualcomm Technologies Inc.
Google LLC
Microsoft Corporation
Trax Technology Solutions Pte. Ltd.
NEC Corporation
LTU TECH
Ricoh Company Ltd.
Catchoom Technologies S.L.
Intel Corporation
Honeywell International Inc.
Hitachi Ltd.
Intelligence Retail
Slyce Acquisition Inc.
Blippar Ltd.
Wikitude GmbH
Attrasoft Inc.