Market Overview
The global computed tomography market size was valued at $41,669.68 million in 2021, and it will grow at a CAGR of 7.10% during 2021–2030, to reach $77,254.79 million by 2030. This is attributed to the rise in applications of CT scanners for a variety of medical procedures, which include imaging of the brain and body. The industry is also being driven by government investments and technical advancements in nations like India, China, and Japan.
The COVID-19 pandemic had positively impacted the market. The demand for CT scans increased sharply during the start of the pandemic. Thus, large manufacturers boosted the production of CT scanners, due to the increased cases of chest examinations of patients during the crisis.
The increasing demand for advanced imaging solutions and rising patient emphasis on effective and early disease diagnosis act as the major factors driving the growth of the computed tomography devices market. Moreover, initiatives taken by governments such as favorable policies and healthcare funding, growth in awareness regarding early disease diagnosis among the population, and increasing prevalence of targeted diseases among people across the globe accelerate the market demand.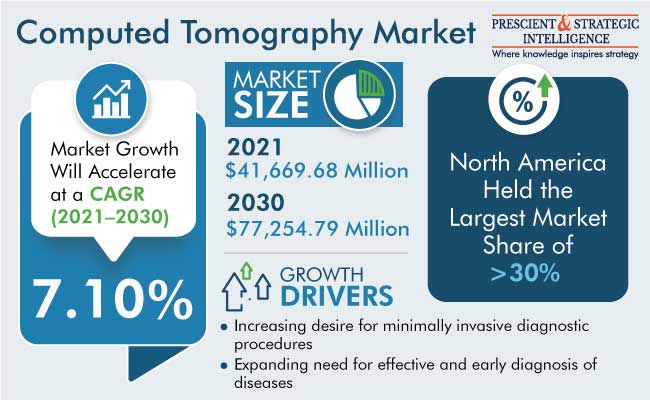 Regional Outlook
North America led the market with a revenue share, of more than 30%, in 2021, owing to the presence of a large number of key industry players in the region. To improve their presence, market leaders regularly engage in developmental activities like mergers, collaborations, acquisitions, approvals and product launches, and improvements to already-existing products. For instance, Wipro GE Healthcare introduced the Revolution Aspire CT scanner in April 2022. It is claimed to enhance clinical effectiveness and image quality while increasing patient throughput by about 50%. Moreover, the increasing prevalence of chronic diseases and the surging demand for early-stage diagnosis are further driving the regional market growth.
Additionally, the growth in consumer preference for less invasive diagnostic procedures along with the rise in consumer awareness of procedural advantages provided by computed tomography and the increasing healthcare spending in the region have a favorable impact on the market for computed tomography devices.
The U.S. dominates the North American market, owing to the rising older population in the country. With the rise in population, more cases of cancer and chronic diseases are identified. There is a strong demand for CT scans in disease management, as CT scanners produce accurate images of the heart and its arteries quickly and have the ability to identify or diagnose buildup in the coronary arteries to assess the risk of heart disease.
Whereas, the APAC market is expected to witness the highest CAGR during the forecast period. The surging prevalence of cancer and cardiovascular diseases is a leading factor driving the demand for medical and diagnostic imaging procedures, such as CT, in the region. Moreover, due to poor lifestyles and unhealthy food habits, and increased smoking habits among the young generation, people are more prone to diseases, as these cause several diseases at a very young age. Furthermore, the growing geriatric population is projected to increase the demand for medical imaging because older people are more prone to chronic diseases.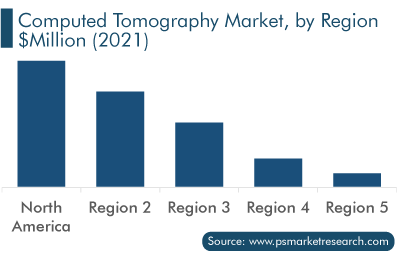 High Slice Accounts for the Largest Market Share
The high slice category dominated the market, with a revenue share, of more than 30%, in 2021. This is attributed to the growing usage of high-slice scanners in the healthcare industry, as these scanners have better diagnostic capabilities, which help in producing clearer images with lower doses of radiation. This aids in detecting the root cause of a disease, which enables a timely cure of the disease detected.
Additionally, it is recommended for sophisticated imaging such as in cardiovascular tests, as it is comparatively quicker because there is no need to process film pictures, and offers a bigger imaging area. Thus, it is more suited for patients with arrhythmias, fast heart rates, obesity, and pediatric patients. Computers can be used by radiologists to further enhance pictures and find micro-calcifications that low and medium-slice CTs could miss. Hence, the benefits of these scanners accelerate the computed tomography market expansion.
Neurology Category To Witness Highest CAGR
The neurology category will witness the highest CAGR during the forecast period. This can be due to the rising number of diseases related to the nervous system. The nervous system includes the brain and spinal cord disorders. Major causes of neurological problems are genetic disorders and lifestyle or health-related problems such as malnutrition among individuals. Also, poor physical health and poor lifestyle are causing neurology disorders among people even at early ages.
In addition, the musculoskeletal category is projected to record significant growth in the coming years, owing to the growing older population. Since mobility becomes slightly reduced with age, older persons fall and often sustain fractures, particularly hips. Additionally, there has been an increase in the number of individuals participating in sports activities around the world over the years, and ligament tears are one of the most frequent types of injuries they suffer. In these situations, a CT scan is a useful tool. The combined effect of all these variables is projected to propel the market in this category.
Whereas, the oncology category dominates the market, accounting for a revenue share of more than 24% in 2021. This is ascribed to the increasing cancer awareness, accessibility to a range of oncology treatments, and advancements in cancer detection techniques. Also, the worldwide oncology sector is projected to develop as a result of the increasing investments by biopharmaceutical companies in research and clinical trials of various therapies and diagnostics.
CT Market Report Coverage

| | |
| --- | --- |
| Report Attribute | Details |
| Historical Years | 2017-2021 |
| Forecast Years | 2022-2030 |
| Market Size in 2021 | $41,669.68 Million |
| Revenue Forecast in 2030 | $77,254.79 Million |
| Growth Rate | 7.10% CAGR |
| Report Scope | Market Trends, Drivers, and Restraints; Revenue Estimation and Forecast; Segmentation Analysis; Impact of COVID-19; Companies' Strategic Developments; Company Profiling |
| Segments Covered | By Type; By Technology; By End User; By Application; By Region |
Explore more about this report - Request free sample pages
Hospitals Garnered the Largest Share in Industry
With a more than 35% revenue share in 2021, the hospitals category dominated the market. This is mainly due to the increase in patients attending hospitals for the diagnosis and treatment of chronic illnesses. Most patients have required CT scans since these are necessary for disease management. In these settings, many X-ray system types, including portable and fixed, and analog and digital, are employed for diagnosis and therapy.
CT is a painless, non-invasive way for healthcare providers to diagnose conditions. It is conducted at a hospital or imaging center. It uses a series of X-rays and a computer to produce a 3D image of soft tissues and bones. It can identify the detailed overview of the body structure specifically used to identify blood clots, bone fractures, or any organ injuries. The scans are fast and detailed and are ideal for emergencies. Thus, these are widely used in hospitals.
Moreover, the market in this category is growing, due to the high prevalence of cardiovascular diseases, including coronary heart disease and diabetes. With the increase in various types of cancers like lung cancer and breast cancer among people is driving the demand for CT scanners. According to data, in January 2021, over 7.6 million individuals in the U.K. were living with heart and circulatory diseases in the country, including 4 million males and 3.6 million females.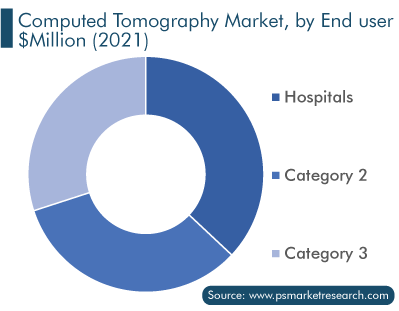 Technological Advancements Drive the Market
In the computed tomography market, CT devices have undergone considerable technological developments in the previous ten years, including the emergence of low-dose and automated CT scanners, which have benefited the diagnostic imaging sector. These tools provide surgeons and patients with superior image quality and enhanced spatial resolution, with little radiation exposure. Also, these cutting-edge CT machines are easy to install, take less space, and have a console that is easier to use. These elements are encouraging researchers and healthcare professionals in major healthcare systems to adopt such products.
Key Players in the Computed Tomography Market Are:
GE Healthcare
Canon Medical Systems Corporation
NeuroLogica Corporation
FUJIFILM Corporation
Koning Corporation
Shenzhen Anke High-tech Co. Ltd.
Siemens Healthineers AG
Market Size Breakdown by Segment
The study offers a comprehensive market segmentation analysis along with market estimation for the period 2017-2030.
Based on Type
Low slice
Medium slice
High slice
Cone beam
Based on Application
Oncology
Neurology
Cardiology
Vascular
Musculoskeletal
Based on End User
Hospitals
Diagnostic center
Geographical Analysis
North America
Europe

Germany
France
U.K.
Spain
Italy

Asia-Pacific

China
Japan
India
Australia
South Korea

Latin America
Middle East and Africa

Saudi Africa
Saudi Arabia