The global deep learning market valued $3.7 billion in 2019 and is projected to reach $102.4 billion by 2030, exhibiting a CAGR of 35.2% during the forecast period (2020–2030). Rising demand for deep learning software among contact centers and increasing focus of organizations on reducing operational costs are the major factors driving the growth of the market across the globe. Among all regions, APAC is expected to record the fastest growth in the market during the forecast period. This can be attributed to the increasing economic growth, rising investment in IT infrastructure, growing adoption of advanced technologies, and surging number of AI startups in the region.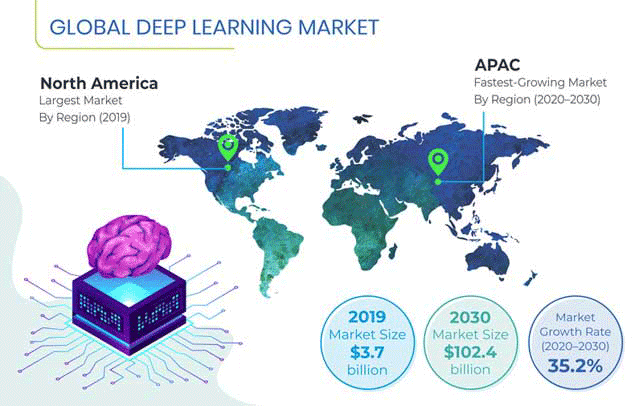 Factors Governing Deep Learning Market
Significant adoption of cloud computing platforms is observed as a major trend in the deep learning market. Cloud computing has gained traction in recent years, as it provides hosted data storage solutions, which result in substantial cost savings for an organization. Moreover, cloud computing is a suitable platform for deep learning algorithms, as the architecture offers support for virtualization and scalability and provides storage for a vast amount of data (structured and unstructured). Moreover, deep learning algorithms in cloud computing models define the ability of a system, network, or processer to manage a huge volume of data in an efficient manner, which is vital for the analysis of data sets.
Increasing adoption of deep learning software in contact centers is one of the key factors driving the growth of the deep learning market. Contact centers are among the largest adopters of deep learning algorithms, as these algorithms help in reducing call duration, improving first-call resolution, decreasing total call volume, and enhancing customer satisfaction, which, in turn, help improve business revenue. By efficiently routing calls (based on their nature) to the concerned person possessing adequate knowledge, deep learning algorithms help reduce the time required for problem resolution in contact centers.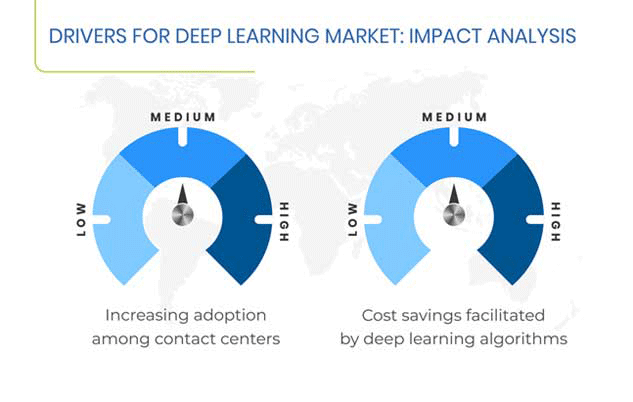 Deep Learning Market Segmentation Analysis
In 2019, hardware generated the highest revenue, among all components, in the market. This can be ascribed to the high adoption of hardware, such as graphics processing units and storage devices, which aid in training deep learning models and storing a large amount of data for deep neural networks.
The natural language processing (NLP) category, under the application segment, is expected to record the fastest growth in the deep learning market during the forecast period. This can be ascribed to the increasing need for integrating deep learning and NLP to enhance machine–human interactions. Deep learning in NLP enables chatbots and voice assistants to understand customer queries better and respond accordingly, without human intervention.
During the forecast period, deep learning solutions are expected to witness the highest demand in the healthcare industry among all industries. This is due to the increasing adoption of AI technologies, such as machine learning (ML), deep learning, and big data, in the healthcare industry to support medical professionals and researchers in data extraction and analysis for better medical outcomes.
Geographical Analysis of Deep Learning Market
Globally, North America contributed the highest revenue to the deep learning market in 2019. The market in the region is primarily driven by technological advancements, developed IT infrastructure, and rapid adoption of deep learning solutions by regional industries for various applications, such as voice assistance, product recommendation, and image recognition on social networks.
Competitive Landscape of Deep Learning Market
The deep learning market is consolidated in nature, as the majority of the market share is held by a few players, including Alphabet Inc., Amazon Web Services Inc., Microsoft Corporation, NVIDIA Corporation, and IBM Corporation. Other prominent players in the market include Samsung Electronics Co. Ltd., Intel Corporation, Qualcomm Incorporated, Baidu Inc., and SAS Institute Inc.
Recent Strategic Developments of Major Market Players
In recent years, major players in the global deep learning market have taken several strategic measures to increase their foothold. For instance, in July 2019, Intel Corporation partnered with Baidu Inc. to jointly work on Intel's Nervana Neural Network Processor (NNP). Under the partnership, both the companies agreed to work together on both the hardware and software aspects of the NNP to ensure its optimization in Baidu's PaddlePaddle deep learning framework.
Furthermore, in July 2017, Alphabet Inc. announced the acquisition of Halli Labs Pvt. Ltd., a provider of deep learning and ML systems. As part of the deal, Halli Labs Pvt. Ltd. agreed to join Google's Next Billion Users team to enhance the technology's reach among its end users.
Deep Learning Market Size Breakdown by Segment
The deep learning market report offers comprehensive market segmentation analysis along with market estimation for the period 2014–2030.
Based on Component
Hardware
Software
Service
Based on Application
Signal Recognition
Image Recognition
Data Mining
Recommendation Engine
Natural Language Processing (NLP)
Based on Industry
Banking, Financial Services, & Insurance (BFSI)
Healthcare
Automotive
Manufacturing
Retail
Geographical Analysis
North America
Europe

U.K.
Germany
France
Italy

Asia-Pacific (APAC)

China
India
Japan
Australia

Rest of the World (RoW)

Brazil
U.A.E.
Saudi Arabia