Market Overview
The global machine vision market size was valued at USD 14.4 billion in 2022, and this number is expected to increase to USD 27.86 billion by 2030, advancing at a CAGR of 8.60% during the forecast period. This is attributed to the increasing demand for quality inspection and automation in different industrial verticals; the surging R&D spending by industry giants; and technological advancements.
PC-Based System Contributes the Most
The PC-based machine vision system category accounted for a larger revenue share, of 56%, in 2022, and it is further expected to maintain its position during the predicted period. PC-based devices easily interface with image acquisition boards or direct-connect cameras and are well-supported with configurable software. These systems can be more cost-effective and easier to use for multiple camera applications. General inspection for determining the presence of parts is among the numerous camera applications. An illustration of this would be checking for studs on a car's underbody in an auto body shop.
This kind of application can require 12–18 cameras. Compared to employing separate smart cameras, PC-based vision is more affordable and simpler to operate because all cameras are connected back to the same interface. Moreover, the ability of the PC to interface with devices other than only cameras is another benefit of PC-based solutions.
A 3D image can be produced by some time-of-flight lasers that sweep across components, which is not possible with conventional CCD or CMOS cameras. Picking brake rotors out of dumpsters is one application of this. The picture shows a container full of rotors in three dimensions. To be sent to the PC-based program, this data is converted into a color-coded 2D image, and a robot receives the best pick location from the vision system.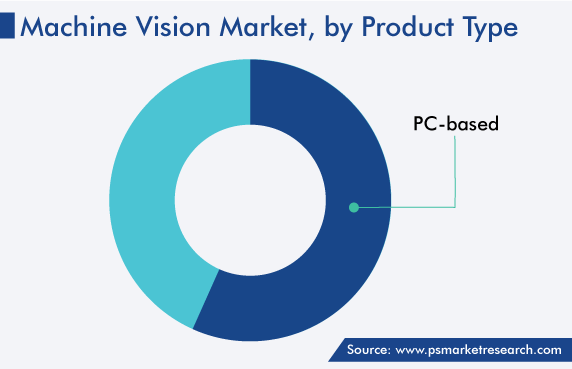 Surging Demand for Vision-Guided Robotic Systems
Industrial robots and machine vision devices are combined in vision-guided robotic systems. Due to their excellent integration, versatility, and simplicity of bin-picking capability, the systems are being implemented quickly. Although fixed robotic procedures were frequently used, industrial robots with this technology now direct goods to a certain location or portion for additional operations like pick, place, and welding.
As a result, there are now more applications for depalletizing packages that are arbitrarily stacked or combined. The manufacturing process is simplified and more cost-effective thanks to robot vision, which also results in higher-quality output. Thus, the need for vision-guided robotic systems for pick and sort applications has subsequently increased.
Robotic Cell Category To Witness Faster Growth
The robotic cell category, based on deployment type, will register faster growth, advancing at a CAGR of 9.1%, in the coming years. This can be because picking, sorting, and other production-line operations are now being performed by robots, owing to the developments of machine vision, AI, and deep learning technologies; and the surging manufacturing of line scanning devices.
Robots are also able to function in various settings, such as supermarkets, hospitals, and restaurants, owing to the combination of these technologies. For instance, a robot can navigate through busy aisles and scan products using radiofrequency identification technology to read a barcode. Such technologies are used at Amazon Go retail locations to track inventory and check consumers at the time of making a purchase.
Identification Application Held a Significant Share
Identification is an application area of machine vision that contributes significant revenue to the market. This is because identification has vast applications using machine imaging, such as traffic monitoring, camera surveillance, and number plate recognition for security purposes, as this technology offers numerous benefits and opportunities.
Software Category Will Grow at a Higher Pace
The software category will witness faster growth during the predicted period. This can be ascribed to the surging implementation of advanced technology by manufacturers, and its extensive advantages in several applications. Furthermore, using software algorithms, the solution automates challenging or tedious visual inspection tasks and precisely directs handling machinery throughout product assembly. Some of the uses include positioning, identification, verification, measurement, and error detection. A powerful machine vision software system can perform 100% of the inspection online, which boosts production yields, lowers production costs, and improves product quality. Thus, these are the key factors responsible for the market expansion in this category in the coming years.
Machine Vision Market Report Coverage

| | |
| --- | --- |
| Report Attribute | Details |
| Historical Years | 2017-2022 |
| Forecast Years | 2023-2030 |
| Market Size in 2022 | USD 14.4 Billion |
| Revenue Forecast in 2030 | USD 27.86 Billion |
| Growth Rate | 8.60% CAGR |
| Report Scope | Market Trends, Drivers, and Restraints; Revenue Estimation and Forecast; Segmentation Analysis; Impact of COVID-19; Companies' Strategic Developments; Market Share Analysis of Key Players; Company Profiling |
| Segments Covered | By Product Type; By Deployment Type; By Component; By End-Use Industry; By Application; By Region |
Explore more about this report - Request free sample pages
Industry 4.0 Developments Are Boosting Manufacturing Sector
In general, industries are expanding and placing a greater emphasis on technological advancement. Industry 4.0, often known as "The Industrial Internet of Things (IIOT)," is an emerging innovation that is helping to change the manufacturing sector. Moreover, machine vision is become an essential component of automation for the manufacturing and production industries, as it helps identify and locate defective items and enables quick and efficient intervention in the industry 4.0 factory.
On a manufacturing floor, IIOT significantly enhances productivity, improves product quality, decreases waste, increases manufacturing flexibility, lowers operational costs, and offers other advantages. This discovery has led to an increase in the use of cyber-physical systems (CPS). Manufacturers can identify and trace parts and subassemblies thanks to CPS components like sensors that collect data. Additionally, this method of data collection enables autonomous interaction, communication, and control among devices. The enormous amount of data that vision equipment collects will be also used for data analytics.
Food & Packaging Industry Holds Significant Share
The food & packaging category held significant revenue share in 2022, and it is also expected to maintain its position in the coming years. This is because such systems are used for quality assurance, positioning and guidance, measurement, and identification purposes in this industry. Moreover, the rising need for packaged food across the globe and the increasing trend of online shopping in emerging nations are boosting the demand for retail e-commerce packaging, which, in turn, requires such technology for packaging purposes.
Additionally, the per capita income has increased over the past decades, as a result of the rapid economic expansion in emerging economies, including China, India, and Indonesia. The standard of living in these nations has significantly risen along with rising income levels. The demand for packaging solutions in these nations has increased as a result of the changing lifestyle. This, in turn, has increased the use of such technology for packaging, which contributes to the market growth in this category.
On the other hand, the automotive category is expected to witness the highest growth rate in the coming years, and it also contributes significant revenue to the market. This can be ascribed to the growing automobile industry especially in emerging nations, technological advancements, and the mounting trend of EVs and autonomous vehicles across the globe.
APAC Market To Show Highest Growth
The APAC market will witness the fastest growth during the forecast period, advancing at a CAGR of 9.7%. This can be ascribed to the surging industrialization, the growing automotive and manufacturing industries, and the burgeoning adoption of robots, artificial intelligence, and machine learning by manufacturing organizations in economies such as China, Japan, and India. Additionally, surging expenditures along with measures being carried out by governments of developing nations are pushing various industry giants to set up their production facilities in the region.
China generates the majority of revenue in the regional market. This is due to the extensive manufacturing hub of electronic goods where such technology is widely used, the rising automotive sector, and high investment by international players in R&D in the nation.
North America accounted for a significant revenue share in 2022, and it is further expected to maintain its dominance during the forecast period. This is attributed to the high per capita income, the presence of industry players, technological advancements, and the increased preference for packaged food, which give rise to the usage of such technology.
Europe also accounts for a significant revenue share. This is due to the well-established automobile sector, the growing food & packaging industry, and the high adoption rate of advanced technologies in the region. In addition, Germany contributes the highest revenue to the regional market, due to the presence of a large number of automobile manufacturers in the country.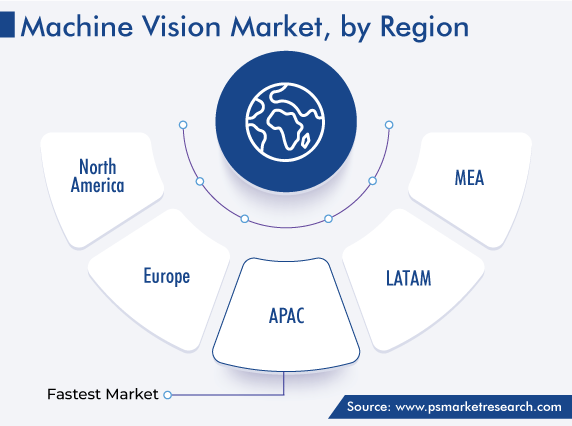 Top Machine Vision Providers Are:
Cognex Corporation
Keyence Corporation
Teledyne Technologies Incorporated
Basler AG
Omron Corporation
National Instruments Corp.
TKH GROUP
Intel Corporation
Market Size Breakdown by Segment
This fully customizable report gives a detailed analysis of the market from 2017 to 2030, based on all the relevant segments and geographies.
Based on Product Type
PC-based
Smart Cameras-based
Based on Deployment Type
Based on Component
Hardware

Camera
Frame grabber
Optics/lenses
Lighting
Processor

Software
Based on End-Use Industry
Automotive
Consumer Electronics
Electronics & Semiconductor
Glass
Metals
Wood & Paper
Pharmaceuticals
Food & Packaging
Rubber & Plastics
Printing
Machinery
Solar Panel Manufacturing
Textiles
Based on Application
Quality Assurance and Inspection
Positioning and Guidance
Measurement
Identification
Geographical Analysis
North America
Europe

U.K.
Germany
France
Italy
Spain

Asia-Pacific

China
Japan
Australia
India
South Korea

Latin America
Middle East & Africa

Saudi Arabia
South Africa