Market Overview
The global EV battery swapping for two- and three-wheeler market is estimated to have generated revenue of USD 1,212.4 million in 2023, and it is expected to witness a CAGR of 28.3% during the forecast period, to reach USD 7,477.5 million by 2030. This is because battery swapping provides several advantages, such as reduced charging time, cost-effectiveness for fleets and commercial electric vehicles (EVs), increased driving range; and the rising sales of EVs.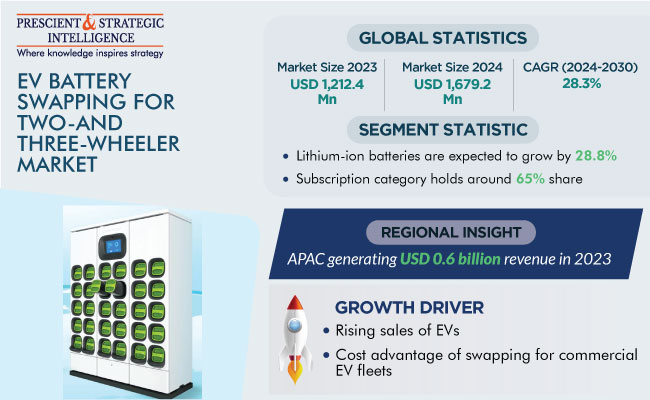 In addition, the demand for battery swapping for electric two- or three-wheelers is constantly increasing to fulfill the present and future demands of the world. Companies in the industry generally deal with swapping one battery with another in order to cater to the traveling needs of passengers while significantly lowering the downtime, thus making the EV vehicle segment more practical for commercial and ride-sharing purposes.
Moreover, the implementation of highly innovative batteries in EVs supports rapid charging and swapping, which are generally highly profitable and extend their life 25% longer as compared to old conventional charged vehicles. Also, these batteries usually have a 50% longer life than lead acid batteries. Thus, the long-run life and high e-mobility act as propellant drivers for the growth of the market.
Subscription Category Dominates the Industry
The subscription model in the battery swapping industry holds a larger revenue share. This is due to its high sustainability and easier accessibility at a lower cost in comparison to the pay-per-use model. Today, most battery-swapping providers take this method into account for providing effective battery-swapping services, equipped with higher flexibility and affordability, luring customers' preference for the subscription model. Mostly batteries in two- or three-wheeler EVs count for 30–40% of their total cost. This model offers the choice to buyers to purchase vehicles and rent out batteries, thus lowering the cost of EVs.
Demand for Lithium-Ion Batteries To Witness Faster Growth
It has been estimated that the demand for Li-Ion batteries will rise at a higher CAGR, of 28.8%, during the forecast period. This can be ascribed to their easy accessibility, more energy with the same volume, rapid charging features along with efficient and scalable energy storage, supporting the integration of renewable energy in developing a green world.
Furthermore, these batteries have replaced liquid electrolytes used in traditional batteries with solid electrolytes. Also, gauging into the future, it is expected that all electric two-wheelers sold worldwide will have Li-Ion batteries. Furthermore, government support is another important factor boosting the sales of the Li-Ion battery-based low-speed electric vehicles. Thus, these factors are expected to support the growth of the market in this category in the coming years.
EV Battery Swapping for Two- and Three- Wheeler Market Report Coverage

| | |
| --- | --- |
| Report Attribute | Details |
| Market Size in 2023 | USD 1,212.4 Million |
| Market Size in 2024 | USD 1,679.2 Million |
| Revenue Forecast in 2030 | USD 7,477.5 Million |
| Growth Rate | 28.3% CAGR |
| Historical Years | 2017-2023 |
| Forecast Years | 2024-2030 |
| Report Scope | Market Trends, Drivers, and Restraints; Revenue Estimation and Forecast; Segmentation Analysis; Impact of COVID-19; Companies' Strategic Developments; Market Share Analysis of Key Players; Company Profiling |
| Segments Covered | By Service Type; By Battery Type; By Vehicle Type; By Region |
Explore more about this report - Request free sample pages
Two-Wheeler Category Dominates the Market
Based on vehicle type, the two-wheeler category holds a larger revenue share and it is expected to grow at a CAGR of 28% during 2024–2030. This is because electric two-wheeler vehicles, which include electric bikes, scooters, and bicycles, are widely used across the world; the increasing investments by governments for improving and innovating the electronic environment infrastructure with the strong will to protect the environment; and the rising number of collaborations between governments and private companies to develop battery-swapping stations for cheaper and effective use across the globe.
Additionally, the two-wheeler market's maneuverability with affordability, urban friendliness, and ongoing sustainable enhancements boost this category to maintain its prominence as a practical, budget-friendly, and convenient mode of transportation. Thus, addressing concerns like limited battery life and range anxiety more effectively is driving the demand for battery swapping for two-wheelers.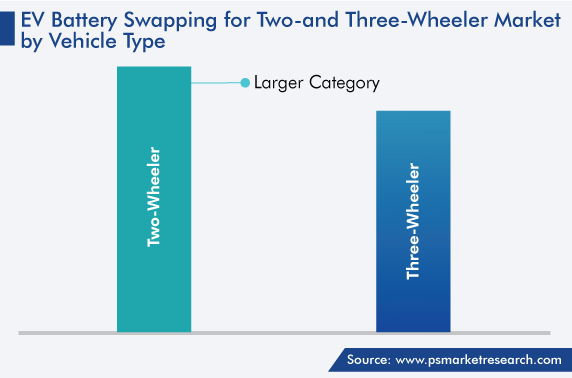 APAC Is the Market Leader
Globally, APAC is the largest market for EV battery swapping, which is projected to witness a tremendous bloom, specifically in Taiwan, India, and China, in the coming years. This is mainly because of the high population and easy accessibility of electric two- and three-wheelers, either for transportation of passengers or materials at comparatively lower prices.
Moreover, China's battery swapping industry holds a maximum revenue share globally; the development of effective battery-swapping solutions in Taiwan; and the green initiatives taken by governments of many Asian countries to reduce their carbon footprints, are driving the demand for electrical battery-swapping solutions in the region.
Whereas, the European market is projected to witness the fastest growth in the coming years. This can be due to the surging focus on extending the bars of enhancing the efficiency of transport systems in the region and the increasing popularity of e-scooters in Europe.
In addition, the LAMEA market, which includes Columbia, Peru, Kenya, and Brazil, is projected to witness significant growth in the coming years. This can be because countries across LAMEA are focusing on improving electronic infrastructure by increasing the electrification of public transport in order to fulfill the surging need to reduce environmental crises and curb problems like traffic congestion and pollution.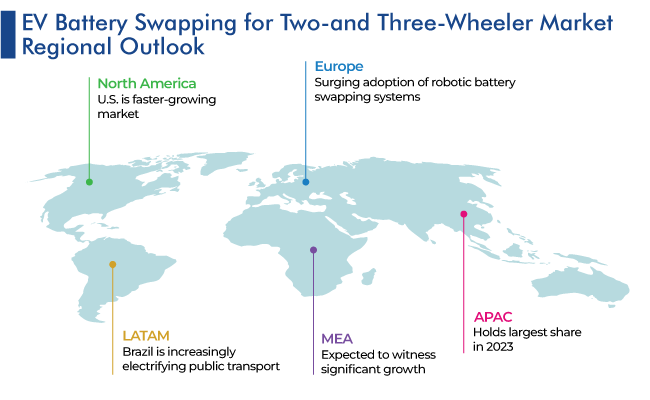 Robotic Systems Transforming the EV Battery Swapping Market
The surging adoption of robotic systems in collaboration with artificial intelligence and augmented reality has proved to be a clear and efficient factor for improving the battery swapping industry, as these make battery-swapping services highly atomized with faster, safer, and more convenient applications. The robotic technology can transfer one battery to another with high proficiency and a declining time frame in less than 2 minutes. Thus, making it optimum and cost-effective for both light and small two- or three-wheeler electric vehicles.
Moreover, this system enhances the accessibility and efficiency both, due to its 24/7 operations, providing round-the-clock services to EV users. The indulgence of AI and robotics in battery swapping helps in efficiently managing battery inventory and recycling old batteries thus making it more environmentally friendly.
Emergence of EV Scooters Conquering Consumer Base
Electric scooters are increasingly catering to the traveling needs of people. The ease of use with sharing fleets involved in the industry generally fulfills the needs of multiple EV consumers at affordable prices. This results in more frequent battery recharging and swapping requirements, which, in turn, increase the number of battery-swapping stations across the world. For example, in September 2022, NIO inaugurated the first battery-swapping station, a fully automatic battery replacement facility, in Zusmarshausen, Germany, which is capable of performing up to 312 power conversion services with ease.
Key Players Offering EV Battery Swapping Services for Two- and Three-Wheelers Are:
NIO Inc.
Gogoro Inc.
Tesla Inc.
SUN Mobility Private Limited
BYD Co. Ltd.
Kwang Yang Motor Co. Ltd. (KYMCO)
Panasonic Corporation
Lithion Power Private Limited
Oyika
Esmito Solutions Pvt Ltd
Market Size Breakdown by Segment
This report offers deep insights into the EV battery swapping for two- and three-wheeler market, with size estimation for 2017 to 2030, the major drivers, restraints, trends and opportunities, and competitor analysis.
Based on Vehicle Type
Two-Wheeler
Three-Wheeler
Based on Battery Type
Based on Service Type
Geographical Analysis
North America
Europe

Germany
France
U.K.
Italy
Spain

Asia-Pacific

Japan
China
India
Australia
South Korea

Latin America
Middle East and Africa

Saudi Arabia
South Africa