Market Overview
The global e-bikes market size stood is estimated at $40,664 million in 2022, and it is expected to advance at a compound annual growth rate of 10.4% during 2022–2030, to reach $89,736 million by 2030.
The growth of the market is ascribed to the cost-efficiency and environment-friendliness these automobiles offer for public transport, government support and incentives, rising health concerns, increasing urbanization rate, and growing infrastructure in various countries. E-bikes are lightweight, easy to charge and operate, and less expensive than other electric and gasoline two-wheelers, which makes them one of the best options for micromobility.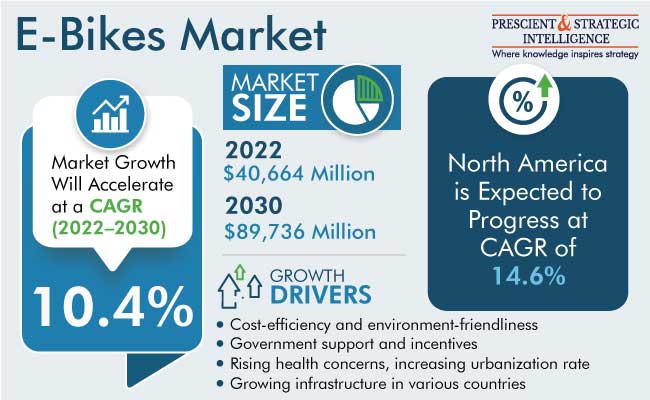 Lithium-Ion Battery Is Expected To Be Fastest-Growing
The lithium-ion battery category is set to grow at a CAGR of 13.9% in the forecast period. The market growth will mainly be due to these batteries' fast charging, safety, nearly 55% lower weight than other batteries, which helps reduce the vehicle weight; high output, and long life. In addition, as per the Global Change Data Lab article, since 1991, lithium-ion battery prices have fallen by 97%, reducing by an average of 19% every time their capacity has doubled.
However, the usage of SLA batteries is projected to decline over the next few years because they take more than 9 hours to charge, whereas lithium-ion batteries take nearly 3. Moreover, the lead–acid battery is overweight and discharges rapidly, which will also impacts the development of the market. For instance, China is the world's largest lead–acid battery producer, and hence, market players might be strongly affected here.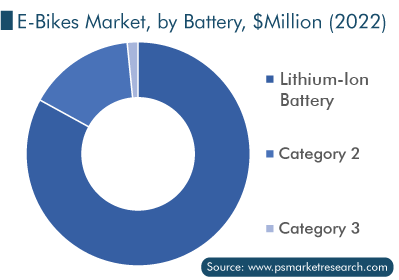 Pedal-Assisted Variants Hold Larger Share and Throttle-Assisted Bikes Will Grow Faster
The pedal-assisted category held the larger market share in 2022. The motor of such e-bikes helps riders complement the energy output of the pedal, to increase the speed. Additionally, these bikes are widely used on hills, inclines, and rough terrain, for a smoother ride and lesser stress on the joints, as the motor increases the power output. These variants can also have a longer battery life, as people have the option of pedaling them like regular cycles and only using the motor when necessary.
For instance, the Meraki S7, launched by Ninety-One Cycles in February 2022, offers five pedal-assist modes.
The throttle-assisted category is expected to grow at a CAGR of 13.8% in the forecast period. The surge is primarily ascribed to an increase in the use of throttle-assisted e-bikes because they eliminate the need for manual pedaling, by sending power from the motor directly to the wheels. There are different types of throttle-assisted bikes, such as twist throttle, thumb throttle, and push-button throttle.
Less than or Equal to 250 W Category Will Grow Significantly
The less than or equal to 250 W category is expected to have a significant CAGR over the next few years. This is because e-bikes with a power output in this range are widely used in cities, along with on rough areas, such as hills and steps, for fitness purposes. Some of the OEMs that offer ≤250W motors for e-bikes are Bosch, Brose, and Shimano.
Increasing Integration of Smartphone Apps into E-Bikes
The global e-bikes industry is witnessing the integration of smartphones with these bicycles. When integrated with an e-bike, the smartphone can provide real-time information related to speed, battery status, rear views, navigation, heart rate, and other aspects to riders. For instance, Robert Bosch GmbH has developed COBI.Bike smartphone integration solution for these vehicles. It has a smartphone charging function, and it can be attached on the handle, to make it an onboard computer. Riders are increasingly using such solutions for connecting their smartphones with their e-bikes.
Government Subsidies and Financial Incentives
The subsidies and tax rebates given to customers by governments across various countries for buying eco-friendly automobiles are providing a boost to the growth of the global e-bikes market. Subsidies in the form of discounts or reductions in the price of electric bicycles are encouraging more people to purchase them, thus driving the global e-bikes market.
For instance, in 2022, the Delhi government granted subsidies ranging from INR 5,500 to INR 15,000 (up to 25% of the sales price) per e-bike to all citizens. Moreover, in January 2021, the U.S. government passed the Bicycle Commuter Act, directing employers to offer tax benefits to employees who regularly go to work on e-bikes with a motor offering under 750 W of power. In addition, more than 80% of all the e-bicycles in the world are sold in China, which now has more e-bicycles than cars.
E-Bikes Market Report Coverage

| | |
| --- | --- |
| Report Attribute | Details |
| Historical Years | 2017-2022 |
| Forecast Years | 2023-2030 |
| Market Size in 2022 | $40,664 Million |
| Revenue Forecast in 2030 | $89,736 Million |
| Growth Rate | 10.4% CAGR |
| Report Scope | Market Trends, Drivers, and Restraints; Revenue Estimation and Forecast; Segmentation Analysis; Impact of COVID-19; Companies' Strategic Developments; Market Share Analysis of Key Players; Company Profiling |
| Segments Covered | By Ownership; By Type; By Battery Type; by Power; by Application; By Region |
Explore more about this report - Request free sample pages
Environmental and Health Concerns
The rising level of pollution in many countries, which has become a serious concern for the people, has given a boost to the need for green-technology-powered vehicles. Various countries have set targets to increase the sales of electric vehicles, such as bikes, scooters, and cars, to reduce pollution. Additionally, people use pedal-assist e-bikes more than other low-speed electric two-wheelers in many countries, which is propelling the sales of e-bikes. Hence, the increasing use of e-bikes due to the concerns of people over environmental and health degradation is increasing their overall share in global EV sales.
Increasing Urban Road Congestion
The rising population in cities has led to an increase in the number of daily commuters, consequently resulting in huge traffic jams and roadblocks, especially in the peak hours. Countries are, thus, looking to introduce alternatives in order to combat this problem. For example, Mexico, Switzerland, France, and Japan are encouraging daily commuters to use e-bikes as a solution to the first- and last-mile connectivity problems. This can make a major contribution in reducing traffic congestion, as these automobiles are compact, take up lesser area, and require smaller parking spaces, thus making adequate space available for walkers.
Product Sales in North America To Grow Significantly
North America is expected to grow at a CAGR of 14.6% over the forecast period. The growth is ascribed to the rising preference for these two-wheelers for short-distance traveling and off-road activities, such as mountain biking.
In addition, the California Air Resources Board will launch an incentive program in 2023, under which qualifying applicants will get a coupon of $750 to $1,250 for a standard e-bike and up to $1,500 for a cargo or adaptive model. People whose earnings are under 225% FPL or who live in underprivileged communities are eligible for extra incentives.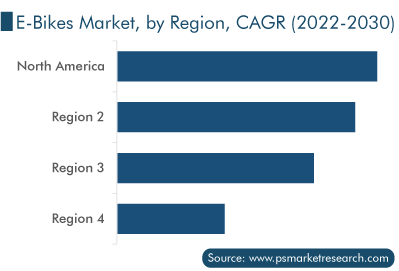 High Adoption of Shared E-Bikes
The bike sharing market is growing at a steady rate, as such services are being accepted by commuters in the U.S., Spain, Switzerland, Germany, and many other countries. It is mainly due to the higher convenience shared mobility offers and the higher speed of e-bikes than unpowered bicycles. Additionally, governments are introducing targets at the city level to expand e-bike fleets, which represents a huge growth opportunity for manufacturers. For instance, Mexico City has recently established a goal of 30% of the bikes in both public and private sharing systems to be electric by 2030.
Key Players in Global E-Bikes Market Are:
Accell Group N.V.
Yadea Group Holdings Ltd.
Giant Manufacturing Co. Ltd.
AIMA Technology Group Co. Ltd.
Zhejiang Luyuan Electric Vehicle Co. Ltd.
Jiangsu Xinri E-Vehicle Co. Ltd.
Dongguan Tailing Electric Vehicle Co. Ltd.
Trek Bicycle Corp.
Yamaha Motor Co. Ltd.
Merida Industry Co. Ltd.
Electric Bike Market Size Breakdown by Segment
The report analyzes the impact of the major drivers and restraints on the market, to offer accurate market estimations for 2017–2030.
Based on Ownership
Based on Type
Pedal-Assisted
Throttle-Assisted
Based on Battery Type
Lithium-Ion Battery
Lead-Acid Battery
Based on Power
Less than or Equal to 250 W
Above 250 W
Geographical Analysis
North America
Europe

Germany
U.K.
France
Italy
Spain

Asia-Pacific

Japan
China
India
South Korea
Australia

Latin America, Middle East, and Africa