Market Overview
The electric powertrain market size stands at an estimated USD 95.9 billion in 2023, and it is expected to witness a compound annual growth rate of 13.1% during 2024–2030, to reach USD 226.3 billion by 2030.
The rising demand for electric vehicles and the various initiatives taken by governments across the globe for greenhouse gas emission reduction are some of the major forces propelling the market expansion.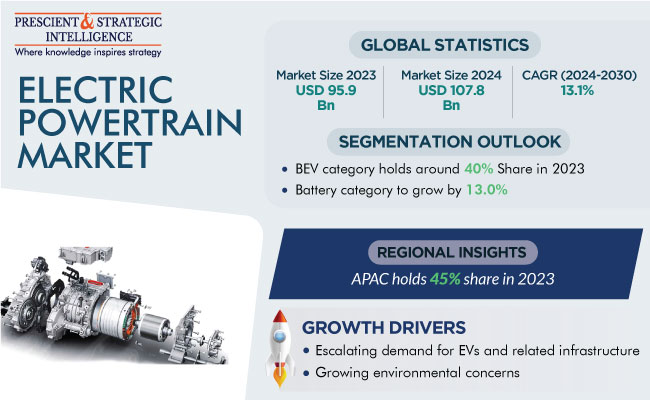 An electric powertrain is a system made up of components, such as battery packs, traction motors, inverters, power delivery modules, and on-board chargers, used for powering EVs. A battery management system (BMS) is also an important component as it ensures the safe and efficient operation of batteries, by monitoring the parameters associated with them.
Escalating Demand For EVs And Related Infrastructure Would Drive Market
The demand for conventional vehicles with internal combustion engines is declining, and the popularity of EVs has been growing considerably over the years. This can be ascribed to the rising environmental concerns, availability of advanced technological features in ZEVs, and government incentives for the adoption of electric mobility. According to a report by an inter-government agency, in 2022 itself, more than 10 million electric cars were sold globally.
Traditional combustible engines are dependent on fossil fuels, most commonly diesel and gasoline, thereby leading to the emission of various harmful greenhouse gases. Therefore, the electrification of vehicles aids in reducing the carbon footprint. EVs offer several other advantages, such as low running and maintenance cost, in addition to the tax advantages and incentives offered by the government in respective countries.
However, EV users need access to charging stations, which are commonly installed in a garage or parking lot and comprise EVSE ports and connectors. Charging infrastructure is being developed so that people can refuel their EV batteries on the go, thus promoting the adoption of such automobiles.
The governments of developing nations, such as India and China, are providing subsidies for the installation of charging stations. More importantly, they have launched several schemes for promoting the manufacturing and buying of electrified two-wheelers, three-wheelers, buses, and cars. Similarly, in the European Union, a target to have about 1 million publicly accessible EV chargers by 2024 has been set.
Hence, with the burgeoning manufacturing of electric vehicles, the demand for electric powertrains will increase proportionately.
Growing Environmental Concerns
There are several legislations around the world concerning environmental health and safety. For instance, in India, the Corporate Average Fuel Efficiency/Economy norms mandate that for every auto manufacturer, carbon emissions should be less than 130 g/km till 2022 and less than 113 g/km after 2022. Similarly, in April 2023, the Environmental Protection Agency of the U.S. introduced certain standards to reduce emissions from both light- and medium-duty vehicles from the model year 2027.
Furthermore, in April 2023, the European Parliament adopted an amended regulation for upgrading the carbon emission performance standards for new passenger cars and light commercial vehicles, to achieve climate goals. The amended regulation would aid in the reduction of emissions by more than 50% by 2030 from the levels in 1990, as well as in attaining carbon neutrality by 2050.
Hence, the gradual inclination of governments toward safeguarding the environment drives the demand for EVs, which will, subsequently, propel the electric powertrain market growth in the coming years.
Electric Powertrain Market Report Coverage

| | |
| --- | --- |
| Report Attribute | Details |
| Market Size in 2023 | USD 95.9 Billion |
| Market Size in 2024 | USD 107.8 Billion |
| Revenue Forecast in 2030 | USD 226.3 Billion |
| Growth Rate | 13.1% CAGR |
| Historical Years | 2017-2023 |
| Forecast Years | 2024-2030 |
| Report Scope | Market Trends, Drivers, and Restraints; Revenue Estimation and Forecast; Segmentation Analysis; Impact of COVID-19; Companies' Strategic Developments; Market Share Analysis of Key Players; Company Profiling |
| Segments Covered | By Component; By Vehicle Type; By Region |
Explore more about this report - Request free sample pages
Battery Category Is Likely To Dominate Market
The battery category, under the component segment, is likely to dominate the market and grow at a CAGR of 13.0% during the projection period.
The battery is one of the major components of electric automobiles and has a significant cost weightage. Thus, the surge in the demand for EVs is likely to propel revenue generation from the sale of traction batteries. Additionally, there are different types of batteries for EVs, such as lithium-ion batteries, nickel–metal hydride batteries, lead–acid batteries, and ultracapacitors, among which lithium-ion batteries are becoming increasingly common.
While driving, these power sources discharge, and then, the vehicle is plugged into a charging station. Manufacturers of vehicles provide a warranty on batteries, in terms of years or miles. Additionally, companies in North America are investing to set up plants for cathode manufacturing, to ensure a smooth supply chain for EV batteries.
The establishment of battery manufacturing units would, additionally, aid in creating job opportunities for people. Several nations are allowing private investments to build a conducive environment for promoting electrified means of transport, so that its adoption can be promoted among the residents.
BEV Category To Exhibit Substantial Growth Trends
The battery electric vehicle (BEV) category, under segmentation by vehicle type, held the largest market share during the historical period, and it is likely to advance at a CAGR of 13.2% during the projection period. The growth can be attributed to the fact that these variants bring about a significant reduction in carbon emissions and, hence, receive the strongest policy and monetary support from governments. BEVs do not have engines and, instead, run on rechargeable batteries, thereby emitting minimal-to-zero amounts of greenhouse gases and other air pollutants. Thus, they are a clean and efficient means of transport with an added advantage of minimal-to-zero noise pollution.
To ensure considerable penetration of these environment-friendly vehicles, governments are taking several initiatives, such as spreading awareness, providing tax benefits, and upgrading the charging infrastructure. This is being done so that users do not face any issue due to depleted battery and unavailability of charging stations while traveling long distances.
For instance, in India, FAME is a scheme through which the government has allocated approximately $101.9 million (INR 800 crore) to oil companies for setting up charging stations. Private investments are also being encouraged for setting up efficient charging infrastructure, by allowing 100% FDI. Moreover, the introduction of DC fast chargers will aid in reducing the time EVs sit idle, which is of special importance for fleet owners.
Furthermore, China has made an announcement regarding the implementation of a digital infrastructure public spending program worth USD 1.4 trillion, wherein funds for charging stations will be dispersed.
Other variants, such as hybrids, plug-in hybrids, and fuel cell automobiles, also utilize electric powertrains, either on their own or in combination with ICEs or a hydrogen fuel cell. Thus, the growing investments in building and upgrading the necessary EVSE, for aiding in the penetration of EVs, is likely to propel the demand for electric powertrains.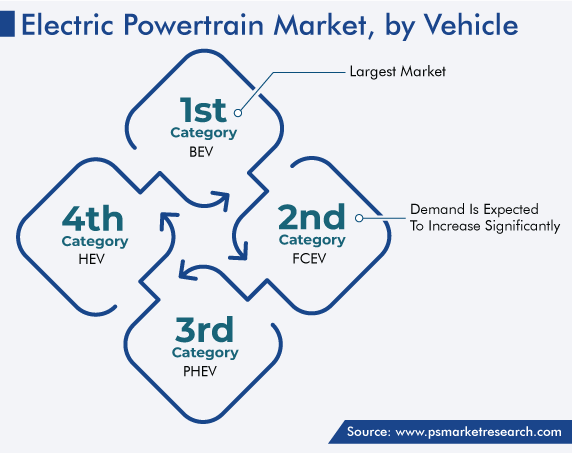 APAC Region Holds Major Market Share
The APAC region holds the largest share, of 45% in 2023. This can be attributed to the growing popularity of EVs, presence of numerous automotive and auto component manufacturing facilities, and support from the government for sustainable transportation.
According to a report by an inter-government agency, in India, more than 50% of the total three-wheelers registered in 2022 were electric ones. The electrification of two-wheelers as well as three-wheelers is more than of cars in developing nations as the former two are a cost-effective means of last-mile transport. Additionally, China is considering a ban on the usage of two-wheelers and three-wheelers with an internal combustion engine in some cities.
Additionally, EV manufacturing is quite concentrated in China; hence, the country's share in the overall export of electric cars is significant. Additionally, it has dominance on the production and supply of raw materials, such as the minerals for anodes and cathodes, that are used in EV batteries. Additionally, new plants are being constructed for manufacturing solid-state lithium-ion batteries.
The North American and European regions are also likely to exhibit considerable growth in the coming years. They are already proposing new as well as revised regulations for emission reduction and carbon neutrality. For instance, the European Union aims at setting a zero-emission target for cars and vans starting from 2035. Moreover, it has launched a crediting system for manufacturers, who receive some relaxation in their emission target if their sales of EVs with specific emission levels cross a certain benchmark.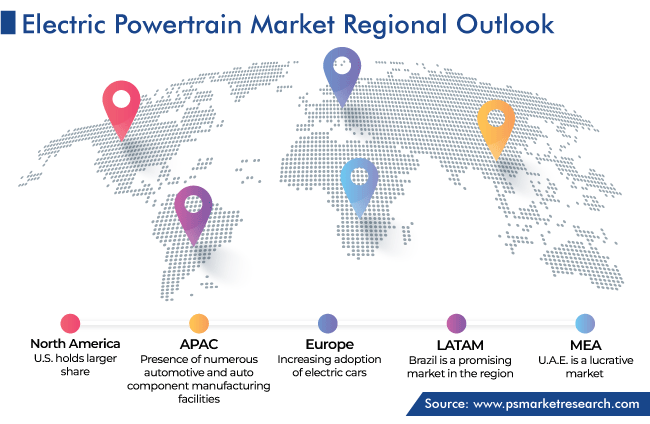 Essentially, in Europe, electric powertrain demand is expected to grow owing to the increasing adoption of electric cars. According to an article published by the respective regional environmental agency, more than 20% of the total new car registrations in 2022 were of electrified cars.
Some Top Companies Operating in Electric Powertrain Market Are:
Robert Bosch GmbH
Mitsubishi Electric Corporation
BorgWarner Inc.
ZF Friedrichshafen AG
Dana TM4 INC.
Magna International Inc.
Marelli Holdings Co. Ltd.
Schaeffler AG
AISIN CORPORATION
hofer powertrain
Market Size Breakdown by Segment
The report analyzes the impact of the major drivers and restraints on the electric powertrain market, to offer accurate market estimations for 2017–2030.
Based on Component
Motor/Generator
Battery
Battery Management System (BMS)
Controller
Power Distribution Module (PDM)
Inverter/Converter
On-Board Charger
Based on Vehicle
Geographical Analysis
North America
Europe

Germany
U.K.
France
Italy
Spain

Asia-Pacific

Japan
China
India
South Korea
Australia

Latin America
Middle East and Africa

Saudi Arabia
South Africa
U.A.E.