Market Overview
The global cell-to-pack battery market revenue is estimated at USD 5,412.1 million in 2023, which is predicted to reach USD 27,871.9 million by 2030, growing at a CAGR of 26.8% during 2024–2030.
This is due to the extensive use of these batteries in electric vehicles, driven by the growing environmental concerns and surging pollution levels globally. This leads to an increase in the demand for high-energy density batteries, which could extend the driving range. Governments globally are mandating the usage of electric buses in urban areas to mitigate pollution, which is also boosting the demand for cell-to-pack batteries.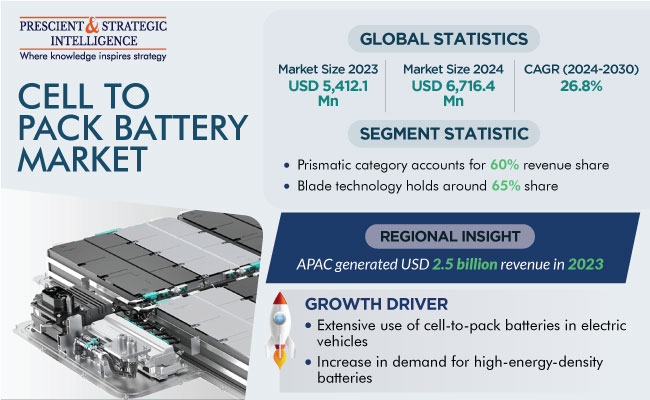 Such power sources are produced without the use of modules. In a traditional battery pack, the cells are grouped together into modules and then connected in series or parallel, to achieve the desired voltage and energy capacity. In the cell-to-pack technology, the cells are directly connected to each other, in order to make the overall system more compact and lightweight. CTP batteries are more efficient as there are fewer connections between cells, which reduces the risk of electrical resistance. Moreover, they are more economical to produce, because of a simpler manufacturing process.
The market is experiencing growth because these components provide higher energy densities, as there is no space wasted on modules, which also helps in developing longer-range electric vehicles. BYD, a Chinese automaker and battery manufacturer, has been producing these systems on a large extent and working on enhancing their performance, having achieved significant results in this regard. It has developed a high-performance sedan, named BYD Han EV, which is capable of going 605 kilometers on a single charge.
Moreover, due to these batteries' lightweight nature and lower cost of production, they are being extensively used in electric vehicles. Additionally, larger cells are being used to make these systems more compact and efficient. CATL, a prominent Chinese battery manufacturer, has developed numerous new CTP technologies by using prismatic cells. In the same way, Tesla has been developing these power sources for its electric vehicles and has announced that it will use them in its future models. It has already launched its first electric semi-truck, which is powered by four independent motors and can go 500 miles on a single charge.
Surging Demand for EVs and Strict Emission Regulations Drive Market
The market is primarily being driven by the increase in the demand for electric vehicles globally. This is itself due to the rising environmental concerns and the government incentives promoting clean-energy transportation. CTP batteries are widely used in electric vehicles owing to their superior energy density, longer driving ranges, and reduced charging times. The EV market will grow significantly in the near future as they are the best option in view of sustainable development. They produce zero emissions, which aligns with the strict emission regulations being imposed by governments worldwide. Countries are also offering incentives on the purchase of electric vehicles and taking steps in the direction of the electrification of public vehicles and adoption of energy storage solutions. Cell-to-pack batteries play an important role in complying with these regulations, which, in turn, leads to their increasing adoption.
Moreover, the cost of batteries is a crucial factor in the adoption of electric vehicles and energy storage systems. The CTP technology has eliminated the need for modules and simplified the assembly process, thus resulting in lower manufacturing costs. This aids in the widespread integration of these systems in heavy-duty electric trucks and buses. E-commerce companies, including Amazon, eBay, and Alibaba, are planning to transform their transportation fleets into electric ones, in view of their corporate social responsibility and to improve their brand image. This will create an immense demand for long-range electric trucks, which, in turn, will boost the market growth.
Additionally, long-term supply contracts and the innovations in batteries are expected to offer lucrative opportunities. Research and development are being done to make cell-to-pack batteries a viable alternative. For instance, LG Energy Solution announced at KABC 2022 that it has completed the development of its high-nickel pouch-type battery using the CTP technology. It now targets to begin mass production by 2025.
Prismatic Form Dominates Market
The prismatic category accounts for the largest revenue share, of 60%, and it is expected to grow at a significant CAGR, of around 28%, during the prediction period.
This is because prismatic cells are more uniformly shaped, which is why designing effective thermal management systems becomes simpler. A single prismatic cell has the ability to hold energy equal to 20 to 100 cylindrical cells. Especially in high-power applications, efficient thermal management is essential to preventing overheating and extending the battery's life. A simple battery pack construction and effective automated manufacturing procedures are made possible by the prismatic cell design, which can lead to higher production volumes and cost reductions.
Effective space utilization inside the battery pack can be achieved by closely packing prismatic cells together. In electric cars and portable electronics, this can be useful when attempting to optimize the energy storage capacity in a controlled volume. Prominent battery manufacturer Panasonic Holdings Corporation is collaborating with Toyota Motor Corporation for automotive prismatic batteries. Moreover, although prismatic batteries have some benefits, pouch and cylindrical cells are also good form factors. The specific application requirements, manufacturing issues, cost considerations, and changing technological trends all influence the choice of battery form factor.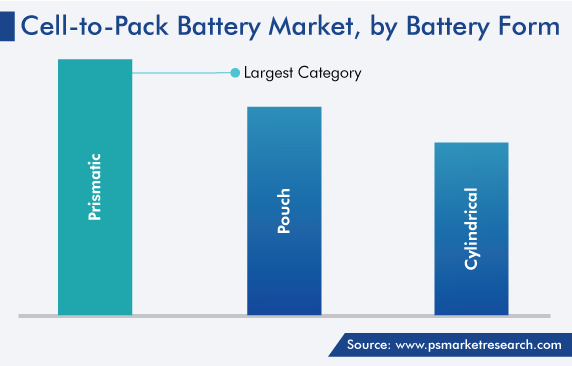 Blade Category Held Largest Share
The blade category holds the largest revenue share, of 65%, in the battery technology segment.
This is because these variants are more economical than traditional ones as they have fewer components, which leads to reduced costs of manufacturing. Additionally, they do not require modules, and the cells are directly connected in series or parallel, which is responsible for their compact size and economical nature. BYD developed the blade battery and also patented it. The company sold 87,000 and 7,000 pieces of BYD Han EV and BYD Tang, respectively, in the domestic market in 2021. It is now planning to develop more models, which, in turn, would create a massive demand for blade batteries, thus propelling the market in this category.
Moreover, the company has expanded the reach of its EVs across the world. The models e6 MPV and Atto 3 are available in India. Moreover, Maruti Suzuki and Toyota have said that they will use the blade batteries produced by BYD in their future EV models in India by 2025. Moreover, BYD Tang has been launched in Norway and Germany.
CTP Battery Market Report Coverage

| | |
| --- | --- |
| Report Attribute | Details |
| Market Size in 2023 | USD 5,412.1 Million |
| Market Size in 2024 | USD 6,716.4 Million |
| Revenue Forecast in 2030 | USD 27,871.9 Million |
| Growth Rate | 26.8% CAGR |
| Historical Years | 2017-2023 |
| Forecast Years | 2024-2030 |
| Report Scope | Market Trends, Drivers, and Restraints; Revenue Estimation and Forecast; Segmentation Analysis; Impact of COVID-19; Companies' Strategic Developments; Market Share Analysis of Key Players; Company Profiling |
| Segments Covered | By Battery Form; By Battery Technology; By Vehicle Type; By Battery Type; By Propulsion, By Region |
Explore more about this report - Request free sample pages
Asia-Pacific Dominates Market
In 2023, the APAC region accounts for the highest revenue, of USD 2.5 billion, and it will witness a considerable CAGR, of 30%, to continue its dominance during the prediction period.
This is attributed to the presence of prominent battery manufacturers and the surging demand for EVs in the region. The increasing population and pollution levels have created an immense need for sustainable practices. Additionally, China has a significant part in the growth of the cell-to-pack battery market in this region as it is the leading producer of these power sources and EVs across the world.
CATL has developed numerous battery technologies and is working with well-known automakers, including BMW and Tesla, in order to develop advanced electric vehicles. BYD has also developed an advanced blade battery technology, which is being used in new electric cars. It has partnered with Toyota and Hyundai in order to develop new electric vehicles using this technology.
Moreover, governments in this region are providing financial incentives and other forms of support to promote the development and adoption of EVs. India's EV industry is also growing owing to technological advancements and the surging need for electric vehicles. Moreover, electric bus usage is growing in the highly populous cities due to the rising pollution levels and increasing population. The surging demand for electric mobility to achieve zero emissions, huge investments by automotive manufacturers, and government policies propel the sale of electric vehicles and, in turn, of CTP batteries in the region.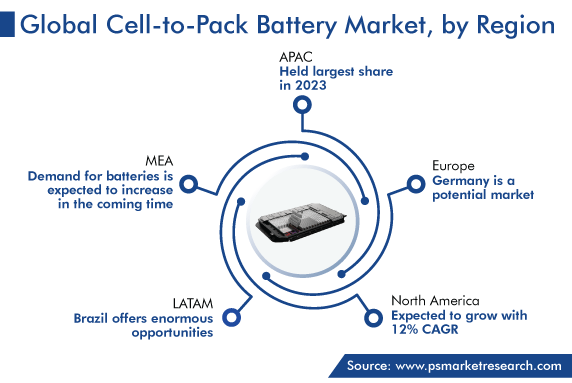 Top Companies Manufacturing Cell-to-Pack Batteries Are:
CATL
Amperex Technology Co. Limited
BYD Company Ltd.
LG Energy Solution
Tesla Inc.
XPENG Inc.
C4V
Sunwoda Electric Co. Ltd.
Panasonic Holdings Corporation
Samsung SDI Co. Ltd.
Market Size Breakdown by Segment
This report offers deep insights into the market, with size estimation for 2017 to 2030, the major drivers, restraints, trends and opportunities, and competitor analysis.
Based on Battery Form
Prismatic
Pouch
Cylindrical
Based on Battery Type
Lithium-Iron Phosphate (LFP)
Nickel–Manganese–Cobalt (NMC)
Based on Vehicle Type
Passenger Cars
Commercial Vehicles
Based on Propulsion
Based on Battery Technology
Geographical Analysis
North America
Europe

U.K.
Germany
France
Italy
Spain

Asia-Pacific

China
Japan
India
South Korea
Australia

Latin America
Middle East & Africa

South Africa
Saudi Arabia
U.A.E.