Market Overview
The global battery technology market size stood at USD 101.44 billion in 2022, which is expected to reach USD 176.92 billion by 2030, advancing at a CAGR of 7.2% between 2022 and 2030. The industry is expanding as a result of increasing demand for automotive applications and the rising need for consumer electronics, such as LCDs, smartphones, tablets, and wearable technology like fitness bands.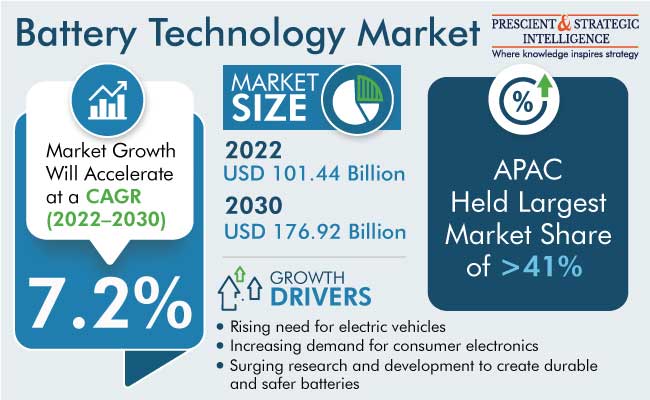 Moreover, the market is expected to significantly expand in the coming years, as a result of technological advancements in terms of increased efficiency, cost-effectiveness, and product innovation. Additionally, manufacturers are doing research and development to create durable and safer batteries because data centers have a high need for sophisticated batteries.
Increasing Advancements in Smart Electronic Devices
Due to the constantly expanding need for watches, toys, remote controls, and electronic keys around the world, the demand for battery technologies is projected to have high growth. Primary batteries are used in these items. Furthermore, it is predicted that the surging need for secondary and solid-state batteries in the automotive and aviation industries would propel the growth of the market.
Government efforts to reduce vehicle carbon emissions are propelling the sales of electric vehicles and the usage of renewable energy. For instance, the U.S. government has supported the electric vehicle (EV) and renewable energy industries, which has increased the need for battery energy storage systems (BESSs) and battery management systems (BMSs), mostly driven by lithium-ion batteries. EVs are increasingly adopted throughout the country. Along with other nations like Canada, which has already started upgrading its transportation infrastructure for electric vehicles, the U.S. is one of the top-selling markets for electric automobiles globally.
In addition, due to the considerable usage of fuel cells in the electric automobile and renewable energy sectors, it is projected that the demand for battery technologies would rise in the coming years. Also, the expanding corporate and governmental activities for the transition to various renewable energy sources are therefore expected to result in a significant requirement for this technology in the years to come. It is used in many automation systems and different battery-operated equipment in various sectors. Therefore, it is predicted that widespread usage of these technologies would significantly fuel the expansion of the market.
Battery Technology Market Report Coverage

| | |
| --- | --- |
| Report Attribute | Details |
| Historical Years | 2017-2022 |
| Forecast Years | 2023-2030 |
| Market Size in 2022 | USD 101.44 Billion |
| Revenue Forecast in 2030 | USD 176.92 Billion |
| Growth Rate | 7.2% CAGR |
| Report Scope | Market Trends, Drivers, and Restraints; Revenue Estimation and Forecast; Segmentation Analysis; Impact of COVID-19; Companies' Strategic Developments; Market Share Analysis of Key Players; Company Profiling |
| Segments Covered | By Battery Type; By Control Technology; By Power Capacity; By Power System; By Application; By Region |
Explore more about this report - Request free sample pages
Lithium-Ion Batteries Dominate the Industry
Based on battery type, the market is categorized into lead-acid batteries, lithium-ion batteries, nickel-cadmium batteries, nickel-metal batteries, and others. Among these, lithium-ion batteries held the largest revenue share in 2022. This is due to the rising demand for these batteries in battery electric vehicles and plug-in hybrid electric vehicles around the world. In the near future, it is projected that the rising popularity of electric vehicles among consumers would accelerate the use of lithium-ion batteries, as they are a more environmentally friendly alternative to conventional fuels. Further, the sales of EVs are being fueled by surging government activities, including incentives and subsidies, to promote their adoption.
Moreover, due to the increasing applications in uninterrupted power supply (UPS) systems, communication systems, and transport vehicles, the lead-acid batteries category accounted for the second-largest revenue share in 2022. In addition, the need for lead-acid batteries will be driven by the extensive use of continuous power supply devices in the oil and gas, healthcare, and chemical industries for consistent power delivery. Because of their great dependability and inexpensive price, these batteries are employed in essential applications.
Furthermore, throughout the projection period, the lead-acid category is projected to witness the highest growth rate. These batteries are becoming more popular, due to their lower cost and a higher level of safety as compared to lithium-ion batteries. In addition, lithium-ion batteries react with water and have a high vulnerability, which makes them dangerous. Because of safety concerns, lead-acid batteries may become more popular as a replacement for lithium-ion batteries.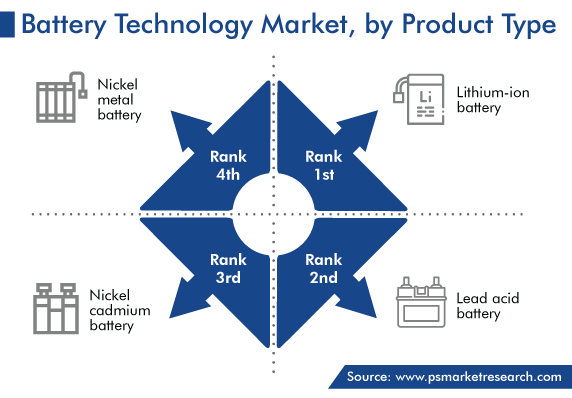 Automotive To Remain on Top in the Industry
Based on the application segment, the market is categorized into automotive, medical, residential & commercial, industrial, consumer electronics, power & utility, and others. Among these, the automotive category held the largest revenue share in 2022. This is attributed to the high adoption of battery technologies, the increased R&D expenditure, and the rise in the development of sustainable travel options, in the automotive sector. In addition, governments' increased emphasis on promoting the usage of commercial electric cars is projected to contribute to the market growth in this industry.
Whereas, during the projected period, it is projected that the consumer electronics category will be the most opportunistic. This can be due to the rising need for various automated and intelligent consumer electronic gadgets, such as fitness bands and smartwatches.
APAC Is the Market Leader
APAC leads the market for battery technologies across the world, with a share of more than 41% in 2022. This is due to the presence of leading electric car manufacturers in countries like South Korea, Japan, and China. China is recognized as the world's top manufacturer of electric automobiles. This is because the demand for EVs is high in the country, as a result of expanding government initiatives to promote the use of electric vehicles. In addition, Asian nations including China, India, Japan, and South Korea are the biggest producers of consumer electronics. APAC has many leading producers of consumer electronics, which contributes to the region's high need for these technologies.
Moreover, the region has the highest population in the world, which generates a sizable customer base there. The APAC battery technology market is expanding as a result of its large customer base; the rising demand for a variety of goods including automobiles, medical equipment, consumer electronics, and commercial and residential products; and the increasing adoption of the internet, smart and autonomous, and other digital technologies. Furthermore, the need for battery technologies is projected to increase in the coming years, due to the growing government initiatives to support industrial growth and the favorable government policies that draw significant FDI from abroad.
Over the anticipated timeframe, the North American market is expected to have tremendous growth. This is due to the falling Li-ion battery prices, growing consumer electronics sales, the rapid adoption of electric vehicles, and the growth in the renewable energy industry. Additionally, North America is still one of the world's top users of batteries and a pioneer in battery research and development.
For instance, with sales of about 670,000 EVs in 2019, California is one of the U.S.'s major markets for plug-in cars. Policy assistance is crucial in the current environment for accelerating the adoption of EVs. Supportive policy frameworks also enable the market expansion by increasing consumer interest in electric automobiles, lowering stakeholder risk, and motivating manufacturers to develop EVs on a large scale.
During the projected period, the European market is expected to witness high growth opportunities. This can be because of the use of automated technology in a variety of industries, including automotive, healthcare, food and beverage, and so on, which is a result of the industrial boom in the region. In the ensuing years, it is also projected that the regional industry would expand due to the rising demand for electric vehicles, severe government rules for environmental protection, and the increasing consumer awareness of green and sustainable products.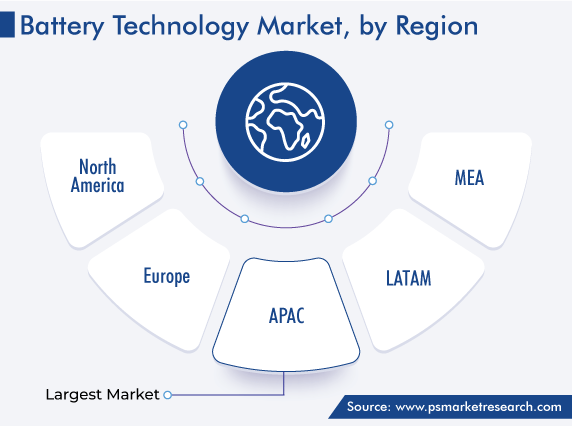 Top Providers of Battery Technologies Are:
Wuxi Hitachi Maxell Co. Ltd.
BYD Company Ltd.
Hitachi Chemical Co. Ltd.
Exide Technologies
American Battery Charging Inc.
SAMSUNG SDI CO. LTD.
GS Yuasa International Ltd.
Panasonic Holdings Corporation
Contemporary Amperex Technology Co. Ltd.
LG Chem Ltd.
China Bak Battery Inc.
Battery Technology Market Size Breakdown by Segment
This report offers deep insights into the battery Technology, with size estimation for 2017 to 2030, the major drivers, restraints, trends and opportunities, and competitor analysis.
Based on Product Type
Lead acid battery

Flooded Lead-acid Battery
Valve Regulated Lead Acid (VRLA) Battery

Lithium-ion battery

Lithium Nickel Manganese Cobalt
Lithium Iron Phosphate
Lithium Cobalt Oxide
Lithium Titanate Oxide
Lithium Manganese Oxide
Lithium Nickel Cobalt Aluminum Oxide

Nickel cadmium battery
Nickel metal battery
Based on Control Technology
Battery Chargers
Battery Conditioners
Smart Battery System
Based on Power Capacity
0 to 3,000 mAH
3,000 to 10,000 mAH
10,000 to 60,000 mAH
More Than 60,000 mAH
Based on Power System
Fuel cell batteries
Proton exchange membrane fuel cells
Alkaline fuel cells
Phosphoric acid fuel cells
Solid oxide fuel cells
Molten carbonate fuel cells
Air cells
Flywheel energy storage
Nuclear batteries
Based on Application
Automotive
Medical
Residential & Commercial
Industrial
Consumer Electronics
Power & Utility
Geographical Region
North America
Europe

Germany
U.K.
France
Italy,
Spain

Asia-Pacific

Japan
China
India
South Korea
Australia

Latin America
Middle East and Africa

Saudi Arabia
South Africa
U.A.E.