Market Overview
The automotive MEMS sensor market is estimated to generate USD 4,264.7 million by the end of 2023 and grow at a CAGR of 13.3% from 2024 to 2030, to reach a value of USD 10,145.1 million. This can be ascribed to the rising stringency of automotive safety regulations, new era of electric vehicles, adoption of advanced driver assistance systems, and technological advancements.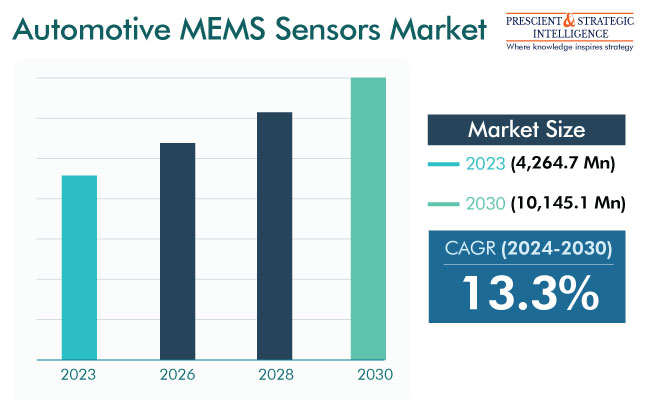 The main technique for MEMS design and development is microfabrication. Mechanical system downsizing is made possible by the IC fabrication technology, which also offers batch processing capabilities, which are not possible with conventional machining methods. Additionally, the IC fabrication method allows for the combination of mechanical and electronic systems to produce MEMS performance that is tightly regulated. MEMSs are also now more affordable with the improvements in the IC fabrication technology.
Rising Concerns for Passenger Safety
As per surveys, the majority of the people now prefer four- or five-star-rated safety vehicles and are ready to expand their budgets. Moreover, some safety features have been made mandatory under the BNVSAP safety norms in India, including dual front airbags, speed sensing door locks, and anti-lock braking systems. Other safety features common in costlier vehicles are rear parking sensors, seatbelt pre-tensioners, impact sensing door locks, and panic braking signals.
Additionally, the automated emergency braking (AEB) technology works with electronic stability control (ESC). When the sensor notices a vehicle or object in the front that is too near to the car, it initiates AEB and stops the vehicle on its own. If the car is moving at a high speed, it manages to slow it down as much as it can, so that the effect of the collision is significantly reduced.
On the other hand, in forward-collision-warning, the vehicle notifies the driver to stop, rather than applying the brakes itself. Both features utilize sensors and cameras that are mounted in front of the vehicle and made to detect objects at a distance of 10 meters.
Rising Integration of Advance Driver Assistance Systems (ADAS)
The usage of the MEMS sensor technology is rising at an unprecedented rate due to the increasing adoption of ADAS and the continuous development of autonomous vehicles. As per studies, ADAS-featured vehicles are being increasingly sold in the U.S., Europe, Japan, and China, with India catching up too.
There is still more work to be done before ADAS capabilities can be used in applications that are completely autonomous in terms of object recognition and categorization. This is because many systems that are currently in use are still functioning at a basic level. They include semi-automated parking, which uses sensors and radars to measure the length and width of the parking space. Without inflicting any damage to the car, it helps the driver park inside the given space. While the steering wheel is automatically controlled by the system, the system instructs the driver on how to use the gear, accelerator, and brake to move forward and backward.
Moreover, in collision avoidance systems, echo is used by an ultrasonic automotive sensor to determine an object's distance. The sensor emits a soundwave that bounces off an object or obstacle, before returning. Then, the system calculates the object's distance from the sensor depending on how long it takes for the soundwave to bounce back. Hence, with over 1 million people dying in road accidents each year, such automotive safety technologies are now imperative.
Automotive MEMS Sensors Market Report Coverage

| | |
| --- | --- |
| Report Attribute | Details |
| Market Size in 2023 | USD 4,264.7 Million |
| Revenue Forecast in 2030 | USD 10,145.1 Million |
| Growth Rate | 13.3% CAGR |
| Historical Years | 2017-2023 |
| Forecast Years | 2024-2030 |
| Report Scope | Market Trends, Drivers, and Restraints; Revenue Estimation and Forecast; Segmentation Analysis; Impact of COVID-19; Companies' Strategic Developments; Market Share Analysis of Key Players; Company Profiling |
Explore more about this report - Request free sample pages
Rise in EV Production Leads To Increase in MEMS Sensor Demand
The increasing integration of MEMS sensors in electric and hybrid vehicles is one of the key drivers for the market. These instruments are in high demand in EVs since they are essential for effective energy management and battery monitoring systems.
From an environmental point of view, there is a definite push toward electric vehicles, which is driving the usage of MEMS sensors because of their advanced safety features. Today's consumers want vehicles with cutting-edge technical features, which means every such car must include more than 100 MEMS sensors. As per the IEA, more than 10 million electric cars were sold around the world in 2022, compared to 6.6 million units in 2021.
Additionally, in today's smart automobiles, sensors enable automation and guarantee safe and secure functioning. There are different varieties of sensors used in the automotive sector to monitor temperature, pressure, flow, position, and velocity, as well as for distance and light intensity detection. Thus, they are found in the engine, chassis, lights, powertrain, and almost every other part of the vehicle.
Increasing degrees of sensitivity, reliability, and stability, without size or weight restrictions, are needed as more safety, security, and comfort elements are added to automobiles. The MEMS technology, which provides the advantages of easy integration, small size, and low cost, is thus attracting automotive manufacturers.
Powertrain Sensors in Focus to Increase Fuel Efficiency
Increasing the fuel efficiency and reducing the amount of pollutants released into the air are two key challenges for car engineers. The achievement of both these goals relies heavily on the powertrain's sensors, which measure temperature, pressure, angular velocity, and other aspects of the vehicle's operation. The sensors deliver pertinent measurement data to the electronic control units, to make sure the vehicle operates as desired and safely.
Moreover, the use of smaller engines is becoming more prevalent, which has led the powertrain sensor sector to focus on higher temperature stability and electromagnetic compatibility.
Infotainment Is Rapidly Growing Application for Automotive MEMS Sensors
An in-vehicle infotainment system is the ideal blend of hardware and software that provides the driver and passengers with enjoyment or information. A safe and enjoyable driving experience can be provided by a car's infotainment system by connecting with smart technologies, such as sensors, telematics devices, and smartphones. A touchscreen or monitor, which is typically located on the dashboard, offers the information and acts as the human–machine interface.
Modern automotive infotainment systems interact with all the smart automotive technologies, such as ADAS, V2X, telematics, smartphones, and sensors, and integrate them with one another. Contemporary in-vehicle technologies also give cars an opulent appearance and drivers an engaging experience. Infotainment systems give real-time traffic reports, play one's favorite musical tracks, and allow the driver to call or text. This system has proximity sensors, gesture recognition sensors for detecting ambient light, camera sensors, and many more such instruments.
Automotive MEMS Sensor Manufacturers:
Robert Bosch GmbH
Invensense Inc.
DENSO Corporation
STMicroelectronics N.V.
Analog Devices
Delphi Automotive PLC
Freescale Semiconductors Ltd.
Infineon Technologies AG
Sensata Technologies Inc.
Hitachi Ltd.
Panasonic Corporation
Murata Manufacturing Co. Ltd.
North America and Europe Are Key Markets
North America and Europe are the two largest markets for automotive MEMS sensors. The long-term growth in the sale of vehicles equipped with ADAS systems is being driven by the major industry players' efforts to increase their R&D expenditures. Additionally, the entry of startups and new technology companies in the ADAS market, rise in EV sales, and introduction of robot taxis and other autonomous commercial vehicles drive the market.
The APAC market will see the fastest growth, as a result of the developing automobile sector and rising disposable income. Japan, South Korea, India, and China are amongst the top manufacturers of automobiles in the world. Moreover, governments' safety initiatives and customers' rising demand for advanced safety features will drive the automotive MESM sensor market in the region.
Another significant driver would be the rise in EV sales due to the strong concerns because of climate change in Asian nations. Six of the top ten countries most vulnerable to climate threats are located in Asia, which is also home to 93 of the 100 most-polluted cities. Since many nations are quickly urbanizing and witnessing a population explosion, the overall demand for vehicles and ADAS sensors in the region is increasing.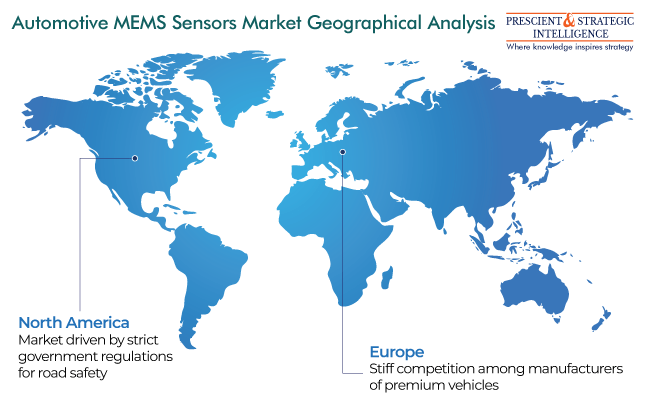 The transportation industry is one of the biggest emitters of greenhouse gases (GHGs); so, sustainable development in this area will be crucial for Asia to combat climate change. Hence, regulators across APAC have set high standards for electric vehicles, in an effort to fully utilize their potential to reduce carbon emissions. They are also offering purchase incentives and other benefits to the buyers and manufacturers of such automobiles.