Market Outlook
The autonomous commercial vehicle market revenue is expected to reach $1,302.1 billion by 2030, and is expected to grow at an 8.2% CAGR between 2020 and 2030. The market is thriving on the ongoing evolution in commercial vehicle technologies, increasing government support for autonomous commercial vehicles, and soaring need for operational benefits and efficient and safe driving options.
However, the ongoing COVID-19 pandemic has had an adverse impact on the autonomous commercial vehicle industry. The closure of manufacturing units, hindrance in supply chain management, and lack of demand for such vehicles are having a negative impact on the market growth.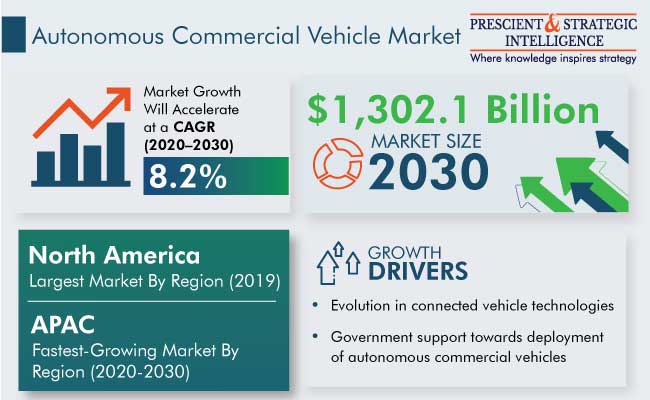 Semi-Autonomous Vehicles Recorded Higher Revenue
The semi-autonomous category, under the vehicle autonomy segment, generated the higher revenue in 2019. Vehicles should be equipped with electronic stability control (ESC) or at least one of the advanced driver-assistance system (ADAS) features (either for acceleration or steering) to achieve level 1 automation. The majority of the European countries and the U.S. have mandated the adoption of basic ADAS features in all new commercial automobiles, which intrinsically makes all of them semi-autonomous.
Trucks Preferred over Buses
The truck category accounted for the larger share between 2014 and 2019, and it is expected to retain its dominance in the vehicle type segment of the autonomous commercial vehicle market during 2020–2030. This can be owed the increasing usage of autonomous trucks for logistical operations, such as automated material handling, yard management, domestic logistics transportation, and logistics digitalization.
Alternative-Fuel-Powered Vehicles To Witness Faster Growth
In the coming years, the alternative fuel category, under the fuel type segment, is expected to register the faster growth, primarily on account of the rising government support in the form of grants and incentives for the adoption of alternative-fuel vehicles. Moreover, these automobiles are less complex than those running on gasoline (petrol) and diesel and, thus, come with fewer technological hurdles for the development of autonomous vehicles.
Public Transportation Category To Record Fastest Growth
The public transportation category, within the application segment of the market for autonomous commercial vehicles, will grow the fastest in the near future. This can be attributed to the surging adoption of autonomous shuttle services for public mobility purposes. Several start-ups and established companies are coming up with plans to develop level 5 autonomous shuttles for public transportation. These shuttles would not require human drivers for operation, which would help transportation agencies save on operational costs.
North America Most-Prosperous Region
The North American region generated the highest revenue for the autonomous commercial vehicle market players between 2014 and 2019, and it is expected to maintain its dominance in the future. This can be owed to the spurring research and development (R&D) activities on autonomous vehicles and burgeoning support from the federal and state governments for improving autonomous driving technologies.
Moreover, the U.S. will continue to hold the leading position in the regional market for autonomous commercial vehicles. This can be primarily ascribed to the presence of the prosperous trucking industry in the country. This industry is a major contributor to the U.S. economy and provides employment to nearly 11.3 million people. Further, trucks are responsible for transporting around 71% of the country's domestic freight. The trucking industry generates revenue of around $790 billion each year. Thus, the huge trucking sector in the nation is generating lucrative opportunities to undergo technological innovation.
Asia-Pacific (APAC) To Witness Fastest Growth in Industry
The APAC region is expected to register the fastest growth on account of the flourishing automobile industry here. APAC is the world's largest automobile producer, accounting for nearly half of the yearly production. In 2019, the region recorded the production of 51.2 million vehicles. The global dominance of this region acts as a catalyst for the autonomous commercial vehicle market growth here. Additionally, the region is home to many leading automobile giants, such as SAIC Motor Corp. Ltd., Honda Motor Co. Ltd., Tata Motors Ltd., Toyota Motor Corp., and Hyundai Motor Co. Despite the lead in the worldwide automobile industry, APAC is far behind Europe and North America in the adoption of autonomous commercial vehicles due to the price-sensitive nature of consumers.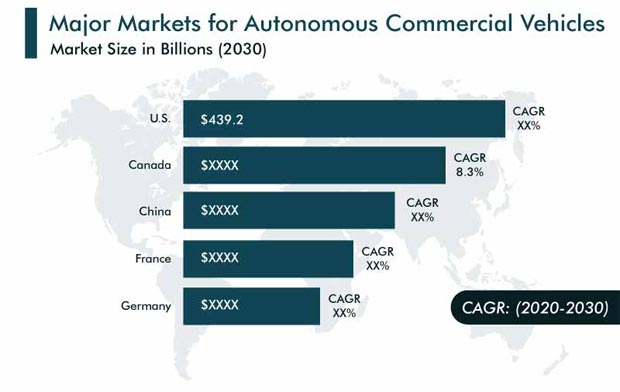 Influx of Investments Is Key Market Trend
Huge investments are being made for the development of autonomous commercial vehicles. For example, in 2018, Volkswagen AG announced its plan to invest $34 billion in R&D on autonomous technologies till 2023. Besides, governments of several countries are investing heavy sums in these R&D activities. For instance, the Government of France invested around $45 million to make advances in the autonomous vehicle technologies in 2018.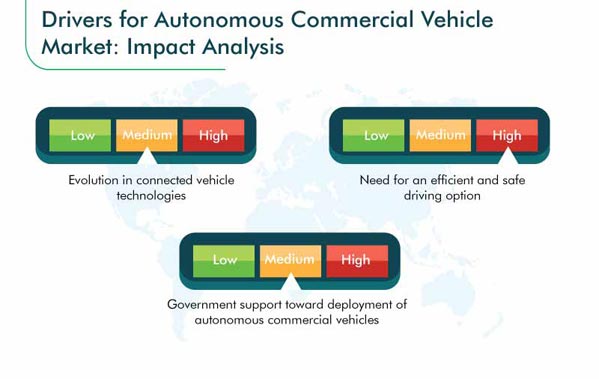 Evolving Connected Vehicle Technologies Boosting Autonomous Commercial Vehicle Sale
It is easier to integrate autonomous technologies in connected vehicles as compared to conventional models. The adoption of connected vehicles is continuously soaring across the world on account of the rapid technological innovations and their unique features, such as real-time traffic monitoring, traffic and collision warnings, roadside assistance, and automobile diagnostics, which are missing from conventional automobiles. Moreover, the accelerating digitization in connected vehicles is boosting the autonomous commercial vehicle market growth because these automobiles are already embedded with vehicle-to-vehicle (V2V) and vehicle-to-infrastructure (V2I) connectivity, which are two of the necessary requirements for attaining vehicle autonomy.
Spurring Requirement for Efficient and Safe Driving Solutions Steering Market Growth
Road traffic, accidental deaths, and severe injuries are some of the grave and unacceptable outcomes of road transportation. The basic cause of accidents and road crashes is human error. Inappropriate speed, humans' failure to pay attention, and unsafe distance between vehicles are majorly responsible for road mishaps. The autonomous technology promises a safer performance and more-efficient road traffic, which is why its popularity is rising.
Increasing Government Support Promoting Autonomous Commercial Vehicles
Governments of various countries are offering financial incentives and implementing favorable policies to boost the adoption of autonomous commercial vehicles. For instance, in 2018, the Directorate General of Traffic (DGT), Spain, drafted a regulatory policy and prepared an infrastructure ecosystem for the operation of such vehicles. Moreover, the U.S. observes the passage of numerous autonomous vehicles related legislations every year. In 2017, 33 U.S. states introduced autonomous-vehicle-related bills, and in 2018, 15 states enacted 18 bills related to these vehicles. Such supportive measures from governments have become a catalyst for the autonomous commercial vehicle market advance.
Autonomous Commercial Vehicle Market Report Coverage

| | |
| --- | --- |
| Report Attribute | Details |
| Historical Years | 2014-2019 |
| Forecast Years | 2020-2030 |
| Report Coverage | Market Trends, Revenue Estimation and Forecast, Segmentation Analysis, Regional and Country Breakdown, Company Share Analysis, Companies' Strategical Developments, Product Benchmarking, Company Profiling |
| Market Size by Segments | Vehicle Autonomy, Vehicle Type, Fuel Type, Application, Region, |
| Market Size of Geographies | U.S., Canada, Germany, France, Italy, U.K., Spain, Japan, China, South Korea, Brazil, Mexico, U.A.E. |
| Secondary Sources and References (Partial List) | American Automobile Association (AAA), American Trucking Associations (ATA), Asia-Pacific Logistics Federation (APLF), Association for European Transport (AET), China Communications and Transportation Association (CCTA), European Automobile Manufacturers Association (ACEA), Freight Transport Association (FTA) Note: Above listed references and organizations are partial; the detailed and complete list is available in the final report. |
Explore more about this report - Request free sample pages
Market Players are Entering into Partnerships to Gain Competitive Edge
The global autonomous commercial vehicle market is consolidated in nature, with the presence of few major players, including Ford Motor Co., General Motor Co., Fiat Chrysler Automobiles N.V., Toyota Motor Corp., and Renault–Nissan–Mitsubishi Alliance.
In recent years, players operating in the autonomous commercial vehicle market have entered into several partnerships, agreements, and collaborations, in order to stay ahead of their competitors. For instance:
In March 2020,TuSimple Inc. entered into a partnership with ZF Friedrichshafen AG, to develop autonomous vehicle technology on a mass scale in China, Europe, and North America. Under the partnership, the companies will co-develop sensors, cameras, LiDAR, and radar, as well as central computers needed in autonomous vehicles.
In February 2020, Shaanxi Heavy Duty Automobile Co. announced that it has entered into a strategic partnership with Innoviz Technologies Ltd. Under the partnership, Innoviz Technologies Ltd.'s LiDAR sensors will be utilized to develop Shaanxi Heavy Duty Automobile Co.'s autonomous trucks. Furthermore, under the partnership, the companies intend to deploy autonomous trucks at Chinese ports.
In July 2019,Ford Motor Co., Volkswagen AG, and Agro AI entered into a partnership to develop self-driving technologies in the U.S. and Europe. Under the partnership, Ford Motor Co. and Volkswagen AG will each own the same minority percentage of Argo and their combined stakes will be a majority ownership. Furthermore, with this collaboration, the companies intend to serve their customers more efficiently by improving their competitiveness and cost and capital efficiencies.
Some of the Key Players in Autonomous Commercial Vehicle Market Include:
Ford Motor Co.

General Motor Co.

Fiat Chrysler Automobiles N.V.

Toyota Motor Corp.

Renault–Nissan–Mitsubishi Alliance
Autonomous Commercial Vehicle Market Size Breakdown by Segment
The research offers market size of the global autonomous commercial vehicle market for the period 2014–2030.
Based on Vehicle Autonomy
Semi-Autonomous
Semi-Autonomous
Based on Vehicle Type
Truck

Light-duty truck (LDT)
Medium & heavy-duty truck (M&HDT)

Bus
Based on Fuel Type
Conventional Fuel
Alternative Fuel
Based on Application
Logistics
Public Transportation
Construction
Geographical Analysis
North America
Europe

Germany
U.K.
France
Italy
Spain

APAC
LAMEA