Market Overview
The global virtualized evolved packet core (vEPC) market generated revenue of USD 8,429.9 million in the year 2023, and it is projected to reach USD 27,776.3 million by 2030, growing at a CAGR of 18.8% between 2024 and 2030. The market is driven by the rising adoption of network function virtualization (NFV), growing emphasis on edge computing and the internet of things (IoT), increasing mobile data traffic, rollout of 4G LTE, and deployment of 5G NSA or SA network services with increased speeds.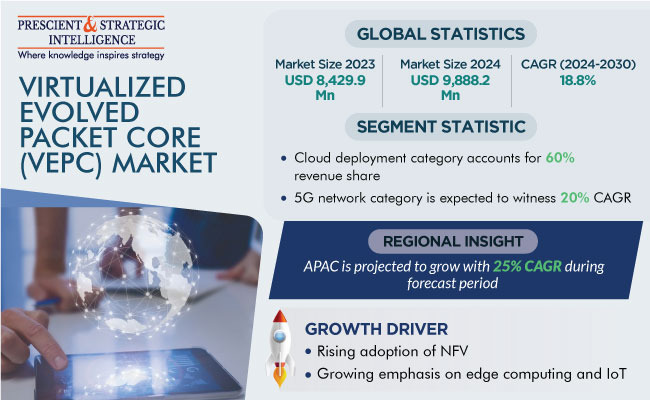 Additionally, mobile network operators (MNOs) are evolving their voice and data networks to NFV and software-defined networking (SDN), to reduce cost, speed up delivery, and increase their operational efficiency, due to the increasing consumption of multimedia services. MNOs are developing many new services, including LTE, VoLTE, VoWiFi, broadband wireless access (BDA), 5G, and M2M. Here, vEPC will bring about a substantial shift in the operational approaches of MNOs to managing networks and fulfilling requirements such as cloud-optimized architecture and flexible scaling.
A vEPC is a complete LTE packet-core-based solution on the NFV technology that serves as a framework for voice and data processing in mobile networks. The adoption of virtual EPCs will revolutionize mobile networks by bringing high-speed connectivity, enhanced efficiency, better businesses and customer service, as well as reliability, scalability, and flexibility. Furthermore, the rollout of high-speed 5G services worldwide will enhance service quality and performance of cloud computing and IoT applications.
Solutions Category Is Dominating Market, by Component
Based on component, the solutions offering holds the larger market share, due to MNOs' increasing recognition of the numerous benefits offered by vEPC solutions, i.e., the potential of virtualizing key components, such as home subscriber server (HSS), mobility management entity (MME), packet data network gateway (PDN-GW), and serving gateway (S-W). All of them enhance service quality, network efficiency, scalability, flexibility, business and customer satisfaction, as well as cost-effectiveness.
Furthermore, the services offering is expected to be the faster-growing category, with a CAGR of 20% over the forecast period. This is due to the increasing adoption of vEPC solutions by many telcos to enhance services, meet the needs of mobile users, and adapt to the rapidly changing and increasing network demands. Companies and industries strongly depend on the associated managed and professional services, including consulting, integration, deployment, training, and network testing. These services are essential for addressing the requirements of users, who may not always have the technical expertise to take care of these tasks themselves.
Additionally, these services are of key importance in the virtualized evolved packet core market as they focus on improving business operations and strengthening companies' networks. In addition, the incorporation of advanced networking solutions within an organization's operational settings relies greatly on the quality of these services.
5G Network is Expected to Grow Faster
5G is expected to be the faster-growing network with a CAGR of 20% during the forecast period due to the ballooning demand for high-speed data services and rising emphasis on the adoption of advanced technologies, such as cloud computing and IoT, across industries. As virtualizing the EPC plays a crucial role in rolling out 5G network services, it can open doors for MNOs in new economic streams, from IoT and mobile edge computing to enterprise LTE.
Furthermore, the virtualization of the entire set of EPC provides several benefits to MNOs and their customers. MNOs can use their network more efficiently, thus resulting in cost savings, while customers benefit from the increased flexibility and scalability. This allows them access to services such as LTE, VoLTE, VoWiFi, and other business applications. Additionally, the use of micro-services allows for a quick transition to LTE and 5G deployment, thus making networks more widespread and adaptable, to meet the changing demands. Moreover, performance improvements can be done individually by dividing user, control, and data workloads, thus improving the overall network experience.
Cloud Category Is Dominating Deployment Mode Segment
The cloud deployment category held the larger market share, of 60%, in 2023, and it will also be the faster-growing category, with a CAGR of 22%, over the forecast period. This can be credited to the rapid deployment of cloud packet core in various applications, including mobile broadband, massive IoT, including Cat-M and NB-IoT; communication services, such as VoLTE and Wi-Fi calling; and critical enterprises, to realize the Industry 4.0 dream. One of the key facilities deploying cloud-based vEPC solutions are oil rigs, which operate in remote and harsh environments; medical device manufacturing sites, as they need to ensure that their networks are secure and reliable, to protect sensitive data; and steel plants, to improve the efficiency and flexibility of their operations.
This is further driven by the growing emphasis on the numerous benefits offered by cloud-based vEPC solutions, primarily scalability, cost-efficiency, flexibility, centralized management & orchestration, integration with cloud services, rapid deployment, and geographic redundancy.
The on-premises category also holds a considerable share in the vEPC market, driven by the on-site deployment of these solutions by a rising number of small & medium enterprises as well as large enterprises, including telecom operators. This mode provides numerous benefits, including higher security, better performance, control over data usage & access, lower latency, and the ability to handle the setup, maintenance, configuration, and deployment locally, at customers' premises. Other key benefits of on-premises deployment are customizable security settings and the flexibility to update the software as needed, without relying on external sources.
Based on Application, IoT & M2M Are Dominating the Market
The IoT and M2M application category holds the largest share, driven by the presence of over 13 billion IoT subscribers, or connected devices, worldwide in 2022. This is because of the massive demand for IoT-enabled gadgets and devices, as well as Cat-M and NB-IoT, which are; and the rising number of IoT cellular subscribers, with the burgeoning adoption of this technology across industries and by consumers. In addition, the growing emphasis of MNOs on boosting the 5G infrastructure, aimed at providing faster and more-reliable communication for IoT devices, is propelling the market growth.
M2M refers to the communication between devices with or without a wired connection, to share or collect data to or from other connected devices, to facilitate efficient functions/operations and monitoring. M2M connectivity demand is increasing in industries for several applications, including telematics, mainly to handle B2B & B2C business communications; vehicle metric monitoring, asset tracking, facility management, manufacturing, and defense.
IoT is a subset of the M2M technology, which is gaining significant traction throughout the world to facilitate efficient communication between devices and gadgets with the use of cloud computing networks or the internet.
The expanding levels of industrialization and urbanization are driving the demand for the IoT and M2M technologies, due to the growing need for better network connections to ensure smooth communication and data transfer between these devices. Thus, the vEPC ecosystem, which provides the infrastructure for efficiently handling voice and data traffic in wireless networks, is in high demand, to facilitate better connections.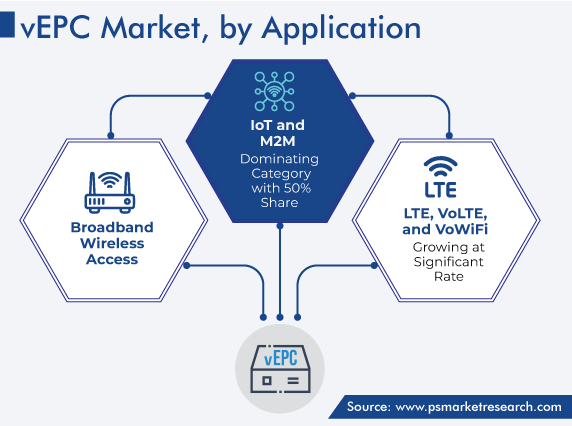 Telecom Operators Hold Significant Market Share
Based on end user, the telecom operators category holds a significant market share, because of the rising need for the transition of traditional hardware-based infrastructures to SDNs and NFV. In addition, telecom operatorsplay a crucial role by promoting network modernization, providing cost-effective voice & data services, and allowing for service innovation. Operators are also designing flexible and scalable network topologies using vEPC, to improve operational effectiveness and user experience.
Moreover, the enterprises category is contributing substantially to the market, due to the adoption of advanced technologies based on vEPC solutions. Enterprises require private mobile networks to meet their specific communication and data processing demands. In this regard, they benefit from mobile edge computing (MEC), which allows them to reduce the data latency and power consumption of mobile devices by utilizing network slicing; this further improves the flexibility and cost efficiency of vEPC and allows for resource optimization and dynamic adjustments. Hence, enterprises are taking advantage of vEPC in meeting their evolving connectivity needs and modernizing their network infrastructure.
vEPC Market Report Coverage

| | |
| --- | --- |
| Report Attribute | Details |
| Market Size in 2023 | USD 8,429.9 Million |
| Market Size in 2024 | USD 9,888.2 Million |
| Revenue Forecast in 2030 | USD 27,776.3 Million |
| Growth Rate | 18.8% CAGR |
| Historical Years | 2017-2023 |
| Forecast Years | 2024-2030 |
| Report Scope | Market Trends, Drivers, and Restraints; Revenue Estimation and Forecast; Segmentation Analysis; Impact of COVID-19; Companies' Strategic Developments; Market Share Analysis of Key Players; Company Profiling |
| Segments Covered | By Component; By Network; By Deployment Mode; By Application; By End User; By Region |
Explore more about this report - Request free sample pages
APAC Is Expected to Grow Fastest
APAC is expected to progress with fastest CAGR, of 25%, over the forecast period. The presence of leading MNOs in the region, who are expanding their footprints across segments; rapid adoption of advanced 5G technology, and growing demand of smartphones, tablets, and other IoT-enabled devices are contributing to the market growth in the region.
The rising government emphasis on investing in telecom infrastructure development in India, China, Japan, Australia, South Korea, and other regional countries is also propelling the market. Another key driver here is the rising number of collaborations, mergers, and acquisitions by the providers of vEPC solutions, to expand their presence in the region.
The demand for vEPC solutions is also growing significantly in the European region as the need for advanced network connectivity, to handle the continuously increasing network traffic, is on the rise due to the rising number of smartphone consumers. Further, 5G network infrastructure deployments, network modernization initiatives, and the increasing adoption of IoT and Industry 4.0 initiatives are key contributors. In addition, Europe's active role in advancing telecommunication and connectivity technologies, aided by a regulatory environment that promotes research on and usage of vEPC; and the need for seamless cross-border connectivity further fuel the demand for these solutions in the region.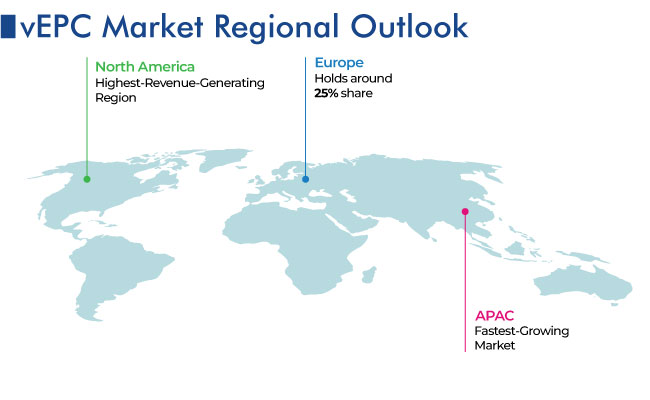 Some Key Players in the vEPC Market are:
Affirmed Networks Inc.
Athonet (Hewlett Packard Enterprise Company)
Cisco Systems Inc.
Cumucore Oy
Druid Software
Huawei Technologies Co. Ltd
NEC Corporation
Nokia Corporation
Parallel Wireless Inc.
Polaris Networks (Motorola Solutions Inc.)
Samsung Electronics Co. Ltd.
Tech Mahindra Limited
ZTE Corporation
Market Size Breakdown by Segment
This fully customizable report gives a detailed analysis of the vEPC industry from 2017 to 2030, based on all the relevant segments and geographies.
Based on Component
Based on Network Type
Based on Deployment Mode
Based on End User
Telecom Operators
Enterprises
Based on Application
LTE, VoLTE, and VoWiFi
IoT and M2M
Broadband Wireless Access
Geographical Analysis
North America
Europe

U.K.
Germany
France
Italy
Spain

Asia-Pacific

China
Japan
Australia
India
South Korea

Latin America
Middle East & Africa

Saudi Arabia
South Africa
U.A.E.