The global vertical-cavity surface-emitting lasers (VCSELs) market generated revenue worth $923.2 million in 2015, and is expected to register a CAGR of 21.9% during the forecast period (2016–2022). The market is driven by the rapid deployment of VCSELs for infrared (IR) applications and high-volume applications in consumer electronics.
Based on material, the VCSELs market is classified into gallium nitride (GaN), gallium arsenide (GaAs), indium phosphide (InP), and others; wherein, others include gallium indium arsenide antimonide (GaInAsSb) and indium gallium nitride (InGaN). Among these, the GaN category is projected to register the highest CAGR during the forecast period. This can be attributed to the increasing adoption of GaN-based VCSELs in telecom and information technology (IT) industries for data storage applications. GaN-based VCSELs are further used in several applications such as environmental monitoring devices, electronic equipment, medical diagnostics, micro projectors and displays, and magnetic levitation devices.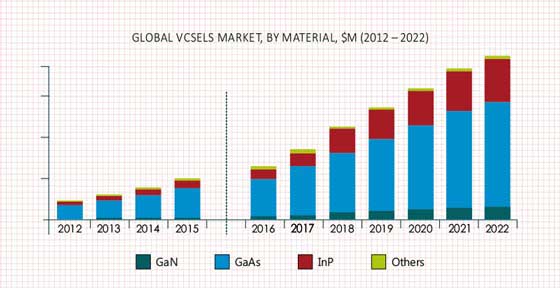 On the basis of color, the VCSELs market is categorized into red, green, blue-violet, IR, and others; wherein, others include blue and ultraviolet (UV). Of these, the IR category held the largest share in 2015. IR VCSELs emit electromagnetic radiation of wavelength 10–380 nm, and are used in applications such as free-space optical communication, optical fiber communication (OFC), and IR sensing and data transmission.
Based on application, the VCSELs market is categorized into optical fiber data transmission, analog broadband signal transmission cement, absorption spectroscopy (TDLAS), laser printers, computer mouse, biological tissue analysis, chip-scale atomic clock, and others; wherein, others include gas sensing and optical clocks. Among these, VCSELs are largely deployed in optical fiber data transmission application in 2015. This is attributed to the rapid growth of the internet and cloud computing applications, which are driving data centers to upgrade their links from 10 Gb/s to 100 Gb/s. Due to high bandwidth and low cost, VCSELs are used in data centers to meet the requirements of high data capacity on short-range optical communication systems.
By region, the VCSELs market is classified into North America, Europe, Asia-Pacific (APAC), Latin America (LATAM), and Middle East & Africa (MEA). Among these, North America held a significant share in 2015. Significant use of tablets and mobile devices leading to the rise in adoption of gesture recognition technology, which is propelling the adoption of VCSELs. Further, the demand for VCSEL-based optical transceivers in cloud infrastructure from technology giants, such as Apple Inc., Facebook Inc., Amazon Inc., and Google LLC, is likely to contribute to the market growth in the coming years.
A key trend is observed in the VCSELs market is the rapid deployment of 3D sensing and gesture recognition technologies in consumer electronics. Gesture recognition technology has seen its wide adoption in various consumer goods, like tablet PCs. The technology enhances touchscreen capabilities by permitting users to make gestures at a remote location, irrespective of the device location. For this application, wavelength stability over the entire operating temperature range of the optical source is critical to indirectly reduce noise in the received signal. Hence, the electronics industry has seen wide adoption of VCSELs with high wavelength stability.
VCSELs are highly suitable for IR illumination applications, as they offer numerous advantages such as low-diverging circular beam, high-transmission efficiency, high reliability, low-cost manufacturing, and narrow-emission spectrum. Furthermore, VCSELs are also capable of providing high efficiencies while operating in harsh environments. The brightness and efficiency of VCSELs reduce the requirements of power supply as compared to light-emitting diode (LED). Also, VCSEL-based illuminator emission is speckle-free and devoid interference patterns. IR illumination up to 500 m from the source is possible using VCSEL-based illumination, without any optics. Thus, high usage of IR VCSELs is expected to drive the VCSELs market growth during the forecast period.
The VCSELs market is growing, owing to the increasing deployment and rising adoption of VCSELs across several applications, such as gesture recognition, non-contact navigation, and gaming, in consumer electronics including smartphones, television sets, and tablet PCs. Also, VCSELs have found wide adoption in the data communication industry. The rapid rise in demand for low energy VCSELs with fast switching capabilities in high-capacity data centers and servers is propelling the market growth.
Some of the key companies operating in the global VCSELs market include Alight Technologies A/S, Avago Technologies, Finisar Corporation, Phillips Photonics, Litrax Technology Co. Ltd., Sumitomo Electric Industries Ltd., PD-LD Inc., OECA Optoelectronics Component and Applications GmbH, and Sacher Lasertechnik GmbH.
Key questions answered in this report
What is the current scenario of the global VCSELs market?
What are the emerging technologies for the development of VCSELs?
What are the historical and the present size of the market segments and their comparative future potential?
What are the major catalysts for the market and their impact during the short, medium, and long terms?
What are the evolving opportunities for players in the market?
Which are the key geographies from the investment perspective?
What are the key strategies adopted by major players to expand their market share?